[Tokyo / 23 wards] Why do not you stroll around the city with Japanese style clothing? Kimono rental and dressing plan in Ginza
プランID:14548 提供:Bazara Kimono rental Ginza 3 chome shop
3,240円~​ ​(tax included)
スタンダード(シンプルデザイン)1人あたりの料金
プランID :

14548
Tokyo / 23 wards
Kimono rental
Empty-handed OK
1 person participation Allowed
Rain departs Allowed
子供参加可
ファミリーで楽しむ派
スタート時間

Participating age

3 才~

Time required

Within one hour

ScheduleRegularly
Assemble point Look in GoogleMap
Description​ ​
About 3 minutes on foot from Ginza station, about 5 minutes on foot from Yurakucho station, do not you take a kimono and stroll around the city with a good access point? Kimono can be chosen from over 1,000 clothes. Free hair set for simple style. Items such as sandals and drawstrings are also available, so you can go out with a full-body Kimono Coordination.
The minimum wearing time is about 20 minutes!
Kimono rental fee will change with pattern and design. There seems to be lost because there are so many. Choose carefully according to your preferences and uses.
Do you want simple? Going fashionable? Hair sets and accessories you can choose
A professional hair stylist arranges a hair set suitable for the kind of kimono and design. Simple things are free, but you can also make it a real hair set featuring commitment.
Because it's so hard to stick to small items as well. Small purse clothes for going out are free rental, but you can rent an umbrella that matches your kimono, with embroidered collar or clasped with an option. We will complement the atmosphere more.
If you change into a kimono, take a stroll around the city of Doki Doki
Ginza is a popular spot to compete for the first and second place in Tokyo. Not only for town walking, it is also ideal for use in kabuki appreciation, tea ceremony, wedding ceremonies and so on. Since it is not easy to arrange like a suit or one piece, you should feel fresh and entertaining while you are throbbing.
---
Attractions of the plan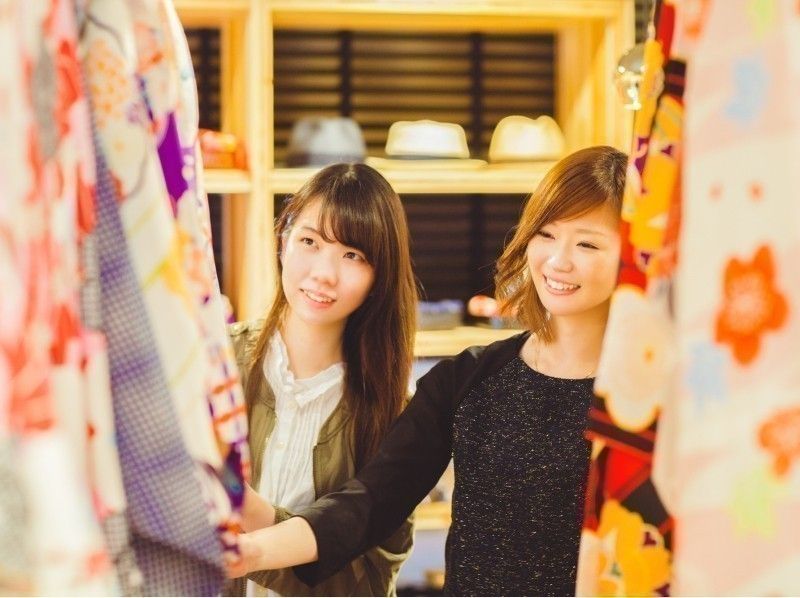 Variety of kinds of kimono! From modern modern patterns and classic patterns, a variety of kimonos are available. There are many individual patterns. Please choose kimono rank from Standard One Star, Toaster Three Star.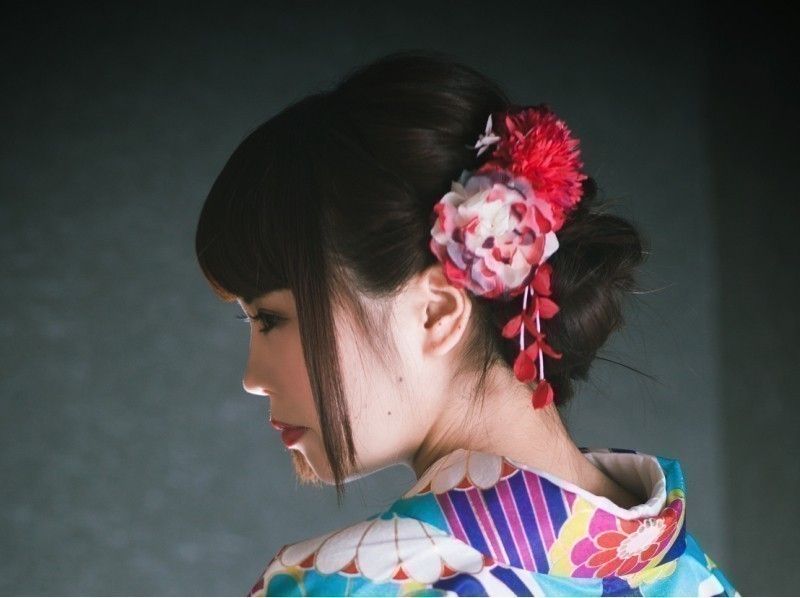 With a hair set Easy hair set included. Hair decorations that decorate kimono are borrowed for free. If you upgrade with the hair set option (1080 yen ~), more gorgeous.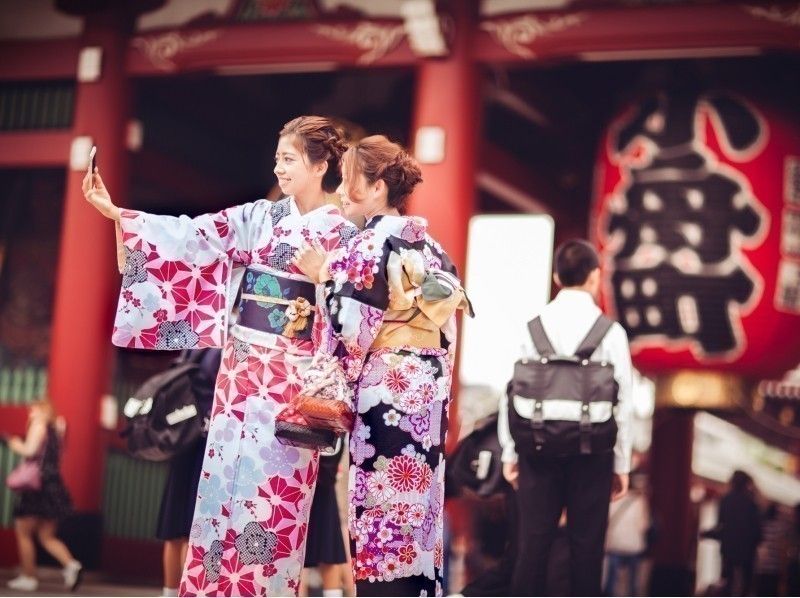 Kimono Tour of the city You may see the usual scenery differently? Please leave lots of nice pictures.
---
Information
| | |
| --- | --- |
| Minimum number of people | 1 人 |
| Number of people who can book | 1人〜5人 |
| Schedule | Regularly |
| Assemble time | Please fill in the remarks column the desired start time at the time of reservation. |
| Assemble point | Bazara Kimono rental Ginza 3 chome shop |
| Reservation deadline | Before 2 days |
---
Regarding advance preparation
| | |
| --- | --- |
| About clothings and must-bring items | Please bring an identification card (passport, credit card etc) for identity verification. |
| About rental items | Kimono set, large-scale Japanese style back, stole, coat, umbrella, parasol, umbrella (umbrella), hair ornament, hat |
---
Facility information
Changing room
toilet
shower
Hot spring
Locker
Hairdryer
Parking Lot
コンビニ
スーパー
---
Access and map
所在地
3-3-14 Ginza, Chuo-ku, Tokyo 3rd Floor of the Keiseuk Building
How to reach by car
Since there is no parking lot, please use the neighboring coin parking etc.
How to reach by train
· JR "Yurakucho Station"
About 4 minutes on foot from the central entrance

· Tokyo Metro Ginza Line "Ginza Station"
About 2 minutes on foot from B4 exit

· Tokyo Metro Yurakucho Line "Ginza 1-chome Station"
About 2 minutes on foot from Exit 8
---
Price list
Basic charge
| | |
| --- | --- |
| Standard (simple design) / person 3,240yen | シンプルなデザインの着物の料金です。 ※3歳以上(13歳未満の方は保護者の同伴が必要です) |
| ONE STAR / person 5,292yen | 華やかな柄で現代風な着物の料金です。 ※3歳以上(13歳未満の方は保護者の同伴が必要です) |
| Tsusuta / person 6,372yen | 最上級の柄物の着物料金です。 ※3歳以上(13歳未満の方は保護者の同伴が必要です) |
| Three Star / person 7,452yen | VASARAの最高ランク着物の料金です。 ※3歳以上(13歳未満の方は保護者の同伴が必要です) |
オプション料金
| | |
| --- | --- |
| Early morning charge / person 540yen | It is an early morning charge at the beginning of 9:00 or 9:30 arrival. |
| Hair set (one star) / person 1,080yen | We make flowers and sinions with braiding and fashionably summarize upstairs hair. |
| Hair set (toaster) / person 2,160yen | Using curl, professional hair make up style using technology. You can enjoy rolling, sipping, different hairstyles from people. |
| Embroidered semi-collared / piece 540yen | You can use the half-necked collar containing the handle. |
| Nagoya band / book 1,080yen | It is a belt that can do "Taiko Knob" etc. which can not be tied with half width band used for normal dressing. |
| Crowd / Trio string / book 540yen | Using the clasp and triplet cord, you can change the impression of the belt greatly. |
| Large Japanese style bag / piece 540yen | It is a large Japanese style bag that also includes makeup pouches and large wallets. Please use it when you feel that it is small with a purse of free lease. |
| Stall / Sheet 540yen | Wearing from the top of the kimono is a classic Japanese stall. |
| Haori / Sheet 540yen | A standard item to wear from the top of the kimono. There are also contemporary patterns and retro antique patterns. |
| Umbrella / book 540yen | It is an umbrella with many bones that can enjoy kimono on a steep rainy day. |
| Parasol / book 540yen | Recommended for sunny days. |
| Maiko Umbrella (umbrella) / book 540yen | It is an umbrella that makes the kimono appear more. |
| Hat / piece 540yen | Not to mention men, it is an item that you wear lovely kimonos with elegance even if women suffer. |
| Luggage storage service trunk / piece 540yen | 50cm × 60cm × 120cm 以内のトランクの預かり料金です。 ※18:00までに引き取りにきてください ※18時を超えたものは1日毎に1,000円の延長料金をいただきます。なお、一週間経過しても引き取りに来られない場合は店舗で処分します。予めご了承ください ※貴重品の預かりはできません |
| Luggage storage service added Large size bag / piece 540yen | VASARAで用意している大型バッグ40cm x 25cm x 47cmの預かり料金です。 ※着物レンタル利用者は一人一無料です ※貴重品の預かりはできません |
| Each plan / name 1,080yen | 【7/22、7/29、8/5】 特別営業日は、特別料金1,000円(税別)が別途発生致します。 |
※Prices including all taxes.
※上記は基本料金になります。
※日程によって料金が異なる場合がございますので、日程を選択した後に表示される料金表をご覧ください。
---
---
お支払い・キャンセルに関して
About payment
当日現金、またはクレジットカードにてお支払いください。 ※ご利用いただけるカード VISA・MASTER
Payment method
The payment method specified by the operator.
About cancellation fee
The day before: 50% of the reservation fee
On the day: 100% of the reservation fee
The reservation: 100% of the reservation fee

If there is a change in schedule and number of people, please also contact us promptly.
By timing and availability, there are times when it does not attach to hope.
Please note.
Cancellation by operators.
Experience may be canceled due to equipment malfunction or breakdown.
If you was canceled, it can not respond to compensation, such as travel expenses of up to local.
Please note.
---
Other
Matters require attention
Please return it 30 minutes before closing time.
(You can change clothes at the shop)

If business hours are exceeded, please contact the store and be sure to return it by 12:00 the next day.
※ If you overdue the next day 12:00, you will separately charge a late fee of 980 yen (excluding tax)
Other notices
· Packages other than valuables can be deposited
みんなの体験談
It was nice to borrow cheap ♪ However, there is a possibility of waiting quite a bit when crowded, so I think that it was better to reserve with time in margin ☆
参加日: 2017 年 08 月
Kimono rental
3,240円~​ ​(tax included)
スタンダード(シンプルデザイン) 1 人 あたりの料金
Included in price
着物・帯、着付け料、ヘアセット(スタンダード)、髪飾り、外出用の巾着・草履 ※不明な点があればお問い合わせください
| | |
| --- | --- |
| | スタート時間 |
| | Participating age3 才~ |
| | Time required Within one hour |
| | ScheduleRegularly |
| | Assemble point Look in GoogleMap |