Reconstruction appreciation campaign
[Hokkaido Minamifurano] ☆ ☆ recommend ice smelt fishing half-day tour pick-up with a plan ♪
プランID:14028 提供:Guidelines Outdoor Club
5,400yen~​ ​(tax included)
大人1人あたりの料金
プランID :

14028
Hokkaido / Furano-Biei Tomamu
Smelt fishing
Empty-handed OK
Transfer Yes
おやつ付き
子供参加可
Starting time

07:50

12:30

Participating age

5 才~

Time required

2~3時間

3~4時間

ScheduleThere is changed by the freezing conditions of the lake
Assemble point Look in GoogleMap
Description​ ​
全面凍結したかなやま湖でワカサギ釣りを体験してみよう!! 
富良野市街地・富良野スキー場周辺からの無料送迎付きプラン♪ 
Surprisingly tough drilling guide is prepared in advance. Fishing can be enjoyed immediately after arrival!
Guidelines Outdoor Club 10th anniversary thank you! Offered at a discounted price with feeling of gratitude.
Please by all means come to play on this occasion ♪
Participation from the five-year-old child OK! Peace of mind with a guide of support! !
Of course, lecture of how to invite the handling and smelt of tools, also corresponding to the line trouble.
Because experienced guide will support, you can not feed it ... even fish will not touch ... OK ♪
Because the guide is Japanese, please join us for fishing and kids with confidence for the first time ☆
(* Do not know Japanese) Foreign customers must withhold.
Caught were smelt in tempura on the spot! !
Caught were smelt is you can eat in the tempura on the spot.
Smelt, who grew up in the clean Kanayamako of water is delicious and reputation ☆
Even if you did not catch, it is about tasting the smelt in advance guide was caught, but you have our eat.
Furano production of pumpkin (eliminated as soon as, change in Furano potatoes) please with ♪
Commitment to fishing tools, a dedicated tent-fishing!
Fishing equipment that come to affect the fishing every time maintenance. Small Atari also felt, you can use without stress.
In addition, around the ice in the dedicated tent is melted in the ruins of Bichabicha ... drilling will look at the spectacle that bashed ... but, in the Company
In the tent the hope that it pleasant to everybody is maintenance every day. There is no heating appliance is ... called "surprisingly warm!"
Testimonials also has received many.
---
Attractions of the plan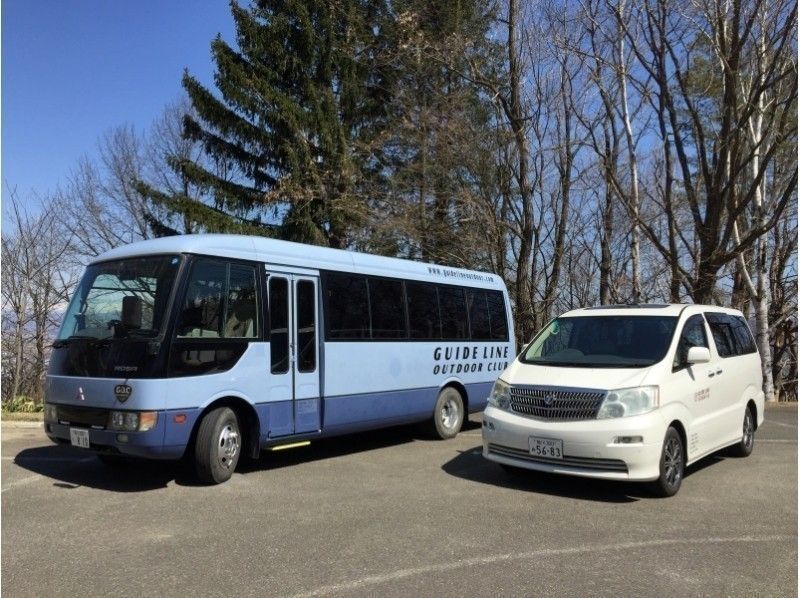 With free transfer from Furano city! 北海道の冬道の運転は怖い、不安…という方のために、富良野市街地・富良野スキー場周辺からの送迎致します。お申込み時にご希望場所(ホテル名など)をお知らせください。 ※釣り場まで約1時間かかります。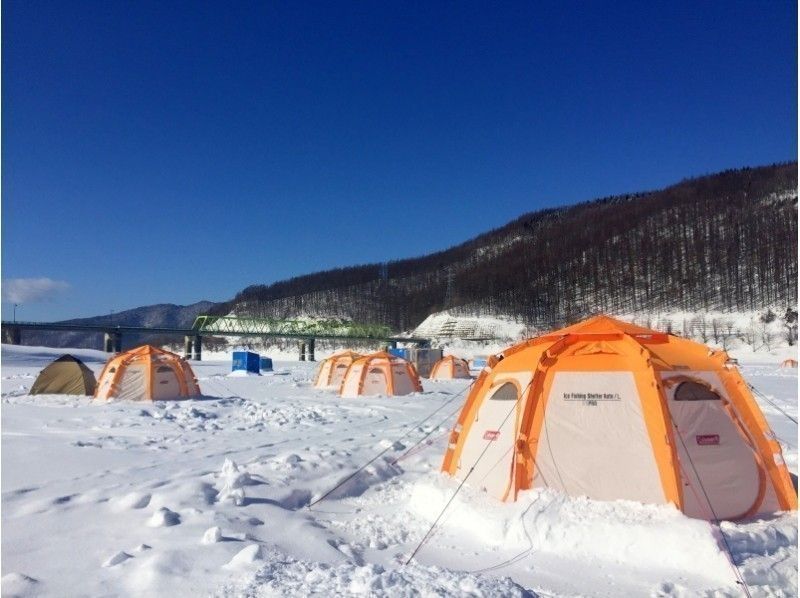 Kanayamako was entirely frozen 全面凍結したかなやま湖の景色も見どころの1つ。 凍結した湖の上に雪が積もり一面真っ白。晴れた日は青空とのコントラストが綺麗ですよ。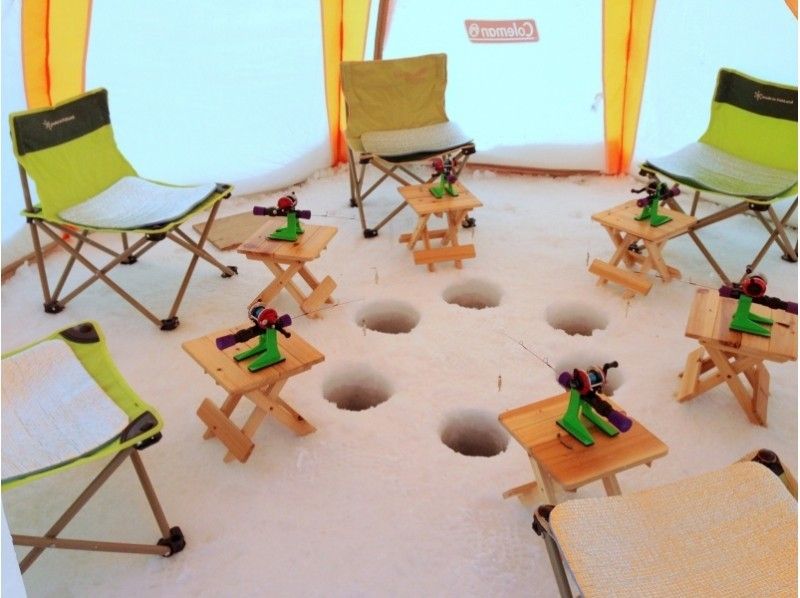 Fishing equipment that come to affect the fishing every time maintenance 「リール付き竿」、「4本針」、「その時々によって使い分ける餌」、回遊の目安となる「魚群探知機」など、釣り道具1つ1つにこだわりを持っています。 また、ワカサギの食い付きが悪い時はまき餌をするなど出来る限りの対策もしております。
---
Information
Minimum number of people
1 人
Number of people who can book
2人〜20人
Schedule
There is changed by the freezing conditions of the lake
Assemble time
<午前> 7:50(ツアー時間:9:00‐11:00)
<Afternoon> 12:30 (Tour time: 13:45 to 15:45)

※ pick-up time will contact you in after your reservation e-mail. If the mail is not available for confirmation the day before, please call us.
Assemble point
Furano city, Furano Ski around

※ Furano foot Goji-ku, Nakafurano-cho, kamifurano Please note that the "pick-up correspondence out".
Reservation deadline
Before 2 days
---
Regarding advance preparation
About clothings and must-bring items
1, warm clothing (such as a waterproof and warmth Ski & board Wear is optimal)
2, winter snow boots (type with waterproof ankle is hidden is the best. Sneakers are not allowed.)
3, protection against cold, such as a hat, gloves

※ Because you do in a tent, but there is no such as heating appliances, please join in the warm clothes.
 寒さが心配な方はホッカイロのご準備をおススメします。
※ If you do not have a cold Wear cold weather snow boots, please use the paid rental.
About rental items
▼ paid rental
Cold weather Wear top and bottom set (120 ~ XXL): 1 wearing 500 yen
Cold weather snow boots (18cm ~ 30cm): 1 foot 300 yen
---
Facility information
Changing room
toilet
shower
Hot spring
Locker
Hairdryer
Parking Lot
コンビニ
スーパー
---
Access and map
How to reach by train
・「富良野駅」をご利用下さい。 ※お迎え時間はAMコース7:50、PMコース12:20を予定しております。天候によってJRの運行時間が遅れる場合がございますので、集合時間には余裕をもってお越し下さい。
その他の方法でお越しの方
・バス…「富良野駅」をご利用下さい。※お迎え時間はAMコース7:50、PMコース12:20を予定しております。天候によってバスの到着が遅れる場合がございますので、集合時間には余裕をもってお越し下さい。
---
time schedule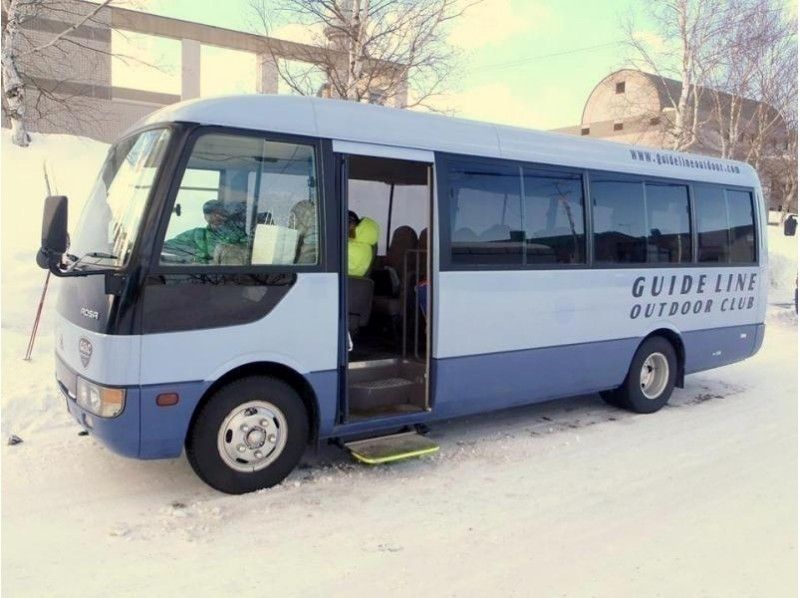 7:45/12:30 ※お迎えの時間はご予約後メールにてご連絡致します。前日までにメール  がご確認いただけない場合は当社までお電話下さい。 ※対応地域は「富良野市街地・富良野スキー場周辺」となっております。  富良野市麓郷地区、中富良野町、上富良野町は「送迎対応外」となり  ますのでご注意下さい。 ※スーツケースなど大きなお荷物がある場合は事前にご連絡下さい。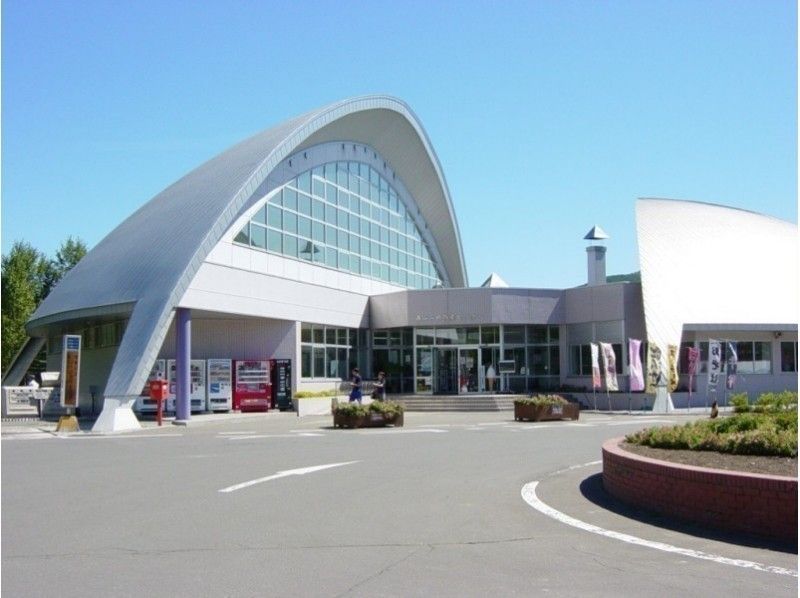 8:45/13:25 ※お手洗いを済ませてから釣り場へ移動(車で約10分)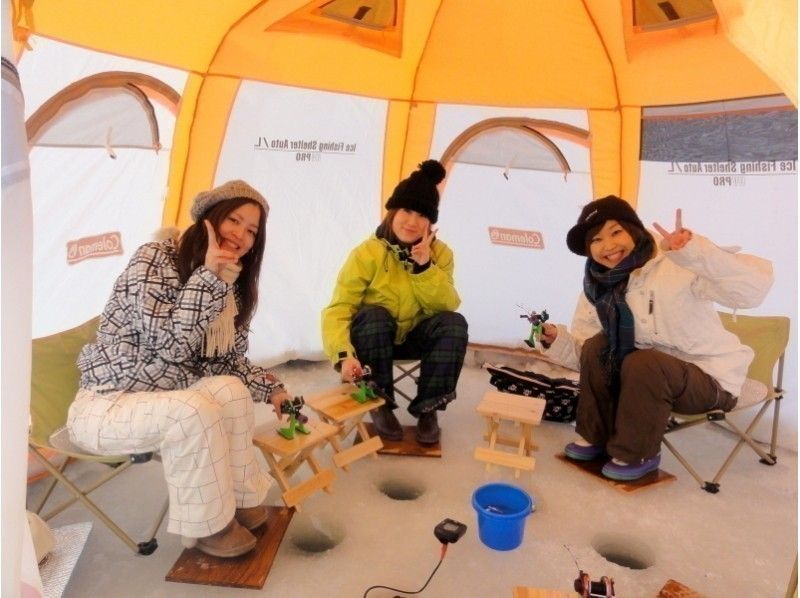 9:00/13:45 ※参加人数・送迎時間によって多少前後します。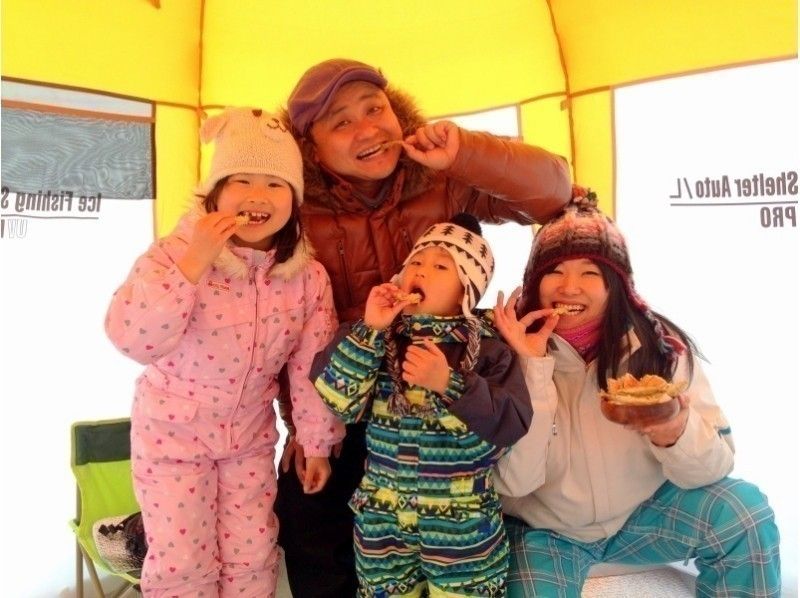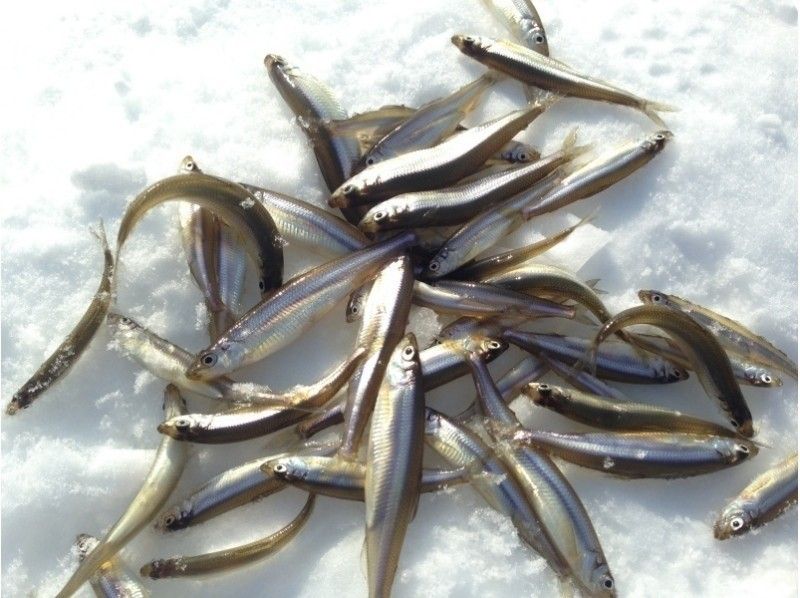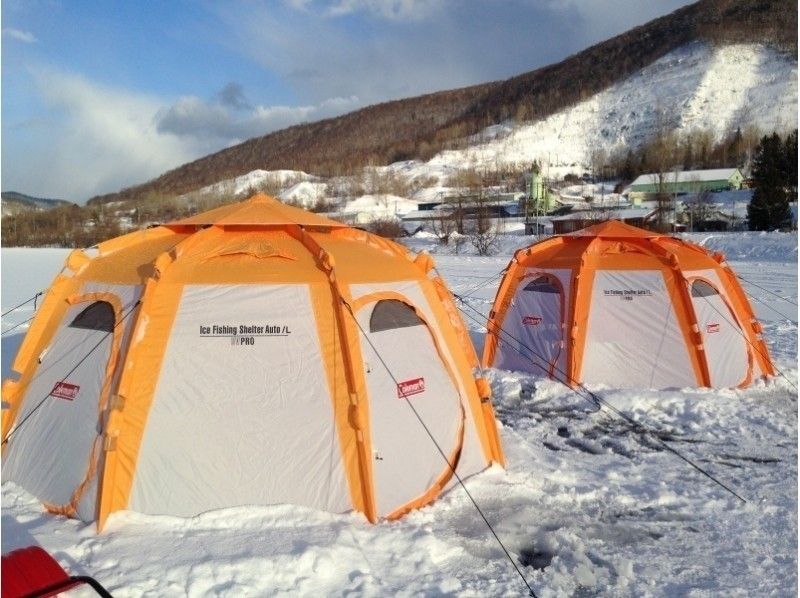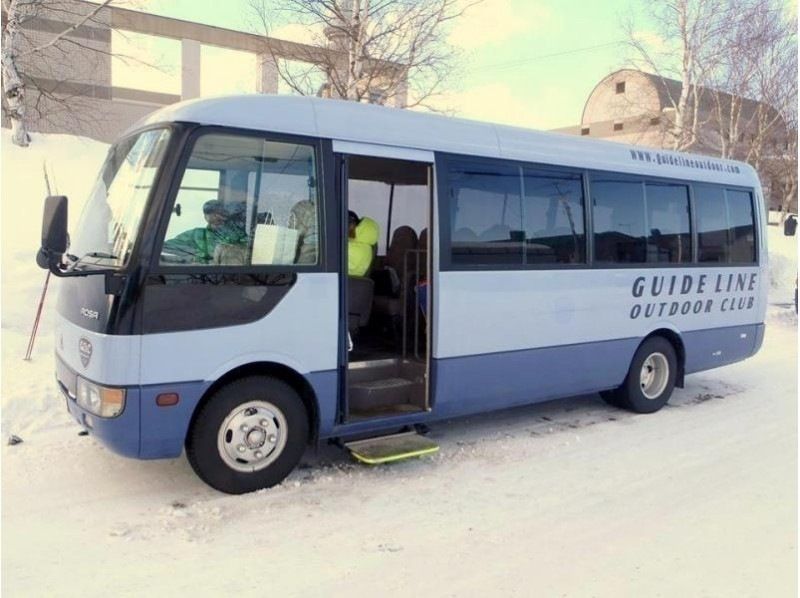 12:10/16:55 ※天候・道路状況によって到着時間は多少前後します。バスや電車を  ご利用のお客様はお時間に余裕もってご利用下さい。
---
Price list
Basic charge
| | |
| --- | --- |
| Adult / person 5,400yen | Junior high school students - |
| Child / person 5,400yen | 5 years old - elementary school |
※Prices including all taxes.
※上記は基本料金になります。
※日程によって料金が異なる場合がございますので、日程を選択した後に表示される料金表をご覧ください。
---
---
お支払い・キャンセルに関して
About payment
Please pay in cash on site.
Payment method
The payment method specified by the operator.
About cancellation fee
If it is canceled by the convenience of our customers, we received a cancellation fee.
• 4 days to 2 days before: 30% of the participation fee
- The day before: 50% of the participation fee
- On the day: 100% of the entry fee
Cancellation by operators.
, Lakes freeze situation of, it may become a "discontinued" by the day of bad weather and natural conditions. In the case of discontinuation we will contact you to your mobile phone to "to set one hour before". Since the case of a holding does not we will contact you, if uneasy, please confirm by telephone.
---
Other
Matters require attention
- For the number of people placed in a tent is limited, the bank's visitors is basically we refuse.
Children only, such as a dog pet, those who do not know the Japanese are (correspondence becomes in all guidance is Japanese) does not offer participation
• In order to increase the fishing, such as a measure of the migration installation and "chumming" of the "fish finder", because although we have a measure of as much as possible we may not catch, such as by weather and migration, please note .
- Breakfast and lunch Please come from eat. At that time, because we do not have a restroom on fishing in the "moisture too take of" Please note.
Other notices
• For seat availability we try always to update to the latest situation, but if you've become a packed overlap your application, there is also a case where I am allowed to give me a schedule change. please note that.
- 20 or more of the organization like, please contact us.
みんなの体験談
There are no reviews yet
5,400円~(税込)
大人 1 人 あたりの料金
Included in price
Fishing equipment needed to, tasting of smelt tempura, guide fee, consumption tax, insurance premiums
| | |
| --- | --- |
| | Starting time 07:50 12:30 |
| | Participating age5 才~ |
| | Time required 2~3時間 3~4時間 |
| | ScheduleThere is changed by the freezing conditions of the lake |
| | Assemble point Look in GoogleMap |