Tottori sightseeing 1 night 2 days model course by car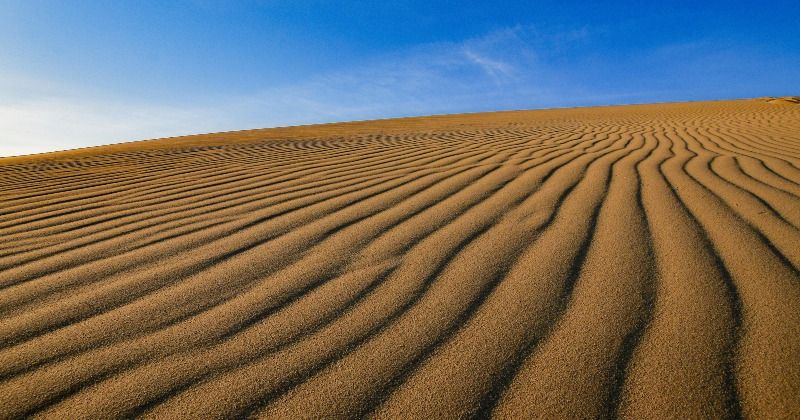 Activity Japan Editorial Department
One of Japan's three major sand dunes, Known for the Tottori Sand Dunes Tottori Prefecture . Located in the Chugoku region, facing the Sea of Japan Tottori is a scenic area where time flows slowly and richly in nature. The number of spots related to anime and manga has also increased, COOL JAPAN It is attracting attention from overseas as a tourist destination. Tottori is a gourmet kingdom blessed with both seafood and mountain delicacies, and there are many miraculous Arataka shrines and temples. power spot prefecture "Do you know that? In this article, we will introduce Tottori, which is full of unknown charms, by renting a car. A model course for two days and one night Introducing! I will also explain the activities that you can enjoy in the nature-rich Sea of Japan, including the Tottori Sand Dunes. Please use it as a reference for your travel plans according to your taste and schedule!
Tottori sightseeing 1 night 2 days model course map
Below is a map of the model course introduced this time.
Tottori Prefecture is long and narrow with a length of about 120 km from east to west. on either side of the county 2 airports Let's take advantage of it and go around the prefecture.
Tottori Sightseeing Model Itinerary Day 1 Morning to Noon: To Tottori Sand Dunes and surrounding sightseeing spots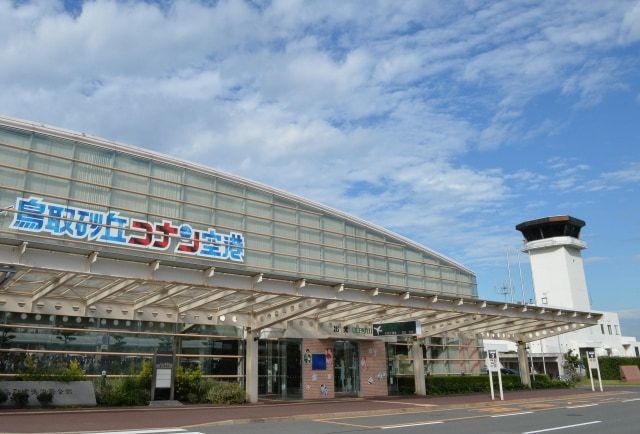 The model course this time is to rent a car around Tottori Airport (Tottori Sand Dunes Conan Airport) on the east side of the prefecture and return it the next day around Yonago Airport (Yonago Kitaro Airport) on the west side of the prefecture. Drop-off service " is set on the premise of use.
Choose sightseeing spots from the model course according to your taste and schedule choose well Please take a look!
Tottori Sand Dunes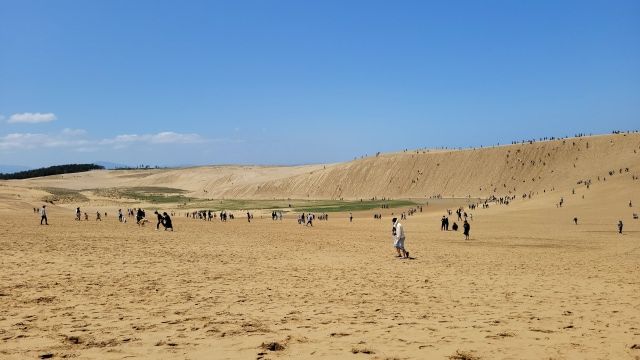 First of all, it is located about 15 minutes by car from Tottori Airport (Tottori Sand Dunes Conan Airport). Tottori Sand Dunes head to
Needless to say, Tottori Sand Dunes Tottori A representative tourist attraction. It is one of the most popular tourist destinations in the prefecture. The sand dunes facing the Sea of Japan stretch about 16 km east to west and about 2.4 km north to south. The area is over 800 Tokyo Domes!
When you arrive, the first thing you should do is visit the observatory adjacent to the Tottori Sand Dunes. Sakyu Center Miharashi no Oka " and take a panoramic view of the entire dune! From the "Sand Dunes Center", you can go to the sand dunes on foot or by lift.
At the Tottori Sand Dunes, cycling , Paragliding You can also experience exciting activities such as Especially slide down the slopes of the dunes like a snowboard sand board is popular as an experience unique to the sand dunes.
Tottori Sand Dunes Sand Museum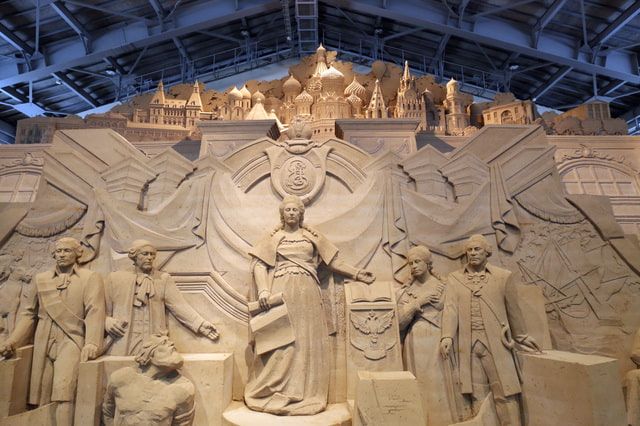 Don't miss the Tottori Sand Dunes Sand Museum, which is located a few minutes on foot from the Tottori Sand Dunes. Carved out of sand hardened only with water sand sculpture ". Historical figures and world heritage sites created by world-class sand sculptors, Sand sculptures with attention to detail is on display.
Among them, the huge sand sculptures that look up are the highlight! Exhibits are subject to change from time to time So you can enjoy it no matter how many times you visit.
Tottori Sightseeing Model Itinerary Day 1 Lunch: Enjoy Tottori's Local Gourmet
Savoring the local specialties is one of the real pleasures of traveling. After sand dunes, let's enjoy local gourmet! " Tottori Port Seafood Market Karoichi "" Sunaba Coffee "New" Tottori Station ". Both are about 15 minutes by car from the Tottori Sand Dunes.
Tottori Port Seafood Market Karoichi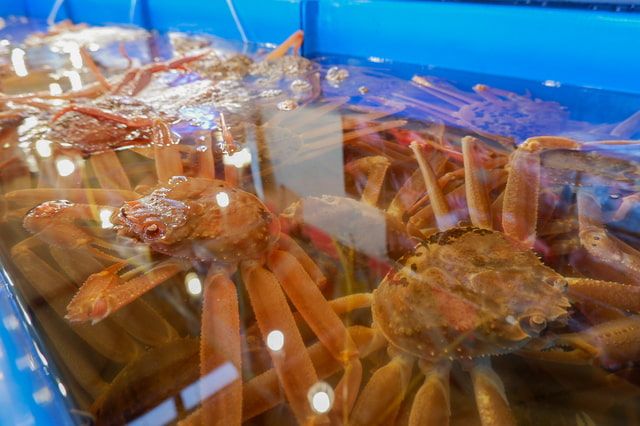 Tottori is known for its large amount of crab catches. Male snow crabs caught in the San'in region say, Matsuba crab It is one of the tastes that symbolize winter in Tottori. The fishing season for Matsuba crabs is usually from November to March to protect the resource. The rich taste and texture of crab Higher quality than crabs harvested in other areas It is said that it is!
"Tottori Port Seafood Market Karoichi" next to Tottori Port (former Karo Port) offers not only crabs but also crabs. Plenty of seasonal seafood ! Of course, there are also many restaurants and restaurants where you can enjoy market cuisine.
Please enjoy the bounty of the San'in sea!
Sunaba Coffee "New" Tottori Station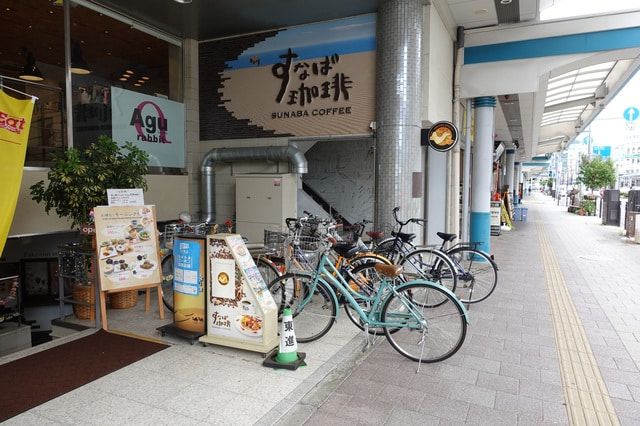 Sunaba Coffee ``Shin'' Tottori Ekimae Branch is located about a 5-minute walk from JR Tottori Station. Around 2012, Tottori was featured in a TV program as the only prefecture in Japan where the popular American coffee chain "Starbucks Coffee" did not open a store, and the governor of Tottori Prefecture said, " There is no Starbucks, but there is Japan's best snubber (sandbox) ', became a hot topic. Later, a local restaurant owner in Tottori opened Sunaba Coffee. The store name is Inspired by the governor's remarks It seems that it was attached.
Currently, Starbucks is also expanding into Tottori Prefecture, and the interesting idea has been supported by the people of the prefecture, and since then, Tottori As a local well-known store, there are several "Sunaba Coffee" stores in the prefecture.
The popular menu is roasted using the sand of the sand dunes, the name of which is " sand roasted coffee ". Original products can also be purchased at the online shop.
Tottori Sightseeing Model Itinerary Day 1 Day to Night: To sightseeing spots in the city
After enjoying the local gourmet, continue visiting popular tourist spots. Considering the next day's movement, Tottori It is a good idea to secure accommodation in the city.
Uradome Beach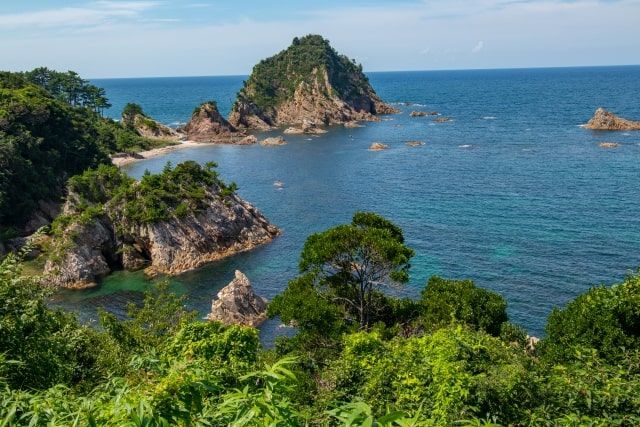 Uradome Beach is about 20 minutes by car from Tottori IC and about 25 minutes by car from Tottori city. internationally valuable geological heritage as a UNESCO Global Geopark San'in Kaigan Geopark is also included in magnificent scenery is a scenic spot to see.
Activity plan that can be enjoyed around Uradome Coast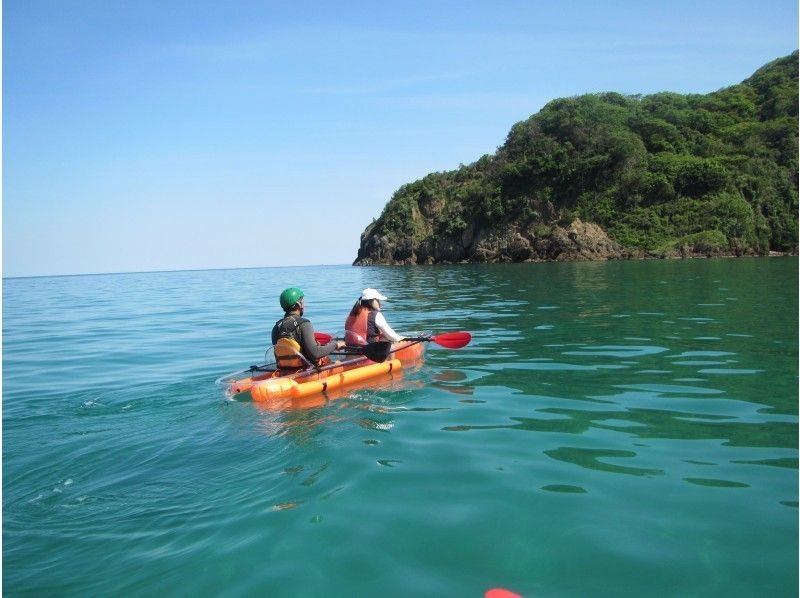 The dynamic terrain carved by the rough waves of the Sea of Japan, Experience, not just see Recommended to try! Around the coast, Canoe/Kayak or SUP , surfing body board There are many activities that take advantage of nature.
Hakuto Shrine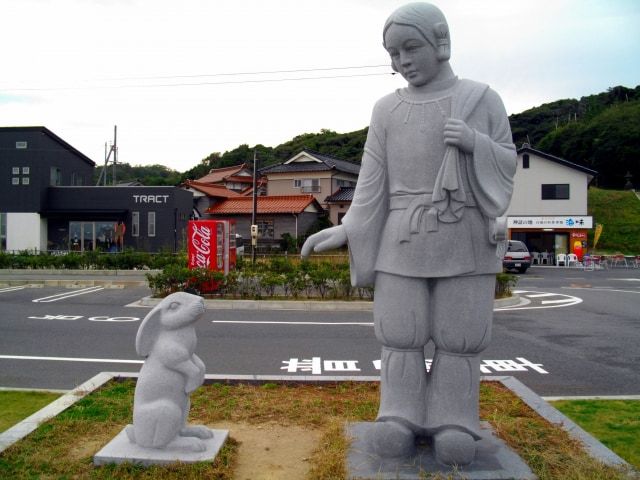 After enjoying activities that move your body, while touching Japanese mythology relaxing time Do you want to spend your time? Hakuto Shrine, located about 20 minutes by car from Tottori IC, is a historic shrine that is associated with the Kojiki.
" White Rabbit of Inaba is a famous story that everyone knows. It is also published in elementary school textbooks. The white rabbit (white rabbit god) that appears in this story is the main deity of Hakuto Shrine. Around the shrine are "Hakuto Beach" and "Okinoshima". Beautiful nature that became the stage of mythology is left.
Taiki
"Taiki" is popular in the city. You can eat seafood rice bowl shop. There are always several types of kaisendon, and the menu changes according to the season. It is a popular restaurant that ranks high in the prefecture even on gourmet word-of-mouth sites.
Limited quantity Therefore, it is not uncommon for tickets to be sold out or fully booked. Don't forget to make a reservation!
Seasonal Fish Tatsumi Tottori
Nodoguro, black abalone, etc. Seafood of Tottori "Shungyo Tatsumi", which offers this, is, as the name suggests, a seafood restaurant that focuses on fish. You can also enjoy carefully selected local sake.
Popular not only with tourists but also with locals! The seafood received is changes day by day . Check the website for the specials of the day!
Tottori Sightseeing Model Course Day 2 Morning-Noon: From Tottori City to Mt. Daisen
the 2nd day. Tottori from the city West What, Oyama I'm heading in the direction of Daisen.
Mt. Mitoku Sanbutsuji Nageiredo
Tottori About 1 hour by car from the city, central Tottori Prefecture, Misasa Town "Mitokusan Sanbutsuji Nageiredo" in Misasacho precipitous cliff It is built in Japan's most dangerous national treasure " is also called.
Since Mt. Mitoku is a place of ascetic practices, in order to worship up close Immigration procedure must be done. In order to prevent accidents, it is necessary to check whether there are more than one person visiting the shrine, and whether the clothes and shoes are appropriate. At the foot of Sanbutsuji Temple, which is about a 10-minute walk away, is the Nageiredo Yohaijo, where you can view the hall with binoculars.
Activity plan that can be enjoyed around Mitokusan Sanbutsuji Nageiredo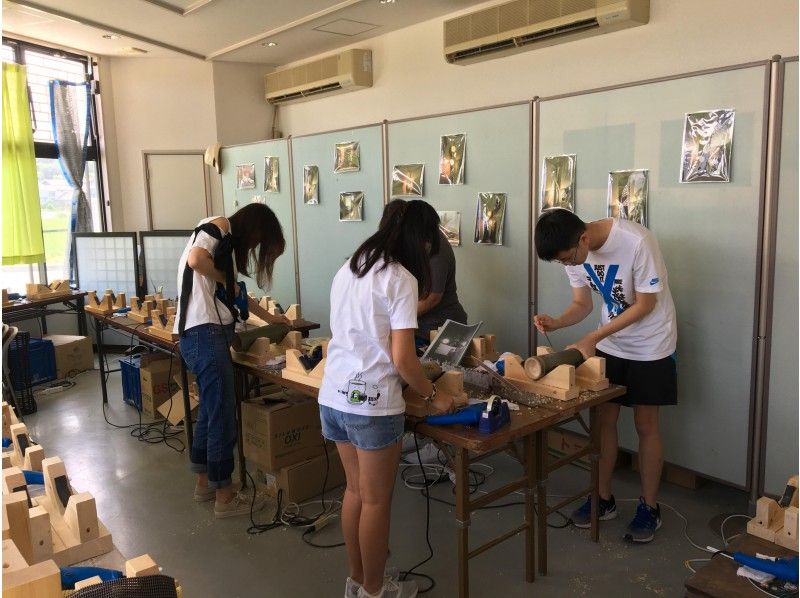 Misasa Town About 30 minutes by car from (Misasacho), adjacent Yurihama Town Around (Yurihamacho), you can experience activities such as manufacturing experience. Stop by for a short time and enjoy the bamboo lanterns and other Making Japanese miscellaneous goods Why don't you enjoy
Oyama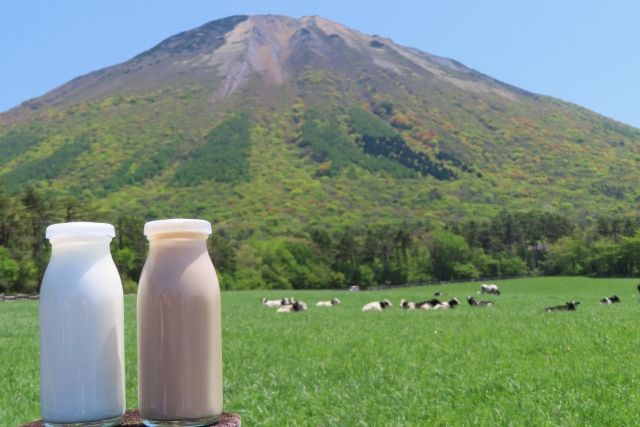 Yurihama Town Daisen, located about 40 minutes by car from Yurihamacho, is a famous peak in the Chugoku region.
Enjoy all four seasons Oyama too Tottori A must-see spot for sightseeing. Especially in the fresh green season mountain sports is recommended. "Ogamiyama Shrine Okunomiya," which has the largest Gongen-zukuri shrine building in Japan, and "Jizo Meguri on Daisenmichi," etc. Many historical sights is also a feature.
Also, around Oyama Dairy farming flourishes . Daisen's fresh and delicious milk, as well as rich flavored soft serve ice cream, Tottori It is a gourmet representative of
Tottori Sightseeing Model Itinerary Day 2 Day to Night: Fully Enjoying Sakaiminato
Sakaiminato (Sakai Minato) is about an hour by car from Daisencho. 1 night 2 days Tottori Our trip is finally coming to an end! Food and Attractions in Sakaiminato Let's have fun!
Tottori Flower Corridor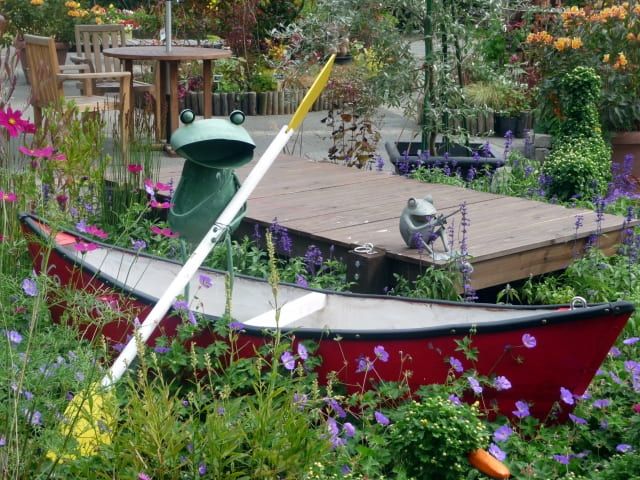 Oyama Town About 30 minutes by car from the Daisencho area. "Tottori Hanakairo" is a place where you can admire plants and flowers regardless of the season or weather. Western Japan's largest flower park is.
The main flower of the facility is lily flower . We adjust flowering and display lilies all year round. In the park, you can enjoy Japanese and Western cuisine at a restaurant that focuses on local ingredients with an awareness of the extraordinary, Prefectural specialty pear You can also taste sweets using
Shigeru Mizuki Road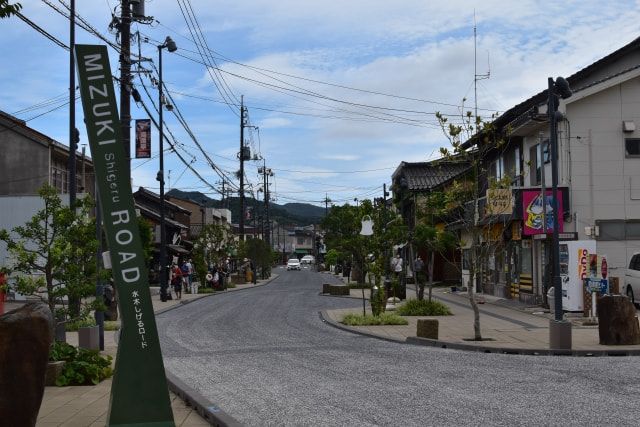 Sakaiminato is a port town surrounded by the sea. It takes about 50 minutes by car from Tottori Hanakairo, and about 40 minutes by car from Yonago IC.
Sakaiminato is a manga artist known for her yokai manga, Birthplace of Shigeru Mizuki . Sakaiminato is truly a town of yokai, with a yokai shrine and souvenirs related to yokai being sold. The Mizuki Shigeru Road, which is about 800m from JR Sakaiminato Station to the Mizuki Shigeru Museum, is a Showa retro street. Over 100 Bronze Statues of Youkai is placed and is full of playfulness.
At the end of the line is the Shigeru Mizuki Museum. At night, shadow pictures are projected onto the ground and bronze statues are illuminated. Atmosphere of Yokai different from daytime You can also feel
Yokai Food Research Institute
"Yokai Shokuhin Kenkyujo" sells sweets and other items that are realistically modeled after the yokai that appear in Shigeru Mizuki's works. At first glance, it looks like it's just a scary and eccentric, but in fact it was founded in the early Meiji period. Long-established Japanese sweets shop is manufactured by Taste is also origami !
Japanese sweets that not only look good on social media, but also are delicious Tottori's new "eyeball" is!
Restaurant Mine
"Oshokudokoro Mine" is a restaurant that offers an abundance of seafood. In addition to seafood, standard menu such as Western food also provides.
With a great location overlooking the Sakai Suido Bridge and good value for money, it is popular not only with tourists but also with local families.
Let's go around sightseeing spots in Tottori efficiently!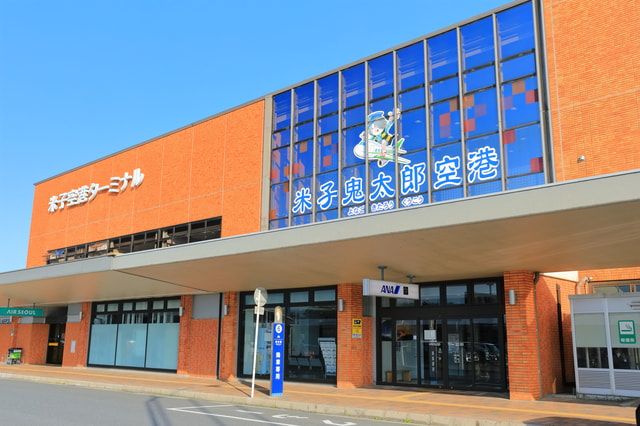 It takes about 15 minutes by car from Sakaiminato City to Yonago Airport (Yonago Kitaro Airport). Return the rental car and stay for 2 days and 1 night Tottori Your journey ends.
plenty It was a model course that we delivered, how was it? In addition to the ones introduced this time, Tottori also has Chizu-shuku, a post town, and Kamochi Shrine, which prays for good luck with money. There are still many attractive spots I have!
Tottori on a trip to Can only be enjoyed locally Try out various activities!
*Information such as plans, fees, and introduced facilities is current as of September 2022. * Travel time and distance are based on activity Japan research.
Editorial department recommended feature articles