June trip to Okinawa | What is the climate, clothes, and prices? Recommended activity thorough guide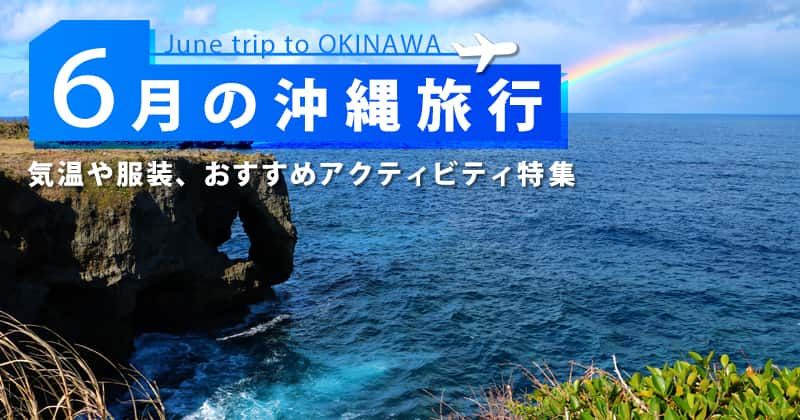 Activity Japan editorial department
In June Okinawa It features information on climate and clothing when traveling, costs and tour fees.
記事には,Okinawa in Juneに関する Information you want to know a lot!
Okinawa in Juneで楽しめる or Marine Sports , Traditional culture experience Such, Okinawa in June でおすすめのアクティビティについても紹介します..

June, when the top season of domestic travel is approaching Useful information when planning your trip to Okinawa I will tell you abundantly!
Reasons why a trip to Okinawa in June is recommended
1. Season after the rainy season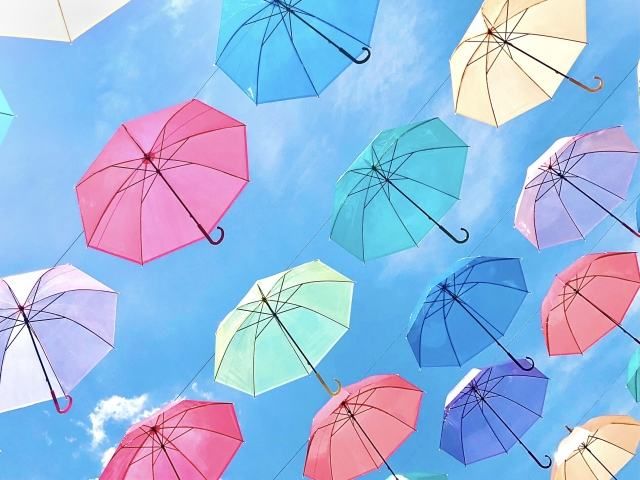 Speaking of "rainy season" in Honshu, it seems that rainy days continue and it is dull. Okinawa の梅雨は少し異なります..
Close to the so-called tropical squall, rain in a short time The day increases Okinawa の梅雨の特徴..なのso,旅行を計画する際には,天候により Can change plans on the fly ようなスケジュールを組んでおくと良いですね..
また,本州よりも,梅雨入り/End of the rainy season時期が早い傾向にあるOkinawa地方..平年,6月下旬には End of the rainy season Will be greeted.
2. Many traditional cultural experiences and events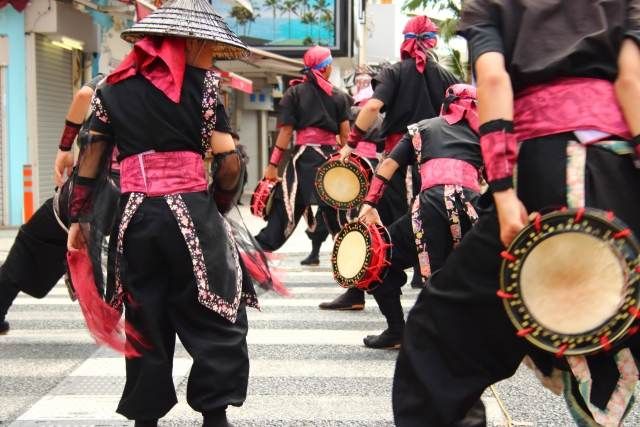 Okinawa in June では,伝統的なお祭りから音楽イベントまso, Various events Will be done.
Okinawaの伝統芸能" Acer do you know with song and dance 家内安全or無病息災 を祈る,伝統的な行事です..
6月13日は,Okinawa市が"Acerのまち宣言」を行った日..この日の前後から8月〜9月の旧盆にかけ,県内では Events about Acer Will be done a lot.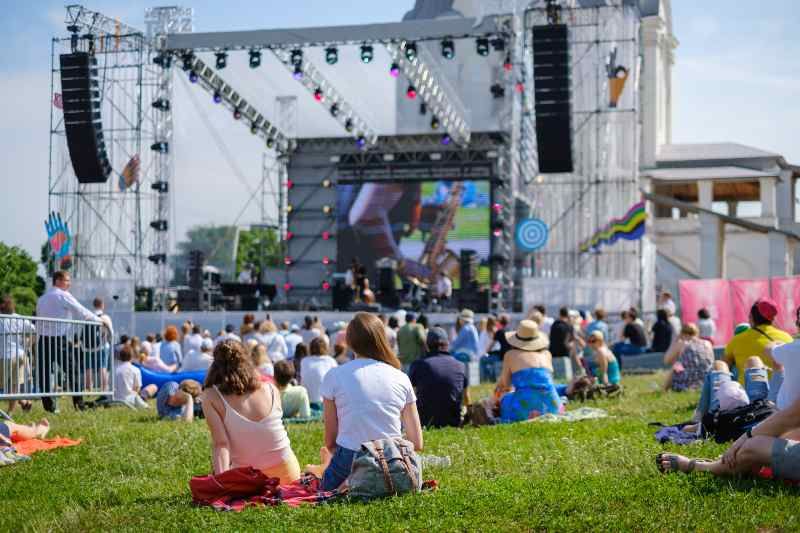 June 23rd は" Okinawa・慰霊の日 ". A day to commemorate the spirits of victims such as the Battle of Okinawa として大切にされています..Okinawa県内の役所or公立学校などは休日です..同様に, 施設or店舗が休み となる場合もありますのでご注意ください..
また,慰霊の日の翌日・6月24日は" Song day 」として例年,コンサートor音楽イベントが開催されます..
" 戦時中,歌or踊りが許されなかった時代に思いを馳せ平和を祈ろう! 」という呼びかけに賛同するアーティストが,県内外から多く参加しています..
3. Save money on travel just before summer vacation!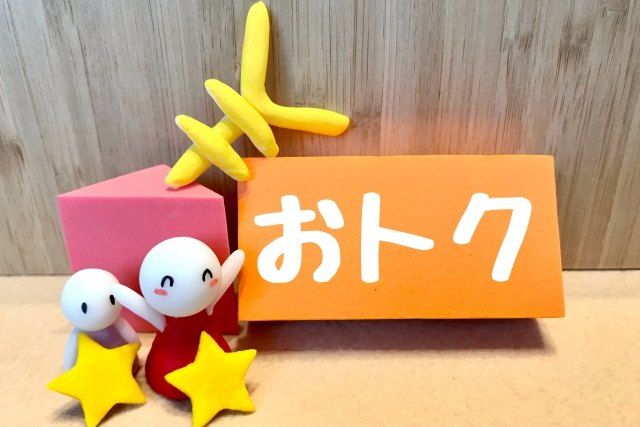 It is said that traveling to Okinawa is the cheapest in the winter season, but " If you go to Okinawa with all your might, you still want to enjoy summer ... Many people think so.
For such a person June trip to Okinawa recommend!
In the summer vacation season, travel prices for hotels, airfares, rental cars, etc. tend to rise at a stretch, but Prices are still low at this time of year ..
In Okinawa, the opening of the sea is finished in early spring, so you can swim in the sea even in June. Marine Sports It is possible to enjoy. The possibility of a typhoon is lower than in midsummer 旅行客が少ないOkinawa in Juneは, Excellent cost performance とも言えます..
Okinawa in June so, Early summer Would you like to enjoy it?
June trip to Okinawa What is the best outfit?
"The end of the rainy season" a little earlier than Honshu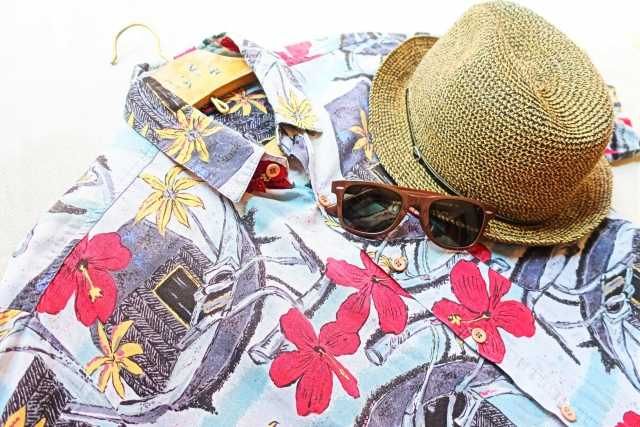 In June, it is not uncommon for Okinawa to continue summer days (days when the maximum temperature exceeds 25 ° C). In recent years, from the beginning of June Maximum temperature is 30 ℃ The number of days that exceed is increasing.
As the temperature rises, indoors Cooling is working します..外の暑さと反比例し,室内が寒く感じられることも..特に冷えが気になる人には, Long sleeves Will be an indispensable item.
本州よりも南にRank置するOkinawaは, Ultraviolet rays also become stronger .. According to the data of the Japan Meteorological Agency, the average amount of ultraviolet rays in Okinawa (Naha) in June is classified as "strong" or "very strong".
Beach And so on, as much as possible Refrain from exposing the skin , It is recommended to wear a rash guard when entering the sea.
Examples of clothes, coordination, and belongings for your trip to Okinawa in June
T-shirts / short sleeves / short sleeves and sleeveless dresses / thin long sleeves such as hoodies / cardigans / sunscreen / sunglasses / UV cut glasses / surf hats (beach hats) / rash guards / sandals / beach sandals / towels / etc.
June Okinawa weather and temperature
Source: Japan Meteorological Agency "Naha / Tokyo Normal Value (Year / Monthly Value)"

| area | Average temperature | Average maximum temperature | Average minimum temperature |
| --- | --- | --- | --- |
| Okinawa(Naha) | 27.2 ℃ | 29.8 ℃ | 25.2 ℃ |
| Tokyo | 21.9 ℃ | 26.1 ℃ | 18.5 ℃ |
Recommended activities / leisure / experiences / play in Okinawa in June
SUP (SUP), clear SUP (SUP)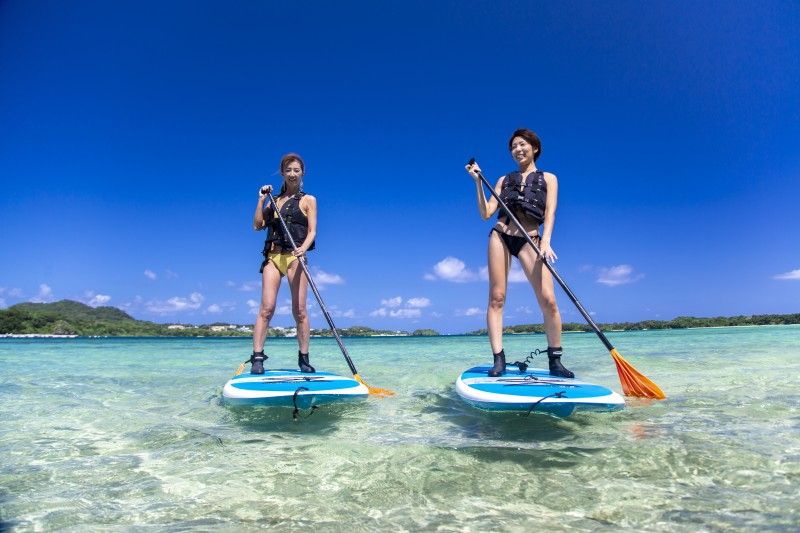 In recent years, it has become a staple of marine sports in Okinawa. SUP ・ Clear SUP ".
Large and stable board Stand on top and use the paddle to row.
Even beginners can ride relatively easily Unique floating feeling It is a feature that you can taste.
Above all, ride on a transparent board Clear SUP Is larger and more than a normal SUP board Easy to handle for beginners It is said that. You can enjoy it even with small children.
Parasailing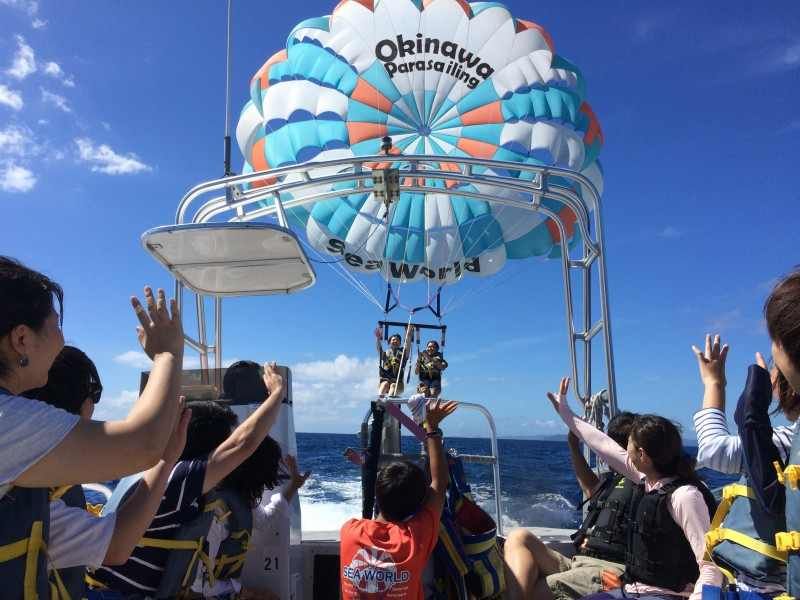 With a parachute connected to a motor boat with a thick rope, Enjoy levitation and spectacular views The activity is " Parasailing "is.
When towed by a boat of a certain size, Everything starts and ends on board Therefore, people who are not good at water or swimming are safe!
Like riding on a big swing Okinawa's beautiful sea and sky Let's enjoy it to the fullest.
Food making experience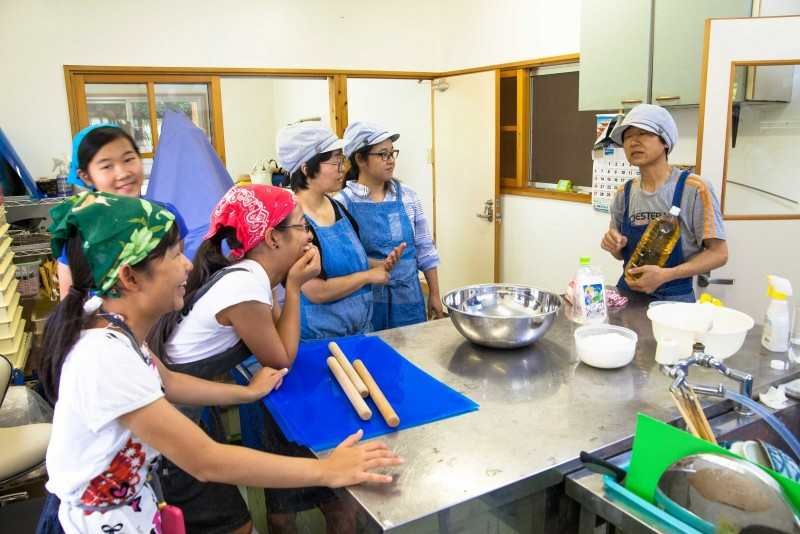 Delicious food and local food at your travel destination Specialty dishes It is the real pleasure of traveling to meet. While touching the unique food culture developed in Okinawa Make the dish yourself " Food making experience " is now a hot activity!
The food making experience Children's "food education" にも役立ちます..親子で一緒にOkinawaの食材or料理の背景を学べる,貴重な機会にもなりますよ..
Popular activity ranking that you can experience in Okinawa in June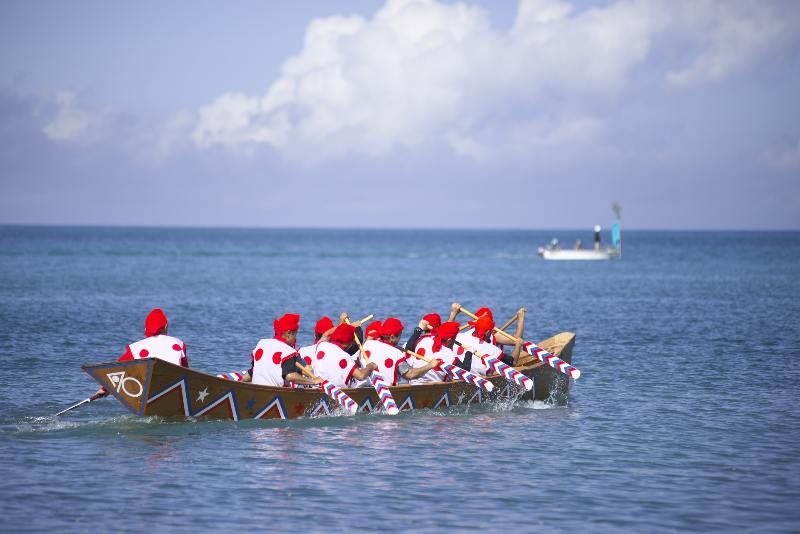 In this article, June trip to Okinawa I gave you information about.
In addition to the introductions, at Activity Japan, Activities that can be experienced in Okinawa We handle a lot of plans and tours.
Okinawa in June so, Enriched activities Please enjoy a lot!
※プランor料金・紹介施設などの情報は2023年3月現在の情報です..
Editorial department recommended feature article