New corona measures and various tour secrets to hear from "Nikko Natural Science Museum"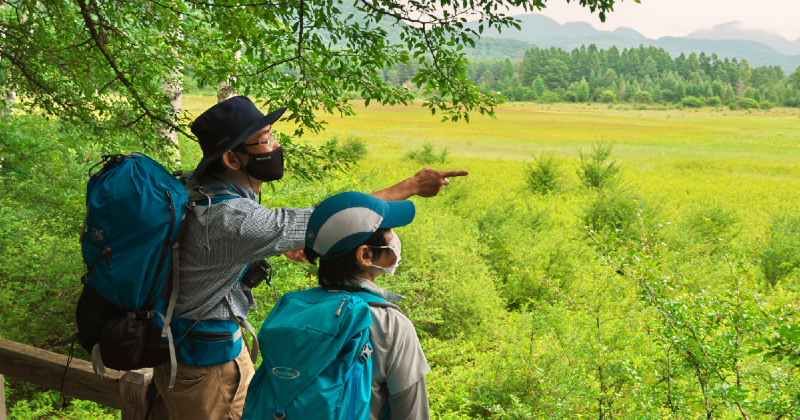 Activity Japan editorial department
We offer a variety of tours and experiences such as snowshoeing, trekking, and bird watching in the Nikko area of Tochigi prefecture. "Nikko Natural Science Museum" .. Plans that make use of the high expertise of commentators are popular. We also heard about the new corona measures that are limited to one group and small groups, and the characteristics of the company.
To enjoy activities safely and securely
The second installment of "How to Enjoy New Activities in the After / With Corona Era" featured in June 2020 last year.
This time, we will interview the business operator who provides the activity about "the latest measures to prevent corona infection". The second appearance is "Nikko Natural Science Museum" .. Besides, Characteristics of your company and activities, unique initiatives, messages to customers I also heard.
"Nikko Natural Science Museum" original infection prevention measures
As an infection control measure Tochigi Prefecture and Nikko Nature Guide Council Formulated by each Guidelines Based on Create and comply with your own manual .. Specifically, we measure the temperature and disinfect hands with alcohol at the reception. Without a mask Avoid face-to-face (face-to-face) doing. Besides, in case of emergency Construction of emergency contact system And so on. On each tour Limited to a small number of people or one group .. Avoids unspecified number of contacts. Utilize wireless microphone death, Prevention of droplet infection I am also trying.
Indoor measures such as changing rooms, shower rooms, and training
Most of the plans are for customers to gather at the site with their own preparations. Outdoor tour is. so that, There is almost no risk of infection due to staying in a closed space .. When including indoor activities Temperature measurement, wearing a mask, disinfecting hands with alcohol And carry out Participation limit is 50% or less of the capacity By suppressing it to, it avoids crowding and facing, and reduces the risk of droplet infection. Before and after the customer is used Disinfect the contacted surface death, Ventilate the venue as appropriate doing.
Physical condition management of staff, hygiene management in the facility, time interval
Guidelines formulated by the Nikko Nature Guide Council The staff Every morning temperature measurement and confirmation / recording of the presence or absence of subjective symptoms, diligent hand disinfection with alcohol Implemented. We also utilize the contact notification system [COCOA] recommended by the government. Reception etc. Wear a mask when serving customers However, we are trying to prevent droplet infection by not facing each other. Also inside the facility Backyards such as offices and toilets Diligently, including Disinfect with alcohol However, both staff and facility users wear masks.
About your health check
Temperature measurement at reception (Self-reported if the equipment does not operate normally at low temperatures). Are there any suspicious symptoms? Listening I am doing. If a new coronavirus infection is discovered or suspicious symptoms occur between the application and the event, Refrain from participating without applying the cancellation policy I am asking for.
Measures for shared equipment
Snowshoes, binoculars, wireless microphones Most rental items will participate One for everyone Since it is lent, it is not reused. Some equipment with a limited number such as field scopes Is used so as not to touch it directly. If there is contact, we immediately disinfect with alcohol. Items that are used in direct contact, such as winter clothes, are disinfected and washed as appropriate.
Customer base of "Nikko Natural Science Museum"

Because we offer a variety of tours A wide range of customers Please join us. Overall, the attributes are different, but there are many middle-aged and older groups of up to 3 people, such as couples and friends, followed by individuals and families. Compared to the average year 20's The percentage of customers is high.
Customer feedback regarding infection prevention measures
Limited to 1 group or small number of people Because we are touring in Thick guide is possible It has become. We often receive comments that we are "satisfied" with that point.
Is there an online tour?
Online tour of existing plans I'm starting to work on.
The other day, as the first online tour [Winter forest going online! Let's enjoy snowshoes while staying at home! !! ] Was held.

A tool for walking on the snow Snowfield trekking using "snowshoes" Was introduced with a talk by the guide, a demonstration of the equipment, and sometimes with local photos and videos. For those who participated "Even if you are inexperienced, the charm has been conveyed well." It was well received. In the future, we will increase the lineup, route guidance that emphasizes more immersive feeling, and Bird watching or Starry sky viewing Such Highly specialized themes We plan to dig deeper and make it enjoyable for many customers. Please expect by all means!
Features of "Nikko Natural Science Museum"
Designated manager of Tochigi Prefectural Nikko Natural Science Museum We are planning and conducting nature experience tours at. Eight experienced nature commentators enrolled And the field of activity is All over Oku-Nikko It extends to.
Unique initiative
Even beginners can enjoy it without difficulty Guide hike on the promenade Of course Climbing and exploring icefalls Such, Hard trekking , Starry sky viewing and wildlife observation Such, A unique plan that makes use of the commentator's specialty and specialty Many.
another Bird watching , Flower hike , Looking for insects Etc. Nature observation system There is also. Snowshoes or Making Kamakura including Winter activity , A sutra-copying Buddha hike that collaborated with a temple It is enjoyed by a wide range of customers.
Seasonal attractions and fun to experience
Oku-Nikko is one of the most abundant powder snow in the Kanto region Because we are proud of Winter activity is thriving An area to be enjoyed by. Even so, the cold weather gradually eases in late March. From mid-April, I started to come to Japan Observe summer birds Or Overlooking Lake Chuzenji from the flowering mountain Or In memory of history Stroll through the fresh green forest Or Full starry sky and total lunar eclipse You can relax and appreciate.
From spring to summer, you can enjoy various flowers in succession. Explore the hidden waterfalls in the mountains Or climb a mountain Observe alpine plants Or In search of encounters with animals, Night forest Or go out to. Very popular with children insect I look for.
In autumn A large panorama of autumn leaves from the top of the mountain or lake We will also hold tours such as enjoying. Superb view colored with colorful autumn leaves You can enjoy.
A word to our customers
So that everyone can enjoy it Guide of the day Of course Photo gifts after the tour from in-depth consultation in advance We are also focusing on follow-up before and after. All the staff are looking forward to seeing you. Please join us once.
Kanto
Tochigi
Nikko/Kirifuri Kogen/Oku-Nikko/Lake Chuzenji/Imaichi
Trekking (climbing / hiking)
Snowshoes and snow trekking
Traditional culture experience
The Nikko Nature Museum is located near Kegon Falls and Lake Chuzenji, and in addition to introducing nature and history, it also conducts a wide range of activities such as nature information, information on hiking trails, and holding nature experience events as a local information transmission base. I am. The museum has a natural exhibition room, a humanities exhibition room, a 200-seat hall that introduces Oku-Nikko in movies, and regularly holds self-organized exhibitions on the themes of nature and tourism. We also operate the British-Italian Embassy Villa Memorial Park, Chuzenji Lakeside Boathouse, Akanuma Nature Information Center, and manage the luck of low-emission buses. In addition, 10 nature guides (nature commentators) are enrolled in our museum, and we are conducting tours to experience the nature of Oku-Nikko throughout the year. Nikko Nature Guide Council member organizations
business hours
From April 1st to November 10th, 8:30 to 17:30, from November 11th to March 31st, from 9:00 to 17:00
Regular holiday
Mondays (open every day from May to November), 3 days each during the year-end and New Year holidays, and other temporary holidays
【please note】
The information on this page is as of February 2, 2021. The business conditions of the companies we introduce and the availability of plans may change. If you have any questions or concerns, please feel free to contact us at the time of booking. The images used in the article include those taken before 2020.
Recommended / Popular Activities / Experiences / Leisure Features
Special feature of the area / area of interest