Meiji Shrine New Year's visit | Explanation of crowd times and worship methods
Activity Japan Editorial Department
First visit to Meiji Shrine Explain about.
Crowd times and how to visit the shrine from New Year's Eve to New Year, etc. , we will introduce various contents related to New Year's visit at Meiji Shrine.
As an outfit suitable for welcoming the new year kimono Because of the popularity of Kimono rental plan We will also introduce about.
Please use this as a reference when going to Meiji Shrine for New Year's visit during the year-end and New Year holidays.
Meiji Shrine has the highest number of New Year's visitors in Japan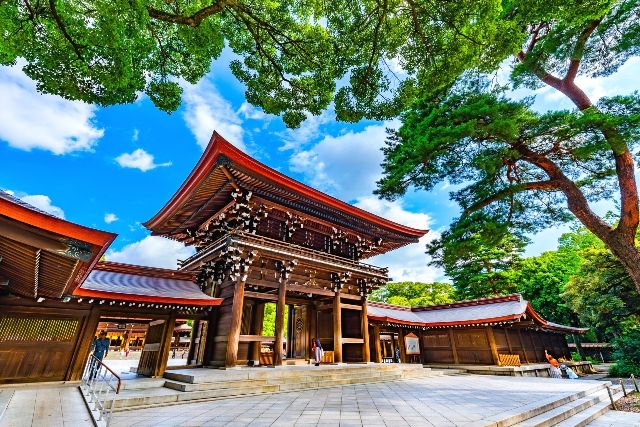 Approximately 3 million people visit New Year's visit every year. Boasts the largest number of worshipers in Japan Meiji Shrine . Located on a vast site of 700,000 square meters surrounded by lush trees, it is a popular spot as an oasis in the city.
Like that The history and benefits of Meiji Shrine I would like to introduce you to
History of Meiji Shrine
Meiji Shrine was founded on November 1, 1920 (Taisho 9). The 122nd Emperor Meiji and Empress Shoken are enshrined here.
Although it is located in the heart of the city, the precincts are surrounded by lush trees. An artificial forest created with approximately 100,000 trees donated from all over the country when Meiji Shrine was built. is.
Many of Meiji Jingu's shrine buildings were burnt down during World War II, but donations were collected from both Japan and abroad, and the main shrine was built in 1958 (Showa 33) and rebuilt to its current appearance.
Benefits of Meiji Shrine
At Meiji Shrine, exorcism , Prayer for success , good luck There are various benefits such as, but due to the good relationship between Emperor Meiji and Empress Shoken, Matchmaking and marital harmony It is especially famous for its benefits such as is. In the main shrine, Couple camphor tree (Meotokusu) "teeth, love fulfillment or marriage Also popular as a power spot .
In addition, there is also a stone that is said to have been dug by Kiyomasa Kato, who is said to purify bad energy. Kiyomasa Well " and " Kameishi In the vast precincts of Meiji Shrine, there are many Dotted with power spots with various benefits doing.
Visiting hours and crowd times for New Year's visit to the shrine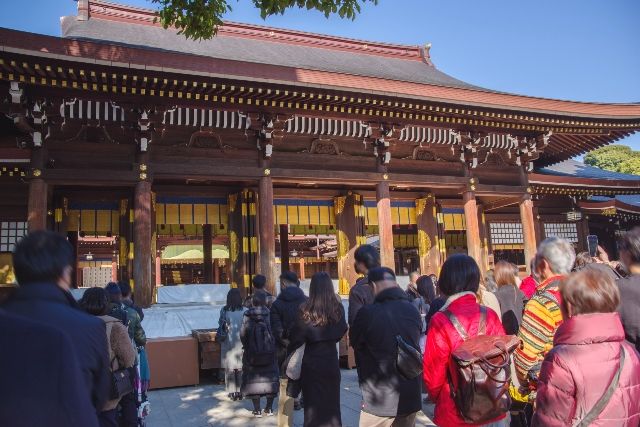 From New Year's Eve to New Year's Day Visiting hours or Crowded time I will explain about it. Please use this as a reference when going to Meiji Shrine for New Year's visit.
New Year's visit to the shrine
Meiji Shrine, which opens at sunrise and closes at sunset, is a shrine that has different visiting hours every month.
however The gate will not be closed on New Year's Eve, December 31st, so you can visit all night long. .
The above hours are from December 31st to the end of January. If you plan to visit the shrine after January, be sure to check the gate opening and closing times before going out.
Information for 2023 and 2024 has not been announced yet, so this is information for 2022 and 2023.
Crowded time for New Year's visit
Visit during peak hours 3 hours or more New Year's visit to Meiji Shrine may take some time. By knowing the busiest times each year, you can avoid the risk of getting caught up in the crowds.
There are relatively few people who visit the shrine during the New Year even if they are not comfortable visiting the shrine in a crowd. Early morning hours are recommended. . Especially on the third day of the New Year, a large number of visitors are expected. It is best to avoid visiting the shrine during the usual crowded hours, or visit the shrine after the 4th. is.
Access and New Year's visit traffic regulations
To access Meiji Shrine, please follow the steps below: 5 stations is available.
JR Harajuku Station
Tokyo Metro Meiji Jingumae Station
Odakyu Electric Railway/Sangubashi
JR Yoyogi Station
Tokyo Metro Kitasando Station
The closest access to Meiji Jingu is from Harajuku Station and Meiji Jingumae Station, and you can walk to the south approach to Meiji Jingu. Approximately 1 minute .
Other routes are from Sangubashi Station to Nishi-sando. Approximately 3 minutes , from Yoyogi Station/Kitasando Station to Kitasando Approximately 5 minutes each Arrive at
Every year, vehicle traffic restrictions are implemented around Harajuku Station and Yoyogi Station. . It is difficult to secure a parking lot, such as a coin parking lot, so we recommend using public transportation to get to Meiji Shrine during the year-end and New Year holidays.
How to visit Meiji Shrine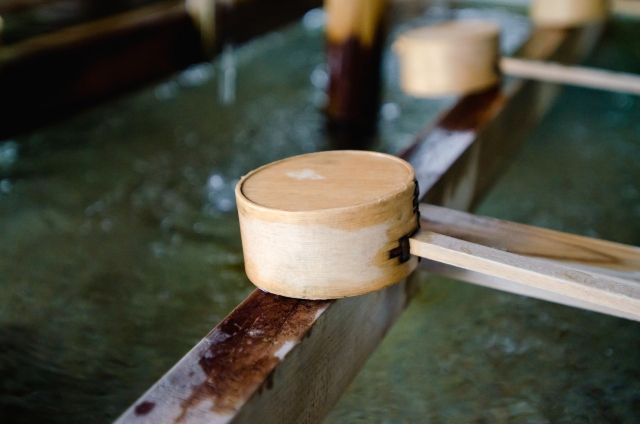 Before visiting the shrine, cleanse your hands and mouth at the chozuya. Rinsing with running water has the meaning of purification, which removes impurities from the mind and body, so don't forget.
The etiquette for visiting Meiji Shrine is `` Two bows, two claps, one bow "is.
If you want to buy an amulet at Meiji Shrine, be sure to buy it before visiting the shrine. . By praying together with the amulet that you wish to fulfill, such as for success in love or passing an entrance exam, the benefits of the amulet will be even more powerful.
New Year's visit offering money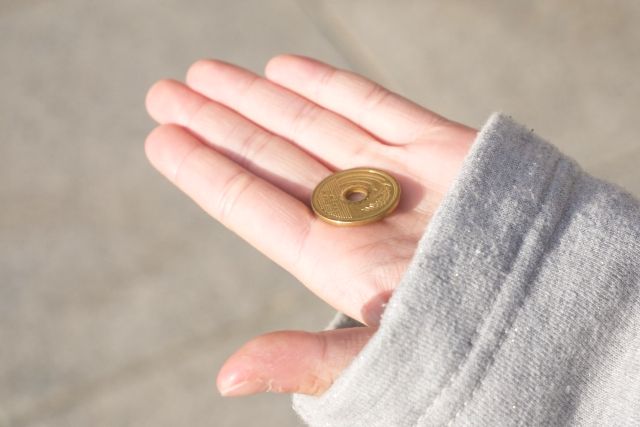 There is no set amount for the offering. The feeling of praying is the most important thing, so please pay as much as you can within reason. Amount of auspicious pun in offering money has the following combinations:
5 yen → relationship
15 yen → Enough luck
20 yen → double edge
25 yen → Double bond
35 yen → Repeated relationship
50 yen → Five-fold edge
55 yen → Fivefold relationship
100 yen → 100 connections
In addition, 5 yen x 4 pieces " good relationship " or 5 yen x 8 pieces " An ever-expanding relationship Many people choose a combination of 5 yen (good luck) coins as ``good luck.'' Also, 5 yen and 50 yen with a hole in them are said to have good prospects, and are believed to bring good luck.
If you prepare more coins than usual for your New Year's visit, you can make offerings using various puns. .
vice versa A word combination that is considered unlucky There is also.
10 yen → Wish becomes a distant relative
33 yen → A terrible relationship
65 yen → No good relationship
75 yen → No connection
85 yen → There is no connection after all
95 yen → Painful relationship
500 yen → There is no better effect (coin) than this
Of course, just because the amount is a bad pun doesn't mean it's bad. After understanding the original meaning of offering money, It is important to pray with gratitude and respect. is.
New Year's visit stall (opening)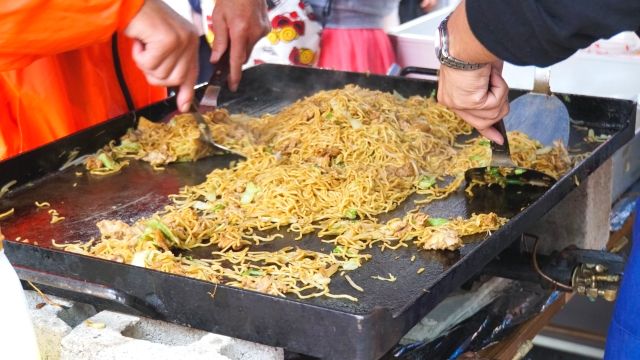 *The image is an image of a food stall.
Due to the impact of the coronavirus outbreak, there were no stalls in 2021 and 2022, but in 2023, although the scale was reduced, for the first time in three years, Forest Terrace Meiji Shrine " Stalls selling yakisoba, takoyaki, oshiruko, and other foods were lined up in the Fureai Square in front of the event.
The stalls are set up every year, Around the three entrances to the shrine, the north approach, south approach, and west approach, on the inner garden side where the main shrine of Meiji Shrine is located, and around the plaza in front of the Cultural Center. It is expected that stores will be opened at the same location during the year-end and New Year holidays of 2023 and 2024.
It depends on the time of day, but it's sure to be crowded during the year-end and New Year holidays. There are cafes and restaurants around Omotesando that are open even during the year-end and New Year holidays, so if you want to avoid the crowds after visiting the shrine, you may want to use the restaurants.
New Year's visit clothing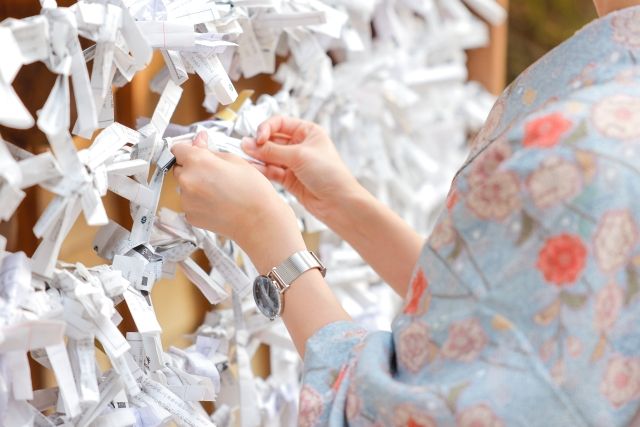 There is no rule to wear formal clothes for New Year's visit, but Clean clothes suitable for a sacred place would be better.
From New Year's Eve to the first three days of the New Year, there are many people and there is a waiting time before visiting the shrine. Cold protection measures It is important to keep this in mind. Be sure to dress appropriately and prepare cold-weather items such as disposable warmers, gloves, and scarves.
For your first visit to Meiji Shrine, We also recommend visiting the shrine in kimono. is. Kimono rental Then, you can choose your favorite kimono from a wide variety of kimonos.
The plan includes not only the kimono, but also the accessories necessary for the Japanese style, such as underwear, tabi, sandals, and bags, as well as hair styling. You can come empty-handed on the day. That's a good point. The kimono, which makes you feel relaxed just by wearing it, has a gorgeous atmosphere, so it is recommended as an attire to welcome the new year.

[Tokyo/Shibuya]★Very popular retro modern plan★Enjoy coordinating with carefully selected antique kimonos♪
Kimono rental VASARA Shibuya store
Shibuya/Harajuku
8,030

circle

Yen~

(tax included)

6,930

Discount campaign in progress!
☆★New retro modern plan is now available★☆ You can enjoy a variety of coordinations by combining the popular antique kimono with optional accessories ♪ You can add lace to the half collar to make your face look smaller ♪ This cute kimono has been popular with influencers and models The coordination is very popular! ! Kimono rental VASARA thoroughly helps you create "fun" memories

Let's go to Meiji Shrine for New Year's visit!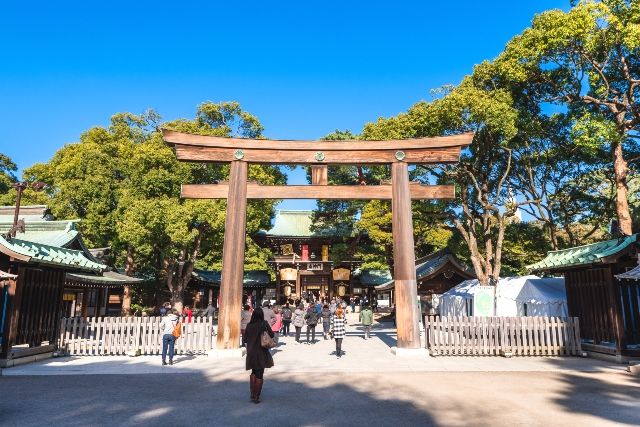 Crowds and how to visit Meiji Shrine on New Year's visit I explained about.
Many people come to worship during the year-end and New Year holidays, so we recommend using public transportation.
Let's start the new year off to a wonderful start by making a New Year's visit to Meiji Shrine based on the information explained above.
*The contents of this article are current as of November 2023.
Feature articles recommended by the editorial department