Activity Japan editorial department
On this page, it is extremely popular as a summer day trip / sightseeing walk spot from within Tokyo and the suburbs of Kanto. Special feature on yukata rental in Kamakura .. Excellent access to standard sightseeing spots such as Tsurugaoka Hachimangu Shops around Komachi Street Focusing on Cheap price Plan and Couples / Mens / Children We will thoroughly introduce a yukata rental plan that meets various needs. To the store Access / rental time / service content Including, Reviews and reviews Please look for your favorite Kamakura Yukata rental plan by referring to.
Kamakura / Yukata Rental Plan Reservation Reference Data
* Data based on activity Japan publication plan information
Yukata rental for Kamakura dates, fireworks displays and fairs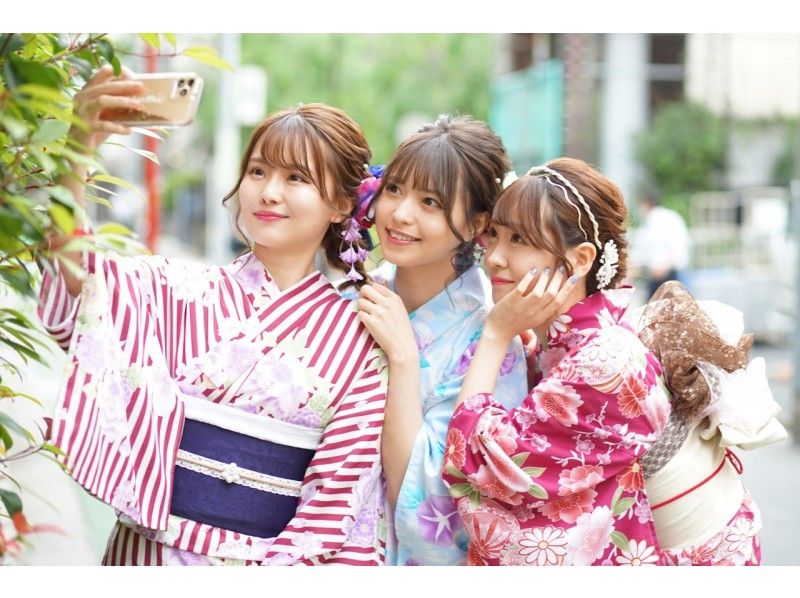 Retro streets that retain the scenery of good old Japan, such as historic temples and shrines, strolling along Komachi Street, which is a popular spot for eating and souvenirs, and the annual summer fireworks display etc .. ..
Belongs to the Shonan area of Kanagawa prefecture, which is rich in nature between the sea and mountains In the ancient city of Kamakura, you can go out on a date with a couple or a group of friends. And so on A popular day trip sightseeing spot for a walk is.
Of summer Enjoy walking around Kamakura on SNS and Instagram Above, from the last few years, including women's groups and couples "Yukata rental", a leisure activity for experiencing Japanese culture that is extremely popular ..
First of all, The appeal and points of Kamakura's yukata rental plan being supported by many people I will check.
Yukata is cheaper than buying if you rent it!
Yukata, obi, clogs (sandals), waist straps, date tightening, obi-ita, bags, etc ... It is generally very expensive to buy a set of tools related to yukata, which costs tens of thousands of yen or more.
Currently at Activity Japan You can reserve a plan with a yukata set rental, dressing, and hair set from the lowest price of 3,278 yen (tax included) is.
Full-scale incorporating trends and trends while keeping the budget down The biggest merit of using yukata rental is that you can enjoy kimono casually and cheaply. is.
Kamakura Yukata Rental Price Lowest Plan
Review / word-of-mouth experience
Popular for couples and couples on Kamakura dates!
Kamakura, which belongs to the Shonan area of Kanagawa prefecture, is a popular walking spot in the suburbs of Tokyo for day trips such as weekend outings.
In particular, it is known to be popular as a date spot for couples and couples or as a destination for women's groups.
The best yukata rental for walking around Kamakura is Various campaigns such as couple discount plans and plans with advantageous hair sets You can use.
Kamakura Yukata Rental Couple Recommended Plan
Review / word-of-mouth experience
There are also many men's and kids' discount plans!
Not just couples and women's groups Take photos that look great on Instagram Nowadays it is common for men to do it.
In addition, more and more families, including small children, are enjoying walking around the ancient city of Kamakura in kimono.
Yukata and kimono rental shops in Kamakura meet such needs Men's plan and kids' family plan can also be reserved is.
Men's is also OK! Kamakura Yukata Rental Rickshaw Plan
Review / word-of-mouth experience
Many shops in good locations such as Komachi Street!
The yukata and kimono rental shop in Kamakura can be said to be the main street for sightseeing in Kamakura. Many stores are open mainly on Komachi Street doing.
Komachi-dori is an area where you can enjoy eating and walking with many popular shops such as souvenir shops, cafes and sweets.
It is easy to access to visit Tsurugaoka Hachimangu, so please check the shop location before checking. "Choose a yukata rental plan by location" is also a smart way It can be said.
Recommended shops on Komachi Street
Yukata rental usage flow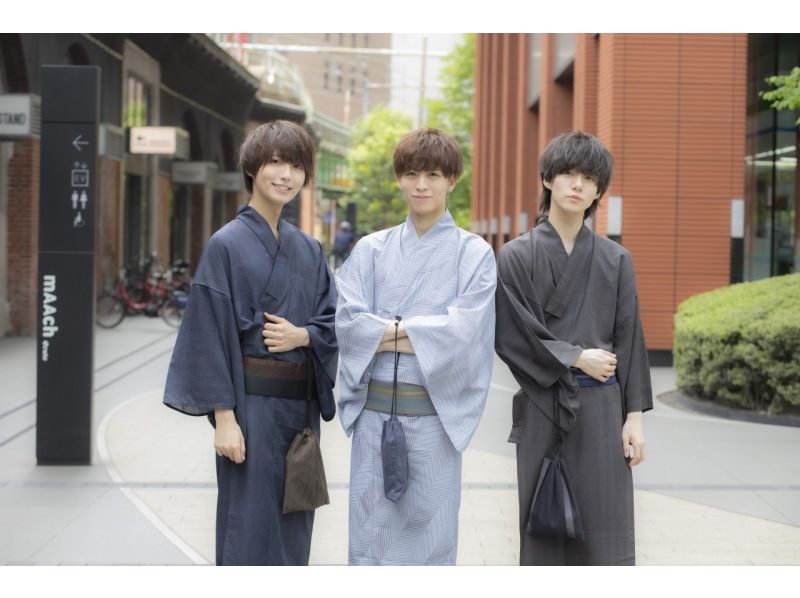 Here, for those who are new to yukata rental and kimono rental shops, "Flow of using yukata rental" is explained in 5 easy steps To do.
In addition, there are many shops that respond to additional optional services and irregular requests, so please feel free to contact us from the target plan page if you have any questions or concerns.
1. Internet advance reservation
If you find a plan you like Be sure to make an internet advance reservation Let's take. The advantage of pre-booking is that you can get various discount campaigns and point backs as well as smooth schedule on the day.
2. Reception at the store on the day of reservation
If you make a reservation, the rest Go directly to the shop by the reserved time on the day Just head. After completing a simple over-the-counter reception such as reservation confirmation, you can choose your favorite yukata and accessories (obi, footwear, hair ornaments, etc.) from a wide variety of colors and patterns.
3. Kimono / hair set
You don't have to do the dressing and hair setting that are unexpectedly difficult for the first time! Professional dressers and staff at the shop will dress you beautifully and will not lose your clothes. (Hair set and makeup may be charged)
4. Free time
After dressing, it will be free time. fundamentally Flat rate for use from rental start time to return time (mainly until business end time) Therefore, it is recommended to make a reservation early, such as in the morning.
5. Return
Set for each shop I will return the yukata by the return time .. If you want to use it until night for a date or fireworks display, select a plan that allows you to return it the next day or by mail as an additional option.
Recommended plan to choose a retro yukata
Review / word-of-mouth experience
Kamakura / Yukata Rental Popular Plan Ranking
The following is based on the latest booking data from Activity Japan Introducing "Kamakura / Yukata Rental Popular Plan Ranking" To do.
Many kimono rental shop plans with excellent access to sightseeing walks are ranked in, centering on Komachi Street, the main street from Kamakura Station to Tsurugaoka Hachimangu.
Please use it for comparison and examination of Kamakura Yukata rental plan selection by referring to the reviews and word-of-mouth experiences from users who actually used it, including the price (price) and service content.
Kamakura / Yukata & Kimono Rental Shop Recommended Store Information
Finally, we are currently accepting online advance reservations at Activity Japan. Introducing "Kamakura Yukata Rental / Kimono Rental Recommended Shop Information" To do.
You can check the basic store information such as shop location / address, business hours, regular holidays, handling plan list and discount campaign information in progress from the link below.
Choose your favorite plan wisely from the popular yukata rental and kimono rental shops used by many tourists, and enjoy summer sightseeing in Kamakura photogenic.
Find activities / experiences / leisure / play in Kamakura
Find kimono rentals and yukata rentals nationwide