Eating while walking in Kamakura! Introducing gourmet foods around Komachi Street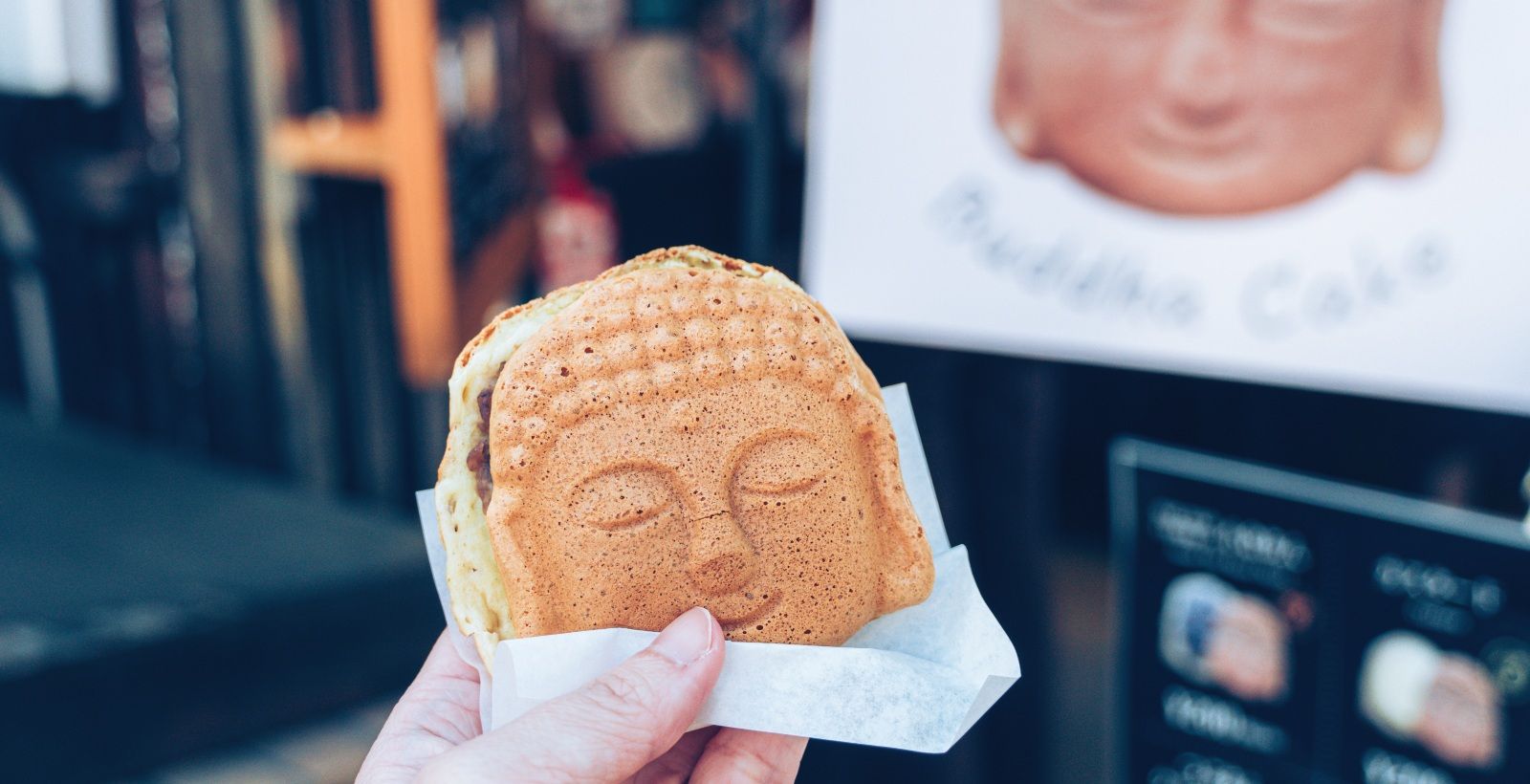 Activity Japan Editorial Department
This time Kanagawa ・ Food spots in Kamakura Introducing!
Close to JR Kamakura Station " Komachi Street " Focusing on , we will feature a wide range of popular stores on SNS and classic long-established stores!
Kamakura has the "Kamakura City Ordinance for Improving Manners in Public Places".
Refrain from walking while eating, and eat your purchased items in the dining space provided by the store. .
Kamakura eating tour map
Eating while walking spot in Kamakura [sweets]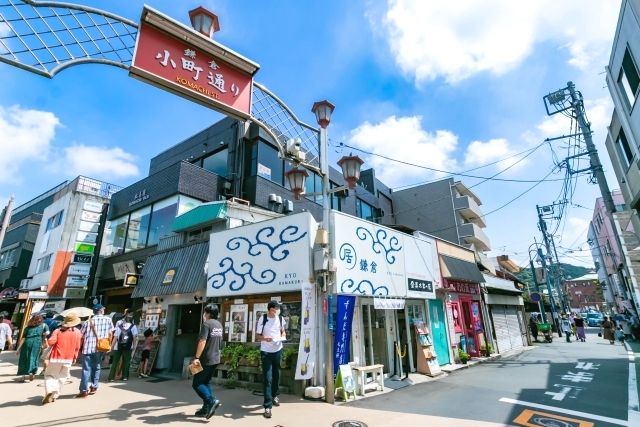 First of all, it is recommended to eat while walking, Kamakura Komachi Street Sweets Shop I'd like to introduce_______
We will also pick up the most talked shops on SNS!
Tomoya Kamakura Komachi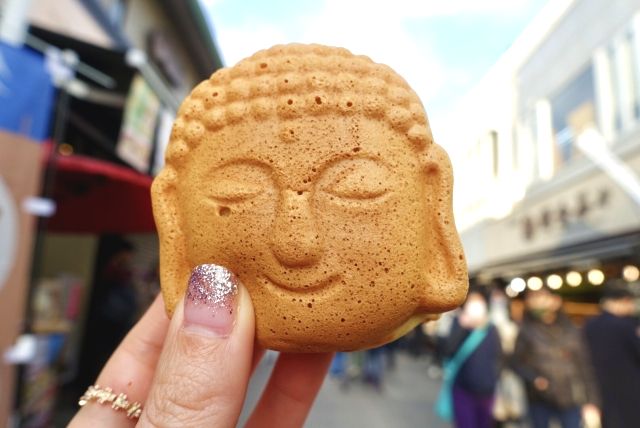 We sell sweets that are perfect for eating while walking, such as dumplings and soft ice cream that you can choose in cups or cones. .
We recommend " Grilled Great Buddha "!
It is attractive that there are various bean pastes such as Ogura bean paste, custard, and thickly sliced bacon cheese. .
Depending on the bean paste, different benefits such as popularity and money luck Therefore, you will want to eat various things!
If you are interested in various benefits, let's eat as many as you can!
Le pururu
A popular sweets shop with colorful bracken-starch dumplings . You can enjoy the chewy and springy texture.
There are two types of warabimochi, one with bean paste and one without bean paste.
Warabimochi with bean paste uses fruits such as strawberries, lemons, and Shine Muscat, as well as milk.
You can enjoy classic flavors such as brown sugar, cherry blossoms, and salt in warabimochi without an bean paste. .
In addition to the skewered type, there is also a " warabi mochi drink ' is also on sale.
If you can't choose one, buy both and enjoy the new sensation of warabimochi!
Sakura Dreamer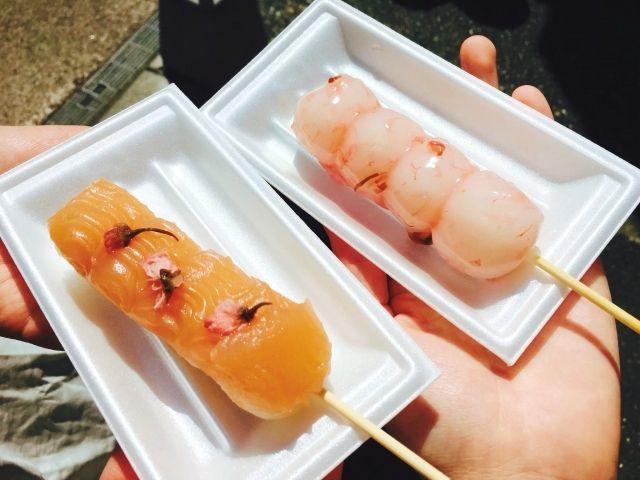 Sweets shop popular for dumplings of various flavors .
classic " Mitarashi "" Kinako " In addition, we sell dumplings with wavy bean paste like Mont Blanc .
The line-up includes familiar items such as ``smooth bean paste'' and ``zunda bean paste'', as well as gorgeous ``honey lemon bean paste'', ``chestnut bean paste'', and ``strawberry bean paste''. .
Not only is it delicious, but its appearance is also a hot topic, Japanese-style sweets that look great on social media you know!
BUTTER HOLIC
A shop specializing in "Craft Butter Pie", which is characterized by its crispy and crumbly texture is.
Pie crust baked with a unique method, luxuriously sandwiched with butter custard cream " butter custard sandwich " is excellent!
There are also various toppings available, such as strawberries, bananas, and brown sugar brulee.
The package for takeout is excellent because you can eat the pie with one hand and use it as a saucer, perfect for eating while walking!
It is also recommended as a souvenir from Kamakura Komachi Street!
Coquelicot Crepe Store Komachi Street Store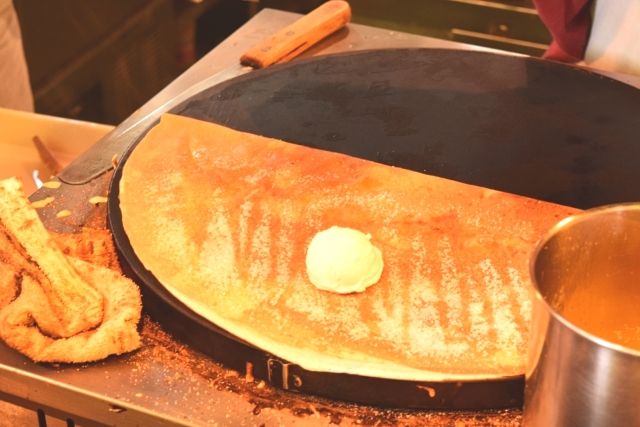 Long-established sweets shop founded in 1972 .
We offer original crepes with a crisp texture that is different from the moist texture of general crepes.
the menu is " chocolate "" Chocolate banana " From sweets like " Tuna lettuce "" ham cucumber " And so on, food crepes are also available!
Among them, we recommend the simple taste of " lemon sugar "!
It does not contain whipped cream, and you can enjoy the texture and flavor of the crispy dough unique to "Kokuriko Crepe Shop" while refreshing with the sweetness of sugar and the sourness of lemon. .
Eating while walking in Kamakura [salty food]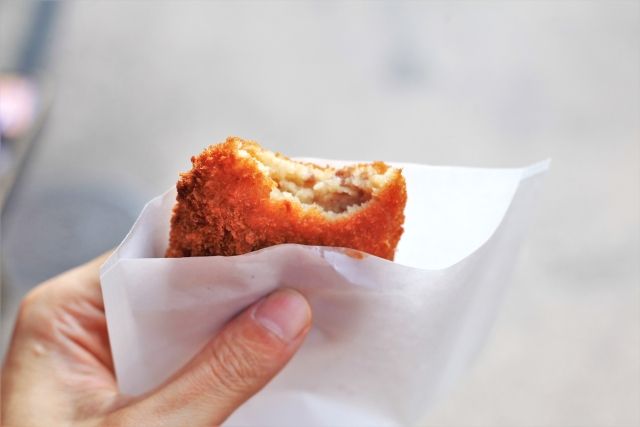 When you eat sweet things, you miss salty things, don't you?
Here are some recommendations for eating while walking: Gourmet spots along Kamakura Komachi Street I'd like to introduce_______
Hannari Inari
Original sushi roll made with black honey and black sesame " Hannari Inari " and the specialty of the Kamakura area " Shirasu We sell seafood gourmet including .
In particular, the mille-feuille, which uses boiled whitebait and raw whitebait, is filled with colorful ingredients such as omelet, tobiko, and vinegared rice in a transparent cup.
It is gaining popularity as a gourmet dish that is perfect for eating while walking!
Kamakura Komachi Street Asahina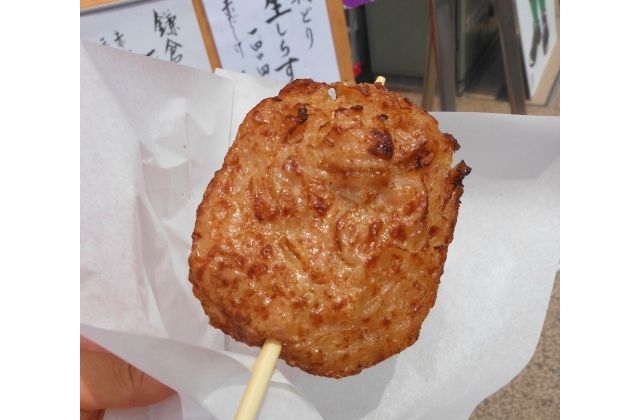 Made from a blend of Alaska pollock, hairtail, and golden threadfin bream " Kamakura fried " or " Kamakura Kamaboko " We sell pastes such as .
There are four flavors of Kamakura-age: plain, octopus, burdock, and curry.
You can have it skewered while it's still hot, so you can eat it right away!
princess mushroom
A fried shiitake specialty store that is irresistible for mushroom lovers!
Simple fried mushrooms " plain skewers " In addition, shiitake mushrooms stuffed with mentaiko and fried with chicken " Chicken mentaiko " is popular .
In addition to soft drinks, draft beer and sours are also served, so why not bring those who like alcohol together?
Wasai Yakura Komachidori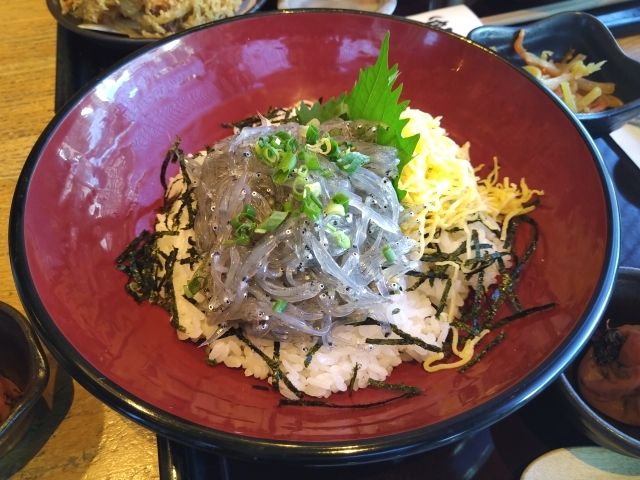 This is a restaurant where you can enjoy various seafood dishes such as shirasu don and shirasu kakiage.
Fish-shaped satsuma-age with kamaage shirasu kneaded into it for those who eat while walking at the roadside store " Whitebait heaven " are selling .
The surface is toasted after frying, so the surface is crispy and the inside is soft and juicy!
"Shirasu tempura" is served on a skewer when you buy it, so it's easy to eat while walking.
Superb Kamakura mince cutlet
We sell minced meat cutlets made with part of Hayama beef, a brand of beef from the Miura Peninsula in Kanagawa. .
The commitment is not limited to the meat, and the bread crumbs are also carefully selected "raw bread crumbs". If you fill your mouth with freshly fried mince cutlet, you can enjoy the harmony of the juicy flavor of the meat and the crunchy batter!
For those who want a more satisfying meal, Mozzarella cheese inside Superb Kamakura mince cutlet with stretchy cheese is recommended is.
Giraffa
Sponsored by the Japan Curry Pan Association Curry Bread Grand Prix®︎2021 "and" Curry Bread Grand Prix®︎2022 in the cheese curry bread section of Gold award-winning curry bread specialty store .
An original product that sold a maximum of 1,500 units in one day Jiraffa curry bread " hides curry and melty cheese made with more than 30 kinds of spices in a crunchy fried bread.
The taste of spicy curry and the stretchy cheese are a perfect match!
It is a gourmet that you can eat while walking that is excellent in both eating and topicality!
Kimono/Yukata rental for eating while walking in Kamakura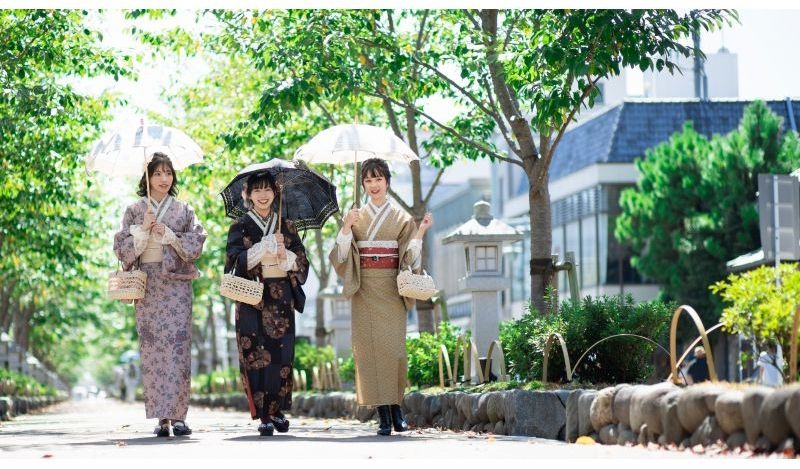 ancient city Kamakura If you want to enjoy eating while walking, go with a friend or lover Kimono/Yukata rental Why don't you try to lift your mood?
Let's enjoy eating while walking in Kamakura!
This time, Kamakura / Komachi Street Eating Spots was introduced along with the map!
The eating spots on Komachi Street are Sweets are all attractive, from Japanese-style items to those with a new sensation, and food items that look impressive and can be eaten hot and fresh. .
Please refer to this special feature and enjoy eating while walking in Kamakura!
*The information in this article is current as of May 2023.
Editorial department recommended feature articles