[Gunma, water / water] greedy W adventure! Canyoning & Canoe set (with lunch)
プランID:00480 提供:Forest & Water Water base
12,500yen~​ ​(tax included)
大人1人あたりの料金
プランID :

00480
Gunma / Water-Tsukiyono-Sarugakyo-Hoshi
canyon rafting
kayak
スタート時間

Participating age

13 才~

Time required

On the day more than 6 hours

ScheduleJune 11 to 10 October
Assemble point Look in GoogleMap
Description​ ​
Canyoning and canoes of a great deal!
I want to tell the fun!
That stuck most is that I want to convey the "joy of the outdoors" to everyone who is participating. Our raison d'etre is, we believe that there is here. So, If not as fun, we have established a system that refund the tour fee.
Overwhelming service!
Location Yubiso at the foot of the Tanigawadake. It is the best location where majestic mountains can be seen. There is also a wood deck to be a BBQ venue, also equipped with dressing room was the shower facilities and of gender spacious! When the low temperature is expected, not only a wet suit, offers a wet jacket and wet socks. Of course, free rental! By using the latest digital camera equipment, and Gekisha you. It is interesting because it immediately screened after the tour!
Worry children! Adults also safe!
Canoe nor canyoning also rafting, supported by the staff is best learned a tightly rescue! Enjoy spot also leave it to the staff! Body and mind and please enjoy left to the staff!
---
Attractions of the plan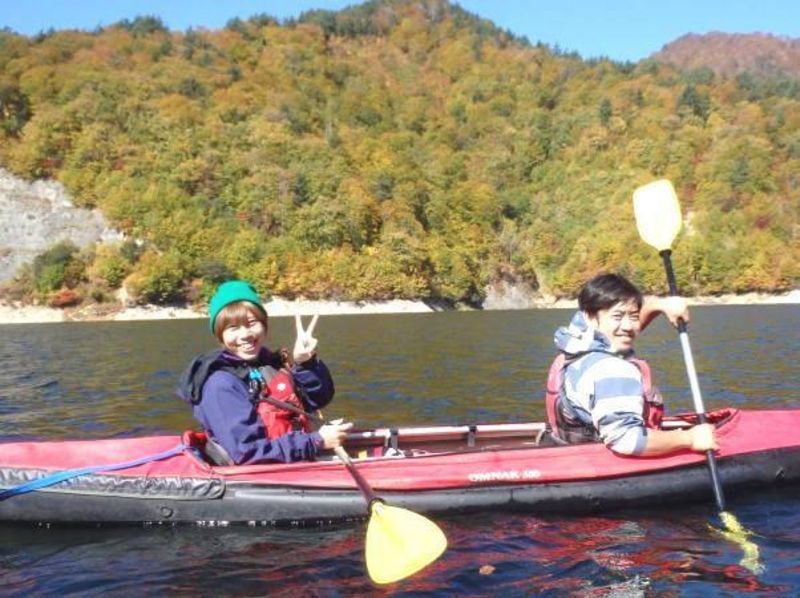 In a relaxed manner… Leisurely leisurely canoe.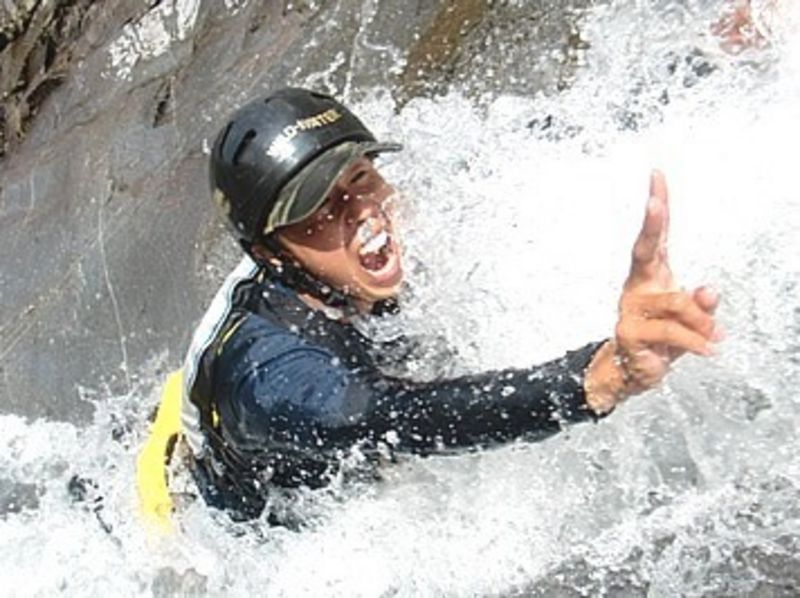 Dive with courage! Because get equipped with a gear in consideration of the safety, please take the plunge!
---
Information
Minimum number of people
1 人
Number of people who can book
1人〜
Schedule
June 11 to 10 October
Assemble time
9:00-16:30
Please come 10 minutes before the reservation time ※.
Assemble point
Forest & Water Water base
Reservation deadline
3 days before
---
Regarding advance preparation
About clothings and must-bring items
You will need: swimsuit, towel, good even when wet shoes (sandals impossible)
※ shoes can also rent at 300 yen.
Person of contact, goggles or disposable contact for swimming
Person of glasses, glasses band
About rental items
Shoes: 300 yen
---
Facility information
Changing room
toilet
shower
Hot spring
Locker
Hairdryer
Parking Lot
コンビニ
スーパー
---
Access and map
所在地
〒379-1728 群馬県利根郡みなかみ町湯桧曽191-12
How to reach by car
Kanetsu 19 minutes from the motorway water IC to Yubiso Station district
How to reach by train
Joetsu Shinkansen Jomokogen Station by taxi about 30 minutes
Joetsu Line Minakami Station taxi about 10 minutes
Joetsu Line Yubiso Station 15-minute walk
※ pick-up for free by advance reservations from either the station
※ Jomokogen Station, pick up the morning, only to send the afternoon
---
Price list
Basic charge
| | |
| --- | --- |
| Adult / person 12,500yen | 13 years old - (more than junior high school students) |
※Prices including all taxes.
※上記は基本料金になります。
※日程によって料金が異なる場合がございますので、日程を選択した後に表示される料金表をご覧ください。
---
---
お支払い・キャンセルに関して
About payment
Currently credit card does not support.
Tour price we receive in the pre-transfer.
If there is a day of additional charge, it is supported by cash.
Payment method
Pre-card payment, the ways assigned by operators
About cancellation fee
Cancellation just before, reduction of the number of people you will get a cancellation fee.
Please let us know beforehand. Of 10 days ago and later canceled, you will be charged the following cancellation fee.
- 11 days before: Free
· 10 to seven days before: 10%
- 6-2 days before: 30%
- The day before: 50%
- On the day: 100%
Cancellation by operators.
- It becomes a light rain or shine, but by the weather conditions, there is a case where I am allowed to consider it as unavoidably canceled. The tour price if will be refunded, but, with respect to the transportation and lodging expenses of up to local, will be taken as a visitor burden.
· If you do not meet the small number of people held it may be canceled.
---
Other
Matters require attention
- Nail of limbs, please keep off in advance in order to prevent injury in the course of the tour.
Any chance participants in preparation for the case of an injury, our guide, we have carried out rescue emergency first-aid training and the like.
• Always listen to good care guide, please follow the instructions.
- Before participation will be writing a participation confirmation. Please perform the confirmation of self-responsibility.
Other notices
- Pregnant women, physical condition towards the poor, the day drinking, hangover will be refused the tour.
• The Company so that you can participate in the tour with confidence in, we have let insured for those of all participants at our burden.
· All tours are by appointment. It will soon accept the end reached capacity. Also, if you do not meet the minimum number of people held it might be canceled.
みんなの体験談
There are no reviews yet
Included in price
Consumption tax, rental fees and insurance charges, guide fee and equipment fee, lunch
このプランを予約すると 115 pt 貯まります!
| | |
| --- | --- |
| | スタート時間 |
| | Participating age13 才~ |
| | Time required On the day more than 6 hours |
| | ScheduleJune 11 to 10 October |
| | Assemble point Look in GoogleMap |