[Gunma ・ Water / Minakami] thrilling score! exhilarating Rafting(half-day course)
Beginners welcome - First try
Pick-up & Drop-off
Solo participant
Operate rain or shine
Children welcome
地域共通クーポン(紙)利用可
地域共通クーポン(電子)利用可
Possible number of bookings

Participating age

Age 6歳 ~
~★☆ We are currently holding a tour with new anti-corona virus measures in place! ☆★~

Overcome the torrent with your friends, and the best feeling of achievement after the goal★
The first time Rafting one and that is the Rafting want to play on the water in addition to, slowly but it is a day Hot spring in! Recommended for those who are greedy.
From June onwards, the water volume will be relatively stable and elementary school students will be able to participate. here we go! Let's go on an adventure♪
Let MAX create the best memories for you!

■ Countermeasures against new coronavirus infection
Currently, we are carrying out tours by implementing infection countermeasures based on the new coronavirus infection countermeasure guidelines.
・Customers and staff wearing masks at the collective facilities and in moving vehicles
・Installing disinfectant solution or soap in hand wash rooms at various places in the facility so that customers and staff can perform hand sanitizing hygiene
・Fever (37.5℃ more), respiratory symptoms, cold symptoms, malaise, customers with taste and olfaction, staff participation, and suspension of work
・Secure interpersonal distance (minimum 1m-2m more) *Including boarding
・Regular ventilation, cleaning and disinfection of facilities and equipment

Please check below for details.
https://www.max-raft.com/blog/?p=48907
Not just fun ☆
MAX has been a long-established outdoor company for 23 Year. The staff are all rescue qualifiers and well-trained certified guides. Even beginners and those who are not good at swimming can wear a life jacket with high buoyancy designed for torrents. A 100% fun tour, of course! We conduct tours with customer safety first.
Torrent of compelling enjoy!
From April to June, in the thaw season Spring Tonegawa is overseas Rafting No less inferior to the tour Japan Highest level thrilling torrent Rafting You can taste it! If you want to enjoy the intensity this time is recommended! It is also one of the charms that you can enjoy the different scenery of the four seasons of the great nature. The amount of water calms down in the summer season from July to the family adult My mind! A guide arranges various river play in the conditions of the day such as a dive competition from the top of the rock! There is no doubt that it becomes a habit!
Calendar info reloading failed
Immediate booking OK!
Reception closed
Not accepted
Request booking
※ For request booking you will receive acceptance notice from Activity Provider.
About fees
※The list price includes tax.
※The above price is a basic fee.
※Fees may vary depending on schedule, please check the fee displayed after selecting the date.
Plan attractions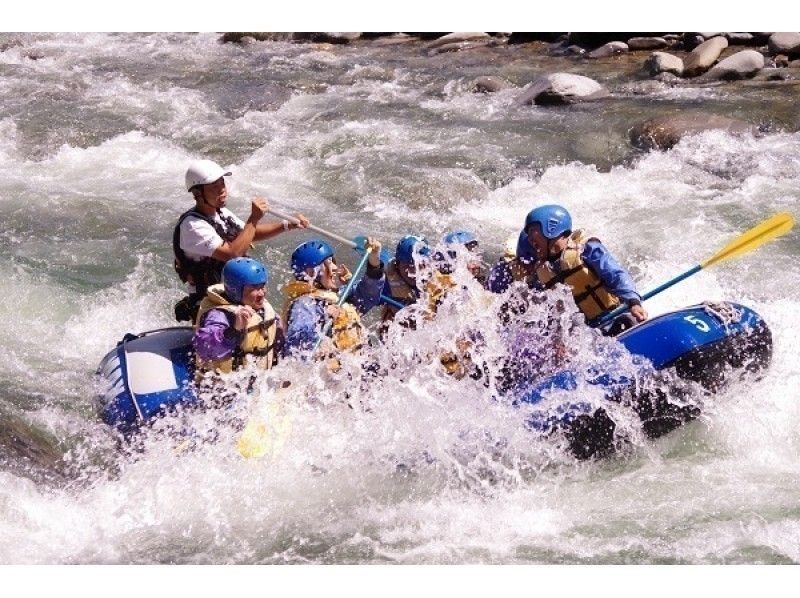 Exhilaration MAX! The intensity from the start just before! With all his strength bathed the whole body spray rowing exit!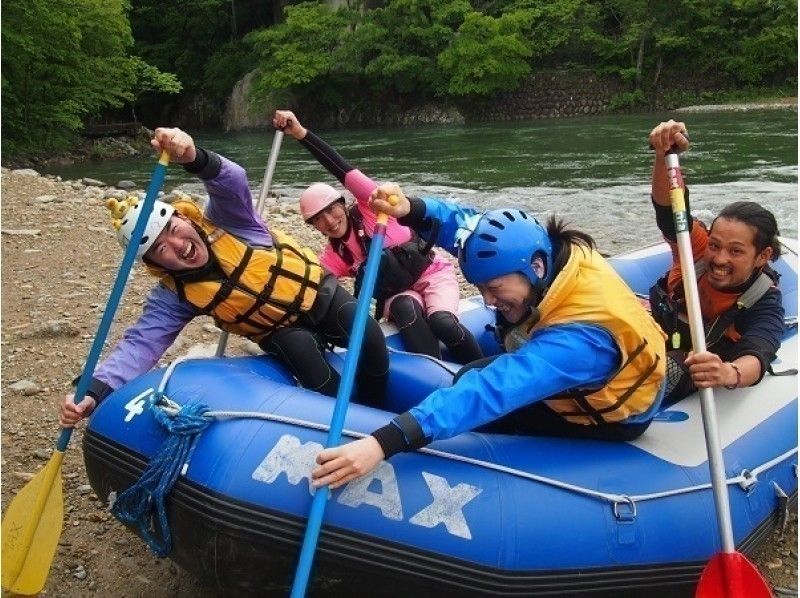 Before rowing GO! We will continue to raise the tension from the safety training before the start ~!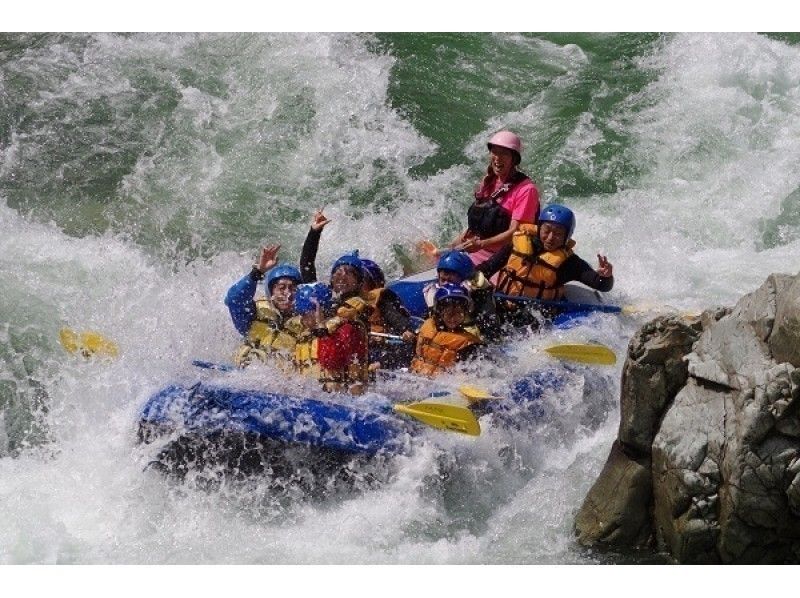 Tone River rafting! Torrent point of compelling full!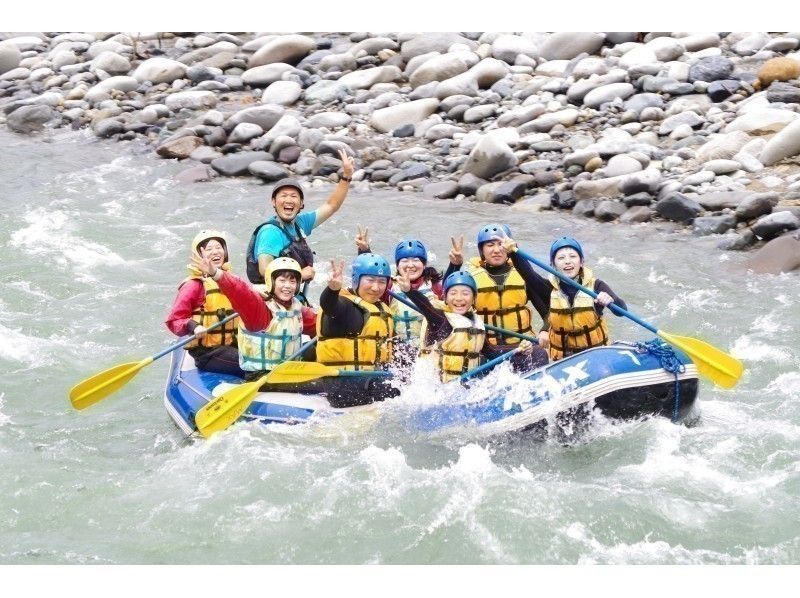 The camera points Piece to the camera if there is room!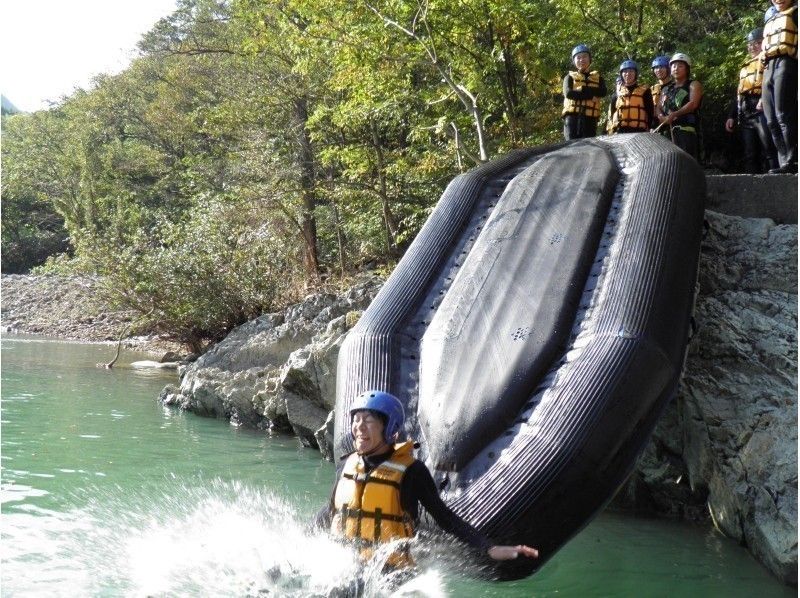 Having a swim in a river ♪ Boat transforms into a slide! Plucked out the day we play ☆

Yay ☆ Solidarity of everyone up! Sense of accomplishment than you think!
Time schedule

08:45
Meet / Reception Minakami / Max Oana base!
Please complete the reception and fill out the participation confirmation.
(If you would like Rental shoes, please let us know at the reception.)
* meeting time is 15 minutes before the tour start time
8: 45/11: 45/13: 45

09:00
Change clothes Please listen to Explanations for precautions when changing clothes.
When you receive the equipment such as wet suit, change your clothes at Changing room ♪
We will give you the best equipment according to the conditions of the day.
Please finish your restroom.

09:20
Depart from the base! Move to the starting point of Rafting by MAX car.
The guide's laughter talk was a big excitement even before the tour!

09:30
Safety talk Arrived at the starting point of Rafting!
The guide will check the equipment firmly.
After listening to the Explanations for enjoying the tour safely, we will divide into teams and practice how to paddle each boat!

10:00
Finally! Embark on an adventure on a raft boat! Group photo before the start! Tension Marx with the best smile!

Several torrent points will entertain you one after another!
Prepare to get soaked in the whole body ♪ Let's work together to challenge the torrent!

The biggest torrent point of the Tone River, "Mega Wash"! The whole body is splashed with water and it is powerful!

The guide arranges various games such as a diving tournament from the top of a rock and turning the boat over to make a slide! Please challenge ♪
* It may not be possible due to conditions such as the amount of water.

11:15
Goal! If you reach the goal safely, everyone will be happy ☆
Exhilaration is more you can imagine! The excitement doesn't go away!

11:45
Dissolution Arrived at the base. After changing clothes, everyone can relax while looking at the photos of the tour ♪
Please feel free to ask about recommended restaurants and sightseeing spots.
There are also Sale coupons for Hot spring!
Detailed information of this plan
Required minimum number of participants

1

Person(s)
Possible number of bookings

1~

Operating period
Late April-Nov. Early season
Assembly time
● Normal period
① Start at 9:00 (Meeting: 8:45)
② Start at 12:00 (Meeting: 11:45)
③ Start at 13:45 (Meeting: 13:30) * Only on busy days such as weekends and summer vacations

● Obon period (8 / 8-8 / 16 only)
① Start at 8:45 (Meeting: 8:30)
② Start at 10:30 (Meeting: 10:15)
③ Start at 12:15 (Meeting: 12:00)
ス タ ー ト Start at 14:00 (set: 13:45 set)

* Time required: 3 hours
Booking deadline
The day before until 19:59 local time
Matters require attention
◆ Under the age of 18, accompanied by a guardian.
◆ Participants who are pregnant are not allowed to participate.
◆ Drinking before the tour is strictly prohibited. Those who are clearly drunk or those who are judged to be hangovers are at the discretion of the tour leader. rejected You may have Even in that case On the day I will treat it as cancellation.
※In that case On the day No refund will be given for cancellations.
◆ If you have a handicap, please consult in advance.
Other notifications
◆ Elementary school students can participate from June.
*Depending on the amount of water on the On the day, you may not be able to participate due to regulations.
◆Before booking, please be sure to check the tour participation confirmation items from the link below.
http://www.max-raft.com/confirm.html
All reviews
13

Results

I was excited and had a very enjoyable experience.

Participating date: September 2020
Guest user
I enjoyed it to the fullest, from children to adult
Elementary school junior high school Year, Teigaku Year But was the first participation of with the children of was fun best.

・ I was able to guide you smoothly without wasting time.
・ It was a fun time for the staff to pour cold river water even after a short waiting time.

・ All the guides were good at excitement, and from the time of reception until the time of dissolution, above all, during Rafting I was happy.
・ I was relieved to be able to play in the river in a place that takes safety into consideration.
· Elementary school low-science Year of the children had almost solidified, but guide san kindly Kama' a lot, in the end it was a smile.

・ The intensity and impact of the flow, boarding distance, and time may vary depending on the amount of water (whether or not the dam is released) on that day, so it may depend on your luck.
・ But, no matter what the conditions, I think these guides know the best way to entertain.

・ A dedicated photographer took a picture at a key point in advance, and I was able to purchase it online. As expected, it is a professional photography level, and all the photographs are from angles that I cannot take 100% by myself.
Participating date: August 2020
Guest user
Detailed support
We supported a lot of details and took care of us so that we could play safely, safely and enjoyably. Thank you very much.
Participating date: July 2020
Guest user
Rafting your own
The day before, I looked at the advertisement on the Internet and made a reservation with "Let's go." The first Rafting 20 Year was as fun as before. Would n't it be time to write for a short time?
Participating date: September 2019
I participated for the first time with a child of elementary school students, but I was also concerned about safety, everyone of the staff gave me a lot of excitement, so I enjoyed it with my parents and children. In the blink of an eye, I wanted to play more. I also want to challenge.
Participating date: July 2017
Access - Map
〒379-1727
群馬県利根郡みなかみ町大穴54-2
Assembly point
Max Large Hole Base
54-2 Oana, Minakami-machi, Tone-gun, Gunma
* Please note that from 2020/10/12 will be gathered on a doi basis
If you arrive by car
MAX (Oana-based): Kan'etsudo water 15 minutes from the IC
※ If you do not appear in the navigation, and get search in the large hole-based neighbor of Yamabiko cafeteria (0278-72-2716) will be along the road.
If you arrive by train
Free transfer (reservation required) from JR Joetsu Line Mizukami Station, Joetsu Shinkansen Joage Kogen Station, neighboring hotels available
※ The pick-up at Kamige Kogen Station is only for the course starting at 9:00.
※ of the accommodation area May not meet your request
If you arrive by other means of transportation
◆ (your pick-up time table less, please make sure your time more than of the link.)
http://www.max-raft.com/pickup_timetable_2020summer.pdf
Q&A about this plan
No questions about this plan
Activity Provider of this plan
マックス みなかみベース
handling plan list
---
Find other experiences in neighboring areas
---