【Hokkaido · South Furano】 Seesawarapuchi Rafting 1DAY course ☆ With presents of tour photos ☆
プランID:00020 提供:Guidelines Outdoor Club
13,000yen~​ ​(tax included)
大人1人あたりの料金
プランID :

00020
Hokkaido / Furano-Biei Tomamu
Rafting
Meal
ドリンク付き
Rain departs Allowed
子供参加可
アクティブ爽快
ファミリーで楽しむ派
スタート時間

Participating age

5 才~

Time required

On the day more than 6 hours

ScheduleJuly 2 to September 19,
Assemble point Look in GoogleMap
Description​ ​
AM (1 1/2 hour) · PM (1 hour and a half) descends course with nature rich 13 ~ 14 km.
Look underwater using boxes glasses, observe aquatic life in Kawahara, fish from the top of the boat, swim at the calm point of the flow ...
Of course, there are also points where powerful waves are continuous and points where there is a drop (depression)! It is!

昼食はリバーベースにて富良野産のお野菜を使った「ダッチオーブン料理」をご提供! 
Bread and Furano produced corn too ♪ Please eat lunch under the sky is special ☆

Because the water temperature of the river is low, we are wearing a dry suit (a structure suit not containing water inside) even in summer.
The size is from height 100 cm in size to XXXL. Let's play with plenty of water wearing a dry suit! It is!
Guide information of Japanese pro guide. Joined from 5 years old!
Since experienced Japanese pro guide will be on board, participation from the age of 5 to the elderly is OK!
All tours will be in Japanese, so please do not participate in those who do not understand Japanese.
All tour It is recommended to those who would like to have fun at my own pace because it is a small group system.
With tour gifts present!
南富良野・復興感謝 割引として、ツアー中に撮影した写真を全てCD-Rに焼いて体験後に1組1枚プレゼント!!(通常1枚¥3,200) 
Please do not miss this opportunity!
Supports a memorable and fun experience with all your strength!
Children are adults also get used to nature and smile! It is outdoor charm ☆
Cherish the smiles of everyone, we will support in the guide is best to enjoy full blast.
---
Attractions of the plan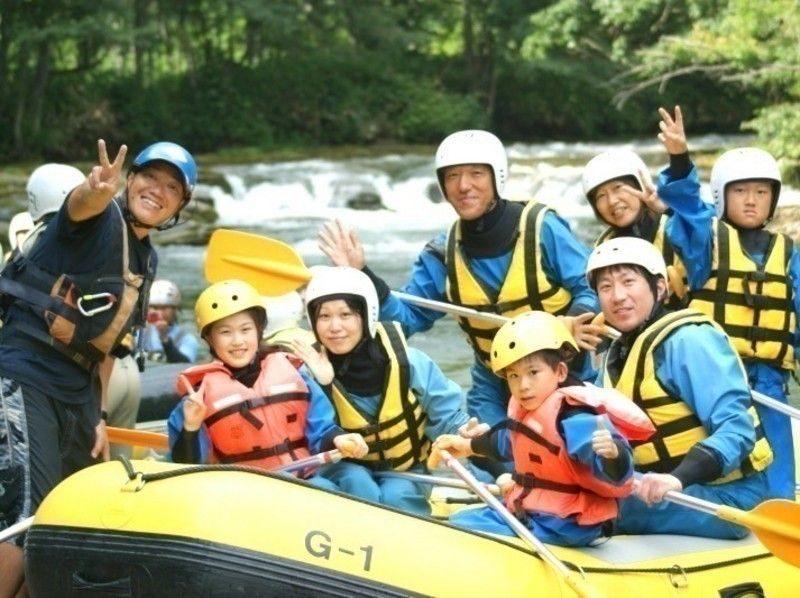 Omoikkiri enjoy course ♪ from adults to children Veteran guide that knows the river will guide you ♪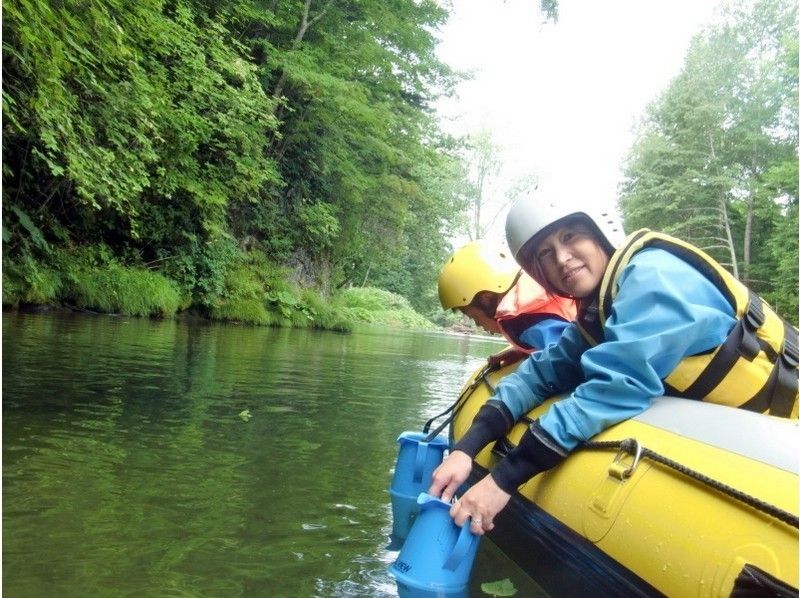 AM rafting leisurely. Or the observation of aquatic life in the middle, or the fishing, swim, we will down while playing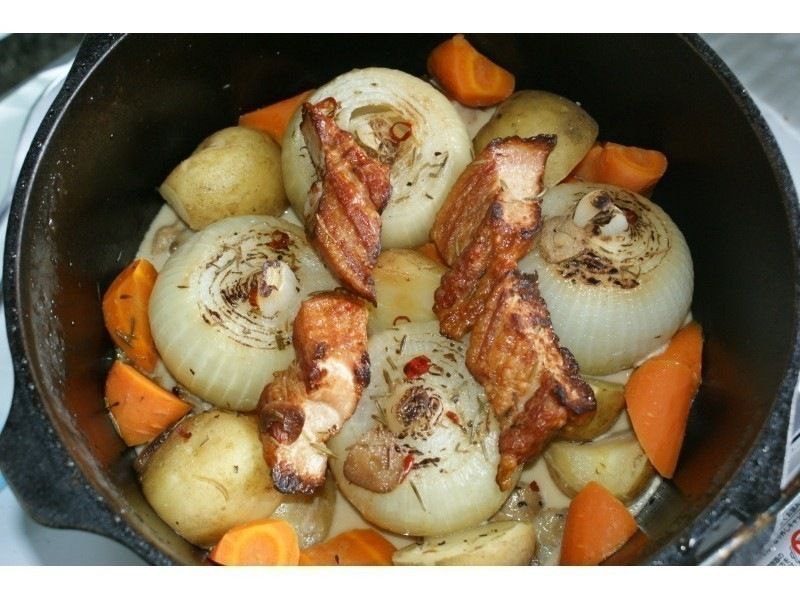 Lunch is special Dutch oven cooking It is exceptional for lunch to eat outside! Dutch oven (vegetables and chicken), bread, and provides seasonal vegetables one article.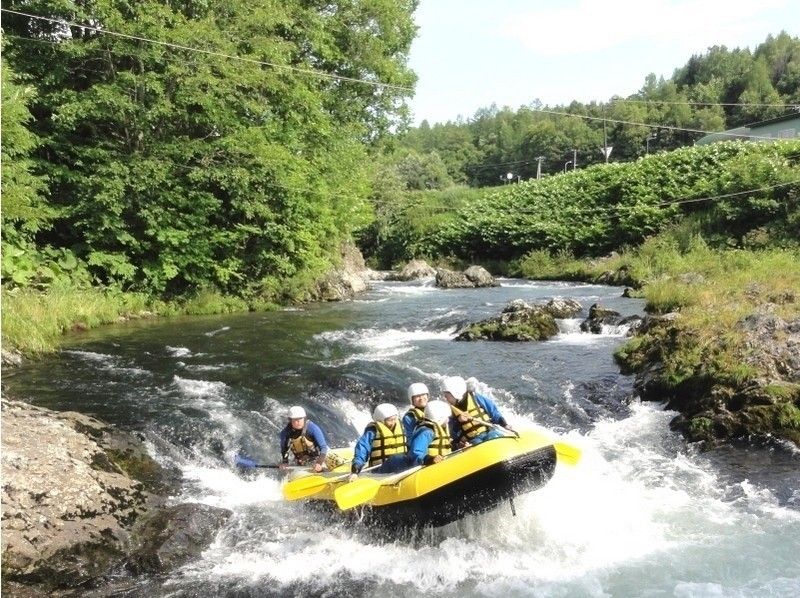 PM is a little intense. Successive point of the wave nail-biting ....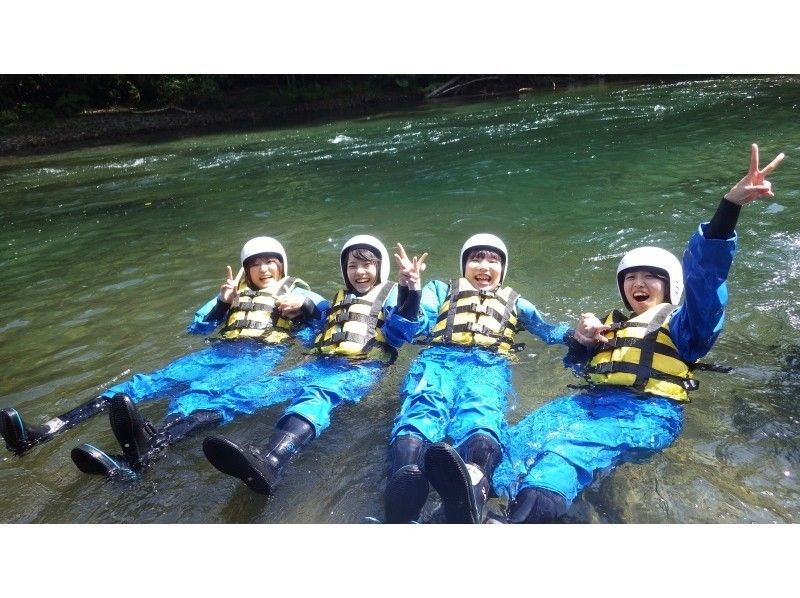 Let's play with plenty! Because the water temperature of the river is low, we wear dry suit even in the summer so that we can play plenty enough.
---
Information
Minimum number of people
1 人
Number of people who can book
2人〜12人
Schedule
July 2 to September 19,
Assemble time
ツアー開始の10分前 <9:20>
Assemble point
Guidelines outdoors club River base
(Address: 200 meters ahead of Ochiai Ochiai, Sorachi-gun, Hokkaido, left side · A large parking lot of gravel is marked. Car navigation map code "608-726-649")
Reservation deadline
3 days before
---
Regarding advance preparation
About clothings and must-bring items
① good even when wet easy to move attire (no jeans)
 ・6月~7月中旬・8月下旬~9月…長袖長ズボン(ジャージ、スエット、フリースなど)
 ・7月下旬~8月中旬…半袖半ズボン(ドライスーツの生地が肌に張り付いて水の冷たさを感じることがありますので、水着を    着用される場合でも上に半袖Tシャツ&半ズボンの着用をおススメします)
② you Kikawa (please prepare from underwear)
③ towel
About rental items
· Because the water temperature is low, you should wear a dry suit even in the summer. Dry suit fabrics stick to your skin and you will feel the coolness of the water
 ありますので、水着を着用される場合でも水着の上にTシャツ&半ズボンの着用をおススメしております。
· Wet suit is less than 100 cm tall.
---
Facility information
Changing room
toilet
shower
Hot spring
Locker
Hairdryer
Parking Lot
コンビニ
スーパー
---
Access and map
所在地
北海道空知郡南富良野町落合 (「北海道空知郡南富良野町落合812」の200m程先の左側・砂利の広い駐車場が目印)
How to reach by car
About an hour's drive from Furano
About 2 hours by car from New Chitose Airport
---
time schedule
09:20
リバーベース集合
Change of clothes in good clothes, even when wet accepted -
09:30
ドライスーツに着替えて川へGO!
After the change of clothes, move to start by private car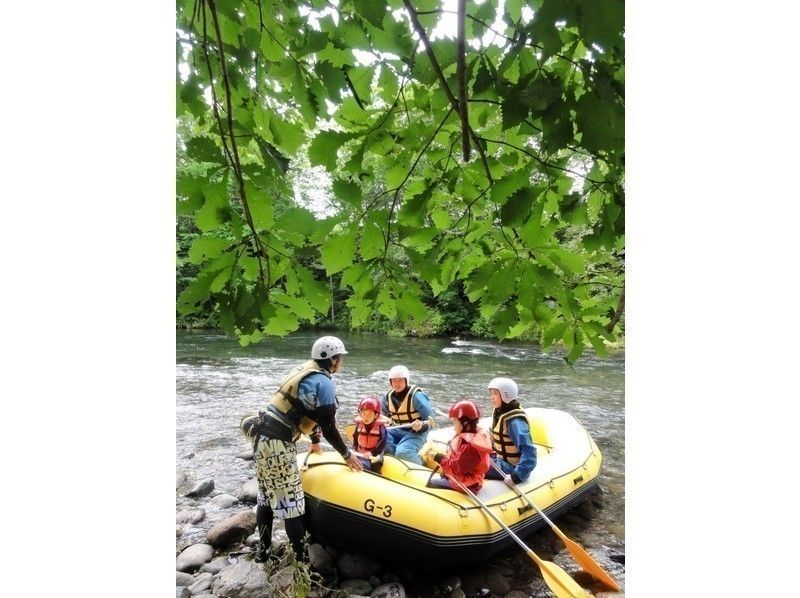 10:00
セーフティートーク後、いよいよスタート♪
Tour time is approximately one and a half hours. Exit time depends on the amount of water, the number of participants.
After the goal, to the river base by private car.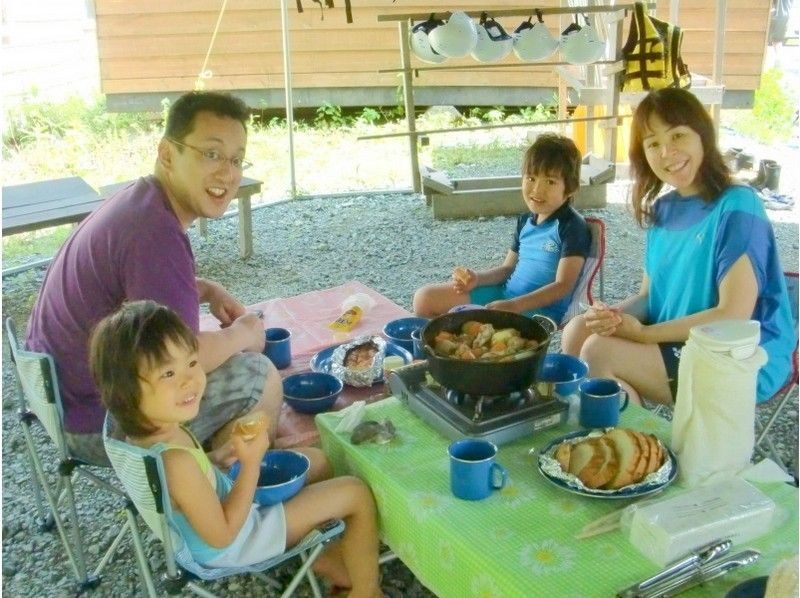 12:00
リバーベースにて昼食
After the change of clothes, lunch time
Leisurely time until the afternoon of the tour ♪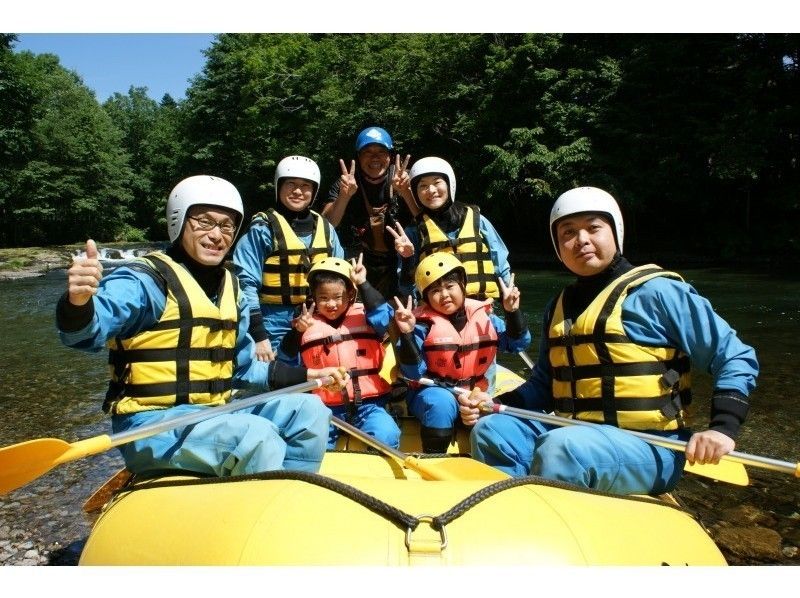 13:30
PMツアースタート!
After the change of clothes. To start by private car
After arrival, start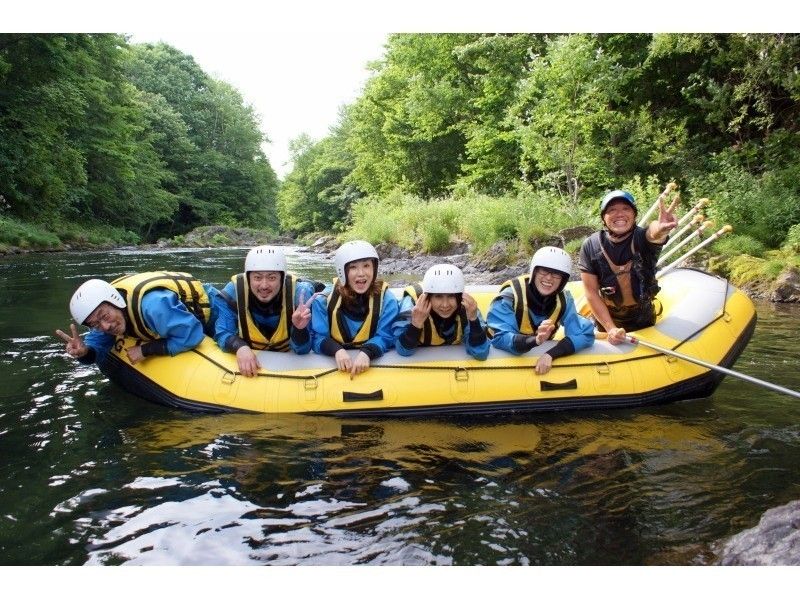 15:00
ゴール!!当社の車でリバーベースへ移動☆
Tour time is about 1 hour to 1 hour and a half ※. Exit time depends on the amount of water, the number of participants.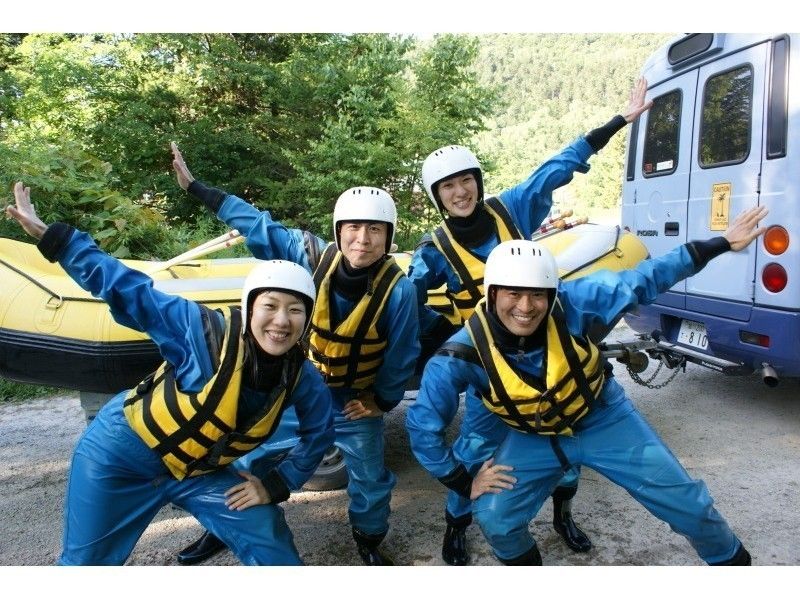 15:30
着替え終了後、解散!! お疲れ様でした♪
Please note that unlike the time of dissolution by water, the number of participants.
---
Price list
Basic charge
| | |
| --- | --- |
| Adult / person 13,000yen | 13 years old - |
| Child / person 11,000yen | 5-year-old to 12-year-old |
※Prices including all taxes.
※上記は基本料金になります。
※日程によって料金が異なる場合がございますので、日程を選択した後に表示される料金表をご覧ください。
---
---
お支払い・キャンセルに関して
About payment
Please give me the payment on the day in cash on site.
Payment method
The payment method specified by the operator.
About cancellation fee
If it is canceled by the convenience of our customers, we received a cancellation fee.
• 4 days to 2 days before: 30% of the participation fee
- The day before: 50% of the participation fee
- On the day: 100% of the entry fee
Cancellation by operators.
· Basic "We will hold even in rainy weather". In cases where it is judged that the guide has not reached the performance criteria such as heavy rain /
 ございます。また増水時に限り、小学生以下のお子様がいる場合はガイドの判断でコースを変更させていただく場合もございます。
 中止の最終判断は当日行い、中止の場合は「集合1時間半前まで」にお客様のご携帯へご連絡いたします。不安な方はお電話にて催行をご確認を下さい。
---
Other
Matters require attention
· Please be sure to contact us if you are likely to be late for the meeting time. We will correspond as much as possible, but if you can not join the tour late for the meeting time
 キャンセル料(100%)を請求させていただきます。お時間には余裕を持ってお越し下さい。
 また、受付は集合時間20分前から開始致します。早めに到着された方は駐車場にてお待ち下さい。
· Participants who are under 5 years old, those who are drinking, pregnant women, dwarf alone, pets such as dogs, those who are not healthy can not participate.
 また、ツアーは全て日本語での対応となりますので、日本語がわからない方のご参加はご遠慮下さい。
· We recommend disposable items as contacts. Eyeglasses will lend you a band.
· Please contact "Who is participating in the application at the time of application?
Other notices
・日中はツアーに出ていて電話に出られない場合がございます。繋がらない場合は、お手数ですが「12:00~13:30、16:00以降」に
 おかけ直し下さい。
みんなの体験談
女子2人で参加!
1dayということもあり釣りや川の中を見る時間があり、ご飯も美味しかった!!
レアな体験もさせていただきました♪
日本一綺麗な川でのラフティングはやっぱり最高ー!!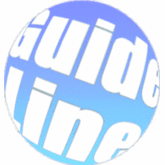 事業者からの返信コメント
お返事が遅くなりすみません。コメントいただきありがとうございます。
そして、「ラフティング1DAYコース」にご参加いただき誠にありがとうございました。
お天気にも恵まれてサイコーのラフティング日和になりましたね。
富良野の方へ来られる機会がございましたら、また是非遊びにいらして下さいね!!
お待ちしております♪.
Service out of period
This season of sales has ended. Next season is scheduled to be held in early July to mid-September.
Included in price
・ドライスーツ(身長100cmサイズからXXXLまで。身長100cm未満はウェットスーツ)・ライフジャケット ・ヘルメット ・リバーシューズ ・傷害保険 ・ガイド料 ・消費税
このプランを予約すると 120 pt 貯まります!
| | |
| --- | --- |
| | スタート時間 |
| | Participating age5 才~ |
| | Time required On the day more than 6 hours |
| | ScheduleJuly 2 to September 19, |
| | Assemble point Look in GoogleMap |