[10 minutes walk from Tenjin Station, Fukuoka] ☆ Challenger? Healing group? Art school? Pottery trip near Umeda station ♪ ☆ One day pottery experience-One person is welcome! ~
Beginners welcome - First try
Empty-hands OK
Solo participant
Operate rain or shine
Children welcome
Possible number of bookings

Participating age

Age 4歳 ~
"Hand-knitting one-day experience that you can make your favorite ★ It's a pottery lesson that you can learn safely for the first time ♪"
I want to devote myself to something! I want to start something new! I want to heal my heart clean! A variety of feelings come to Yu-kobo ☆ It's a pottery experience that will make your heart gentle ♪
A gentle specialized staff will help you according to the speed of each one ☆ You can enjoy rice with rice inside the finished unit ♪

☆ It is a pottery one-day experience that twists Mino-yaki's soil and turns round-table rockingly!
☆ It is a course that you can produce one customer's work in 90 minutes lesson.
☆ I can paint with iron color hands. Before experiencing, if you consider the painting design drawing on the vessel beforehand, you can handmade a good instrument.
☆ In hands-on experience we use hand-cranked rocroes, but I will lecture the same "water bucking" technique as electric rooks. Even with hand-cranked Rocco, you can make a work that is same as electric rocro.
☆ Please feel free to contact us for anything, if you have any concerns or concerns about your work.

★ To overseas customers ★
If you wish to book this course, please make sure to participate with someone who can translate for you.​ ​
We kindly ask for your understanding as we have no any foreign language speaking staff.
Individual guidance is provided for beginners ☆ Immerse yourself in handcrafting experience near the station!
Bright and friendly professional staff will help you carefully. Please participate with peace of mind if you are new to handmade or those who like manufacturing. We are also waiting for participation by both men and women, groups, girls' societies, couples, families, etc. ☆
★ Make an original vessel ★
You can use 400g of Mino's soil to make one of your own vessels.
I will face the soil slowly and carefully form the foundation.
Type of less You can choose from four.
1 tea bowl
2 hot water only
3 small bowls
4 small dishes
You can choose a glaze (Yuyaku), which determines the color of the bowl, from the three selected by Yu Kobo. A vessel for coloring the table with natural colors is completed.
※ Experiment day, management number are engraved on the back of work.
Commitment "Reduction grill (Ibushi)"
In Yu-koubou, we are firing all the ceramic artworks with reducing grill (Ibushi-yaki) where tasty deep-fried kiln is born. Kiln burning technique that is not widely adopted in other classrooms. Yu Kobo sticks to the firing method and cherishes the work carefully.
Calendar info reloading failed
Immediate booking OK!
Reception closed
Not accepted
Request booking
※ For request booking you will receive acceptance notice from Activity Provider.
About fees
※The list price includes tax.
※The above price is a basic fee.
※Fees may vary depending on schedule, please check the fee displayed after selecting the date.
Plan attractions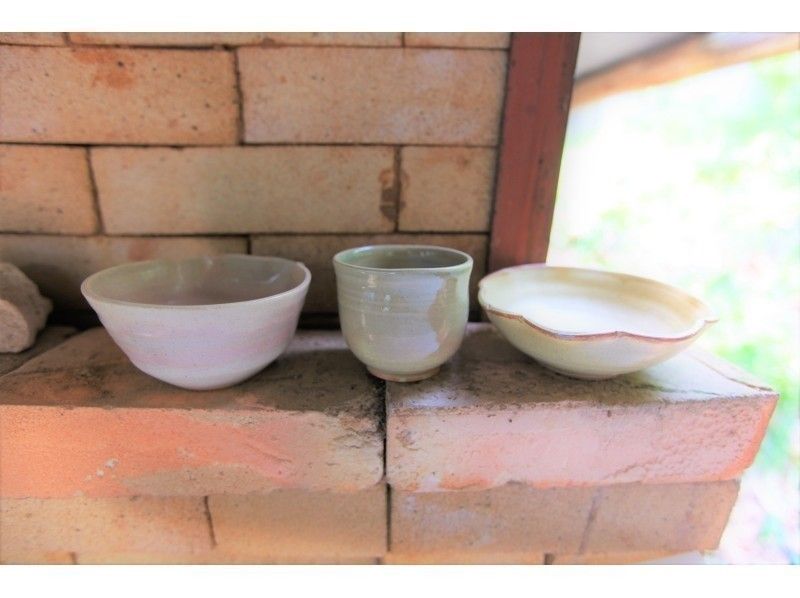 You can choose from three natural glazes (YuYaku) ♪ From the left, Kise Togei, Celadon Tei and Douhi Tei. Yu Kobo carefully selected, it is a glaze that increases the taste with each use ☆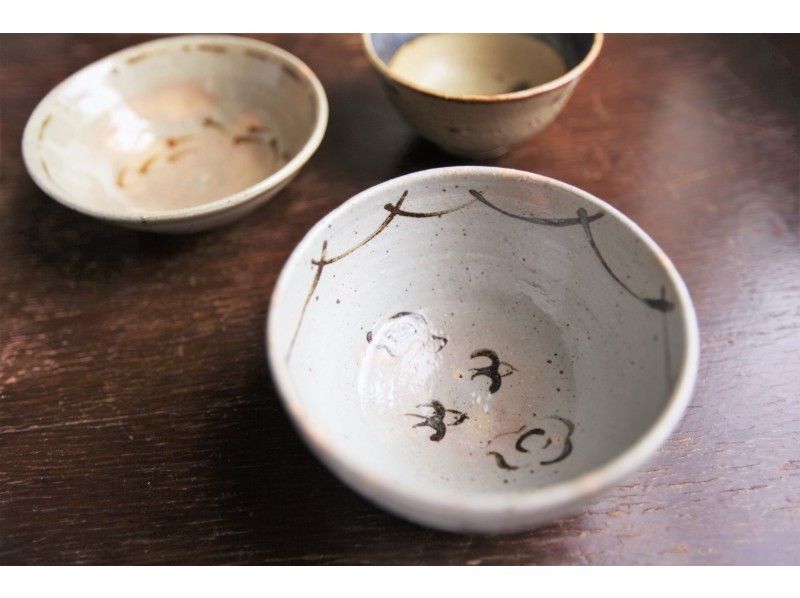 You can paint on works ☆ Iron painting can be painted, you can enjoy more handmade ☆ Tasty works completed ☆ Before you experience, good hands can be handmade by thinking about the painting design drawing on the vessel in advance.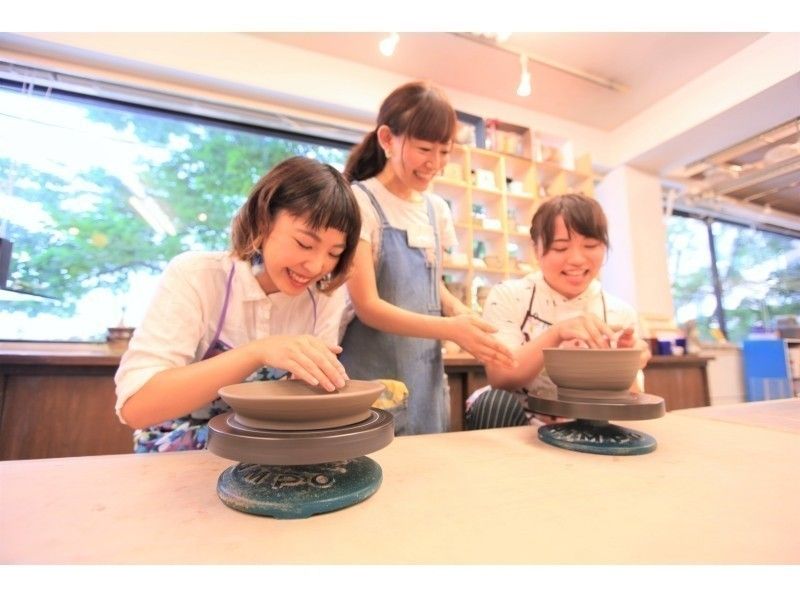 Relax with pottery ♪ Stress is eliminated while you are in contact with the soil ★ Ceramics therapy that can be addicted ♪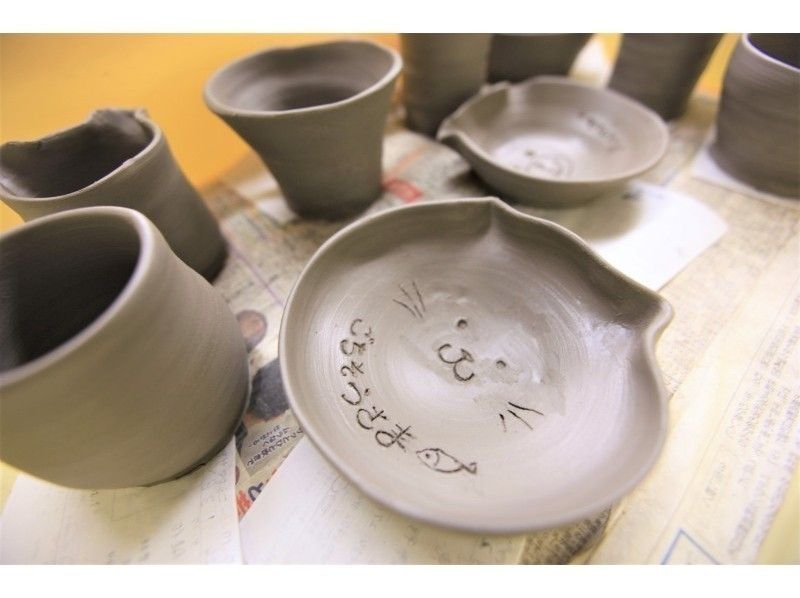 Let's start with an image ★ Decide the shape you want to make, such as a bear-shaped bowl or hot water with a flower-shaped stamp. Since we have a sample On the day You can decide to decide.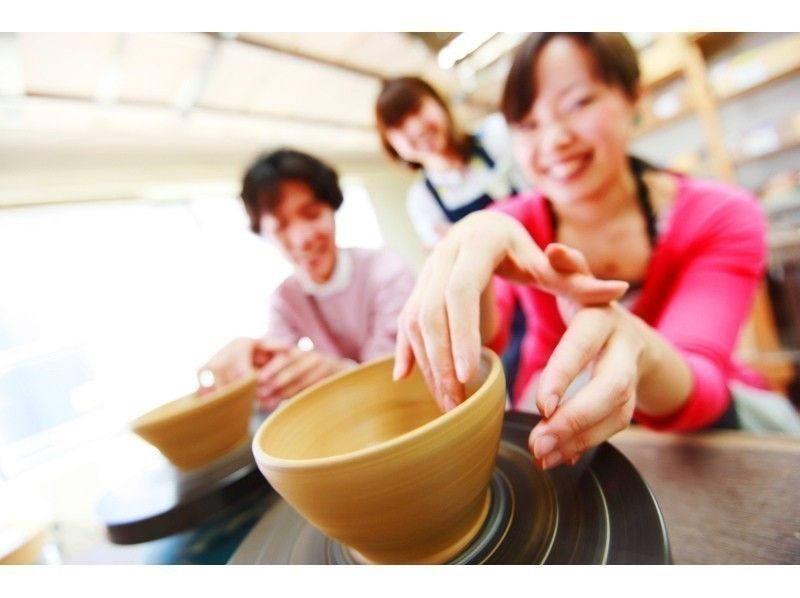 My favorite vessel is completed ☆ In the finished shape, pushing a brush and deforming the edge ♪ In fact this is also a cultural method of ceramics ★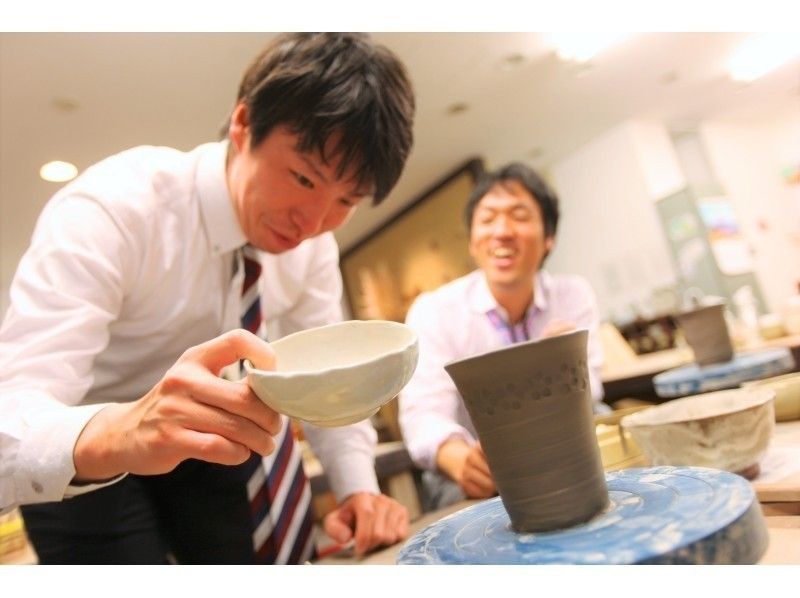 Children's association and company Events Also recommended ♪ 10 people more Group participation is also welcome. Please make a reservation one month in advance. We also have business trip classes where specialized staff visits your town ☆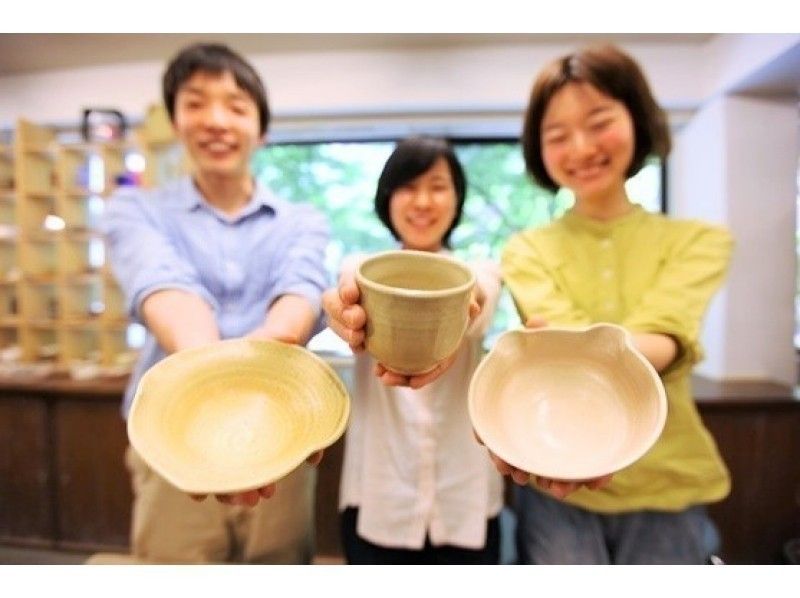 Completion of my cup ♪ From kids to seniors, we will be waiting for participation in both men and women as well as friends, couples, parents and children, families and groups
Time schedule

☆ Start of experience We will process at the reception desk of the classroom at the reserved start time. The pottery experience begins in a classroom like an art room ☆ First of all, decide the image you want to make while looking at various finished work examples ☆

00:15
☆ Making a foundation-string stacking Start by making dumpling-shaped clay ☆ When the base is made, stretch the clay to make a string and stack it on the base ☆ Ceramic clay feels cool and feels nostalgic for some reason ☆ Moisten your hands We will carefully make the base of the pottery so that the soil does not dry out.

00:30
☆ Thickness matching When the base is made, stretch the clay to make a string and stack it on the base ☆ Ceramics using fingertips stimulates the five senses ☆ It will be exciting if it becomes the image of the vessel you want to make ☆

00:45
☆ Water-grinding potter's wheel technique Wet the work with water, rotate the potter's wheel and slide it with your fingers to make it thinner and larger. It is a delicate work process that brings movement to the work ☆ The technique of growing and growing is thrilling ☆

01:00
☆ Mouth cut-decorated Original by decorating the vessel! Transform into a bear shape, push a stamp, engrave patterns and letters with a bamboo skewer ♪ The design is infinite depending on you ♪

01:30
☆ The shape of the finished product is completed ☆ If you are absorbed in it, 1.5 hours will pass in a blink of an eye. The work is unglazed by a staff specializing in pottery, shaving on a hill. In addition, apply the desired glaze and carefully bake it ☆

01:30
☆ studio tour and Explanations while visiting the studio up to make the vessel is raised burnt Explanations will
Detailed information of this plan
Required minimum number of participants

1

Person(s)
Possible number of bookings

1~

About duration
90 minutes
Operating period
All year round
Assembly time
10:30/14:30/17:00/19:00
Booking deadline
On the day Until 8:59
Matters require attention
・ If your nails are long, it may be difficult to work, so we recommend that you cut them short.
・ It will be "about one month to one and a half months later" until delivery.
・ The Yu Kobo staff will scratch the back of the work, bake it, and return it.
・ The finished product will be handed over to the classroom, but delivery to home is also possible (delivery fee is not included).
・ Please come 5 minutes before the start time of the reserved experience. Please note that the end time of the experience will not change even if you are late for the start time.

Other notifications
Because the - in the classroom where the pottery and glass products are on display, for safety reasons Target age less than the Ageo/Okegawa of your entry of children of rejected we have been. It is not possible to take classes with a stroller or children.

・ We accept only groups that include Japanese speakers in order to provide good service, because most of us do not speak English.
Sorry to trouble you, but please come with someone who speak Japanese.
(Most of the classroom staff cannot speak English, so to provide a good experience,
Reservations can only be made for groups with Japanese-speaking people.
We apologize for any inconvenience, but please come with a Japanese-speaking person. )

・ Experience classes are also available in each of the following classrooms ☆
Tokyo Aoyama Class / Tokyo Ginza Class / Aichi Nagoya Sakae Class / Osaka Umeda Class / Osaka Hirakata Park Class / Fukuoka Tenjin Class
All reviews
3

Results
Guest user
Excellent Experience
Al in my Japanese was not very good, we can still communicate. She was very patience and nice.
Participating date: May 2019
Guest user
很 Stick-like experience, teacher
是 朋 一一 一 Y 一 YYu 工房 的 藝 體驗, 藝 體驗 作 作 作 們 亦 成 完成 作成 ,, 先生 的 專 作 們 大 界, 很 地 地 地 指導 大 自己 成 自己 作 作品, 讓 大 共同 Joint Passion One good-looking late afternoon, highly recommended, studio 的 下樓 Cafe 很 Shiodome (PS teacher main 說 Sun Words, yes, yes, companion Sun Verbal mail service)
Participating date: April 2019
Guest user
Thanks to easy guidance, we were able to enjoy!
Thanks to the bright and gentle guidance, it was delicious and I was able to experience it.
When I was in trouble I was saved a great deal of help as a beginner that made the atmosphere easy to call my teacher and I was thankful!
Very nice memories and works were made!
I'm looking forward to the finished work ('◡ `)
If there is another opportunity, thank you very much.
Participating date: August 2018
Access - Map
〒810-0041
福岡県福岡市中央区大名 1-2-38 2F
Assembly point
Yu Kobo Fukuoka Tenjin​ ​
〒810-0041
Fukuoka prefecture Fukuoka city Chuo-ku Daimyo 1-2-38 2F
10 minutes on foot from Fukuoka Nishitetsu Fukuoka Tenjin Station South Exit. From the Apple Store Fukuoka Tenjin store, turn right at the second corner and turn left after entering.
If you arrive by car
Please use nearby coin parking.
If you arrive by train
10 minutes on foot from Fukuoka Nishitetsu Fukuoka Tenjin Station South Exit. Apple store From Fukuoka Tenjin store cross the pedestrian crossing, turn right at the first corner and turn left after entering.
Q&A about this plan
No questions about this plan
Activity Provider of this plan
工芸の教室☆ゆう工房&cafeゆう 福岡天神店
handling plan list
Fukuoka city (Hakata/Tenjin)/Dazaifu
popular plans
---
Ceramics Experience ・ Ceramics class Search from area
Find other experiences in neighboring areas
---