★ Activity Japan is in guidance at discounted price ★
【Tokyo · Ikebukuro】 Making ramen for foreigners ★ Ban ramen college university opened!
プランID:17550 提供:From Tokyo Pork Bone Lucknood to Head Office
7,000yen~​ ​(tax included)
4,500yen~Reduced rate
大人1人あたりの料金
プランID :

17550
Tokyo / 23 wards
Cooking class · Food making
Empty-handed OK
Meal
1 person participation Allowed
Rain departs Allowed
自然満喫リラックス派
ファミリーで楽しむ派
Starting time

10:00

12:00

15:00

Participating age

12 才~

Time required

2-3 hours

ScheduleRegularly
Assemble point Look in GoogleMap
Description​ ​
★ Activity Japan is in guidance at discounted price ★
We are carrying out a day ramen making experience class. In this plan, you make two kinds of "Tonkotsu" of Pork bone soy sauce "Benko" rich thick white hot water, and finally actually eat it. Ramen made by me will be with a wonderful feeling of traveling in Japan.
History of ramen · History of bamboo ★
First of all, I will give lectures such as what kind of ramen is starting all over Japan, starting with mental attitude in making ramen. I will do it firmly from the morning gathering that the actual store is carrying out.
Rare experience to make ramen yourself ★
In fact you make two kinds of ramen "Bon kara" and "Tonkotsu" by yourself. Ramen made by myself is exceptionally delicious.
There are souvenirs ★
At the end, take a special souvenir ramen "Ban Ramen" home.
---
Attractions of the plan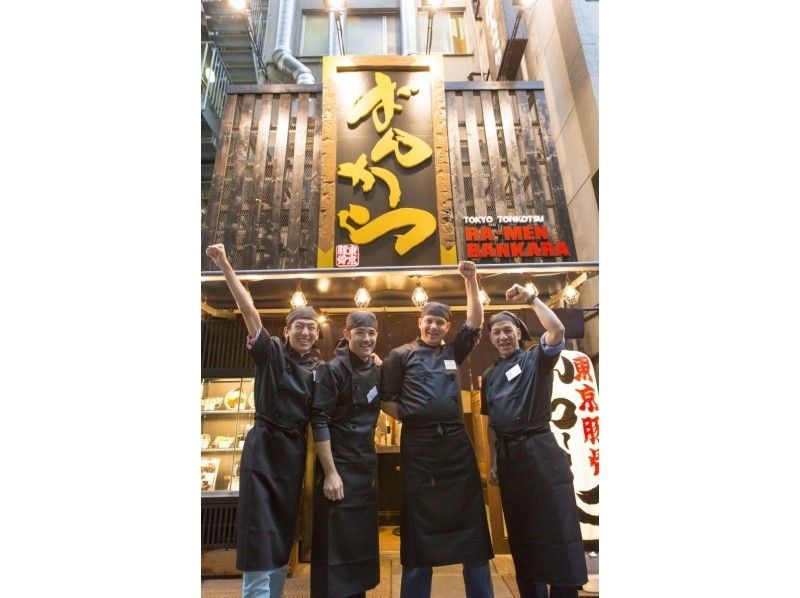 1. Start the experience! 今回は4名が参加します!自己紹介 ののち、一人ずつスタッフが実際に 使っているユニフォームに着替えま す。これを着たら気分が一気に 盛り上がるよ!店の前で記念写真もパシャリ!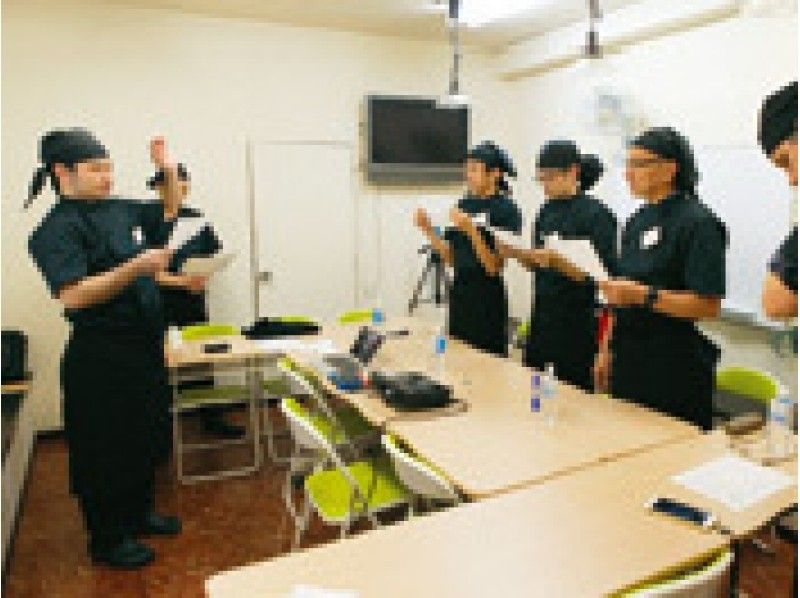 2. Morning meeting Energetic is important in ramen shops! Experience the morning meeting being held at the actual store. Everyone speaks out about the hospitality attendance, and in a loud voice speaks "Welcome welcome!" "Thank you!" I came in spirit!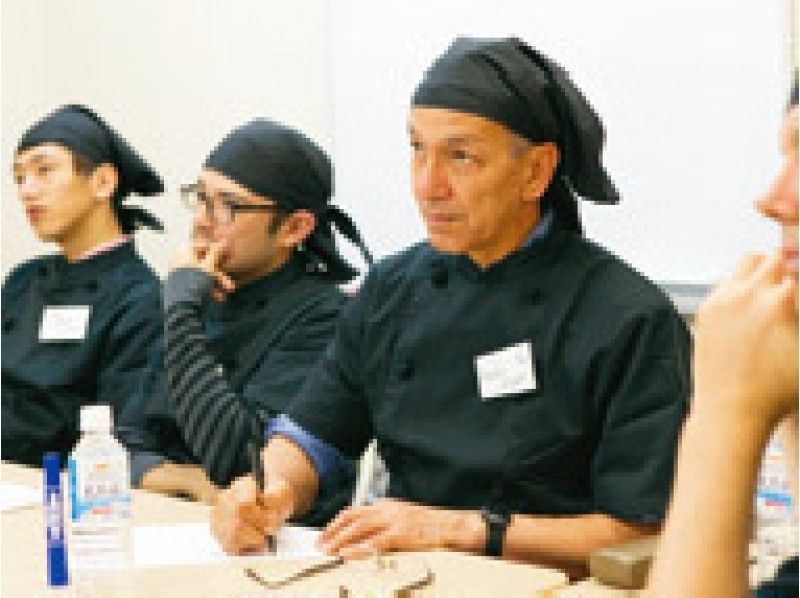 3. Lecture We will receive explanation of Hagino instructor about ramen's history, market and materials. Actually touching and checking the difference in firmness and texture of noodles, and teaching soup several kinds. "Is this a kelp and it is included?" Japanese questions have also rushed out one after another.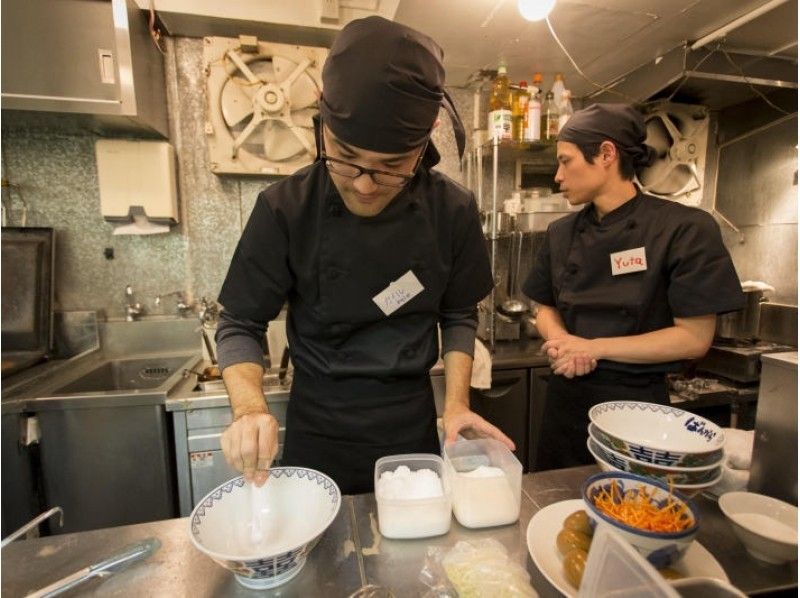 4.thicles! To the kitchen When I got the recipe I moved to the test kitchen. I will make ramen using the same tools and equipment as the kitchen from the actual ban. When Hattori chef showed the demonstration of horn cooked bamboo shoots and tonkotsu, we finally tried to make ramen one by one!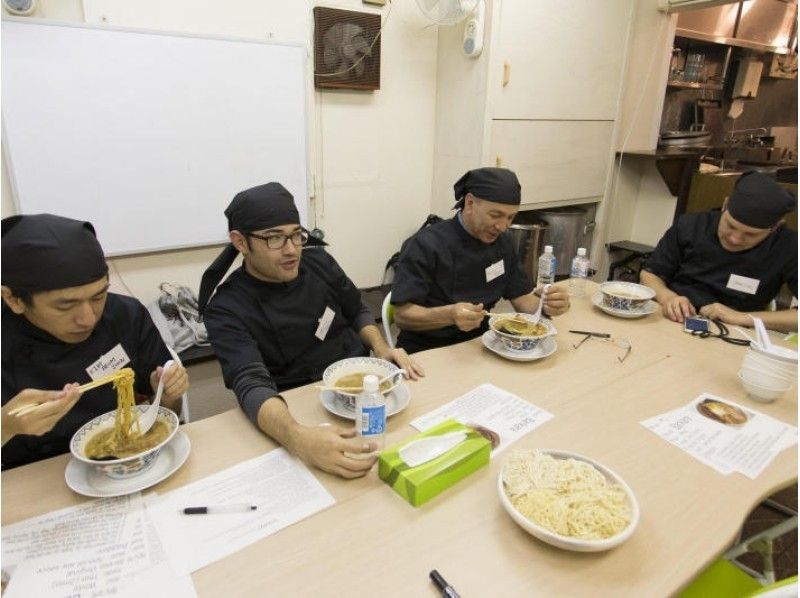 5. Eating real Of course you can eat your own ramen yourself! Suddenly it is a word of "It is good!" After all, all the participants love the Tonkotsu system.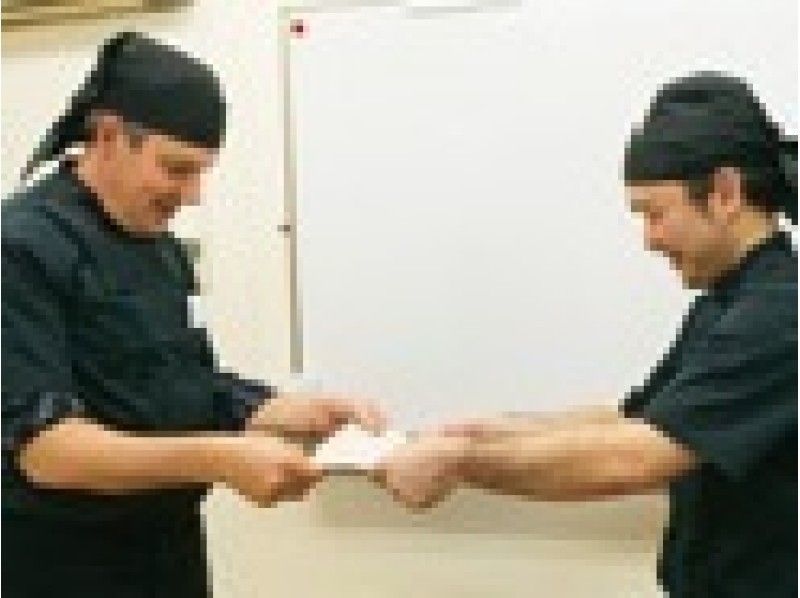 6. End I got a certificate of completion and a souvenir and finished my experience. With this, you are an artisan from Ban!
---
Information
Minimum number of people
5 人
Number of people who can book
1人〜
Schedule
Regularly
Assemble time
① 10: 00 (scheduled end time: 12: 30)
② 12: 00 (scheduled end time: 14: 30)
③ 15: 00 (scheduled end time: 17: 30)

※ Duration: about 2.5 hours
※ In another schedule, it may be accepted by the number of participants. Please inquire.
Assemble point
Ban ramen Ikebukuro main store front
Reservation deadline
The day before, until 5 PM
---
Regarding advance preparation
About clothings and must-bring items
Easy-to-move clothes (long pants are preferred because they handle hot water)
About rental items
We have all the necessary equipment for the experience.
(Example) Uniform uniform (bandana, apron, outerwear)
---
Facility information
Changing room
toilet
shower
Hot spring
Locker
Hairdryer
Parking Lot
コンビニ
スーパー
---
Access and map
所在地
1-17-3 Minami Ikebukuro, Toshima-ku, Tokyo 2nd Minami Ikebukuro I-N Building 4F
How to reach by train
JR Yamanote Line / Yurakucho Line / Marunouchi Line / East Tojo Line / Saikyo Line / Ikebukuro Station East Exit Under 5 Minutes /
Seibu Ikebukuro Line Ikebukuro Station South Exit a 10-minute walk
---
Price list
Basic charge
| | |
| --- | --- |
| Adult / person 7,000yen 4,500yen | 12 years old - |
※Prices including all taxes.
※上記は基本料金になります。
※日程によって料金が異なる場合がございますので、日程を選択した後に表示される料金表をご覧ください。
---
---
お支払い・キャンセルに関して
| | |
| --- | --- |
| お支払いについて | On the day, the payment in cash |
| Payment method | The payment method specified by the operator. |
| About cancellation fee | 以下の内容にてキャンセル料金が発生しますので事前にご確認ください。 ・前日キャンセル:体験料金の30% ・当日キャンセル:体験料金の50% |
| 開催中止に関して | |
---
Other
| | |
| --- | --- |
| Matters require attention | Please note that it may not be possible to participate if you are late. |
みんなの体験談
There are no reviews yet
7,000円~(税込)
Reduced rate4,500yen~​ ​(tax included)
大人 1 人 あたりの料金
Included in price
Experience fee / material cost / uniform rental fee / consumption tax
| | |
| --- | --- |
| | Starting time 10:00 12:00 15:00 |
| | Participating age12 才~ |
| | Time required 2-3 hours |
| | ScheduleRegularly |
| | Assemble point Look in GoogleMap |