[Hokkaido / Tokachi] The topic on media! Ice Jewelry "Jewelry Ice" Experience Tour
プランID:14267 提供:Samurai Produce
6,000yen~​ ​(tax included)
大人1人あたりの料金
プランID :

14267
Hokkaido / Obihiro Tokachi
eco-tourism
おやつ付き
ドリンク付き
Transfer Yes
1 person participation Allowed
Charter Allowed
子供参加可
自然満喫リラックス派
ファミリーで楽しむ派
スタート時間

Participating age

0 才~

Time required

3-4 hours

ScheduleLate January to March mid ※ there is a possibility to change due to weather.
Assemble point Look in GoogleMap
Description​ ​
The only one in Japan, the only one phenomenon that can only be seen on the coast near the mouth of the Tokachi river in the winter season "jewelry ice". It is a spot that has been featured extensively in the media as a "magnificent spot that you want to see once" and is drawing attention.

A number of ice that shines like jewels is a magnificent art work produced by mother nature. And we will guide you to the spot where you can enjoy Hokkaido in winter, such as the estuary which becomes the source of the "jewelry ice" and beautiful snow scenery which Tokachi boasts can boast. If you are lucky you can also encounter a wild seal ♪

Children can also participate with peace of mind experience tour so it is recommended to experience the family! Let's make memories of my life in this winter, "Jewelry ice" of Tokachi, Hokkaido ☆
What is ice jewelry, jewelry ice which can only be seen here?
It is seen in midwinter, of this region-specific natural phenomenon. The magnitude of the ice will be launched in the vicinity of the mouth of the Tokachi River. Was launched ice the size, from its mysterious beauty form also varied, it has been at or from referred to as a "jewelry ice".
Warm drinks and snacks also available ♪
Severe winter of Hokkaido. We offer a delicious sweets and warm drinks that will warm the body. Please enjoy the five senses while watching the superb view.
Professional Nature photographer in options also accompany!
When asked to select an option, you can get trend in professional nature photographer. Or taught the shooting technique, it will take a picture. Hokkaido Tokachi of photogenic, you can leave the firm memories ♪
Option is payment in local. We will split the fee with customers who sign up. If you are one person will be 40,000 yen. Please contact us at the time of booking up to a maximum of 10 people ※
---
Attractions of the plan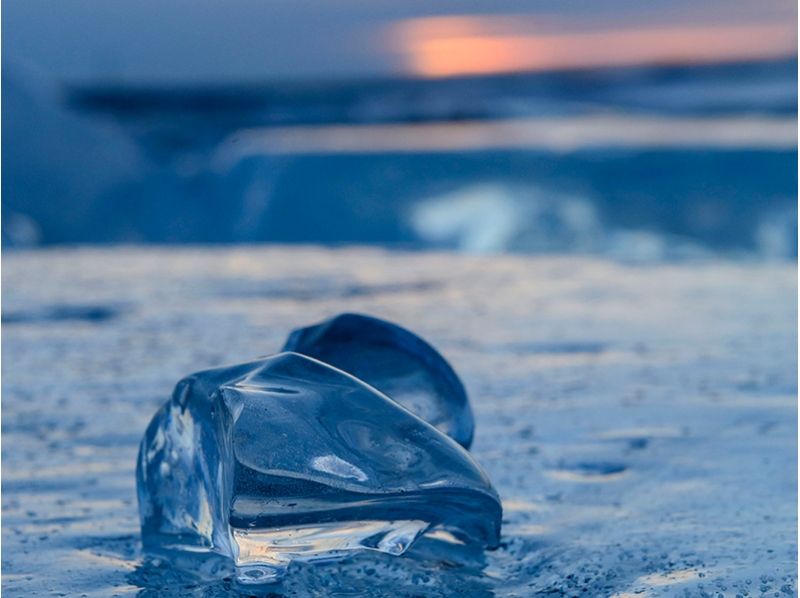 Like ice, such as jewelry, "jewelry ice" Ice rubbed by waves in the ocean is rounded and various expressions are like glittering ice jewelry depending on the accuracy with which the sun hits. Jewelry ice spreading all over is waiting for you.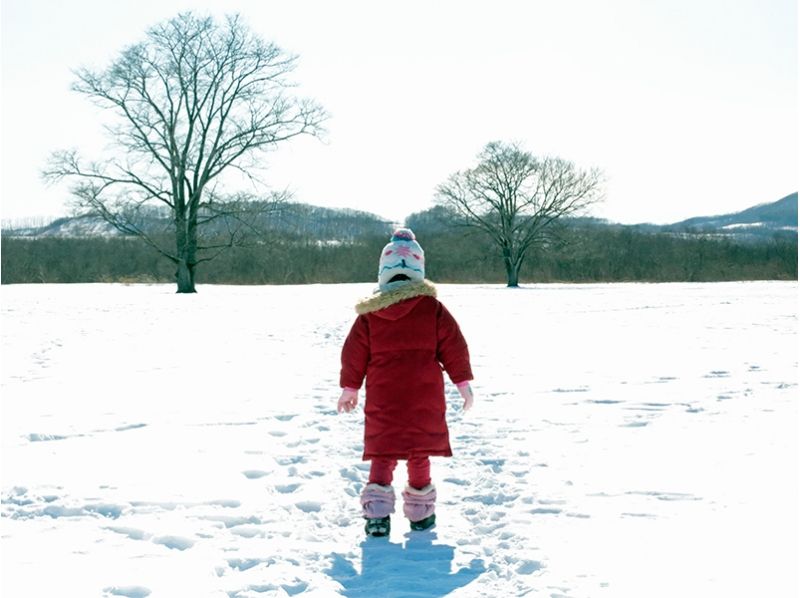 Let Meguro the winter of recommended spot of Tokachi! Winter Recommended spot There are a lot in the Tokachi! We will guide you so that it can be a nice winter experience.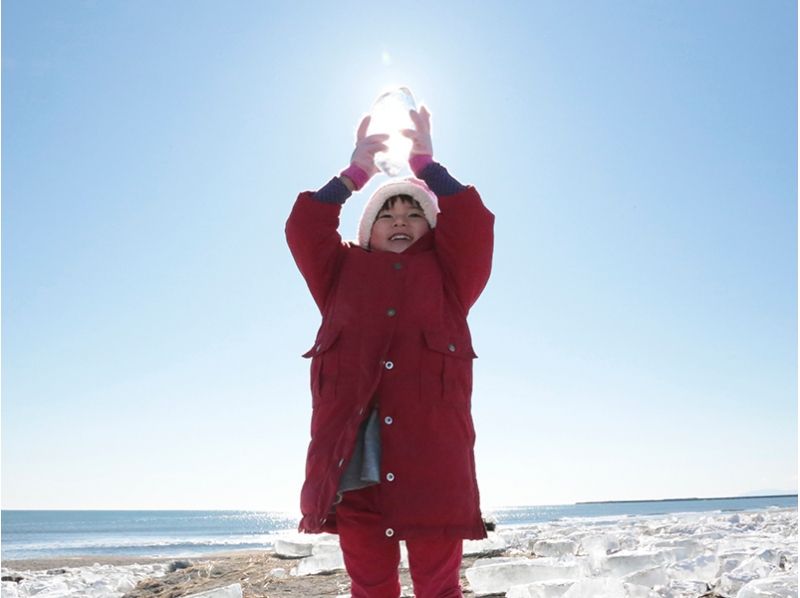 OPTIONS Capture guidance and commemorative photo by a professional photographer in there ♪ プロのネイチャーカメラマンによる記念撮影と撮影指導!この時、ここでしかみれない景色を思い出に残しましょう♪ ※この写真はプロカメラマンによる写真ではありません。
---
Information
Minimum number of people
1 人
Number of people who can book
2人〜40人
Schedule
Late January to March mid ※ there is a possibility to change due to weather.
Assemble time
13:00 
※ If you would like the above-mentioned time outside of time, please fill in the remarks column at the time of booking.

■ Duration: 3 hours and 30 minutes
※ There is a case to be terminated as soon as possible depending on the weather.

■ Time schedule
※ It may change depending on the situation of the day.
 予めご了承ください。

① 13: 00 ~
I will pick you up at your hotel.
※ There are some adjustments by the property in consideration of the other guests.
In addition to accommodation hotel, we can use our office parking lot.
↓
②14:00~ 
Jewelry Ice Arrives
* We may close earlier depending on weather and customer's request.
↓
③15:00~ 
Move
↓
④15:10~ 
Various spots (2 or 3 places)
tea time
↓
⑤ 16: 00 ~
Move
↓
⑥16: 30
Arrive at Obihiro
※ We will send you to Obihiro Station and hotels where you stay.
※ If you have reservations for JR or bus, we will adjust so please let us know.
* There are some adjustments depending on accommodation facilities depending on the balance with other customers
Assemble point
Designated place near Obihiro station.
Or accommodation facilities in Obihiro city and some of Obihiro city.
Reservation deadline
The day before, until 5 PM
---
Regarding advance preparation
About clothings and must-bring items
Snowsuit, winter shoes, gloves, etc..
Such as Cairo Please prepare on your own.
About rental items
Nothing in particular.
---
Facility information
Changing room
toilet
shower
Hot spring
Locker
Hairdryer
Parking Lot
コンビニ
スーパー
---
Access and map
所在地
Obihiro, Hokkaido Higashi 1 Jonan 16-chome, 11-2
---
Price list
Basic charge
| | |
| --- | --- |
| Adult / person 6,000yen | 13-year-old - |
| Child / person 6,000yen | 7-year-old to 12 years old |
| First grade or less / person 6,000yen | 0才~6才 ※未就学児の場合はチャイルドシートレンタル料を含む |
オプション料金
| | |
| --- | --- |
| Nature photographer by photography / group 40,000yen | Options will be paid locally. We will divide the fee by the customer who applies. In the case of one person it will be 50,000 yen. If you have any questions, please contact us at the time of reservation ※ Maximum 10 people |
※Prices including all taxes.
※上記は基本料金になります。
※日程によって料金が異なる場合がございますので、日程を選択した後に表示される料金表をご覧ください。
---
---
お支払い・キャンセルに関して
About payment
現地現金払い ※団体様の場合は事前清算となります。
Payment method
The payment method specified by the operator.
About cancellation fee
The cancellation of the customer convenience, we received a cancellation fee of following.
Experience the day before the cancellation: 50% of the experience fee
Experience on the day of cancellation: Experience fee 100%
Cancellation of no contact: Experience fee 100%
※ In the case of group bookings will be announced separately.
* For cancellation with customer convenience, we will charge a cancellation fee, but in the case of our convenience we will not incur a cancellation fee. Please note.
Cancellation by operators.
Stop in the case of heavy snow and stormy weather. ※ In this case, you do not get cancellation fee.
---
Other
Other notices
The minimum number of participants is 2.
If you do not meet the minimum number of persons at the time of booking, please wait for the reservation to be confirmed up to the day before use.
If the number of participants is less than 2 people, it may tour is not departs.
However, even if you do not have more than two people, you can pay if you can pay the fee for two people.
みんなの体験談
念願のジュエリーアイスだけでなく、いろんな体験をさせてもらい、とても最高の思い出ができました!寒空の下のカフェもおしゃれで、全てが素敵な経験でした!ぜひまた参加したいです!
Service out of period
This season of sales has ended.
Included in price
Guide fee, drinks bill, candy fee, consumption tax
| | |
| --- | --- |
| | スタート時間 |
| | Participating age0 才~ |
| | Time required 3-4 hours |
| | ScheduleLate January to March mid ※ there is a possibility to change due to weather. |
| | Assemble point Look in GoogleMap |