To [Fukuoka / Fukuoka (Hakata Tenjin) Dazaifu] soft line is characterized by Hakata doll, why not a painting?
プランID:13734 提供:Yuki Tanaka Hakata doll workshop
1,000yen~​ ​(tax included)
参加者1人あたりの料金
プランID :

13734
Fukuoka / Fukuoka (Hakata Tenjin) Dazaifu
Traditional Culture Experience
Empty-handed OK
1 person participation Allowed
Rain departs Allowed
子供参加可
ファミリーで楽しむ派
スタート時間

Participating age

3 才~

Time required

Within one hour

ScheduleRegularly
Assemble point Look in GoogleMap
Description​ ​
In unglazed dolls, is the experience plan to make the original Hakata doll with a color, such as the face, clothes in the paint. Since the type of dolls there are several, you can make choose what you like. Because the work is go home with as it is, it should be the dish to accompany the gifts and Hakata tourist souvenirs, flowers together and memories, such as for home.
3 years old - experience OK! A chance to touch the Japanese traditional craft making
Crafts and "for fear of break", I think that there are many people that do not touch the children, but feel the familiarity and affection to the doll might be stronger towards the child. It is actually a good opportunity to draw in the drawing sense taken in hand.
Even in the same form, fill up the looks better individuality in each person. Feel free because some people to experience in parent and child.
※ If you are under 6 years old must be accompanied by a guardian
---
Attractions of the plan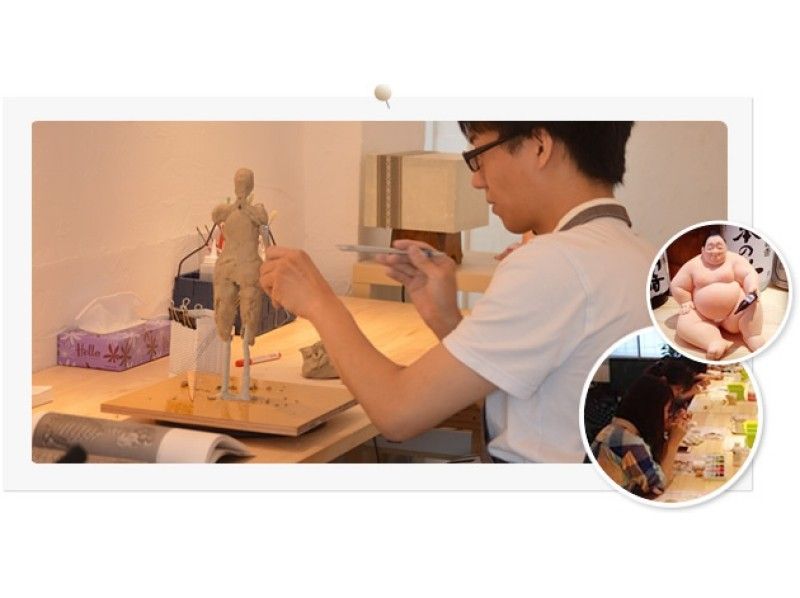 Some people various doll favorite. It offers a variety of types
---
Information
| | |
| --- | --- |
| Minimum number of people | 1 人 |
| Number of people who can book | 1人〜10人 |
| Schedule | Regularly |
| Assemble time | Please tell your desired time at the time of booking. |
| Assemble point | Yuki Tanaka Hakata doll workshop |
| Reservation deadline | Before 2 days |
---
Regarding advance preparation
| | |
| --- | --- |
| About clothings and must-bring items | In particular, since the provisions do not have sometimes paint is attached to the clothes, please come in attire that may be dirty. |
| About rental items | Paint (using the rock paint) |
---
Facility information
Changing room
toilet
shower
Hot spring
Locker
Hairdryer
Parking Lot
コンビニ
スーパー
---
Access and map
所在地
Fukuoka, Hakata-ku, Fukuoka City Kamikawabata 9-35 renovation Museum Reisen Zhuang A-41, Room
How to reach by car
Arriving by car ※ is, because there are many coin parking near, please use that.
How to reach by train
[Fukuoka Municipal Subway] Nakasukawabata Station No. 5 is a 5-minute walk from Exit
その他の方法でお越しの方
[Nishitetsu Bus] 5 minutes walk from Hawkaza Kawabata Town
Enter the narrow alley between the cold spring park and Kawabata shopping street
---
Price list
Basic charge
Participants / per person 1,000yen
3歳〜
※ If you are under 6 years old must be accompanied by a guardian.
※人形の大きさにより値段が変わります。
※Prices including all taxes.
※上記は基本料金になります。
※日程によって料金が異なる場合がございますので、日程を選択した後に表示される料金表をご覧ください。
---
---
お支払い・キャンセルに関して
| | |
| --- | --- |
| About payment | Pay by cash on the day or by card in advance. |
| Payment method | The payment method specified by the operator. |
| About cancellation fee | ご予約をキャンセルされる場合は、速やかにご連絡ください。 お客様のご都合によりキャンセルされる場合、下記のキャンセル料を申し受けます。 前日・当日・無断キャンセル:ご予約料金の10% 日程や人数変更も、速やかにご連絡ください。 時期や予約状況により、ご希望に添えない場合がございます。 あらかじめご了承ください。 |
| Cancellation by operators. | 設備の不調・故障によって体験が中止となる場合がございます。 状況により中止と判断される場合は、前日までに主催会社よりご連絡いたします。 中止となった場合、現地までの旅費などの賠償には応じかねます。 あらかじめご了承ください。 |
---
Other
| | |
| --- | --- |
| Matters require attention | ※ If you are under 6 years old must be accompanied by a guardian. |
みんなの体験談
There are no reviews yet
1,000円~(税込)
参加者 1 人 あたりの料金
Included in price
One experience fees and material costs, doll
| | |
| --- | --- |
| | スタート時間 |
| | Participating age3 才~ |
| | Time required Within one hour |
| | ScheduleRegularly |
| | Assemble point Look in GoogleMap |