[Oita/Yufuin] Feel free to Kimono rental couple! Enjoy Yufuin date! Hair set included!
Beginners welcome - First try
Empty-hands OK
Pick-up & Drop-off
Operate rain or shine
Children welcome
Recommended for dating
Possible number of bookings

Participating age

Age 4歳 ~ Age 100 歳
Speaking of the country's leading spa town, Oita Prefecture Yufuin. The historic streets There are a lot of power spot. Such a charming town, why not walk wearing a kimono a couple Yufuin. You can stroll happily Yufuin to memories of Yufuin travel! Shopping, Eating out, be attractive, such as power spot hopping is jammed a lot!
Walk the streets wearing a traditional kimono a couple!
Because you have picked up your favorite kimono and a hair set is included, it is cool, and you can go out cute!
A lot of photographs Leave the memories to take!
Calendar info reloading failed
Immediate booking OK!
Reception closed
Not accepted
Request booking
※ For request booking you will receive acceptance notice from Activity Provider.
About fees
※The list price includes tax.
※The above price is a basic fee.
※Fees may vary depending on schedule, please check the fee displayed after selecting the date.
Plan attractions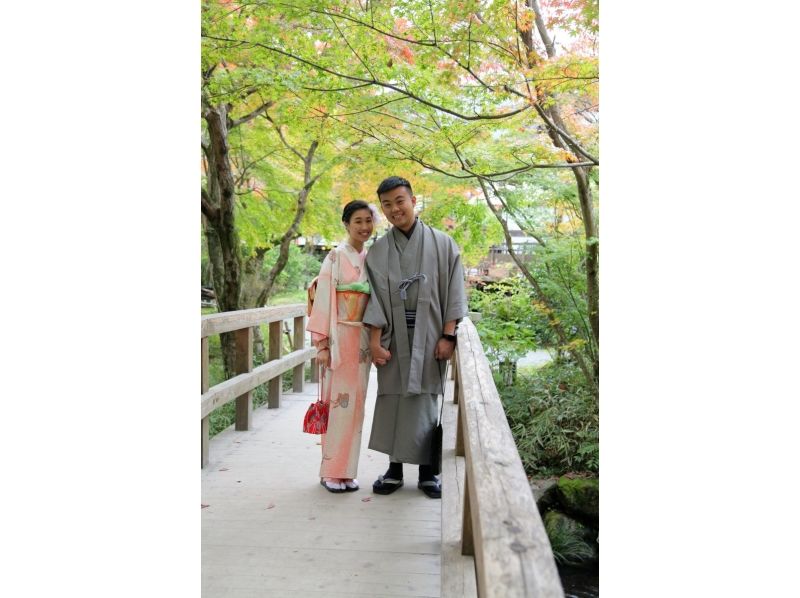 Location is also the best! Yufuin unique spot also recommended! A natural rich scenery is also the best.
Detailed information of this plan
Required minimum number of participants

2

Person(s)
Possible number of bookings

2~

Operating period
All-year-round
Assembly time
9:00 to 14:00 until booking
※ 17: 00 until the return of
Booking deadline
2 days before 23: 59
| | |
| --- | --- |
| Matters require attention | ▼ Shuttable area: Yufuin station, other neighborhood accommodation etc. fall within the applicable range. |
| Other notifications | Such as health, etc .. when it is concerned about symptoms, please described in the remarks column at the time of application. We will answer than organizer. |
All reviews
4

Results

The staff is very helpful and kind. Customers can contact the staff via LINE. Highly recommended!

Participating date: November 2017

I used it with my boyfriend!
Kimono was also pretty, I got up to hair set, I enjoyed very much.
I also want to use it if I have the opportunity.

Participating date: September 2017

Hello COCOHOUSE
Thank you very much for the hot weather today!
I think that it was quite difficult to accompany accompanying because the two are not familiar, but I think that we had a tremendous valuable experience!
If you notice, Yufuin is a place to visit once a year and there is something to do with the two people.
I was able to make good memories!
If there is something again, I definitely want to visit COCOHOUSE!
Thank you very much for today.

Participating date: August 2017

This price was cheap at a couple plans!
It was good that everyone was gentle dressing and hair setting (¨ ̮) It was very satisfying to have you pick me up!

Participating date: May 2017
Access - Map
If you arrive by car
About 5 minutes by car from JR Kyūdai Main Line "Yufuin Station"
About 10 minutes in Oita motorway from "Yufuin IC" car
If you arrive by train
Walk or taxi ride from JR Kyūdai Main Line "Yufuin Station"
Q&A about this plan
No questions about this plan
Activity Provider of this plan
ココハウス(COCO HOUSE)
handling plan list
---
Kimono rental Search from area
Find other experiences in neighboring areas
---