★ Available for block bookings ★ 【【 Kagoshima ・ Amami Oshima】 Sunset Mangrove Canoe Experience (120 minutes)
Beginners welcome - First try
Advanced-level users
Limited to first-time users
Limited to repeaters
Empty-hands OK
Solo participant
Pets allowed
Charter possible
Operate rain or shine
Children welcome
Possible number of bookings

Participating age

Age 1歳 ~ Age 100 歳
It is a premium course that can be carried out in the evening and experienced while avoiding sunlight in a Tour Time when there are few people.
As if you were renting out Amami Oshima's mangroves. . . .
You can do that day when you arrived in Amami!
Since it is possible to respond from the evening, it can be carried out on the arrival date of Amami!
An important person and important time.
Because it is a limited plan once a day, it is perfect for making memories with loved ones. I am looking at the sky of Amami going dusk and blending like a movie scene. There is a feeling which can be conveyed only in the gentle Amami nature · · ·.
Limited time of the low tide!
Quiet fantastic dusk Tour Time You will walk through the Mangrove virgin forest. Talk to the trees and animals that live in mangroves.
Calendar info reloading failed
Immediate booking OK!
Reception closed
Not accepted
Request booking
※ For request booking you will receive acceptance notice from Activity Provider.
About fees
※The list price includes tax.
※The above price is a basic fee.
※Fees may vary depending on schedule, please check the fee displayed after selecting the date.
Plan attractions

Sunset time is the reward time. Slowly crawl the quiet mangrove where most of the people are gone. You can feel Amami's time with your five senses.

Sunset over the mountains The sun sets on the mountain side. So even after sunset, the area continues to be bright and elegant.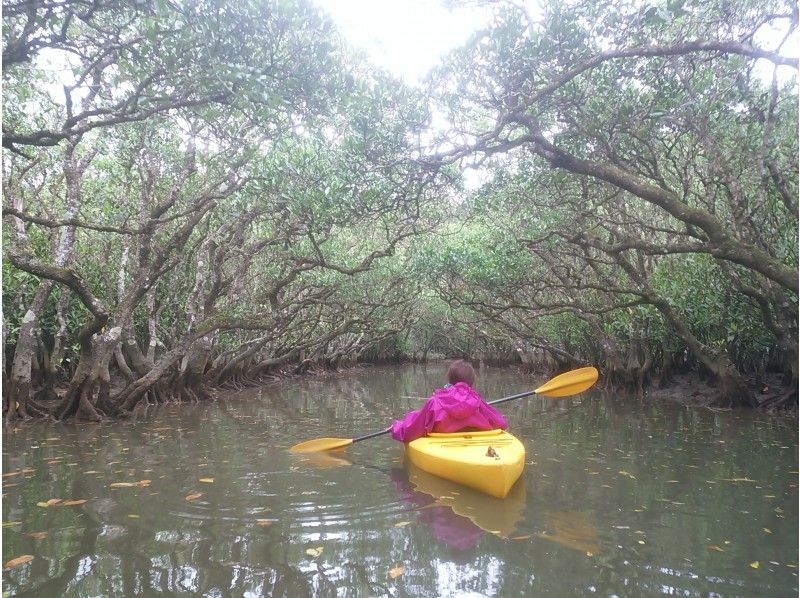 Cloudy days are more attractive. It's a shame that you can't see the sunset, but it's a fantastic atmosphere.

This is the moon. Such a surprise is rare. It may be carried out until it becomes so dark.
Time schedule

16:55
マングローブパーク集合 集合後、発着所までご案内します。

17:10
発着所到着後出発 初めての方でも安心!丁寧に漕ぎ方などをレクチャーします。

17:30
人のいないマングローブをゆっくりと。 他のカヌーにぶつかる心配もありません!ゆっくり慣れていきます。

18:00
満潮時間帯は細い水路やトンネルへ 干潟散策はできないけど様々なコースを回る事ができる

18:00
干潮時間帯は干潟散策へ カヌーのコース(水路やトンネル)は限られるけど大きく干上がったまるで砂丘のような干潟散策が可能!

18:30
沈みゆく夕日をみながら のんびりした後は沈む夕日をみながらカヌーを漕いでいきます。

19:00
マングローブパーク到着 到着後解散となります。周辺には開いている飲食店などないのでご注意ください。
Detailed information of this plan
Required minimum number of participants

1

Person(s)
Possible number of bookings

1~

20

Operating period
Whole year
Assembly time
October to February 15:55
March-September 16: 55-
Booking deadline
2 days before 23: 59
| | |
| --- | --- |
| Other notifications | If you are applying for one person, the tour fee will be 10000 if it is for one person only. yen Thank you for your understanding in advance. |
All reviews
2

Results

初めて奄美大島を訪れました。お昼に到着してチェックインして、少しゆっくりとしてから、サンセットカヌーに出かけました。美しい自然と珍しい植物や動物、人も少なく、ほぼ貸し切り状態。間近に見る潮の満ち引き、マングローブの群生には力強い生命力を感じ、心身共に癒されました。途中カヌーを降りて、石投げをしたり、魚を追いかけたり、童心に帰り思い切り楽しみました。
カヌーが初めてでも、スタッフの方が親切に教えて下さいますので、心配ありません。

Participating date: August 2020

I applied for Sunset Mangrove Cruises because of their name!
It was a luxury mangrove cruise almost reserved! Mr. Haruyama's talk was also light, and I was very happy to take you from experience to recommended places!
Although the sky was a bit suspicious, I was able to see the sunset, and I felt like I wanted to keep floating!
Thank you for your polite guide!

Participating date: June 2019
Access - Map
Assembly point
"Kuroshio Forest Mangrove park parking lot"
If you arrive by car
It will be a meeting at Kuroshio Forest Mangrove Park Parking Lot.
Please wait until the meeting time after arrival. The guide will call you directly when it is time.
If you arrive by other means of transportation
From Nase, take a bus bound for Koniya and get off at Mangrove Park.
Q&A about this plan
No questions about this plan
Activity Provider of this plan
Selling points regarding safety
ずっと心に残る素敵な旅になるよう、安全面では特に気を引き締め注意し、必要な場合はしっかりと判断します。
Member organizations and associations
奄美大島観光協会/あまみ大島観光物産連盟/あまみ商工会/奄美商工会議所
Number of staff
6

person

Number of instructors
6

person
アマニコガイドサービス
handling plan list
Amami Oshima Islands/Okinoerabujima
popular plans
---
Find other experiences in neighboring areas
---