Online Tour Experience Let's know the sacred "Utaki" of Ishigaki Island, Okinawa!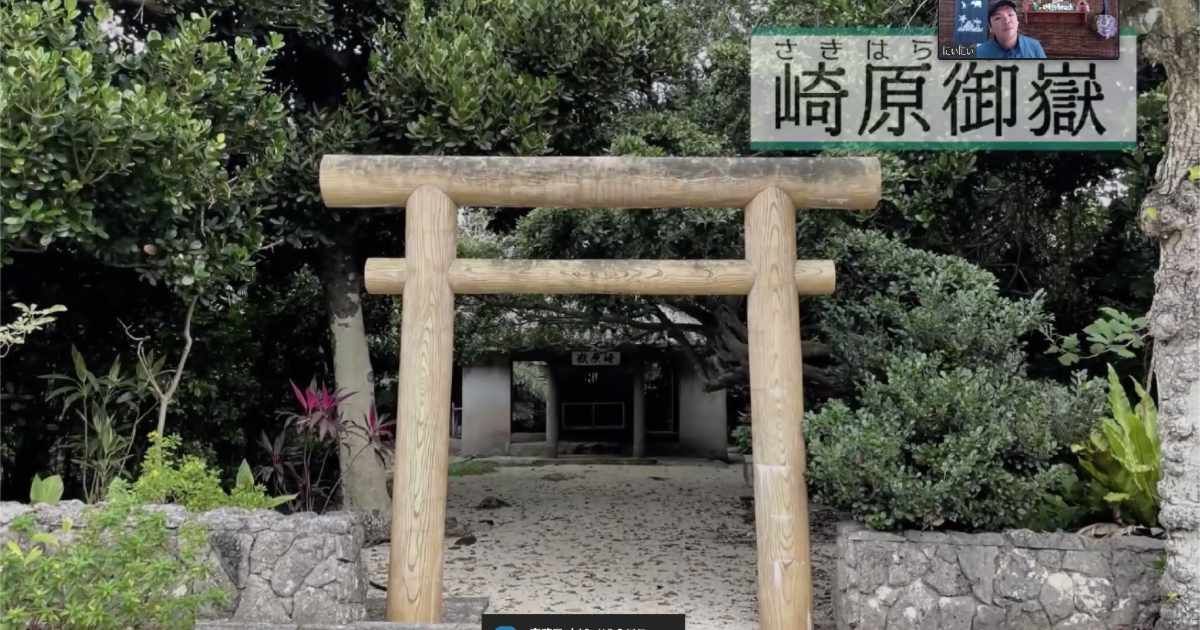 Activity Japan editorial department
I love Okinawa, but I can't go on a trip ...
I would definitely recommend to such people that you can participate in Okinawa activities at home. Online tour experience ..
I rarely go on a sightseeing trip, a little Deep Okinawa Would you like to experience?

This time, Activity Japan editorial department T participated in the trial version of the online tour experience " Let's know the sacred Utaki on Ishigaki Island, Okinawa! ".

"Utaki" is a sanctuary for the islanders. It is very important as a place to worship and pray for ancestors.

Activity Japan editorial department T who was originally a history lover and was also interested in Utah and folk beliefs in Okinawa.
The world cultural heritage "Sefa Utaki" can be visited by tourists, Local Ontake protected by locals I heard that I couldn't go easily, so I jumped at this tour plan!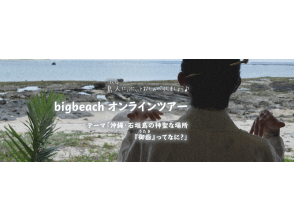 Big beach Ishigaki Island (big beach)
Ishigaki Island
1,000

Yen ~

(tax included)
Torii gates quietly nestled in various parts of Okinawa. There is no one ... There are many trees and buildings in the back of the torii gate. "Is it okay to come in?" Many people who have come to Okinawa think so. It's a place called "Utaki Utaki". Okinawa used to be a country called the Ryukyu Kingdom. Only one has joined the ranks of Japan
What is the online experience tour / offer shop "Big Beach Ishigakijima"?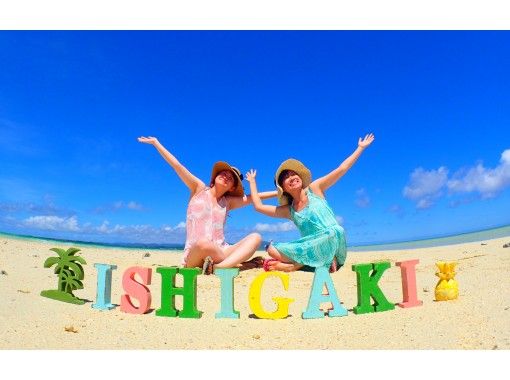 Trial version Online tour experience "Okinawa Ishigaki Island Let's know the sacred" Utaki "! Is held by " Big beach Ishigaki island ". In addition to the online tour experience, we also offer snorkeling and sea kayaking tour activities in Ishigaki Island, Okinawa.
Recently attracting attention " SDGs = Sustainable Development Goals I agree with. "Protecting the beautiful scenery and nature of Ishigaki Island" ONE HAND ONE CLEAN PROJECT We are also working on the activity.
"ONE HAND ONE CLEAN PROJECT" is to ask customers who participated in marine sports on Ishigaki Island to cooperate and bring back one piece of trash on the beach.
For customers who cooperated in picking up trash An original sticker will be given as a proof of support for the project Yes.
When I go to Ishigaki Island, I would like to participate in the project as well.
Ishigaki Island's "Nini" is now available on the online experience tour!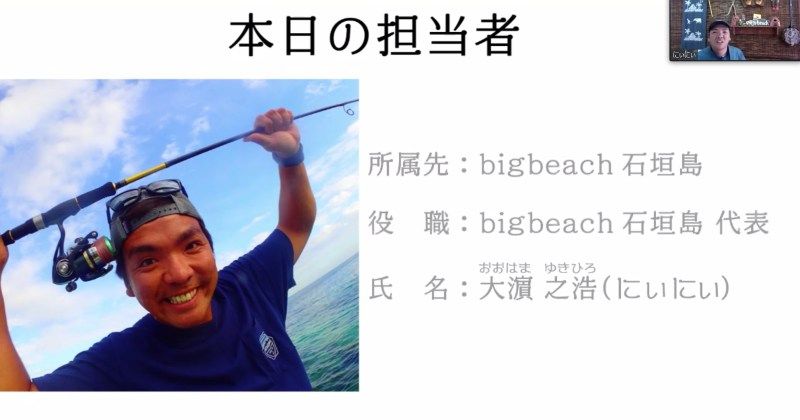 On the day Access the specified URL Then, the appearance of the staff and the participants is lined up! (People who don't want to show their faces can turn off the image).
The guide will be hosting tours such as marine sports and snorkeling on Ishigaki Island. "Nini" representing "Big Beach Ishigaki Island" That is, Mr. Yukihiro Ohama.
"Ohama, Ishigaki City, born and raised. I love having guests say" Thank you "." That's it. First of all, he takes out the sanshin to relieve everyone's tension and tells a nice song, "Come once, Ishigaki Yotoko".
Participating members also temporarily turned off the mute and shouted "Sayu Yui ~ ♪". On the Zoom screen where a smile pops, Fun sense of unity Is born.
To Ishigaki Island, Okinawa, 2000km away while staying at home in Tokyo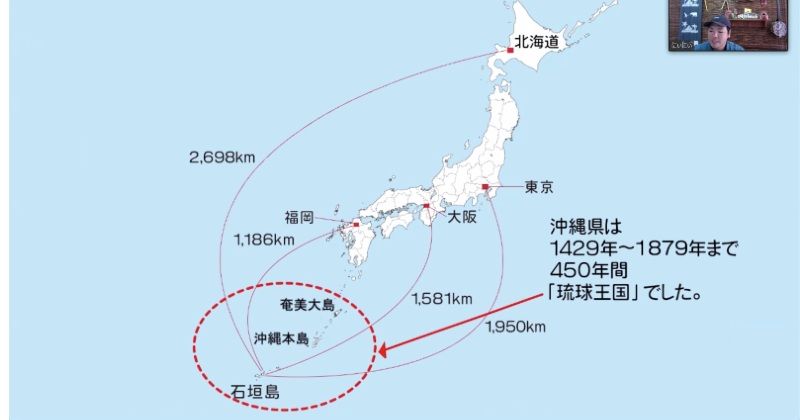 First of all, for those who have never visited Ishigaki Island, Niini will introduce you to Ishigaki Island, Okinawa. Ishigaki Island is about 2000 km from Tokyo , About 430 km from Naha City in Okinawa Is at a distance of.
"Okinawa used to be Ryukyu Kingdom It was one country. It was only 140 years ago that I joined the ranks of Japan. Unique culture and ideas still persist That's Okinawa. "
In Okinawa, the islands southwest of Miyako Island (Miyako Islands and Yaeyama Islands) are called Sakishima Shoto. A culture different from Ryukyu in the Maejima Islands There seems to be. Ishigaki Island is the gateway to the Yaeyama Islands.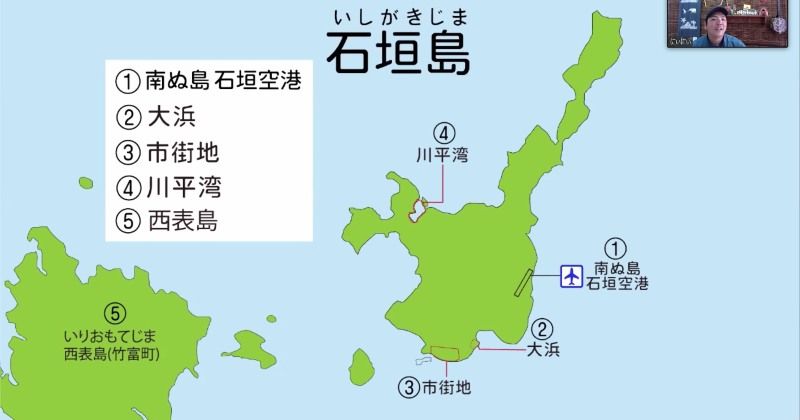 Among the many Utaki on Ishigaki Island, we would like to introduce you to the "Nini's hometown, Ohama Village". Sakihara Ontake ".
Utaki is sometimes called "On" in the Yaeyama Islands.
Introducing the inside of the prayer space "Mitake"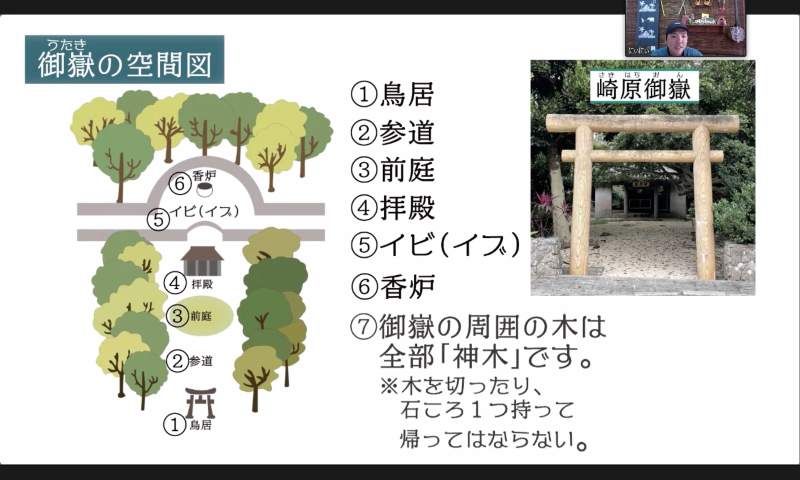 Mitake in the forest. In the sacred space where God dwells, the tombs of people who contributed to the village are enshrined. It is also a meeting place for the village family Various festivals Seems to be centered around Mitake.
"Okinawa is more than a god Ancestor worship Is thriving. Since we were children, we have all been taught to live protected by our ancestors. That The place that our ancestors have always cherished is Mitake .. If you go through the torii gate, the whole space is a prayer space, so you have to enter with respect. "
In front of Mitake A splendid torii There is, and proceed to the hall of worship through the approach and the front yard.
"The place where the grave and the sacred tree are located = from Ibi to the back Only women chosen by God can enter .. This is in contrast to many of the holy places in Japan that only men can approach. "
And here, I will explain about the organization of Ontake.
The woman chosen by God is called "Tsukasa". Below that is a man who supports a boss named "Kamanger". There are 70 parishioners called "Paka Ninju", An organization that protects Sakihara Mitake It seems that it constitutes.
Guided by Kamanger to the back of "Mitake"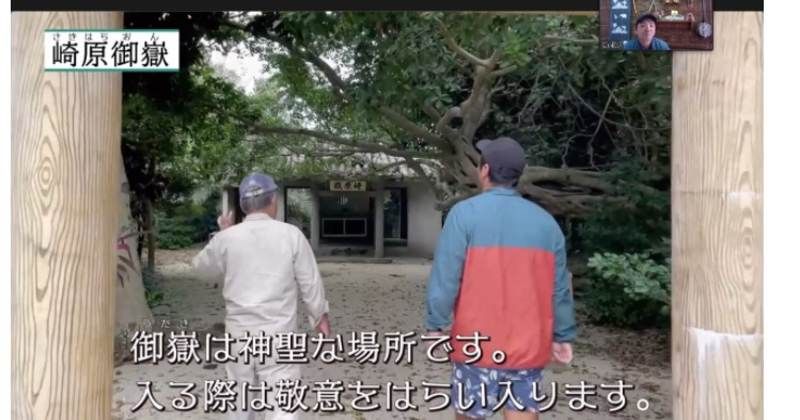 From here on, it 's not a photo, Video commentary Starts. Guided by Mr. Toyama, who is a Kamanger, you can see how Nini goes inside Mitake.
"I can see the hall of worship in the back. The air is really different in this place, and the cold wind is always blowing," said Nini.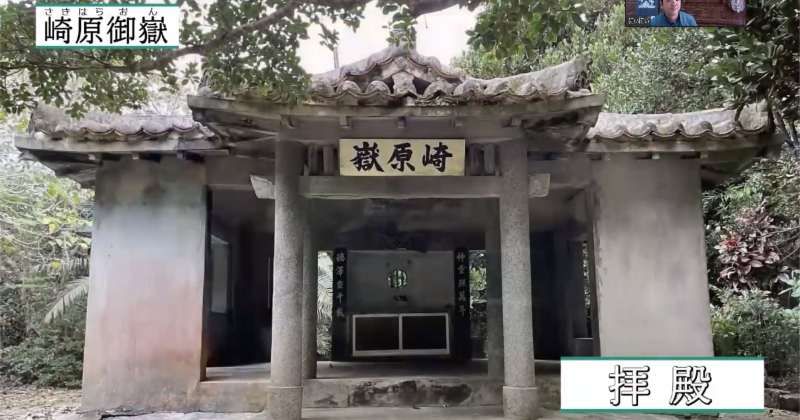 The inside of Mitake is usually refrained from entering by locals other than the priest. Holy space What is it? Change the current situation without permission or change the plants and stones on the premises It is strictly forbidden to take it away without permission as it is a divine punishment Yes.
"Some of Mitake do not allow unauthorized entry. If tourists want to see it, go to the front of the torii gate ... I wonder if I will guide you as well."
I won't show you here, but in the video, I saw the shrine behind the hall of worship and the shrine in the back where the incense burner for prayer rituals was held.
The place where there is a squid and the dust where the incense burner is placed are at any moment A mysterious sign that God is likely to appear I'm drifting, and I'm looking at it, and I think my spine will grow.
You can see the sacred space that the locals carefully protect from your home!
Because it is an online tour experience It's a precious and mysterious experience.
A woman who became the boss of "Sakihara Mitake" by telling her dream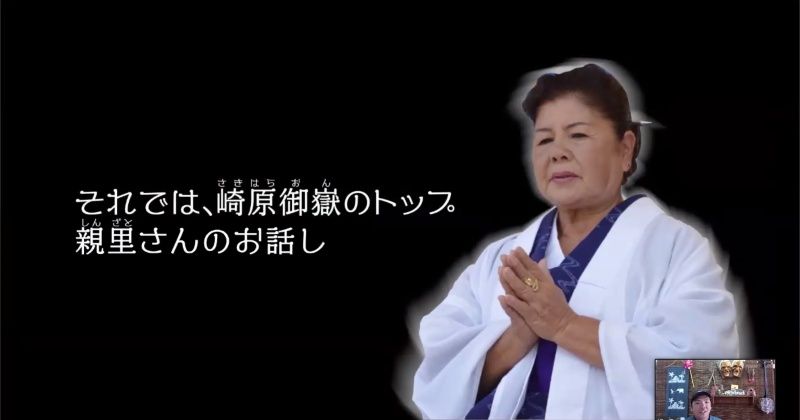 In the following video, we interviewed Mr. Terumi Shinzato, who works as Tsukasa.
It has been more than 10 years since Mr. Ozato inherited the boss, but until he took office, the boss of Mitake Sakihara was a woman from another family for generations. But there is Mysterious dream It is said that Mr. Chisato will take over as the boss after receiving the announcement.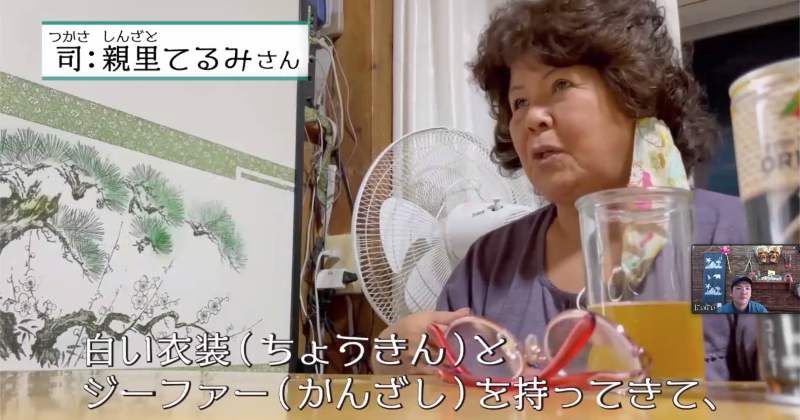 "When my aunt was taking a nap on the porch, an old man and woman with white clothes and a hairpin appeared in a dream and said,'You, wear this.' A white called" chokin ". Clothes and hairpins called "jifer" are important costumes used in Okinawan rituals. You should be the boss ], And it seems that he succeeded the trace. "
Utah is an Okinawan psychic (shaman), and according to Nini, " A person who can communicate with this world ". Nini Tachi locals Consult Utah if anything To do it.
It's a strange story, but it is said that Tsukasa is rarely selected by "God-like" like Mr. Osamu. A mythical event However, how naturally it blends into people's lives ... I was really surprised.
What is Ishigaki Island's big event "Pool"?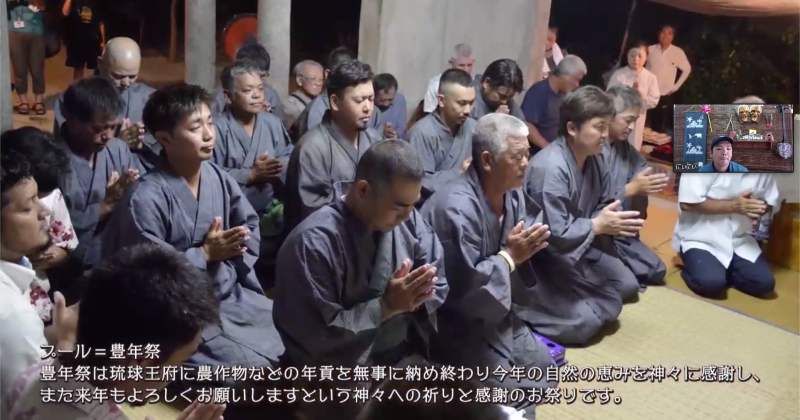 The last of the online tour experience is an introduction to the festival held at Sakihara Ontake. The year-end festival "Pool" is held once a year A large-scale festival held to celebrate the successful payment of annual tribute such as agricultural products So, many people gather in the hall of worship.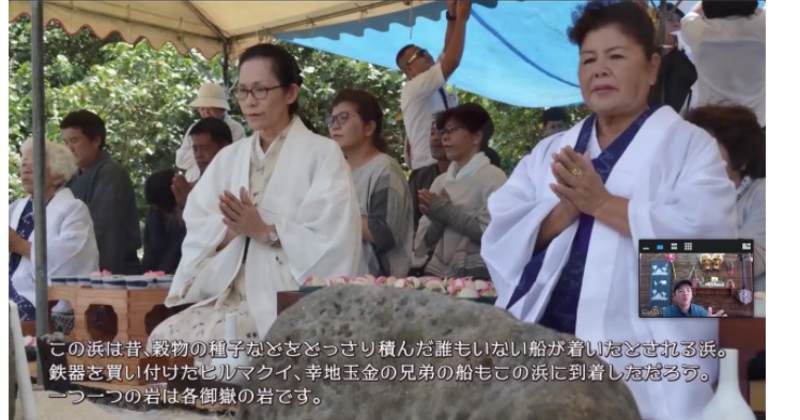 Multiple Mitake bosses in Ohama village gathered Sing and pray to the sea .. There is also a figure of Terumi Ozato, the boss of Mitake Sakihara. What I wear is the white costume "Chokin" that appeared in the dream announcement.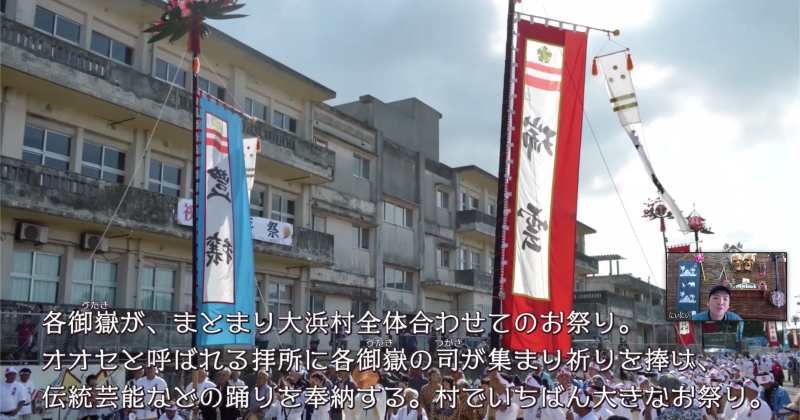 Gather at Ohama Elementary School for the finale. Sing songs, dedicate dances, and liven up the village.
It is said that the Toyonensai is usually held from the latter half of July to the first half of August. The schedule will be announced on the official website of Ishigaki City, Okinawa. This is Tourists can also participate That's right, "I'll let you know if you wish!"
Ishigaki Island / Utaki Online Experience Tour Summary
I was born and raised in Ishigaki Island and Ohama Village, so I can talk about it. The history of Sakihara Mitake and the secret story of the birth of Tsukasa .. It was a very satisfying hour to be able to see the appearance of Mitake living in life. For those who like history, those who are interested in power spots, and those who want to know more about Okinawa, this tour is confidently recommended.
"I think there are places around you where you can pray to your ancestors, like the one on Ishigaki Island. "I am living happily now. thank you" Please try to put your hands together. And be happy and get rid of illness and calamity! "Tonini.
Participate in an online tour experience However, I really wanted to go to Ishigaki Island. I want to go see a very friendly and fun Nini!
Okinawa
Okinawa remote islands
Ishigaki island
SUP (SUP) stand-up paddle board
Snorkeling
Canoe / kayak
Born and raised in Ishigaki Island, I am an islander from the ground up. Surrounded by nature, you can relax! Quickly! I grew up. Of course my favorite thing is the sea! Also, all the staff at big beach who are close friends like a real family ☆ What I dislike is the BGM that flows when the store closes (I noticed that I unconsciously plugged my ears ...) For me, who is not good at staying at home, it's best to go out to the sea with everyone I love! !! My favorite word is "Icharibachode ~", which means that once you meet, you are a brother or family member. If you come to Ishigaki Island, please meet me and come back as a (brother / family) ~ ♪ and! My motto is to make each person's impression of Ishigaki Island 200%! In order to raise the impression of Ishigaki Island to 200%, I think that we will raise it with the help of our staff. An important time to spend with your loved ones ... Please leave it to us big beach ☆ ★
business hours
8: 00-21: 00
Regular holiday
Irregular holidays
Activity Japan is an affiliated company of the travel agency HIS, and is Japan's largest activity-specialized reservation site where you can easily find and make reservations for activities and experiences in Japan. We have our own contracts with more than 5,000 affiliated partners all over Japan, and we handle 400 events, more than 15,000 plans of outdoor activities, manufacturing, day trips, leisure, online experience tours, etc. In addition, HIS's 170 bases in 118 cities in 61 countries / 163 stores in Japan (as of September 2021) and more than 200 media media of Activity Japan's own network are popular, cheap and recommended activity information in Japan and overseas. Currently, in addition to Japanese, we are accepting online reservations and travel agencies from all over the world in English, Chinese (simplified and traditional), Korean, and Thai. In addition, you can make reservations at a discounted price by using the discount experience plan limited to Activity Japan and discount coupons, and you can get points back after the activity experience. Book cheap outdoor sports, day trips, leisure, activity experiences, and online experience tours at HIS Group Activity Japan.
---
---
---
---
---
---