New corona measures for Kyoto "Asuka" and "online smell bag making experience"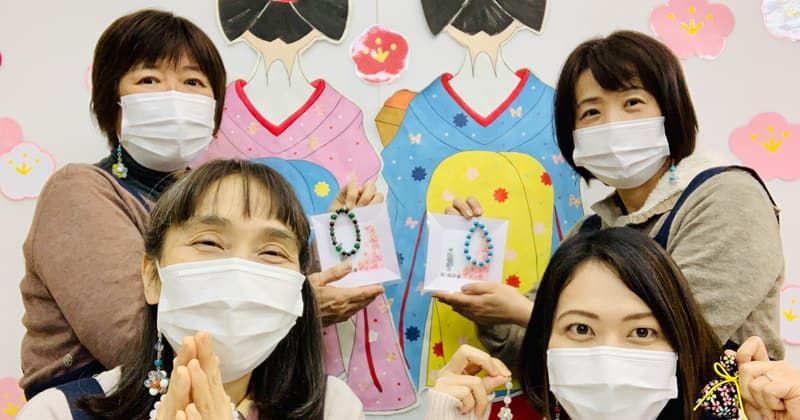 Activity Japan editorial department
In Kyoto Making sachets, Kyoto japamala, and bracelets Offering cultural experiences such as "Asuka" .. recently Limited to 1 group You can participate in "Online sachet making experience" Start, "You can participate with people who are far away and you can't usually meet" is. In the interview, we asked about new corona measures and popular online tours.
To enjoy activities safely and securely
The second installment of "How to Enjoy New Activities in the After / With Corona Era" featured in June 2020 last year. This time, we will interview the business operator who provides the activity about "the latest measures to prevent corona infection". The 5th time, "Asuka" from Kyoto will appear.
"Asuka" original infection prevention measures
Customers and staff who come to the store Thorough wearing of non-woven mask death, Disinfection of fingers Implemented. We measure the temperature of our customers and staff Cannot enter if the temperature is above 37.3 ℃ It is said.
Other symptoms include "fever above 37.3 ° C", "cough, sore throat, respiratory distress, etc." "I was informed that I was a close contact with the new coronavirus within the past two weeks." "Infection within the past two weeks." If you have a symptom such as "I have a history of traveling to countries or regions where the number of people is expanding," I put up a poster to refrain from entering the store.
Indoor measures such as changing rooms, shower rooms, and training
The room is Perform regular ventilation .. The number of people in a table was usually 6 people, but the total number of people was reduced from 6 to 4 so that they would not be crowded. Adjust the number of people to accept doing.
All equipment is sterilized. Air conditioner with sterilization function Using, Disinfectant or Installed acrylic board partition to prevent droplet infection doing. When the staff explains to the customer Wearing a face guard .. I use a coin tray at the time of checkout.
Physical condition management of staff, hygiene management in the facility, time interval
To the staff Carry out temperature measurement .. The room is Ventilation on a regular basis And sterilize when changing experiences.
If not only the staff but also the family goes to an area where many people are infected with the new coronavirus, they will not go to work for a certain period of time. In addition, I refrain from going to work when a person infected with the new coronavirus appears at the workplace or school of the person I contacted.
About customer health check
"I have a fever of 37.3 ° C or higher, cough, sore throat, respiratory distress, etc." "I was informed that I was a close contact with the new coronavirus within the past two weeks." "The infection has spread within the past two weeks. Have a history of traveling to the country or region where you are. " If applicable, please refrain from entering the store.
Measures for shared equipment
Instructions, writing utensils, breath tools, Kyoto Japamala tools, tables, chairs What the customer touched All sterilization and disinfection doing.

"Asuka" customer base
There are various customers, but especially Many couples and friends participate is not it. There are also families, school trip students, and individuals who participate.
Customer feedback regarding infection control
"Infection control was in place and I was able to experience it with peace of mind." "Measures are perfect in the corona disaster" "I was impressed by the polite explanation and warm customer service." Has been received.
Is there an online tour?
Using Zoom "Online sachet making experience" Is being held. The price is 2,500 yen each. Full-scale experience of blending unblended incense ingredients is. We will send you "Instructions-Fragrance-Spoon-Mixing cup (Mixing cup) -Inner bag (white))-Outer bag-Cotton-Decorative rubber-Decorative string" in advance.
On the online tour Two basic scents Choose from, with a little scoop Your favorite scent To make. You can choose an outer bag, a decorative string, and a decoration with natural stone, which is said to have power. It is also possible to limit to only one group at a time So, you can experience it only with acquaintances. Most of the participants are families and women.
From the customer, "I enjoyed the change in fragrance" and "The explanation was easy to understand." "I was able to make a third grade child with almost no help from an adult." "I'm glad I could experience it with a friend who I couldn't meet easily because I was far away." There are voices such as.
The recommended point is "You can participate with peace of mind without going out" thing. You can also participate on your smartphone, so you can feel free to experience it. Be far away Participate with family and friends who are hard to meet It is also a recommended point that you can do it. Participation from one person You can do it Recommended for a change of pace at home you know.
Features of "Asuka"
Sachets and Kyoto Japamala Such Kyoto cultural experience Including, Features various plans such as breath making is not it. A wide range of customers can enjoy it regardless of age or gender.
Unique initiative
I can't let go of the mask because of the corona sickness, but I recommend it. "Making a mask charm" or "Experience making masks" .. You can participate with confidence at home without going out "Online sachet experience" Is also recommended. We try to give a polite explanation, so don't worry if you are new to us.
A word to our customers
Thorough infection prevention measures We are trying to make it one of the pleasures of going out. I'm sure there are people who have put up with going out, but by all means Refresh with an online tour please.
Kansai
Kyoto
Kyoto Station Area
Traditional culture experience
Handmade accessories / accessories making
Aroma experience, perfumer, incense making
Natural stone bracelets, sachet formulations, etc. A shop where you can experience handmade products. There are also japamala (japamala) that are worried about when to buy You can make it. Reservations can be made until the day of the event! The shop is about a 5-minute walk from the Kyoto Aquarium. Each one is the only one in the world! For bracelet making and japamala making, you can choose your favorite natural stone, which has been said to have power since ancient times, and you can freely design it. It's fun to choose a combination of threading thread, knitting thread, bunch color, and other colors that are not available on the market! Since the sachet is prepared with unblended scent ingredients, it is a full-fledged experience where you can create your own scent by adjusting the amount of scoop. Please make a wonderful work that will be a memory of your trip to Kyoto!
business hours
9: 00-16: 30
Regular holiday
Irregular holidays
【please note】
The information on this page is as of February 10, 2021. The business conditions of the companies we introduce and the availability of plans may change. If you have any questions or concerns, please feel free to contact us at the time of booking.
Recommended / Popular Activities / Experiences / Leisure Features
Special feature of the area / area of interest