"Recommended way of spending & activities" to ask the Wakayama Kozakawacho Tourism Association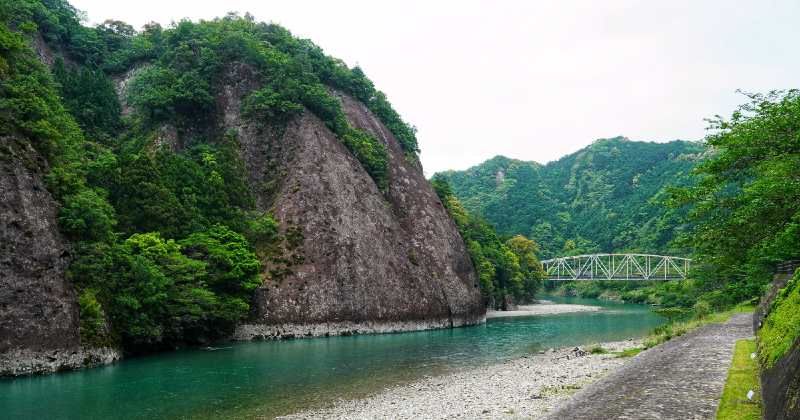 Activity Japan editorial department
Located at the southernmost tip of the Kii Peninsula Kozagawa, Higashimuro-gun, Wakayama Mountains and rivers occupy more than 90% of the town Area surrounded by nature ..
The symbol of the town, Koza River, is " Heisei's 100 Best Waters It is a clear stream that was also selected. There are many rare sightseeing spots such as nationally designated insect-eating rocks and monoliths, and there are plenty of highlights!
This time, Activity Japan editorial department M interviews Kozagawa Town Tourism Association! We will ask you about the charm of Kozagawa Town that the locals know.
another Enjoy Kozagawa Town We will also tell you the recommended experiences and activities to do!
Charge to Kozagawa Town Tourism Association!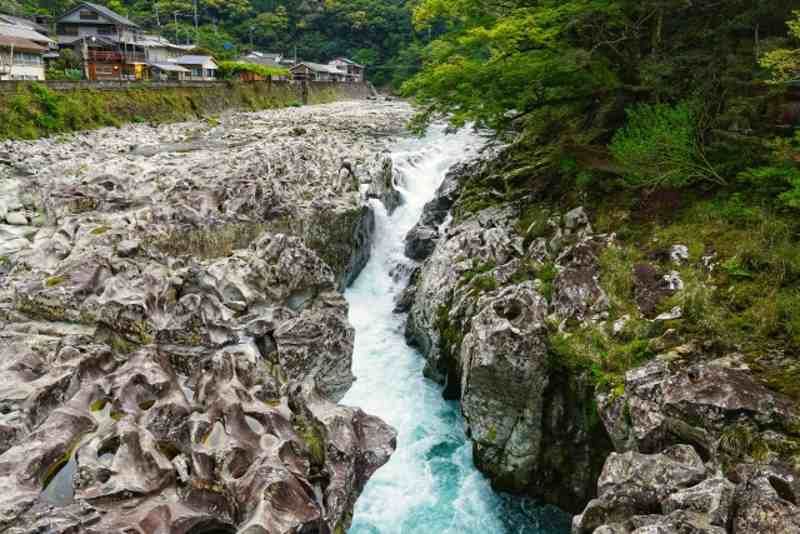 A popular tourist spot on the Koza River, the waterfall worship (yes) has strange rocks of various sizes.
About 1 hour by bus from Nanki Shirahama Airport. 15 minutes by car from Kushimoto Station About.
The Kozagawa Town Tourism Association is located in Kozagawa Town, which is also a tourist spot. Mushikuiwa In front of you.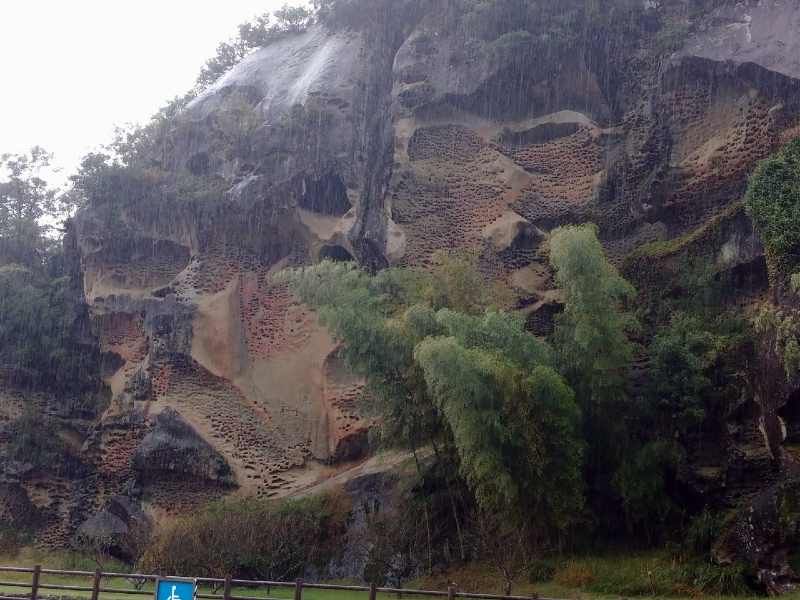 The nationally designated natural monument, Mushikuiwa, is also popular as a shooting spot!
The appearance of the Kozagawa Town Tourism Association feels the warmth of wood. It seems that it was built in 2014. Once inside, Good scent of wood Spreads.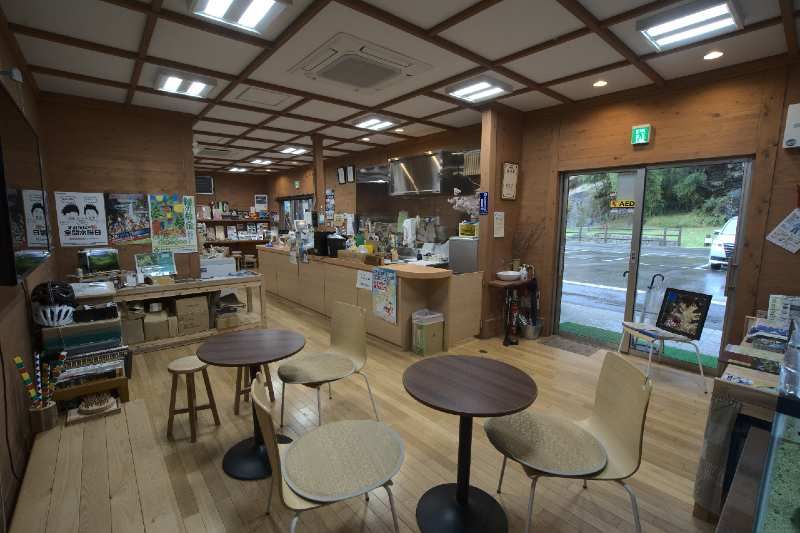 Inside the shop where you can feel the warmth of wood making
Processed foods (sweets, juices, game foods, etc.) using special products of the Koza River, souvenirs such as woodwork products are also available. Local specialties Are lined up in a row, and you just want to buy it!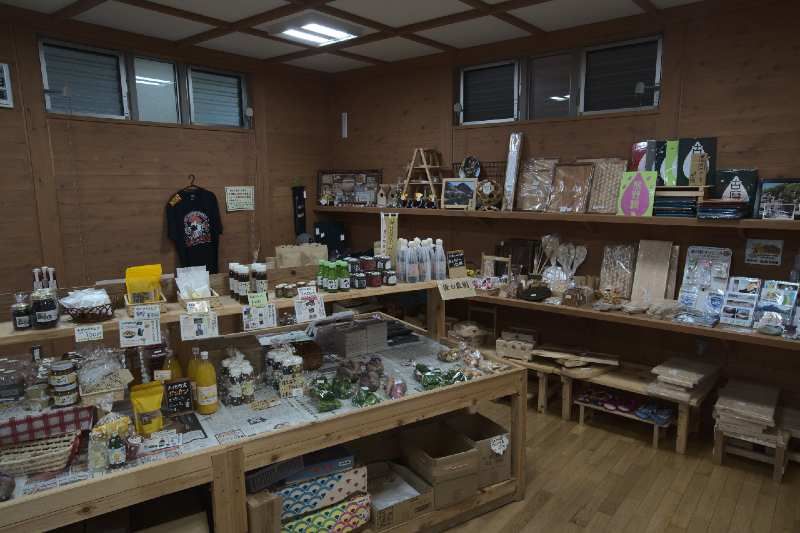 Inside the shop where local specialties are lined up
Kozakawa Town Tourism Association Interview with Minaki Ikeda and Taro Ueda, who work at the secretariat of Japan!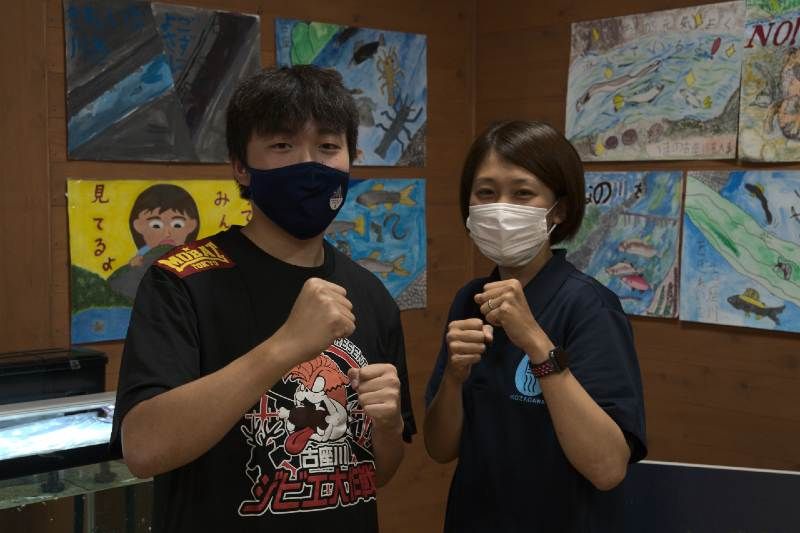 The pose is perfect! (From the right) Minaki Ikeda and Taro Ueda of the Kozagawa Town Tourism Association
Mr. Ikeda is from Shimane. Previously, he was a teacher in Kanagawa and Yokohama. The husband is from Kinokawa City, Wakayama. "I want to farm in a place with clean water!" He came to Kozagawa for a preview and liked it, so he moved to Kozagawa. Engaged as a secretariat staff of the tourism association on weekdays. He seems to be helping his husband's farming on weekends.
When asked, "Are you enjoying the outdoors in the natural Koza River?", "I want to go trekking and canoeing, but I often accompany them at work," says Mr. Ikeda.
" The best healing to see the starry sky at the end of work What is it?
Mr. Ikeda has a very calm atmosphere. Since my previous job was a teacher, the gentle atmosphere and speaking style are impressive.
Next, I would like to talk to Mr. Ueda.
Mr. Ueda is from Kobe, Hyogo. I heard that my parents had brought me to Koza River at a camp since I was 3 years old. "I fell in love with Kozagawa because of the camp," says Ueda. He likes Kozagawa-cho too much, but he used the system of studying abroad in Japan to attend a high school in Kushimoto-cho.

Mr. Ueda also enjoys biking, so he often came to Kozagawa-cho on his days off from high school.
When I graduated from high school, I moved to Kozagawa Town Tourism Association as a regional revitalization cooperation team because I wanted to work for my favorite Kozagawa Town. It reaches the present.
Mr. Ueda said, " I'm always looking forward to walking in the mountains and taking pictures That's right. The feeling of "I love Kozagawa!" Is transmitted to me.
" I think it is the role of promoting tourism in Kozagawa Town and connecting tourists with locals. Mr. Ikeda and Mr. Ueda.
Next, I would like to tell you about the "charm of Wakayama and Koza River" and "recommended way of spending" that are unique to locals.
The charm of Wakayama and Koza River & recommended ways to spend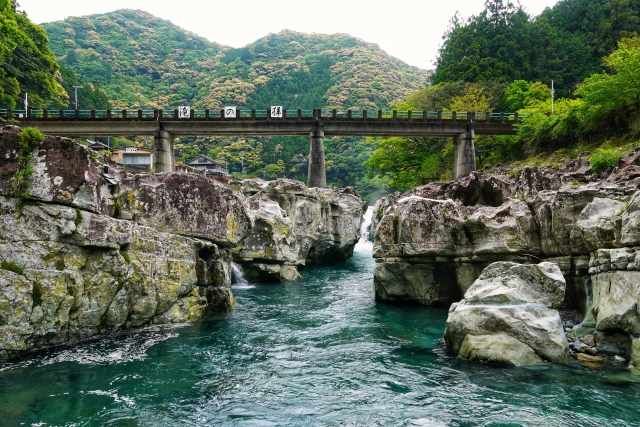 The monolith on the Kozagawa River is a nationally designated natural monument and a popular tourist spot!
Mr. Ueda says that the charm of Kozagawa is that "everyone in the area is surrounded by love for Kozagawa and loves the town. Each of them is proud of their work."
Mr. Ikeda says, "I like the charm of people, the untouched nature, and the atmosphere of the town." "It is also attractive to have the colors and sounds of nature in each season."
According to Mr. Ueda and Mr. Ikeda, the recommended experience in Wakayama and Kozagawa is " Rent-a-cycling .. There are few traffic lights, and you can enjoy the nature of the four seasons that you cannot notice when you are in a car. "
Currently in the cycling industry Gravel (running on dirt roads) Is popular.
It is also recommended to run on the forest road, go to a campsite in a place where you can not go on a day trip, stay overnight, and return the next day.
The Kozagawa Town Tourism Association will combine trekking, cycling, and camping in the future. Planning a fun plan So you can't miss it!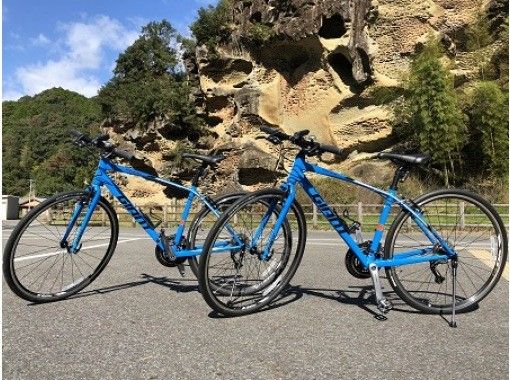 If you rent a bicycle, you can enjoy the magnificent nature of the Koza River even more.
Other recommended experiences / activities are " Canoeing in the river , Trekking in the mountains Is recommended. "
Currently, you can book trekking and rental cycling experience around the waterfall at Activity Japan. " Plans will increase in the future ".
Nature is rich So, "The charm of Koza River is that you can enjoy various experiences and activities" in both rivers and mountains!
The scenery of the Koza River is "I like when the fog peculiar to the morning is falling. Also during Golden Week and summer. Unique atmosphere of Koza River There is. I like the scenery of the fusion of mountains and rivers, "says Ueda.
When I asked Mr. Ueda about the recommended way to spend the Koza River, he said, "Even if you decide where to go by the day before, Lots of charm I think it's okay to find it because there is one. "
Mr. Ikeda replies, "Leave yourself leisurely and naturally. It is also recommended to actively go canoeing and trekking + meet people."
A word to our customers
Mr. Ueda "Wakayama and Koza River can't go around even in a month. Lots of charm!
I think it's our job to introduce it. I want you to enjoy the activity experience and contact with people. "
Mr. Ikeda " The people of Kozagawa are unique and warm There are many people. Of course, we want you to enjoy the rich nature. If you have any questions about "I want to meet someone like this" or "I want to do something like this", please do not hesitate to contact us! "
Kansai
Wakayama
Kushimoto/Nachikatsuura
Trekking (climbing / hiking)
Mountain bike (MTB) / downhill
Eco Tour / Nature Guided Tour
Kozagawa Town is dotted with countless geosites such as insect-eating rocks, monoliths, and waterfall worship, and is located in Oku-Kumano, where untouched nature remains, such as Kumanozakura and Kozagawa, which has outstanding transparency. There is a trekking plan to introduce the 3 best waterfalls in Kozagawa Town and climb the rock surface. In addition, there are no traffic lights in the town, and the climate is cool in the summer and warm in the winter, making it a perfect place to enjoy cycling. There are 3 types of bicycles that can be rented (E-bike, cross-bike, mountain bike). Try attacking mountain routes with an E-bike (electrically assisted bicycle), ride a cross bike to see Kumanozakura in the fall, and try a rough road with a mountain bike. There is no doubt that you can enjoy it! Please come and enjoy a little bicycle trip in Kozagawa-cho, which is not affected by the weather other than rain.
business hours
9:00 am to 17:00 pm
Regular holiday
New year holiday season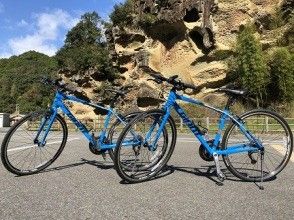 Kozagawa Town Tourism Association (Roadside Station Mushikuiwa)
Kushimoto / Nachikatsuura
2,000

Yen ~

(tax included)
It is "Kozagawa rental cycle" of Kozagawa Town Tourism Association. In addition to the photo spots in Kozagawa, such as the scenic spots of insect-eating rocks, monoliths, and waterfall worship, you can go anywhere in the town. (I will tell you the recommended points of the staff !!) Why don't you come and go cycling with your spouse, couple, or friends? ?? E-bye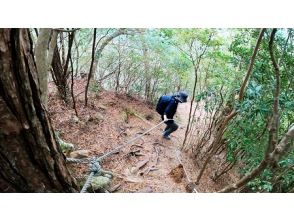 Kozagawa Town Tourism Association (Roadside Station Mushikuiwa)
Kushimoto / Nachikatsuura
5,500

Yen ~

(tax included)
It is a tour of the unexplored waterfalls of the Kozagawa Town Tourism Association. We will guide you through the many famous waterfalls (Ueyo Falls, Hario Falls, Maboroshi Falls, etc.) scattered in Kozagawa Town and other trekking. It doesn't matter what age you are, but it is recommended for those with good legs as it walks on roads with unstable scaffolding such as Dochuzawa and Kawahara. Also, I want to spend a relaxing time in the wilderness of "Oku" Kumano without worrying about anything.
Activity Japan is an affiliated company of the travel agency HIS, and is one of the largest reservation sites specializing in activities in Japan, where you can easily find and make reservations for activities and experiences in Japan. We have our own contracts with more than 5,000 affiliated partners all over Japan, and we handle 400 events, more than 15,000 plans of outdoor activities, manufacturing, day trips, leisure, online experience tours, etc. In addition, HIS's 170 bases in 118 cities in 61 countries / 163 stores in Japan (as of September 2021) and the media media of more than 200 companies on Activity Japan's own network are popular and cheap and recommended activity information in Japan and overseas. In addition to Japanese, we are currently accepting online reservations and reservations from travel agencies in English, Chinese (simplified and traditional), Korean, and Thai. In addition, you can make reservations at a discounted price by using the discount experience plan limited to Activity Japan and discount coupons, and there is also a point back after the activity experience. Book cheap outdoor sports, day trips, leisure, activity experiences, and online experience tours at HIS Group Activity Japan.
---
---
---
---
---
---