Corona measures and unique features of "No. 2 Kamoshitamaru" that offers popular fishing tours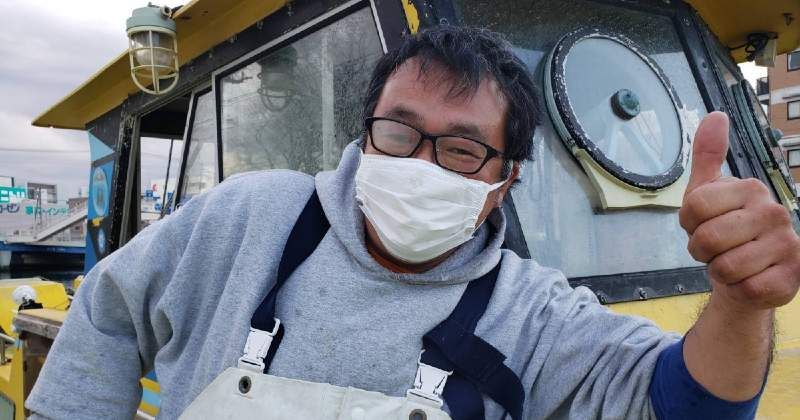 Activity Japan editorial department
Offering fishing tours in Yokohama City, Kanagawa Prefecture "2nd Kamoshitamaru" .. The captain, Yoshiki Kumagai, is a bright and friendly character and is popular because even beginners can easily enjoy fishing. We interviewed about new corona measures, company characteristics, and unique initiatives.
To enjoy activities safely and securely
The second installment of "How to Enjoy New Activities in the After / With Corona Era" featured in June 2020 last year. This time, we will interview the business operator who provides the activity about "the latest measures to prevent corona infection". The 7th time, "2nd Kamoshitamaru" appeared.
"No. 2 Kamoshitamaru" original infection prevention measures
Staff and customers Be sure to wear a mask .. When fishing elsewhere Keep enough distance Etc., recommended by the government "Corona infection prevention measures" I am conscious of.
About customer health check
On the morning of the day Orally confirm your physical condition doing.
Measures for shared equipment
The fishing rod used by the customer Rinse everything thoroughly with water ..
Features of "2nd Kamoshitamaru"
"Create an atmosphere that customers do not care about" I always keep in mind. Some of our customers say that it is difficult to talk to the captain. Call out to customers from here I am doing it.
Customers have said that there is no place for the captain to speak to him (laughs). I personally love talking to people.
Beginner fishing "I don't know what to do after wearing boots," "I have a bucket, but how should I use it?" I don't know what to do next I think. This is natural because many customers have no fishing experience. So, so that beginners don't stop asking "what should I do next?" I always keep an eye on So don't worry.
Customer base of "2nd Kamoshitamaru"
Customers in groups of 2 to 5 people There are many. The male-female ratio is half and half. One woman or family There are also many.
From elementary school to 90 years old Customers of all ages Is coming to fishing.
"No. 2 Kamoshitamaru" mainly catches horse mackerel all year round. Many people who become repeaters say, "I want to eat that horse mackerel again." What to fish at home "Golden horse mackerel, horse mackerel" Many, The fat paste is different .. It's really delicious! Children who are not good at horse mackerel sashimi often come to eat "this is delicious".
Customer feedback regarding infection control
"I enjoyed it with my kids" I have received a voice.
Unique initiative

Most of our customers are beginners. So before you start fishing Lecture on how to feed To do. Beginners will be fine as we will explain carefully such as "hold the bait in your right hand and the needle in your left hand" and "the trick is to move the bait instead of the needle".
The bait uses blue squirrel. Female customers who say "don't touch" use rubber bait, but as a result, they can't catch more than Aoisome. Then, at the end, you will be able to add yourself, "I will do my best to use Aoisome!"
Even beginners will be able to fish after a one-hour lecture. Age doesn't matter if you can catch or not .. I would like you to take something home and imagine that you can catch 20 to 30 fish. We also sell cooler boxes, so you can purchase them.
Seasonal attractions and fun to experience
"No. 2 Kamoshitamaru" is mainly for horse mackerel fishing all year round. However, there are times when you can catch black sea bream, scorpion fish, ishimochi, and sea bass. From mid-March, it will be easier to catch horse mackerel So I recommend it.
A word to our customers
Of course, I'd be happy if I could catch a fish. However, customers are not mainly fishing. Get up early in the morning, get on the boat, go out to the sea, catch fish with your friends ... Every single experience is packaged What is it? Fishing is an extraordinary experience .. Please experience the extraordinary.
"Kamoshitamaru" It will be renewed as "2nd Kamoshitamaru" from April 1st. .. The contents of the tour plan will not change, so feel free to come and visit us! You might think that the captain is scary, but that's not the case at all. Of "2nd Kamoshitamaru" Only those who are "first time fishing" .. So please be assured that we are always trying to reach out to you so that you can easily ask questions.
Sea fishing / fishing boat
Horse mackerel fishing
Squid fishing
Leave it to Kamoshitamaru for fishing in Tokyo Bay! A 10-minute walk from JR Negishi Station, it is conveniently located so you can easily enjoy fishing at any time. It is close to the fishing spot and the sea area is perfect. The facilities of the ship are also very good!
【please note】
The information on this page is as of February 24, 2021. The business conditions of the companies we introduce and the availability of plans may change. If you have any questions or concerns, please feel free to contact us at the time of booking.