What is the new corona countermeasure for the blue cave specialty store "Blue Ocean"?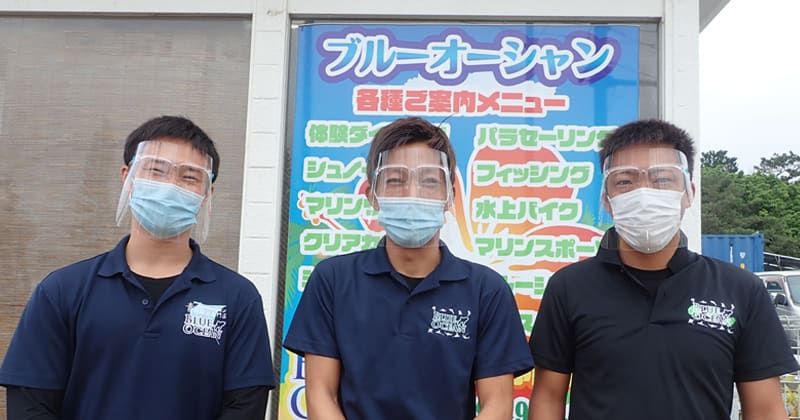 Activity Japan editorial department
In Okinawa Blue cave tour Offering and popular "Blue Ocean" .. Diving, snorkeling, kayaking, etc. It is attractive to be able to experience various things is. We interviewed the "latest corona infection prevention measures", the characteristics of activities and experiences, unique initiatives, and messages to customers.
To enjoy activities safely and securely
The second installment of "How to Enjoy New Activities in the After / With Corona Era" featured in June 2020 last year.
This time, we will interview the business operator who provides the activity about "the latest measures to prevent corona infection". The first appearance is "Blue Ocean" .. A popular tour around the blue cave is. Besides, Characteristics of your company and activities, unique initiatives, messages to customers I also heard.
"Blue Ocean" original infection prevention measures
At the doorway of the facility Install disinfectant and thermometer doing. In the men's and women's toilets Posting a poster calling for measures against corona and caution .. In the office and changing room Ventilate and disinfect with ozone sterilization doing. Come to the store Temperature measurement for all customers Implemented.
The staff measures the temperature before going to work Thoroughly wear masks and face shields doing. Rental equipment Cleaning and disinfection every time I am doing.
Indoor measures such as changing rooms, shower rooms, and training
In rooms such as changing rooms and offices Air purifier, ozone disinfectant Installed. Always operate the air purifier doing.
Operate private rooms and outdoor showers, A state in which customers can keep a distance from each other I am doing it. Using an ozone generator after the customer leaves the store Measures against airborne infections I am doing.
Physical condition management of staff, hygiene management in the facility, time interval
Mandatory temperature measurement before going to work and before leaving work However, I try not to overlook changes in my physical condition. Operate an air purifier in the facility .. Ventilation fans are installed in changing rooms and offices used by many people. Ozone generator Air cleaning is carried out using. Toilets and changing rooms are also cleaned every flight We are preparing for the next customer to use it in a beautiful condition.
Five flights a day are held at intervals of two hours. Adjust the time schedule so that the customer's reception, change of clothes, and shower are not at the same time doing.
About your health check
Call in advance, "Are you having a fever now or recently?" "Are there any people who have a fever or are infected with the new coronavirus?" Check your physical condition doing. We are also asking "whether you have traveled abroad within 2 weeks" and "when and how many people came to Okinawa".
Measures for shared equipment
Equipment such as snorkels, masks and regulators were used by customers Disinfect and clean before and after .. 100% naturally derived disinfectant water Using, Pay close attention to the parts that you hold in your mouth and the equipment that comes into close contact with your face, and clean it. doing.
In the diving experience Introduced full face mask .. You can now enjoy the water without having to hold the mouthpiece in your mouth.
"Blue Ocean" customer base

Many repeat customers or referral customers is not it. There are also cobbles, families, and foreigners living in Japan.
Customer feedback regarding infection control
"Because it is a large facility, social distance can be maintained." "I was able to use the changing room and shower room, which are well-ventilated in a private room." In addition, "There are many separate toilets for men and women, so I was able to use it with confidence." Some people said, "I felt that the temperature was measured and disinfected and measures were taken." "The equipment is clean and tidy, so I am relieved."
Is there an online tour?
We are currently working on a plan.
Features of "Blue Ocean"
Registered as a member of the "Onna Village Diving Association" .. Excellent business operator certified by the Okinawa Prefectural Public Safety Commission Also registered. Operated as a corporation, all staff members are full-time employees and have a wealth of experience. All have instructor and diving qualifications doing.
The best feature is the wide variety You can experience many activities in one company point. Diving, snorkeling, marine walk, parasail, marine sports, fishing, kayaking, glass boat, SUP We can also guide you to menus that other companies cannot experience.
Unique initiative
From the perspective of environmental conservation issues Abolition of feeding during the tour Is calling. In support of the SDGs x Green fins call, the tour content has been improved and it is open for business.
Seasonal attractions and fun to experience
The water temperature and temperature will rise from early spring, and soon the warmth of summer will come. Even in April and May, the season when you can enjoy summer weather underwater Will be.
If you want to enjoy the sea of Okinawa, "Blue cave experience diving" "Blue cave snorkel" "Onna village marine walk" Is recommended. It is a course where you can fully enjoy the scenery that can only be seen in many fish and the sea of Onna village. Don't worry if you are not good at swimming.
Snorkel and clear kayak Is easy for people who are worried about water to participate. You can enjoy the sea of Okinawa from the surface of the water. Because it is Okinawa, it is warm even in winter, and there are days when the temperature exceeds 20 degrees Celsius. All activities can be enjoyed all year round , You can taste Okinawa.
A word to our customers
When experiencing marine activities at a super resort in Onna Village, Okinawa Prefecture, Blue ocean Please come to. It is natural for customers to enjoy it, but above all Creating an environment where you can participate with peace of mind We value.
The staff I belong to All have the necessary qualifications .. We take measures against infectious diseases and strive every day to become the most comfortable shop. Please be assured that insurance is also available. Large parking lot is also available However, the facilities and equipment are substantial. All available at no additional charge .. We look forward to welcoming you to our store.
Okinawa
Okinawa main island
Blue Cave/Onna
Parasailing
Snorkeling
Banana boat towing tube
We are a member of SDO (Safety Diving in Okinawa), Okinawa Marine Leisure Safety Bureau, Onna Village Tourism Association, and Onna Village Diving Association. Features of boat embarkation ・ The probability of going to the blue cave is higher than that of the stairs. ・ Because you can go in front of the blue cave, even those who cannot swim can easily access it. ・ Parking is free because it is a large store. ・ There is no need to go down the stairs near 100 steps of Cape Maeda. Easy access is possible. ・ No need to walk in a wet suit in hot weather. Access from the stairs has been many times in the past, even with heat stroke Regarding equipment ・ Has more than 1000 wet suits ・ Compatible with various wet suit sizes. 110 cm to 160 cm for children Adult size 8 sizes for men and 7 sizes for women Weighs up to 120 kg -Use the latest equipment. 6 types of masks are available with prescription All rental equipment uses the latest equipment We have a full face mask for experience diving Latest digital camera Olympus TG-5 20 units Olympus TG-6 10 units Owns 20 Gopros feature is, After all, the location of our own store is good, and the nearest blue cave store is the store for sale. The boat is always equipped with an AED, emergency medical oxygen kit, stretcher, and first aid set, just in case. The land is owned by the company, and the building was renovated in 2019 and is fully equipped with very clean facilities. In terms of safety, we constantly train and all are qualified. Thorough measures against corona, Use safe disinfectant water that is effective as a corona countermeasure for equipment, stores, changing rooms, and toilets. We are taking all possible measures
business hours
7: 00-21: 00
Regular holiday
Open all year round
【please note】
The information on this page is as of February 2, 2021. The business conditions of the companies we introduce and the availability of plans may change. If you have any questions or concerns, please feel free to contact us at the time of booking.