Athletic popular facilities
Forest Adventure
秋の大人気アウトドアレジャーといえば子供から大人まで一緒に楽しめるアスレチック体験がおすすめ♪その中でも最も有名な施設が全国各地にパークを構え「自然共生型アウトドアパーク フォレストアドベンチャー(Forest Adventure)」です!子供も大人も同じ条件の中で楽しむフォレストアドベンチャーのアスレチック体験は"自分の安全は自分で守る"が大原則◎自然の中に作られたコースを真剣に楽しむことで「大人は子供にかえり、子供は大人になる。」ファミリーやグループに大推薦のアクティビティです◎

全国津々浦々25箇所在るフォレストアドベンチャーパークの中から、アクティビティジャパンでは一年中楽しめ人気の高いフォレストアドベンチャー秩父をはじめとする全8箇所のパーク前売り入場チケットをAJポイントをゲットしながらお得にご予約いただけます◎山や森で遊ぶのは秋が最も最適なシーズン!今回はご予約いただけるパークの体験料金や開催期間等を一覧でご紹介します( ̄^ ̄)ゞ割引価格でご予約いただけるキャンペーン中プランもあり〼大迫力の爽快ジップラインなどの数々本格的アスレチックをお楽しみください☆
Forest adventure list
-Forest Adventure Chichibu
-Forest Adventure Okushin'nabe
-Forest adventure · Iyaya
-Forest Adventure Kosuge
-Forest Adventure Fuji
-Forest Adventure Asso
-Forest Adventure · Yuzawa Nakazato
-Forest Adventure Karuizawa

Details and features of each park
~ Features of this park ~
[Harahara for unusual experience on the tree! New sense athletic! ! ] Born in France Forest Adventure"But Saitama The prefecture's first landing. Moreover Japan It is the biggest class, the most difficult class! ! Climb to the platform called platform installed at a position of 2m to 15m above natural standing trees, enjoy an aerial walk from tree to tree ♪ The last is to slide down on the zip slide to the ground at once, thrill and exhilaration, and From a child who can also feel a sense of achievement adult It is a new dimension adventure sport that you can enjoy up to. With the same perspective as monkeys and birds, you can make a great adventure through the forest, providing an experience that can only be done here.

▼ Reservation from here

~ Features of this park ~
"Forest adventure" was born in 2006, a nature symbiotic outdoor park originating from France spreading throughout the country. Among them, "Forest Adventure Okunibo" is one of the "Adventure Course" parks considered to be the most difficult. It is a dynamic course that takes advantage of the characteristics of the forest and you can enjoy unexperienced experiences. ※ You can use from grade 4 grade or height 140 cm

▼Reservation from here

~ Features of this park ~
Shikoku Popular tourist destination, also awaited at the scenic valley Iyaxi of the Michelin Green Guide two stars earned Forest Adventure But 2017 New opening! It is a must-see to make a park of great power using the slopes! In the Iya River, which flows through the Iya Valley, which is a first-class river, you can fly away with a zip slide! A beautiful emerald green river spreads below your eyes as you pass through the tree tunnel. The height difference from the river 50 meters, Long Zip over 360 meters long Japan It is a top class. The pounding index can no longer be measured! In addition, you can participate in peace with the continuum belay system with higher security.

▼ Reservation from here

~ Features of this park ~
Forest adventure · rubbing (FA rubbing) is located in the forest of Kosuge village of Yamanashi Prefecture, the source section of the Tama River, which is located about 2 hours by car from the city center. I opened in 2013 as the 13th park in Japan. The biggest feature of FA rubbing is a zip slide with a length of 137 m, which slides out from a height of 15 m! The field spreads under the eyes, and in the distance mountainous mountains such as Mt. Sangakuyama and Nara-kurayama rises. Please feel the mountain winds throughout your body while watching the beautiful satoyama landscape of Kasuga village, the origin of the Tama River.

▼Reservation from here

~ Features of this park ~
[What is your safety protect yourself] is large principle of forest adventure. Conditions in children in adults is together. On top of the tree, to operate their own safety equipment, go to before to ensure the safety on their own. It has become the most attractive. Here you can anyone [enjoy seriously]. [Adults hatch in children, children become adults] is experience that can not be only here!

▼Reservation from here

~ Features of this park ~
Let's go out to the adventure! The biggest feature of the forest adventure is that you can use [remains of the forest the forest]. On top of the tree, to operate their own safety equipment, so proceed to the front to ensure the safety on their own, everyone [enjoy seriously] you can. [Adults hatch in children, children become adults. ] Is the experience that can not be only here.

▼Reservation from here

~ Features of this park ~
An aerial walk of courage and thrill. "Adventure Forest" is born in the magnificent Yuzawa Nakazato ski resort! ! French-born "Forest Adventure"Is a nature-symbiotic outdoor park that moves in the air from tree to tree using natural standing trees. Please enjoy the unknown experience in the forest of Yuzawa Nakazato ski resort.

▼ Reservation from here

~ Features of this park ~
Whether Karuizawa of is why Japan's leading tourist destination? It is one of the goodness of outstanding natural environment and climate factors. This park can enjoy the activity on a full-fledged tree in the dynamic while feeling its grandeur, comfort to offer. The course, full also long zip slide to more than two of Tarzan swing and the 170m is also three places stimulus! Less hands-on leisure facilities is a new spot in Karuizawa.

▼Reservation from here

What is Forest Adventure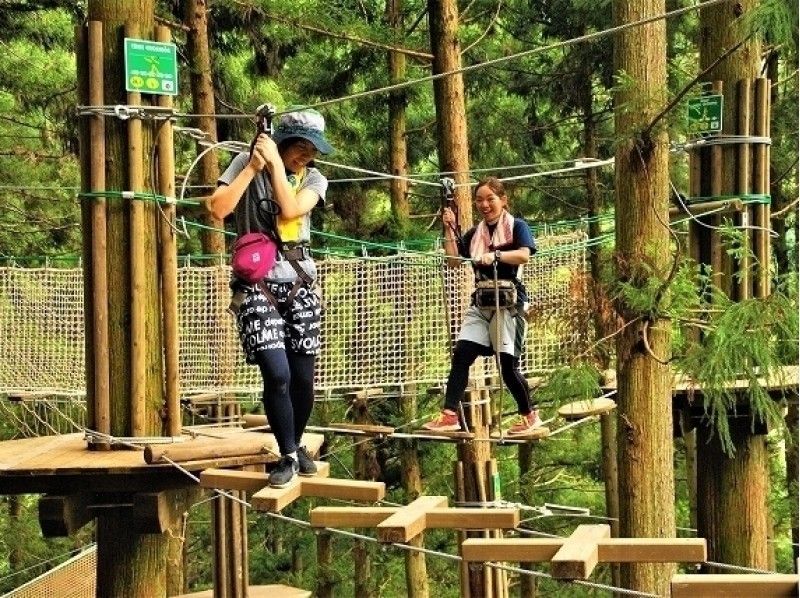 From France, "natural symbiosis type outdoor park"
In French 【La foret de l'aventure】. Translated literally [Adventure Forest]. 1997 Year It is the name of the outdoor park which Altas began in the suburbs of Annecy, France. It was originally a facility designed for corporate training in Switzerland, but now has a good reputation and is now open to the public. Then France Japan This type of facility has now spread around the world. [La foret de l'aventure], when written in katakana, becomes [La Foret de la Vonture]. You can pronounce this sloppy Sun I think the person is very few. So it's an easy-to-understand name in English. Sun In the book, it develops with this name. Pacific Network has a business partnership with Artus Forest Adventure I am developing a business.

Protect your own safety
【Protect your own safety】 but Forest Adventure Big principles of adult But the conditions are the same for children. On the tree, operate the safety devices yourself, keep your own safety and move forward. That is the biggest attraction. Everyone can enjoy here [seriously enjoy]. [adult Return to the child, the child adult become. ] It is an experience that can only be done here.

The biggest feature! Park making that utilized forest as it was
The greatest feature of this facility is that you can use the forest as it is. general Leisure facilities If you try to create a large-scale development is required, but Forest Adventure Can minimize the impact on the environment. 2006 Year August 7 Sun, In the forest at a height of 1,100 m at the foot of Mt. Fuji Sun This first park has opened. This forest where Mt. Fuji can be seen closely from the top of the tree, Yamanashi It is a prefectural forest. In the forest of 15ha Forest Adventure It became an experimental facility for a model of sustainable forest management, which was established as a business, and part of the revenue was spent on forest maintenance costs. This forest management model is H17, 18 Year It has been adopted by the Forest Industry and Forestry Industry Creation Support Project of the Forestry Agency and receives support. after that Japan There are more facilities in the forest, but different forests will create completely different facilities. There is no one same thing.

European safety standards and accumulated know-how in safety management
Although safety management is an important facility, Sun The book does not yet have a safety standard for this facility. there Forest Adventure So, we adopt the European safety standard, which is the birthplace. Also, Forest Adventure Is 2006 Year We aim at safer, fun outdoor park management from accumulated experience from Sun Progress.

Excerpt from the FOREST ADVENTURE official site