Athletic popular facilities
Forest Adventure
Popular in autumn Speaking of popular outdoor leisure ♪ Athletic experience to enjoy together from children to adults ♪ Recommended ___ ___ 0 ARCHITECTURE For kids and adults to enjoy in the same conditions Forest adventure's athletic experience "Maintain your own safety yourself" is a great principle ◎ By seriously enjoying the course made in nature "Adults return to their children, Children become adults. "We highly recommended activities for families and groups ◎

From Forest Adventure Park all over the country, from Forest Adventure Park enjoy activities all year round, Forest Adventure Chichibu is popular all over the park, including 8 tickets to advance tickets to sell premium reservations while getting AJ points You can play ◎ The best season for autumn is to play in mountains and forests! This time we will introduce a list of the park's experience fees and holding period etc. (¯ ^ ¯) ub There are plans during the campaign that can be booked at discounted prices 〼 A lot of exhilarating zip lines such as big powerful and a full-fledged athletic Please enjoy ☆
Forest adventure list
-Forest Adventure Chichibu
-Forest Adventure Okushin'nabe
-Forest adventure · Iyaya
-Forest Adventure Kosuge
-Forest Adventure Fuji
-Forest Adventure Asso
-Forest Adventure · Yuzawa Nakazato
-Forest Adventure Karuizawa

Details and features of each park
~ Features of this park ~
【Halahara in unexperienced experiences on the tree! New sense athletics! ! ] French born "Forest Adventure" is the first landing in Saitama Prefecture. Moreover, it is the largest and the most difficult class in the country! ! Climb to a platform called a platform set at 2 m to 15 m above the ground of natural standing trees and enjoy the aerial walk from tree to tree ♪ In the end the thrill and refreshing feeling that you go down to the ground with a zip slide at a stretch and It is a new dimension adventure sports that you can enjoy a sense of accomplishment, enjoy kids and adults. We can adventure the forest with the same line as monkeys and birds, and we will offer experiences that can only be done here.

▼Reservation from here

~ Features of this park ~
"Forest adventure" was born in 2006, a nature symbiotic outdoor park originating from France spreading throughout the country. Among them, "Forest Adventure Okunibo" is one of the "Adventure Course" parks considered to be the most difficult. It is a dynamic course that takes advantage of the characteristics of the forest and you can enjoy unexperienced experiences. ※ You can use from grade 4 grade or height 140 cm

▼Reservation from here

~ Features of this park ~
Popular tourist spots in Shikoku, Michelin Green Guide Two-star scenic spot in Iya gorge A long-awaited forest adventure opens in 2017! It is a must-see for making a powerful park using sloping lands! Also, Iiya River flowing through Iriya Valley, the first-class river, Na na · What a flying zip slide! If you pass through the tunnel in the tree, the beautiful emerald green river will spread under you. Long jip exceeding the height difference of 50 meters from the river and 360 meters in length is the top class in Japan. The pounding index no longer measurable! Moreover, you can participate with confidence with the more safe Continue Beilay system.

▼Reservation from here

~ Features of this park ~
Forest adventure · rubbing (FA rubbing) is located in the forest of Kosuge village of Yamanashi Prefecture, the source section of the Tama River, which is located about 2 hours by car from the city center. I opened in 2013 as the 13th park in Japan. The biggest feature of FA rubbing is a zip slide with a length of 137 m, which slides out from a height of 15 m! The field spreads under the eyes, and in the distance mountainous mountains such as Mt. Sangakuyama and Nara-kurayama rises. Please feel the mountain winds throughout your body while watching the beautiful satoyama landscape of Kasuga village, the origin of the Tama River.

▼Reservation from here

~ Features of this park ~
[What is your safety protect yourself] is large principle of forest adventure. Conditions in children in adults is together. On top of the tree, to operate their own safety equipment, go to before to ensure the safety on their own. It has become the most attractive. Here you can anyone [enjoy seriously]. [Adults hatch in children, children become adults] is experience that can not be only here!

▼Reservation from here

~ Features of this park ~
Let's go out to the adventure! The biggest feature of the forest adventure is that you can use [remains of the forest the forest]. On top of the tree, to operate their own safety equipment, so proceed to the front to ensure the safety on their own, everyone [enjoy seriously] you can. [Adults hatch in children, children become adults. ] Is the experience that can not be only here.

▼Reservation from here

~ Features of this park ~
Air walk of courage and thrill. "Forest of adventure" to the majestic Yuzawa Nakazato ski birth! ! "Forest Adventure" of the French-born, by utilizing the nature of standing trees, is a natural symbiotic outdoor park to continue to move through the air from tree to tree. In the forest of Yuzawa Nakazato ski resort, please enjoy the unknown experience.

▼Reservation from here

~ Features of this park ~
Whether Karuizawa of is why Japan's leading tourist destination? It is one of the goodness of outstanding natural environment and climate factors. This park can enjoy the activity on a full-fledged tree in the dynamic while feeling its grandeur, comfort to offer. The course, full also long zip slide to more than two of Tarzan swing and the 170m is also three places stimulus! Less hands-on leisure facilities is a new spot in Karuizawa.

▼Reservation from here

What is Forest Adventure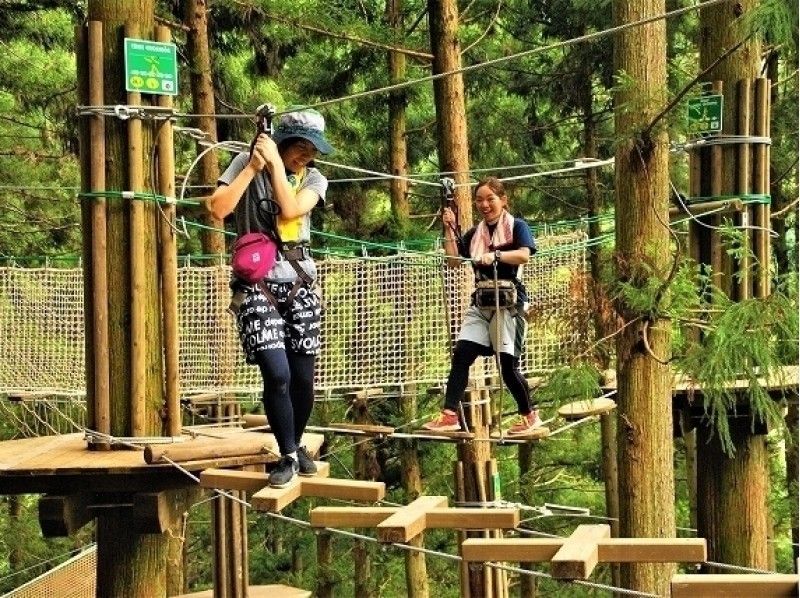 From France, "Nature symbiotic outdoor park"
In French 【La foret de l'aventure】. Literally translating it [Forest of adventure]. It is the name of the outdoor park that Altus started at the outskirts of France / Annecy in 1997. Originally it was a facility that was made for corporate training in Switzerland, but since it was popular it has opened to the public in general. Since then, popularity has expanded in France, and now this type of facility is spread all over the world. [La foret de l'aventure], if written in katakana it will be 【La · Foret · de · Lavon tulle】. I think that there are very few Japanese who can pronounce this as a slurra. So I got a name in English that is easy to understand. In Japan it is developing with this name. The Pacific Network has formed a business tie-up with Altas and is developing a forest adventure business.

Protect yourself of safety on their own
【Protecting your own safety yourself】 is the principle of forest adventure. The condition is the same whether it is an adult or a child. On the trees, manipulate the safety equipment themselves, secure themselves and advance forward. That is the greatest attraction. Everyone can [seriously enjoy] here. [Adults return to children, children become adults. It is an experience that can only be done here.

The biggest feature! Making parks utilizing forests as they are
The greatest feature of this facility is that forests can be used in the forest. Trying to create general leisure facilities will require extensive development, but Forest Adventure can minimize environmental impact. On August 7, 2006, the first Japanese park opened in the forest with an altitude of 1100 m at the foot of Mount Fuji. This forest where Mt. Fuji can be seen from the top of the tree is a prefecture forest of Yamanashi prefecture. It became an experimental facility of sustainable forest management model, establishing a forest adventure in the forest of 15 ha, establishing it as a business, and applying a part of its profit to forest maintenance expenses. This forest management model has been accepted and supported by H17, the 18th year of the forest agency's forestry and mountaineering industries. Thereafter, facilities are increasing in forests nationwide, but if the forests are different, a totally different facility will be created. There is no same thing as one.

Safety management of know-how that has been accumulated with the European safety standards
It is a safety management is an important facility, but still does not have a safety standards with respect to this facility in Japan. Therefore, in the forest adventure, it has adopted the European safety standards which is the birthplace of. In addition, Forest Adventure from accumulated experience from 2006, aims to fun outdoor park management more secure, is improving daily.

Excerpt from the FOREST ADVENTURE official site