Reservation of leisure as soon as possible
Glass Crafts Transmitted from the Edo Period Classrooms and workshops hosting the Tokyo Brand "Edo Kiriko Making Experience" plan are the most noteworthy events in the "Making Experience" that can be booked at numerous ACTIVITY JAPAN one ♪ of the Sun is born from the popular momentum approaching such as "Ryukyu glass" of the "pottery experience-classroom" and the same glass crafts has skyrocketed ↑ its beautiful color and cut technology as a creative-based leisure to inherit this culture unique shine stunned the viewer, the delicate work process is the season to recommend such things making experience from which to stimulate the creative mind ◎ This time, the site posted east Kyoto to enjoy d reservation in the shop and popular plan Complete introduction! !
What is Edo Kiriko (え ど き り こ)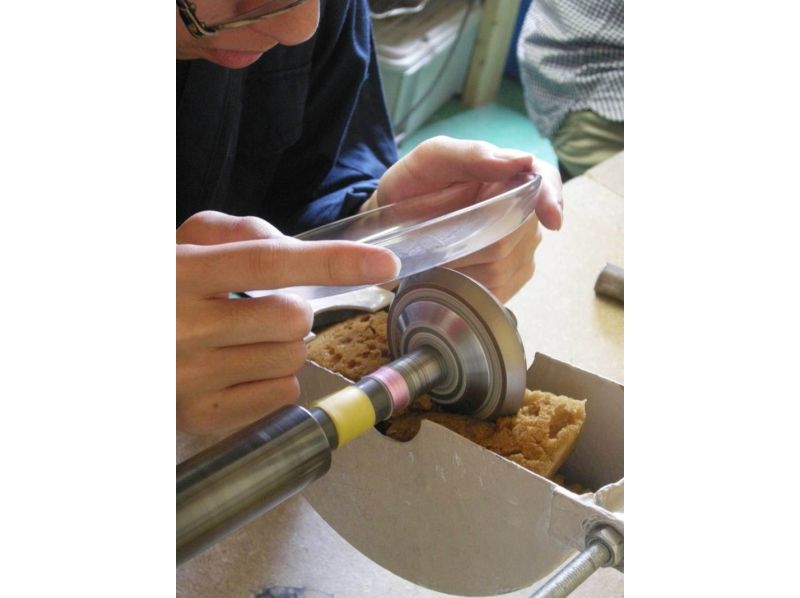 Tokyo traditional craftwork "Edo Kiriko (traditional craftwork)" which passed from the late Edo era is a "facade making experience" classified as glass craftwork and glasswork with faceless cutting using cut glasses. As the First name of Edo Kiriko is a regional traditional culture craft brand in Edo ( Tokyo ), its fans are also deeply rooted in dishes such as glasses and dishes that are given beautiful cutting techniques and vivid colors. The Satsuma Kiriko (Satsuma Kiriko) and together visit as "kiriko" Sun high popular with foreign tourists Tokyo Sat those who bring back to the purchase or handmade, such as the production and gifts seem to be many. Nowadays, the past from handed down the Sun also attracted attention to the book of traditional crafts and culture young generation, Edo downtown, such as Kiriko craftsmen often Asakusa area can be taught the technology mainly in and work process There are many classrooms, workshops, etc. Even beginners can easily participate in experiential plans are also actively held.
Popularity experience plan ranking
ACTIVITY JAPAN East is accepting reservations in Kyoto will announce the Edo Kiriko handmade experience popular plan ranking within. Which course also all fees tools and materials needed to feel free to work production can also participate in a non-experience person Fri you can enjoy with confidence because they are contained in. Experience fee Fri the lowest price of 3,240 yen for to enjoy a reasonable price a full-fledged Edo Kiriko experience from the (tax included), couples and families, can feel free to join young and old alike, such as the group is attractive. Tokyo as part of the tourism, also as a hobby of weekend Sun How about try to touch the traditional techniques that this world-class?
The postal Fri lowest3,240 yen (tax included) ~
Participating age6 years old ~
Popular guestsBeginner / Couple / Family / etc.
First place

Second place

3rd place

4th

5th place
Edo Kiriko Experience Studio / Classroom List
ACTIVITY JAPAN Currently, Ota Higashirokugo, Chuo-ku Higashi Sun this bridge, Edo Kiriko experience studio-classroom experience plan Koto Kameido has been published. Please enjoy making Edo Kiriko near the destination of Tokyo tourism, or at a shop near your home or workplace. Also, there are shops where you can experience making glass craft works other than Sandblasting and Edo Kiriko so if you are interested in making things, please check them out.
Location

1-26-13 Higashi Rikigo, Ota-ku, Tokyo

Handling activities

Glasswork and glass workshop sand blast Tonboshi making experience Edo Kiriko experience

---

Location

Tokyo, Chuo-ku, East Bridge 2-16-9 Kamerado Building 1F

Business hours

9:30 to 20:30

Regular holiday

Day festival

Handling activities

Japan Cultural Experience Glasswork and glass workshop sand blast

---

Location

Koto-ku, Tokyo Kameido 5-13-11

Handling activities

Edo Kiriko experience
ACTIVITY JAPAN Leisure in Activity , cultural experiences, making things - Sightseeing tour North such as Hokkaido , south Okinawa until the Sun this Japan will accept reservations for a variety of experience plan to play with. We can reserve discount plans and points etc. conveniently so if you are looking for "play" near your destination or your home, please do use it by all means.

---
▼Search by region / area
Hokkaido / Tohoku / Kanto / Koushinetsu / Tokai / Hokuriku / Kansai / Chugoku / Shikoku / Kyushu / Okinawa