Edo Kiriko experience
Activity Japan
Book easy & affordable
Tokyo traditional crafts "Edo Kiriko (traditional handicraft)" which passed from the end of the Edo Period is a facelift craft using cut glasses and it is a manufacturing experience classified as glass crafts and glasswork. As famous for Edo Kiriko, famous as a regional traditional culture craft brand in Edo (Tokyo), its beautiful cut technique and dishes such as glass and dishes with vivid colors are proud of its strong popularity I will. In addition, together with Satsuma Kiriko ("Satsuma Kiriko)" as well as "kiriko" are also popular for foreign tourists, there are many people who purchase or handmade in Tokyo souvenirs or gifts etc.

In recent years, Japanese traditional crafts and culture that have been handed down from time to time have attracted attention even in the younger generation. In recent years, classrooms and workshops that can teach the technique and work process, mainly in downtown areas such as Asakusa where many Edo Kiriko craftworkers are located There are plenty of other experiences plans that anyone can participate. This time we will introduce the recommended plans of classrooms and workshops accepting reservations as activity sightseeing in Tokyo and weekend indoor leisure experience and close up to the secret of popularity of Edo Kiriko. Please experience the "beauty" and "technology" that Japan boasts.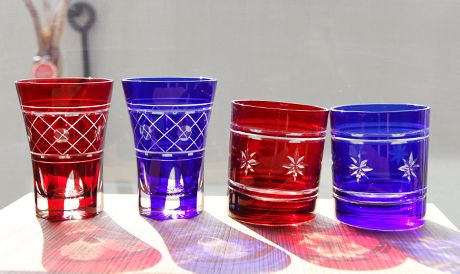 A beautiful cut of Edo Kiriko applied to red and blue glasses
Easy commentary! What is Edo Kiriko?
Glass of Edo Kiriko using color covering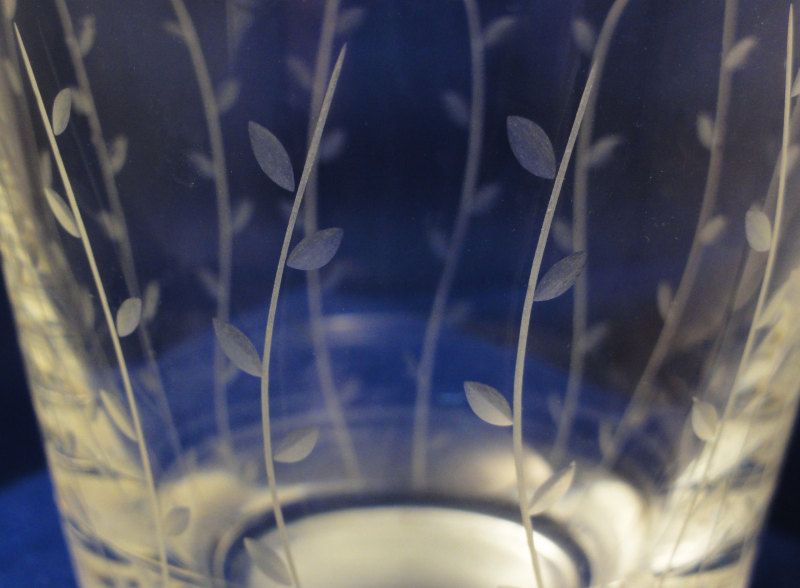 Curved plants curves
Course content of Edo Kiriko experience
In recent years, the popularity of Edo Kiriko making experience is getting better by helping DIY attracting attention, making handmade making and furniture etc. Experience contents, price price, experience time and so on will vary according to plan and course, but in many plans it is included in material cost and experience fee. There are various plans ranging from a casually enjoyable course for beginner glass artists to a course for experienced people, so please reserve a plan according to the level. The work process of the experience is roughly divided into "faceted experience" and "colored covering (Irozeki) experience", and plans that allow you to experience all of it, such as indexing, roughing (chopping), stoning, polishing, finishing Yes.

In the facet experience drawing a pattern on the glass there are complex and complicated tasks such as techniques called flower facets that draw geometric patterns and curves but knowledgeable craftsmen will guide you carefully so you can participate with peace of mind. Also different from blown glass experiences and other things because it does not use fire, it is also characterized by plans that many children can participate. Edo Kiriko works of completed "one in the world" are often optimum for gifts and souvenirs for important people as well as everyday use for home, as it is often that they can take home on that day.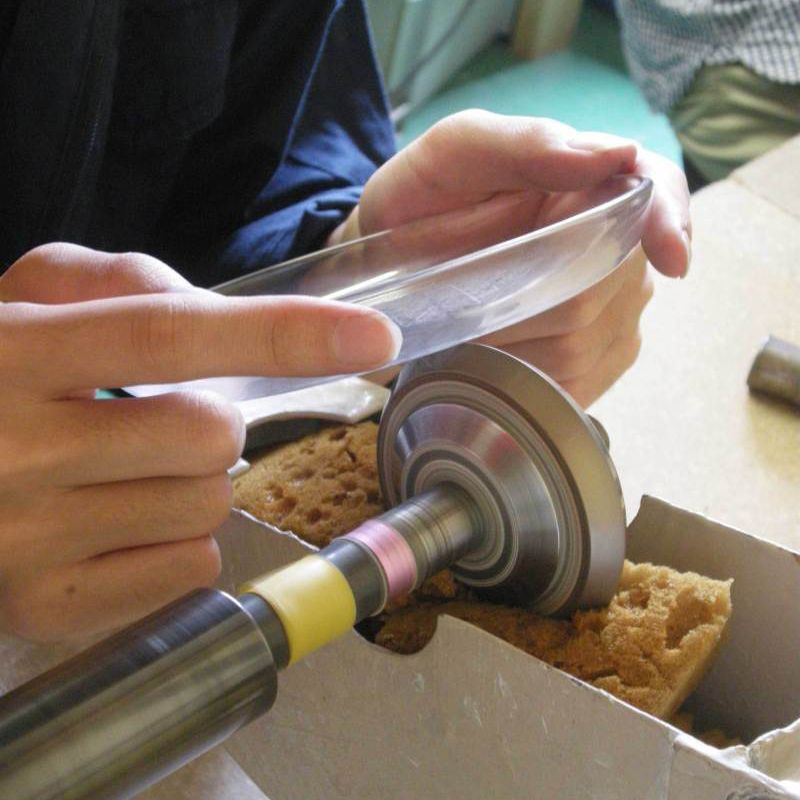 A diamond grinder that scrapes the pattern of Edo Kiriko
Edo Kiriko Experience Recommendation Plan
Activity Japan currently accepts reservations for classrooms and studio in Ota Ward and Tokyo Taito Ward. As it is possible to reserve reasonably from the lowest price trial price 3,240 yen (tax included), please feel free to reserve / inquire in Tokyo sightseeing or near your home. As introduced in this article, Edo Kiriko experience is one of indoor leisure, making popularity · high attention · making experience. Please visually touch the artisan's creative skills, delicate and detailed work with your eyes.
Tokyo Glass Industry Research Institute
Address: 1-26-13 Higashi Riko Town, Ota-ku, Tokyo 144-0046
Kiyohide glass workshop
Address: 5-13-11 Kameido, Koto Ward, Tokyo 136-0071 Tokyo
Work example of Edo Kiriko experience