【Experience Reports】 Challenge for diving C card license! Even beginners can understand the content and difficulty of a safe lesson?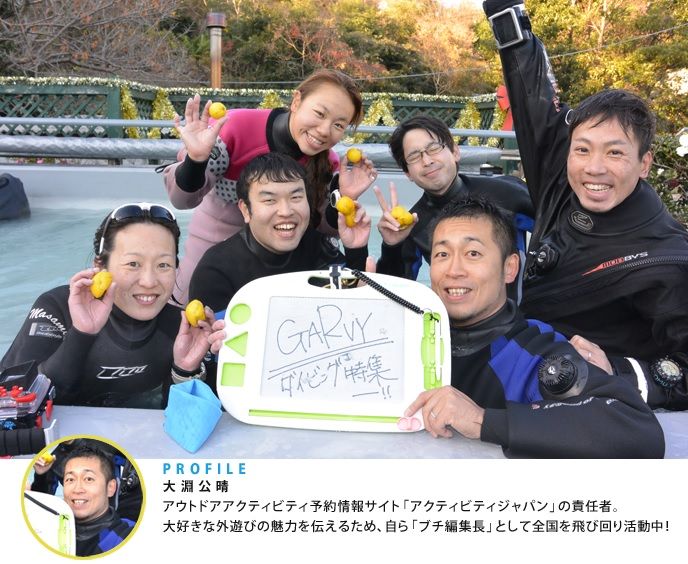 Challenge for longing diving!
I want to acquire a license this year!
This is the first step of a diver debut! Deliver about obtaining diving license (C card) in enlarged version. First of all, many people say "What is diving license?" Actually, Japanese law does not require qualification to enjoy diving for leisure purposes. Because it is unlicensed like a driver's license, you can not be punished.

The diving license is issued by the "private" guidance organization, and it is a proof that you gained mastery of knowledge and skills (guidance standards) on diving according to each group regulation. It is a "C card (Certification Card)" that it listens frequently. Once you get this you can enjoy diving in the oceans around the world.

Strictly speaking, in order to receive diving related services including equipment rental at the diving shop, presentation of C card is required in most cases. In other words, if there is no C card, diving can not be done. In addition, there are around 30 leadership groups in Japan alone, among others, PADI, NAUI, SSI, CMAS and others are famous. Since the characteristics and history of each is described in the group HP, it is good to decide the acquisition group as a reference.

Well, this time I am indebted to the "Emes Diving Adventure" urban type shop located in Sotokawa, Koto Ward, Tokyo. Manager Yabe is qualified as a course director who can train instructors and is also an excellent course director in 2015. Course is PADI's open water diver course! It consists of "course lecture × pool course × ocean training course", and finishes the course by e-learning, and it is a schedule to acquire in a total of 3 days, 1 day of pool course and 2 days of marine course.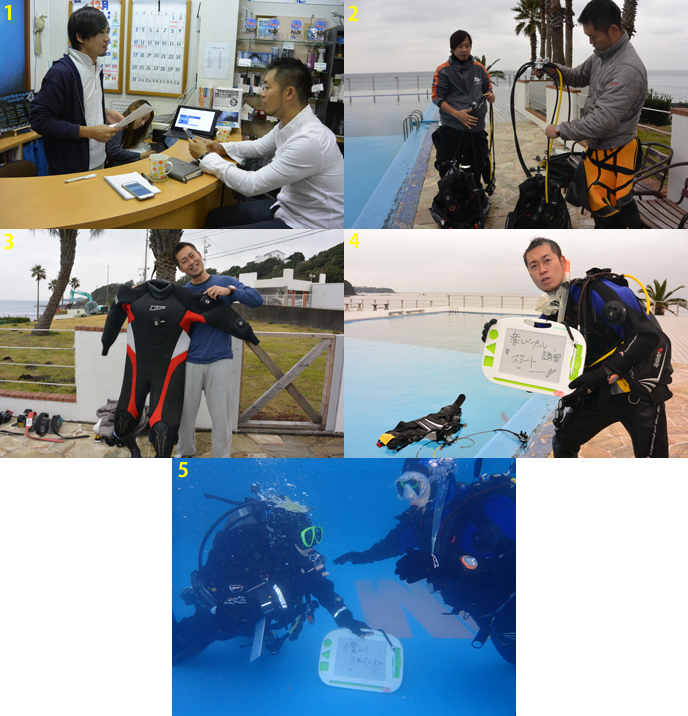 ① Reception and registration to the PADI site. You can go home and receive e-learning on the PADI site. This is the start for the license.
② Pool course on day 1. First of all I teach the instructor how to explain and use the equipment.
③ The dry suit can be worn from the top of the clothes and firmly adheres, so you can enjoy diving without getting wet with any water.
④ Equipment setting is completed! It is a fun pool course start!
⑤ Communicate underwater with hand signs and underwater notes.
Start from department. Here you learn basic knowledge such as the role and usage of equipment, buoyancy and water pressure, and how to set up a diving plan. Since all the practical lessons are based on the content learned in this department, we may struggle at first at an unfamiliar term, but here we learn quietly. He struggled with a volume greater than expected, and seemed to cry a couple of times, but successfully passed the exam!

Practical 1st day is a pool course. Usually it seems to use the indoor heated pool in the winter season, but the location schedule does not suit and it is forced in the outdoor pool. Mr. Yabe also said that "The outdoor pool in winter is colder than the sea, is it okay?", But it was a terrible cold pool above expectation.

At the beginning setting and using equipment. After that, in the shallow water, we learn basic skills such as breathing in the water and mask removal. At first it is awkward to breathe in unfamiliar underwater, but as soon as you keep in mind that "slowly breathing big", you get used to it. As I learned basic skills such as how to use the equipment in the pool course, how to deal with emergencies, etc., it was the hardest in the practical training course.

Come on, ocean training finally. Early in the morning, the evening did not start yet, gathered at the shop and departed. The place of the first day judged by seeing the wind and wave information of the day, decided to Shishihama in Numazu City, Shizuoka prefecture. Although the temperature is low, the weather is fine weather, a spectacular view while watching Mt. Fuji. As I expected the sea in front, the tension will rise. The content of the training course basically repeats the contents of the pool course in the ocean. I knock down on my body and my head.

You might think "why diving in winter?", But winter diving is highly recommended. First of all, transparency of sea water is very beautiful. And there are few experiencing diving and sea bathing guests, so you can instruct your instructor carefully. Also, sea water is not as low as the temperature, so you can wear dry suit, so there is no problem at all.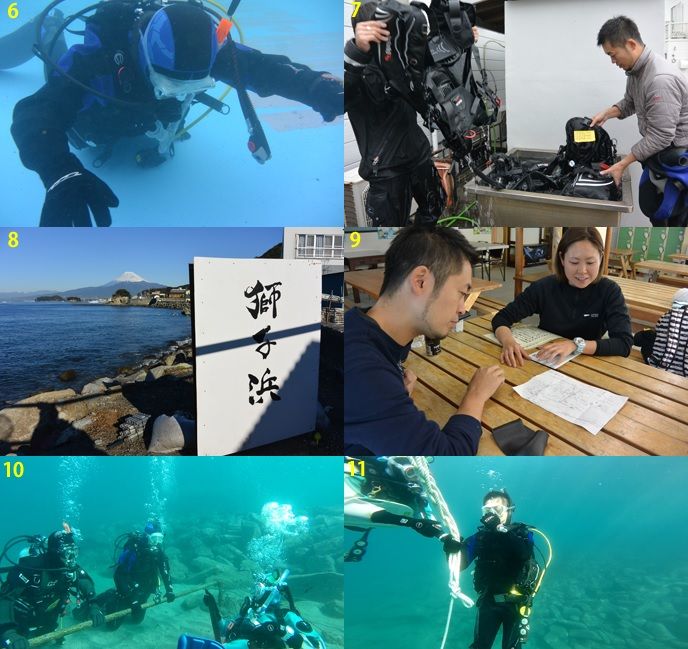 ⑥ Practice keeping neutral buoyancy. Using the air and breathing equipment, keep the condition not floating nor sinking.
⑦ After practicing, carefully care for equipment. It also leads to the danger of life, so work carefully.
⑧ The second day of the marine class is at Shishihama in Shizuoka prefecture. Fuji clearly visible, it's a magnificent place.
⑨ appearance of briefing before dive. Think of it with your instructor as to how to divide, points to pay attention to, purpose and so on.
⑩ As I go drunk, I feel pain by pushing the tissue around the eardrum with water pressure. In order to solve it, skill of ear piercing is essential in diving.
⑪ I was caught by the railings of the bottom of the water and I saw the example of Mr. Yauchi's instructor.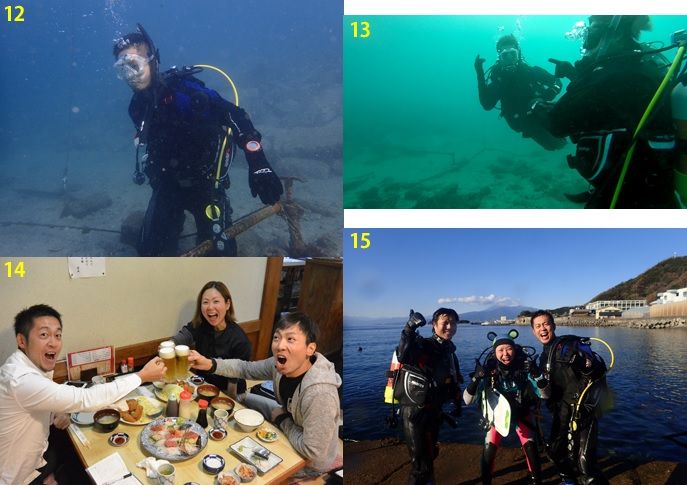 ⑫ In the unlikely event, practice the skill to cope calmly so as not to panic when equipment is disconnected. This is also an important program for taking licenses.
⑬ In the water, talk with hand signals. There are various types such as "levitation" "out of air" "what residual pressure?" I must learn it firmly!
⑭ Looking back over the course while receiving good delicious seafood. Temperatures · Diving · Dive · Fish and other fish etc recorded in the notebook.
⑮ The second day is over! Forget the tiredness, full of smiles in the first underwater experience.
Dive license acquisition!
Further challenge for step-up !?
The last day finishes at Izu Marine Park, famous for "Submersible Post". This post, located at the bottom of the ocean, can truly post postcards. Now, at the end of the practical training course, we set up our diving plan and diving without an instructor! I cleared all the lectures and finally got a diving license. Yay!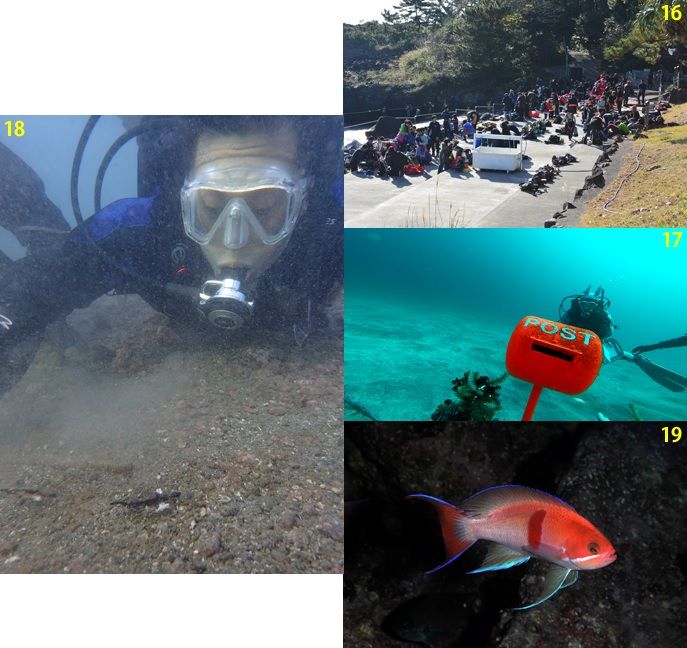 ⑯ The second day 's marine class is the Izu Marine Park. A famous diving spot where numerous divers gather.
⑰ Submersible post. Because it is about 20 meters deep, you can reach if you stepped up.
⑱ Umitching discovered by chance. It is difficult to find because it is lost in the sand.
⑮ Discovered red beetle Hananai which looks pretty! The length is about 10 cm. I could see a lot of other fish.

Many people who have acquired the Open Water Diver course which is dive until 18 meters this time will get an advanced open water diver course that will soon reach 30 meters. I am the one who felt the charm in the underwater world, of course, I'm thinking to step up quickly (laugh). From now on I will try to enjoy the charm of the sea fully as a diver.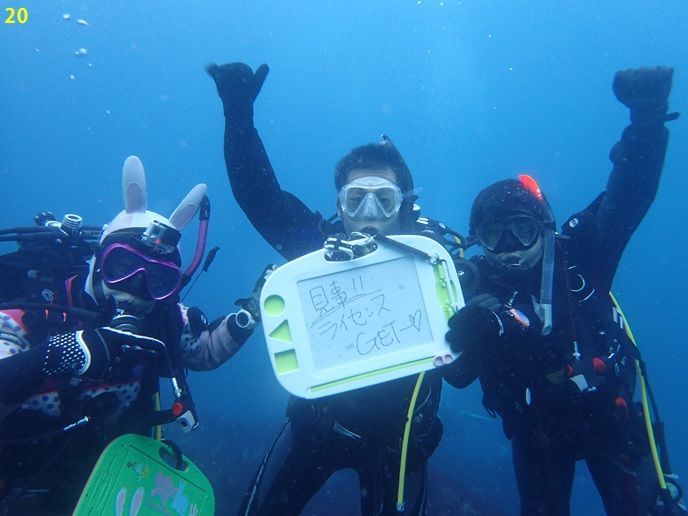 し We instructed Mr. Maruyama (left side) of the instructor firmly, and the 3 days course ended! Learn all the skills and get a superb license!
Cooperation GUIDE
M's diving adventure
PADI diving shop located in Koto Ward, Tokyo. We offer a wide range of menus ranging from experience diving to instructor training and technical diving. Excellent store licensed as 5 star · ID center from PADI, the world's largest diving instruction organization.

プランID:8573
M's Diving Adventure (M's DIVING ADVENTURE)
53, 784

yen~

​ ​(tax included)
This course is ideal for those who schedule of coming to a store can not be taken. This course can start from to end the Department of training of using the Internet. Easily from e-learning button of our HP you can sign up!
Activity Japan carefully selected
License Acquisition Recommendation Plan

プランID:1158
Nature Activity Center Ocean Days
49,800

yen~

​ ​(tax included)
このコースを修了すると世界最大の認定団体PADIのCカードが取得でき、世界共通で監督条件解除で水深18メートルまで潜ることができます。 水中世界一歩のすべてがここから始まります。 世界の海を遊びに行こう!

プランID:3290
Diving shop MIU
62,640

yen~

​ ​(tax included)
PADI Open Water course. For those who start diving in earnest, it is rudimentary license. When the training is completed, is also a rank diving in calm sea by themselves will be able to freely.

プランID:8774
Marea Shinsaibashi store (MAREA)
39,000

yen~

​ ​(tax included)
To begin diving, attended the PADI Open Water Diver course to master the basic knowledge and skills to first eliminate the anxiety in water (OWD), will receive a C Card (course completion certification card). We can join the ranks of divers in 5 days. Exciting, let's look forward to pounding the diving life!
At Activity Japan
Nationwide variety of activities
You can book and experience