Walk !! beginner Own the Lake Yamanaka "inflatable canoe experience"
プランID:00339 提供:Yamanaka WATER CRAB (Water Club)
4,320yen~​ ​(tax included)
大人(中学生から)1人あたりの料金
プランID :

00339
Yamanashi / Yamanakako, Oshino
kayak
Kayak
Empty-handed OK
Rain departs Allowed
Starting time

09:30

13:00

15:30

Participating age

4 才~

Time required

For 1.5 hours

ScheduleMid-April to 11 end of the month
Assemble point Look in GoogleMap
Description​ ​
The [inflatable canoe experience] of Lake Yamanaka WATER CRAB!? Was intended for anyone to challenge for the first time of the canoe, it is your participation enjoy hands-on program from the age of four. The method of operation and in the first half, such as getting on and off of the way, to help the simple practice, within the time the instructor is will accompany. The second half, starting in physically to no wonder short touring. Feel free to enjoy the lake walk.
Excellent stability of inflatable canoe
Compared to the general canoe, so you use the excellent stability performance "inflatable canoe", the risk of such subversion is extremely low, to small children from beginner, you can challenge with confidence.
Peace of mind instructor accompany type program of
In the program the first half, in charge instructor, and for the safety of the water, it will be anyone to help you in practice that can be easy to learn.
In the second half of touring, because the instructor is will accompany, worries are unnecessary.
It is available simultaneously for up to two guests to 80 people
カップル、ご家族でのご参加はもちろんのこと、最大80名様規模で同時進行が可能です。 夏休みのサマースクール、学校教育旅行、社員研修旅行など、各種団体様のご利用もご好評いただいております。 
Secretary-like, please feel free to contact us.
In addition, it also offers such as the events of the bring-your-own planning in private use.
---
Attractions of the plan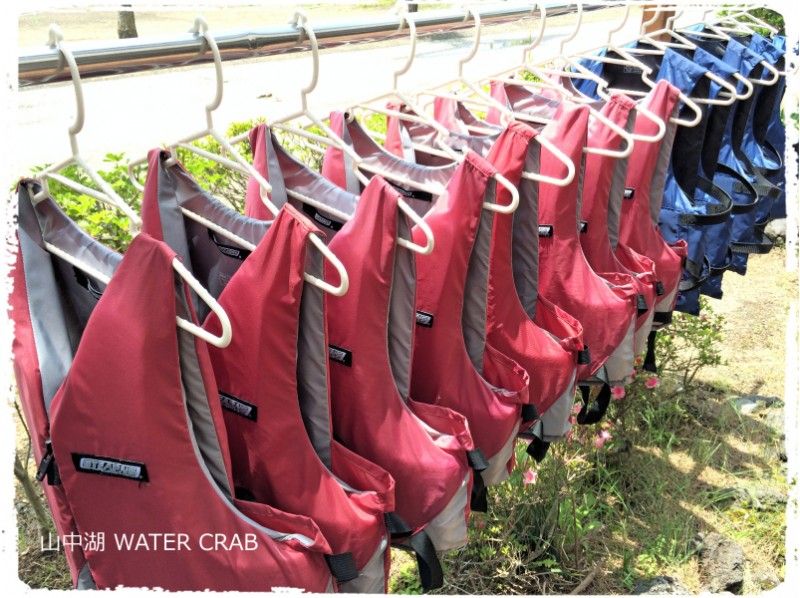 Lending us of clean "life jacket" !! もしも、手渡されたライフジャケットが汚れていたり、汗臭かったりしたら、テンションさがります。  WATER CRAB では、プログラム終了後、毎回洗濯を行っております。 当施設のこだわりです。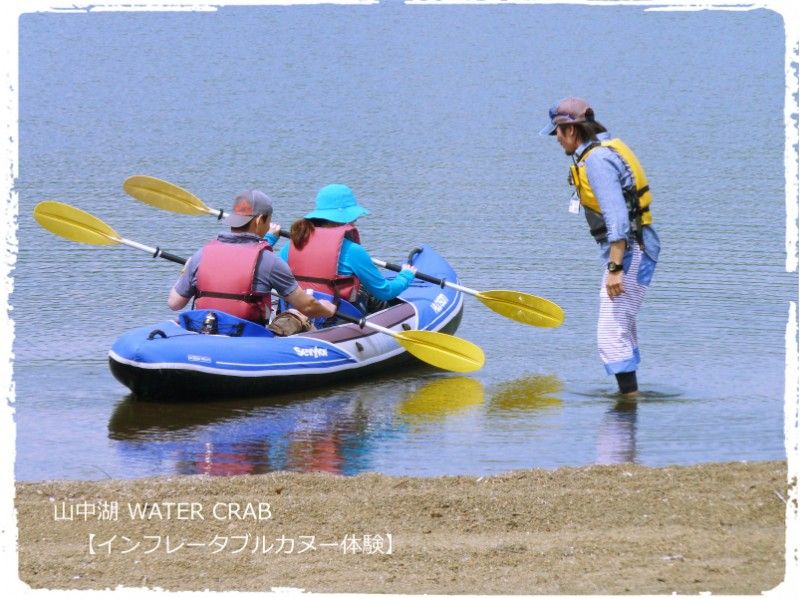 Precise instructions !! 難しい練習や、専門的な知識は一切不要です。 インストラクターが丁寧にご案内致します。 未経験の皆様、安心してチャレンジください。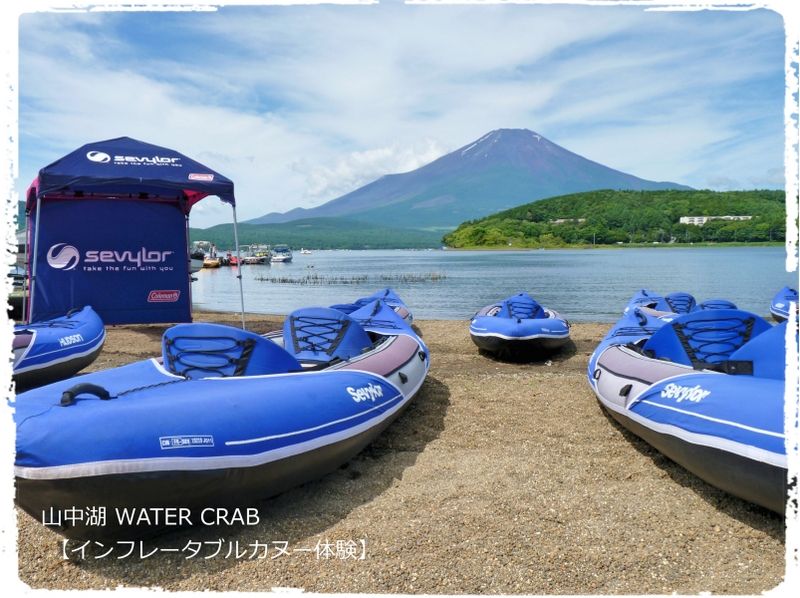 If you're weather, best location !! 富士山と優雅な湖上の眺めで「お・も・て・な・し 」 インフレータブルカヌーを自在に操り、スローな湖上散歩をお楽しみください。
---
Information
Minimum number of people
1 人
Number of people who can book
2人〜
Schedule
Mid-April to 11 end of the month
Assemble time
Each time start 10 minutes ago
Assemble point
Yamanaka WATER CRAB store
Yubinbango401-0502 Yamanakako-mura plains 1910
Reservation deadline
The day before, until 5 PM
---
Regarding advance preparation
About clothings and must-bring items
- Take off clothes for easy jacket
Hem roll up pants that are suitable for exercise that can
Water shoes (flip flops and a clock sandals also available)
·Face towel
Sunburn measures (such as hats and sunscreen)
About rental items
Canoe armamentarium, such as life jackets
---
Facility information
Changing room
toilet
shower
Hot spring
Locker
Hairdryer
Parking Lot
コンビニ
スーパー
---
Access and map
所在地
Yamanashi Prefecture Minamitsuru-gun Yamanakako-mura plains 1910
How to reach by car
Yamanaka plain direction opposite turn the "plain intersection" to the lake direction → turn right out to the lake (arriving in about 80m)
---
Price list
Basic charge
| | |
| --- | --- |
| Adult (from junior high school students) / person 4,320yen | 12 years old - |
| Child / person 3,240yen | 6-year-old to 12-year-old (elementary school) |
| Infant / person 540yen | 4 years old - |
※Prices including all taxes.
※上記は基本料金になります。
※日程によって料金が異なる場合がございますので、日程を選択した後に表示される料金表をご覧ください。
---
---
お支払い・キャンセルに関して
About payment
Please pay at the day of cash.
Payment method
The payment method specified by the operator.
About cancellation fee
※ cancellation by the circumstances of the customer, it will be charged as a cancellation fee of below.

 ・3~2日前:                体験料金の30%
 ・前日:                  体験料金の40%
 ・当日~集合時刻:             体験料金の50%
 ・当日集合時刻後及び無断キャンセル:    体験料金の100%
Cancellation by operators.
We will implement the program even in rainy weather.
Why not in the best part of the condition also outdoor activities such as the "rainy day", "Wind Day"?
If the day join us, which has been looking forward to was "unfortunately the weather", in our review, we will prepare to join bidder in the rain rain gear (the rain poncho) at a special price.
But you are concerned, please contact us. Since also heard schedule change on the spot, please do not hesitate to contact us.
---
Other
Matters require attention
※ customers join us under the age of 18, you must have the discount rate participation of parents.
※ I ask you to wear a life jacket.
※ Upon program participation, we ask you to fill in the registration form, oath.
※ such as those who do not follow the instructions on the direction and instructors that have been drinking, there is a case to refuse your participation.
Other notices
In the summer of your participation, and heat stroke, such as extreme sunburn is accompanied by various risks.
On your prepare the preventive measures, please join us.

In this program, you can bring your drinks.
※ water bottle and plastic bottles (carbonated drink cans not juice) tightly that plug is closed.
Please note that when you bring in.
みんなの体験談
カヌーは経験がなく、一度やってみたかったが
家族で自分達だけではなかなか難しいです。
今回基礎から教えて頂けて、大変楽しく、
貴重な体験が出来て、家族ともども大満足でした。
Service out of period
This season of sales has ended.
Included in price
Rental outfit, facility usage fee
| | |
| --- | --- |
| | Starting time 09:30 13:00 15:30 |
| | Participating age4 才~ |
| | Time required For 1.5 hours |
| | ScheduleMid-April to 11 end of the month |
| | Assemble point Look in GoogleMap |