[Hiroshima/ city] Kendama lesson experience With a kendama present!
Beginners welcome - First try
Empty-hands OK
Operate rain or shine
Children welcome
Possible number of bookings

Participating age

Age 5歳 ~ Age 80 歳
Kendama is now popular as the coolest play in the world. The birthplace of kendama is Hiroshima. The owner of the Kendama shop opens at Hiroshima, and the Kendama classroom and certification courses are instructors to teach beginners how to play and enjoy Kendama.
In the shop, you can see various Kendama such as original and overseas brands.
The venue is adjacent to Kamiyacho intersection in the center of Hiroshima, so it can be used easily between Hiroshima sightseeing.
Hiroshima It is a 5-minute walk from the Peace Memorial Museum and the Atomic Bomb Dome. Take this opportunity to experience kendama.
* English interpreter is included.
Kendama is a fun game that you can enjoy anywhere, anytime!
When a trick is completed, both beginners and advanced players will have a sense of accomplishment and will never end.
Everyone from children to adult can play and enjoy. This is the kendama's charm and fun all over the world.
Get a kendama!
The new kendama used in the lesson will be taken home. An exam challenge card and pass sticker will also be a fun experience.
Calendar info reloading failed
Immediate booking OK!
Reception closed
Not accepted
Request booking
※ For request booking you will receive acceptance notice from Activity Provider.
About fees
※The list price includes tax.
※The above price is a basic fee.
※Fees may vary depending on schedule, please check the fee displayed after selecting the date.
Plan attractions

Photo shoot with an instructor

You will be given a "Challenge Card" with a third-grade seal.

Grade 3 seal.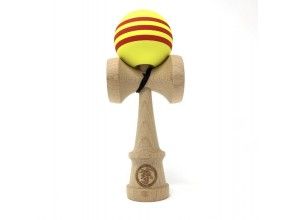 Kendama used in lessons. You can take it home.

Inside the kendama shop in the venue.
Time schedule

10:00
Always accepted between 17:00 and 1. The instructor Explanations the history and charm of Kendama.
2. The instructor will show you typical tricks.

3. Select a new kendama and start the lesson experience.
・ Practice a total of 5 tricks in order according to the rules of beginner level 3 specified by the Kendama test.
・ If you can clear 5 tricks, you will be handed a "Challenge Card" with a sticker that passed the 3rd grade.
* And kendama test is committed to the international spread of kendama, the kendama World Cup Hiroshima each in the Year has been held
Official certification of "Global Kendamas Network".
Detailed information of this plan
Required minimum number of participants

2

Person(s)
Possible number of bookings

2~

10

About duration
1 hour 30 minutes to 2 hours
Operating period
All-year-round
Assembly time
Always accepted between 10am and 5pm.
Please come 15 minutes before the start.
Booking deadline
3 days before
All reviews
0

Results

No comments・reviews
Access - Map
広島市中大手町1-1-26 大手町第一ビル1201
Assembly point
Kendama Shop KEN
If you arrive by train
1 minute walk from Kamiyacho Nishi Station
Q&A about this plan
No questions about this plan
Activity Provider of this plan
コ・コ・ニ・シ・カ Office
handling plan list
Hiroshima/Miyajima
popular plans
---
Kendama class Search from area
Find other experiences in neighboring areas
---