Starting time

09:30

11:00

13:30

15:00

Participating age

13 才~

Time required

For 1.5 hours

ScheduleLate April - late October
Assemble point Look in GoogleMap
Description​ ​
It deals menu riding lessons and short trekking as a set! Also the first one, is a course where you can enjoy riding with confidence.
Enhance lessons!
The first half is in Arena (fence), do the horse riding lessons tailored to the level of experience person. Not only get to remember how to operate, so you do a solid lesson, we have established the age limit of 12 years of age or older. That's why, even you can experience authentic lesson trot beginners.
Large satisfaction definitely!
The second half out of the arena, trekking course will vary by short trekking !! season and situation. Among the sunshine filtering through foliage of the forest, field of footpath, !! content, such as hill overlooking all the Niseko mountain is a course without lots !! very happy mistake. The first one, gently, safely riding the fun. To those who experience the tourist riding in the past, (not only keep up with the front of the horse, the operation is on your own) a little different joy and until now there is no doubt that you can experience!
---
Attractions of the plan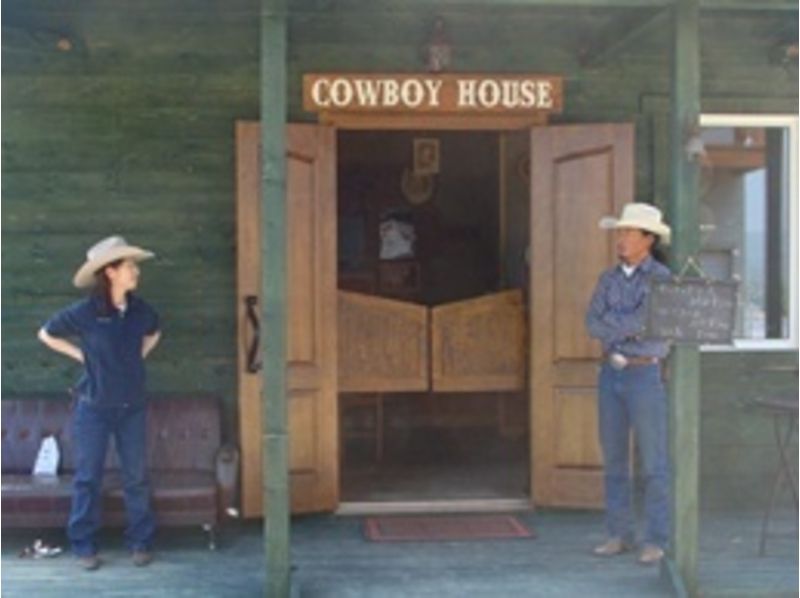 Accepted in cowboy House! Mood wearing a Western hat Cowboy Cowgirl! It is finally beginning ♪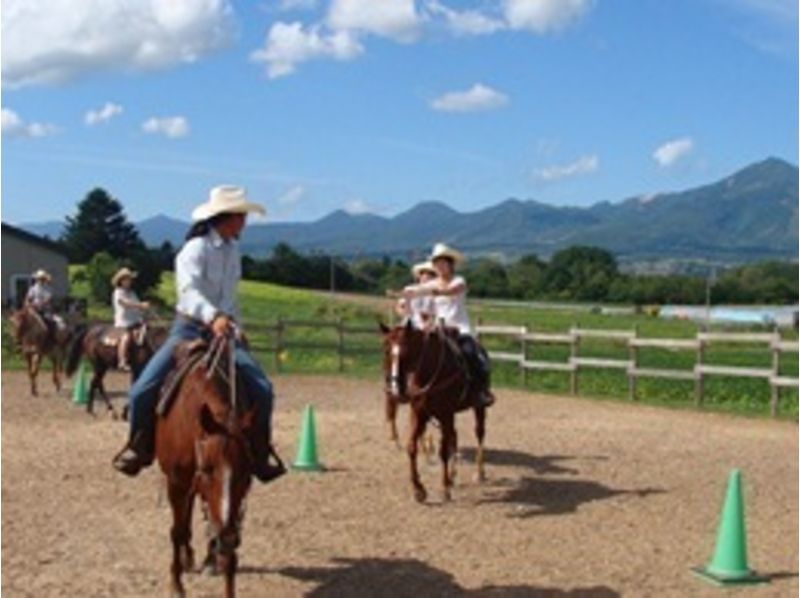 Horse riding lessons in the arena! Try to trot to the firm operation on its own! Let's enjoy the horse riding.
Once you come back from outside the square, you'll praise the horses! Raise the water to the horse, cheers for good work § ~!
---
Information
Minimum number of people
1 人
Number of people who can book
1人〜
Schedule
Late April - late October
Assemble time
Select a tour time, please reserve. (The set is 15 minutes ago)
①9:30~10:30  
②11: 00 ~ 12: 00
③13: 30 ~ 14: 30
④15: 00 ~ 16: 00
Assemble point
K2 Stable (Hokkaido Niseko-cho, Abuta-gun Satomi 238-5)
Reservation deadline
Before 2 days
---
Regarding advance preparation
About clothings and must-bring items
Easy to move looking (please come in as much as possible long pants)
※ sandals, heel is not allowed.
※ Please bring the shade if possible insect spray.
About rental items
Please contact us.
---
Facility information
Changing room
toilet
shower
Hot spring
Locker
Hairdryer
Parking Lot
コンビニ
スーパー
---
Access and map
所在地
Hokkaido Niseko-cho, Abuta-gun Satomi 238-5
How to reach by car
・札幌から2~2.5時間 (中山峠、真狩経由)
・千歳空港札幌から2~2.5時間 (支笏湖、美笛峠、喜茂別経由)
・小樽から1.5~2時間 (稲穂峠、倶知安経由)
その他の方法でお越しの方
Free transfer (advanced reservation)
Niseko town, we go to pick up as long as it is two or more people.
Other than Niseko-cho ※ will be negotiable.
---
Price list
Basic charge
| | |
| --- | --- |
| Adult / person 6,480yen | 19 years old ~ |
| Child / person 6,480yen | 13-year-old to 18 years old |
※Prices including all taxes.
※上記は基本料金になります。
※日程によって料金が異なる場合がございますので、日程を選択した後に表示される料金表をご覧ください。
---
---
お支払い・キャンセルに関して
| | |
| --- | --- |
| About payment | On the day, please pay in cash on site. |
| Payment method | The payment method specified by the operator. |
| About cancellation fee | The day before we will cancel be charged a 100% cancellation fee due to the afternoon of 5:00 later customer convenience. |
| Cancellation by operators. | During bad weather, you might want to cancel the tour. Please note. |
---
Other
Matters require attention
Conditions of Participation: junior high school students or more
※ up to one tour 4 people
みんなの体験談
There are no reviews yet
6,480円~(税込)
大人 1 人 あたりの料金
Included in price
Insurance premiums, lesson fee
| | |
| --- | --- |
| | Starting time 09:30 11:00 13:30 15:00 |
| | Participating age13 才~ |
| | Time required For 1.5 hours |
| | ScheduleLate April - late October |
| | Assemble point Look in GoogleMap |