【Hokkaido · Niseko】 Autumn leaves relaxing rafting tour ♪ Participate from 0 years of age OK
Plan ID: 00188 It provides:Youtei Outdoor (iodine Tay Outdoor)
2,500yen~​ ​(tax included)
Fee per adult
Plan ID:

00188
Hokkaido / Niseko Rusutsu
Rafting
Empty-handed OK
Pets participation Allowed
Private tour
Charter Allowed
Rain departs Allowed
Children can join
Nature fullness relaxing school
Families enjoying family
Starting time

09:00

10:00

11:00

12:30

13:30

14:30

15:30

Participating age

0 years old ~

Time required

Within one hour

ScheduleThe end of April to 10 end of the month
Assemble point
With one pair of ourselves, the instructor was polite and gentle contact, I was able to spend happily.
Description​ ​
Vast field of Hokkaido, with views of the Mount Yotei, let's leisurely rafting experience.
To say that rafting, unlike the typical rafting, does not or down the violent river.
It is a tour that slowly travels around the pond where the spring water of Mt. Yotei flows for 30 to 40 minutes.
Because there is no age limit anyone can join!
Joined from 0 years old. As there is no age restriction, you can enjoy rafting experiences for families with small children, couples, seniors, people with disabilities, everyone!
Pets are okay if it is reserved. It can be enjoyed without awareness.
Cute Kids size of life jackets are also available.
Do not enter ready because it does not wet! Please come empty-handed.
Because not be wet in water, OK remains of everyday wear. Please come empty-handed because the troublesome change of clothes does not have any.
Wearing a life jacket from the top of the everyday wear, immediately starting Once changed to wear sandals!
It is safe because there is a guide even in the first person.
People who say "I am worried about getting on a boat for the first time", so please be assured that the guide will explain the way of rowing and safety first.
---
Attractions of the plan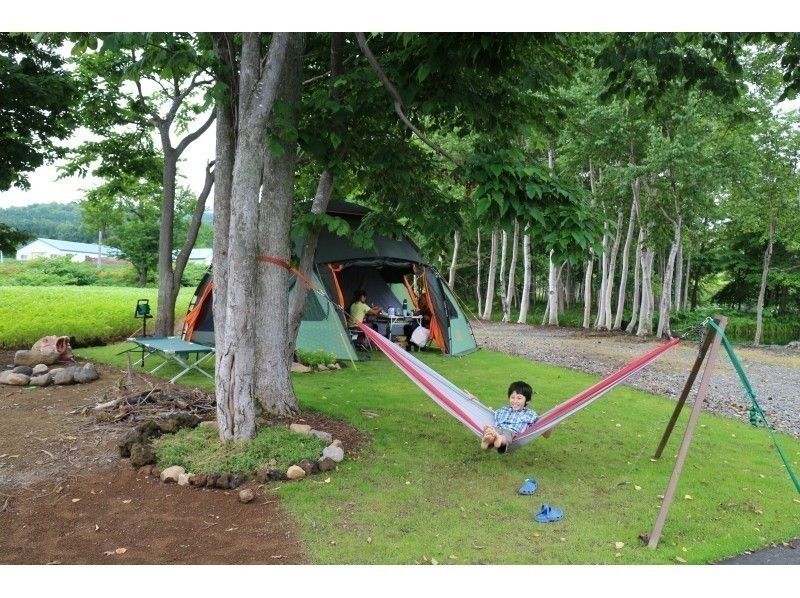 Hammock also ride ♪ Guests can also enjoy a hammock after the rafting experience. Popular with children!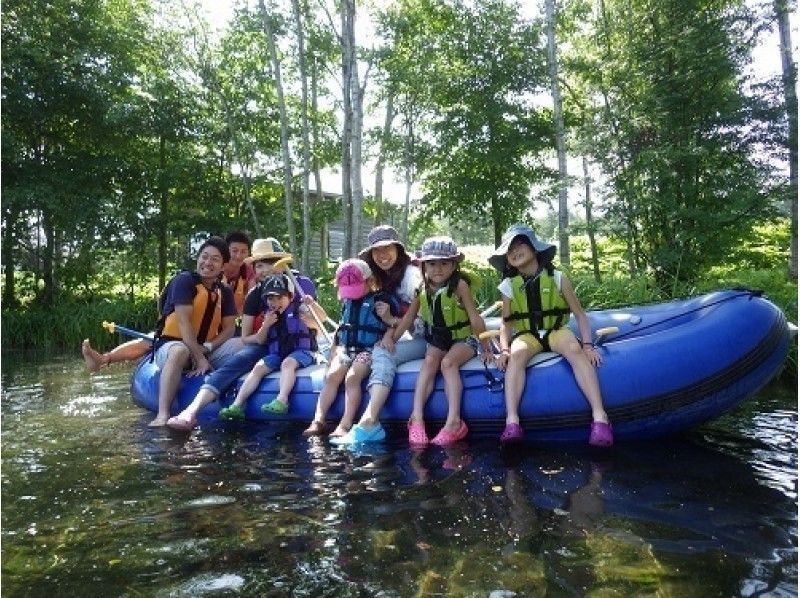 Water play in the summer ~ ♪ Warm days, children with a foot in the water even the coldness of playing in the water ~ ♪ spring water is a physician feeling.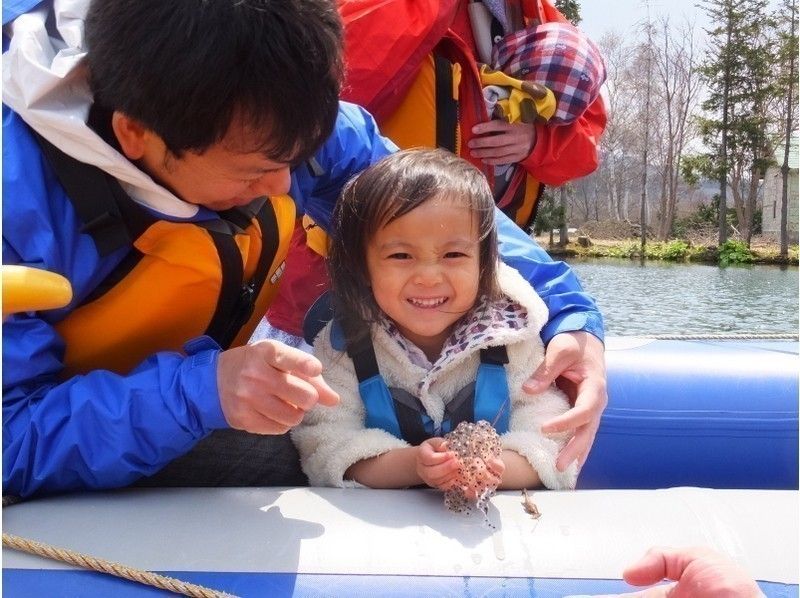 The kids! Let's go out to explore by boat! みんなで力を合わせてボートを漕いで、 春はカエルやオオサンショウウオの卵、夏はニジマスの赤ちゃんを探しに行こう!!
---
Information
Minimum number of people
1 person
Number of people who can book
1 to 10 people
Schedule
The end of April to 10 end of the month
Assemble time
AM 09: 00 ~ 10: 00
AM 10: 00 ~ 11: 00
AM 11: 00 ~ 12: 00
PM 12: 30 ~ 13: 30
PM 13: 30 ~ 14: 30
PM 14: 30 ~ 15: 30
PM 15: 30 ~ 16: 30
Please gather 10 minutes before the start time.
You may not be able to join the tour if you are late.
Assemble point
Iodine Tay Outdoor
Reservation deadline
Before 2 days
---
Regarding advance preparation
About clothings and must-bring items
★ There is no thing where I am in particular offer.
★ Please come with easy to move clothes. (Skirt is impossible)
★ equipment will be lending your life jacket, sandals.
★ It is convenient and enjoy you have a hat and sunglasses.
★ Please note that the camera can not be taken during the tour.
About rental items
Equipment will lend a life jacket, sandals, and kappa. (free)
---
Facility information
Changing room
toilet
shower
Hot spring
Locker
Hairdryer
Parking Lot
convenience store
Supermarket
---
Access and map
location
北海道虻田郡倶知安町富士見 カーナビで検索される場合は、同じ敷地内にあります「農家のそばや羊蹄山」 TEL0136-21-2308で検索してください。
How to reach by car
千歳空港から美笛峠を経て約2.5時間(国道276号線) 
About 2.5 hours through the Nakayama Pass from Sapporo city (230 National Highway)
About 1.5 hours through the akaigawa from Otaru city (Michimichi 393 Line)
How to reach by train
About a 5-minute drive southeast from JR Kutchan Station
---
Price list
Basic charge
| | |
| --- | --- |
| Adult / person 2,500yen | Junior high school student 13 years old ~ |
| Child / person 1,500yen | 0 - 12 years old (accompanied by parents) |
| Charter tour / pair 14,000yen | Capacity up to 5 people (including infants) |
| Charter tour / pair 15,000yen | Up to 6 people (including infants) |
| Charter tour / pair 16,000yen | Capacity up to 7 people (including infants) |
| Charter tour / pair 17,000yen | Up to 8 people (up to 10 people including infants) |
Option fee
| | |
| --- | --- |
| In case of more than 8 adults 1 boat canoeing addition / boat 7,000yen | カヌー1艇 追加料金  1艇に大人の場合2名乗船可能(3~4歳児含め3名まで) |
| 2 boat canoes addition / boat if more than 8 adults 14,000yen | カヌー2艇 追加料金  1艇に大人の場合2名乗船可能(3~4歳児含め3名まで) |
※Prices including all taxes.
※ The above is the basic charge.
* Prices may vary depending on the schedule, so please see the price list displayed after selecting the schedule.
---
---
About payment / cancellation
About payment
Please give me the payment in cash at the local.
Payment method
The payment method specified by the operator.
About cancellation fee
At the time of the customer convenience of your cancellation, will be charged a cancellation fee of following.
Experience the day before the cancellation: 50% of the experience fee
Experience on the day of cancellation: Experience fee 100%
Cancellation by operators.
○ In case of rainy weather, please judge whether it will be participated by customer's judgment.
There is no cancellation fee for rain, but please be sure to contact us. It is possible to change schedule and time if there is availability.

○ We will lend you kappa for customers who will participate even in the rain.
Please note that cancellation if it is not raining costs cancellation fee.

○ In the case of stormy weather such as heavy rain or strong wind, the tour may be canceled at the discretion of the guide.
---
Other
Matters require attention
● If you are traveling with pets or if you only wish to board a family or group, please apply on a lodging tour.
● Even those with disabilities can participate, so please let us know when you make a reservation. We will help you if you need assistance.
● Depending on the state of the disability, it may be participation in a reserved tour.
● It is all right even during the pregnancy, but I need your help by self-responsibility.
● tour participation after alcohol intake will refuse.
Everyone's experiences
With one pair of ourselves, the instructor was polite and gentle contact, I was able to spend happily.
Joined date: August 2017
Rafting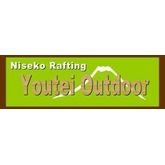 Reply comments from operators
Thank you for participating in the rafting experience the other day.
Thank you for submitting reviews!
Also, if you have a chance, please come and visit us.
I am waiting. .
2,500円~(税込)
Fee per adult
Included in price
Guide fees, equipment rental fees, insurance premiums, consumption tax
When you book this plan 23 pt I will save it!
| | |
| --- | --- |
| | Starting time 09:00 10:00 11:00 12:30 13:30 14:30 15:30 |
| | Participating age0 years old ~ |
| | Time required Within one hour |
| | ScheduleThe end of April to 10 end of the month |
| | Assemble point Look in GoogleMap |