[Tokyo / Asakusa] Let's go to Asakusa sightseeing in Yukata! [Yukata rental & dressing plan]
プランID:14556 提供:Bathara kimono rental Asakusa Temple store
3,456円~​ ​(tax included)
スタンダード1人あたりの料金
プランID :

14556
Tokyo / 23 wards
Kimono rental
Empty-handed OK
1 person participation Allowed
Rain departs Allowed
子供参加可
ファミリーで楽しむ派
スタート時間

Participating age

3 才~

Time required

Within one hour

ScheduleMay - September
Assemble point Look in GoogleMap
Description​ ​
At "Bassara Kimono Rentals Asakusa Store" we are preparing various plans that you can come and visit by hand and change clothes and change your favorite kimono / Yukata. This plan is a summer-only Yukata rental plan.
Dressing by hair staff · hair set
After acceptance, we have selected Yukata and started dressing in a private space. The staff will quickly dress. Approximately 20 minutes per person until completion of clothing.
After having called Yukata, we will do hair set (free). It connects the hair in a simple manner and adds accent with ornate pateza and corsage. We also offer hair arranging options to complement the appearance of Yukata.
Select accessories according to Yukata
Please fit the Yukata or bring in the necessary accessories for purse drawing, bring your clothes on. Besides purse strings, large purse bags are also available for rent (for a fee). You can not keep valuables, so please bring it in your purse.
To Yamagata to Asakusa sightseeing
When you are ready, please enjoy walking in Asakusa and eating. There are many sightseeing spots in Asakusa. Please feel free to ask the staff for recommended places etc.
Please return 30 minutes before closing time. Optional return on next day OK (until noon, overdue fee 1058 yen is required separately after noon). You can also return another store on that day.
---
Attractions of the plan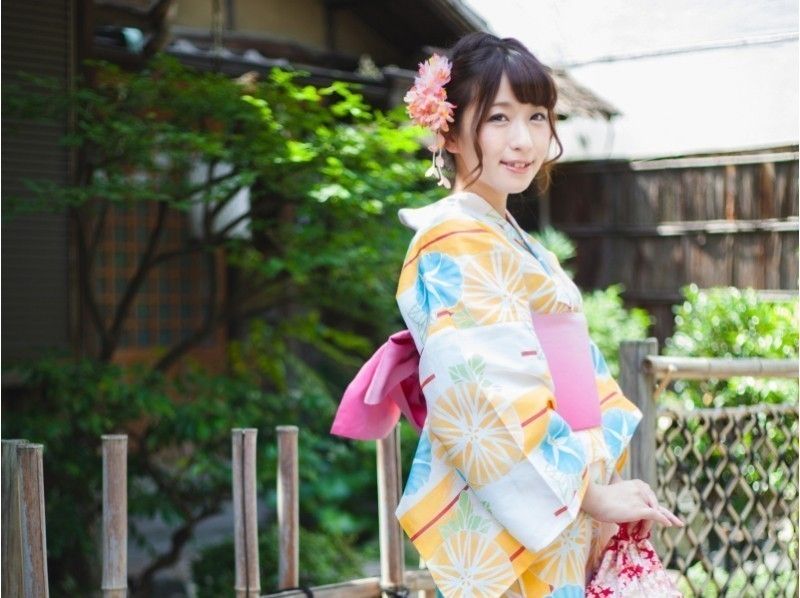 In a cool yukata Various kinds of Yukata robes are available. It's handy because you can visit us by the hand. Please choose the type of yukata from the standard one star toaster.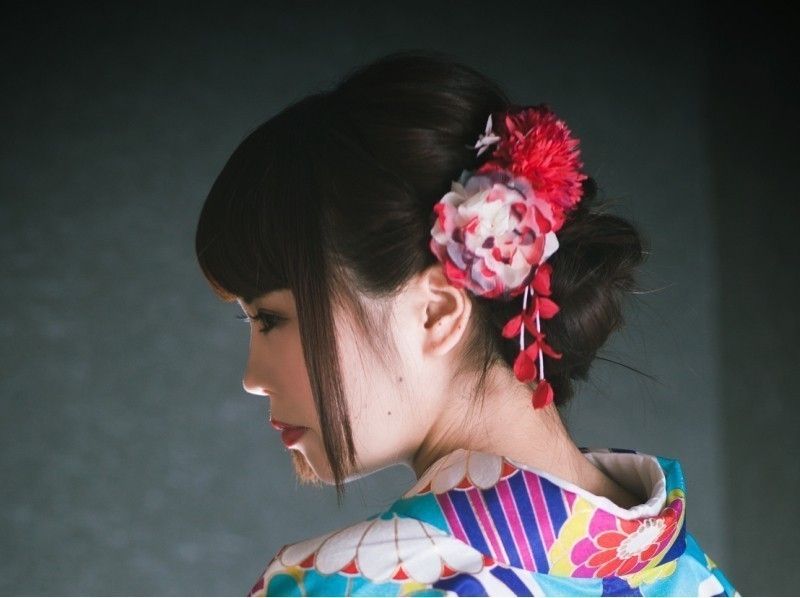 With a hair set Easy hair set included. Hair decorations that decorate kimono are borrowed for free. If you upgrade with the hair set option (1080 yen ~), more gorgeous.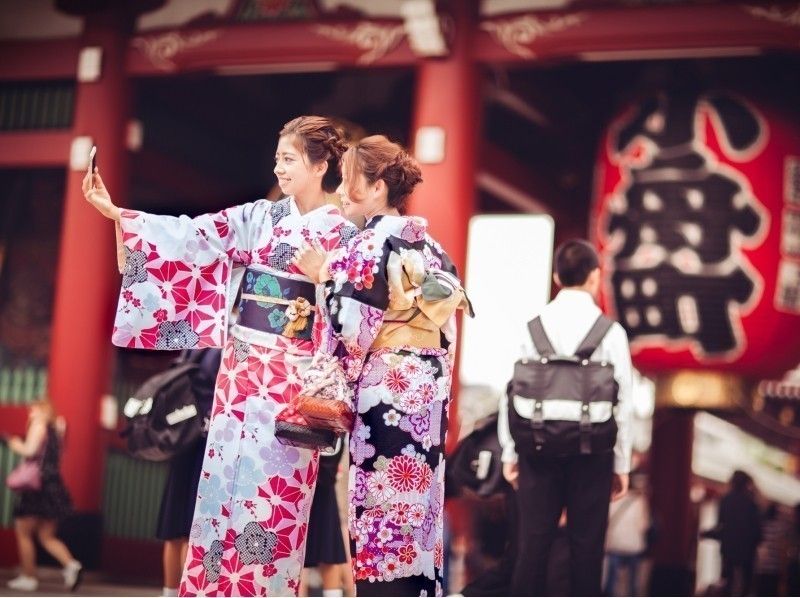 Enjoy Asakusa sightseeing There are lots of sightseeing spots in Asakusa! Please leave a nice photo in the place where the kimono shines.
---
Information
Minimum number of people
1 人
Number of people who can book
1人〜8人
Schedule
May - September
Assemble time
9:00~16:30
※ Please fill in your time of hope at the time of booking to the remarks column.
※ It will start every 30 minutes.
※ The return will be until 17:30 on the day.
※ 9: 00, 9: 30 course is required +540 yen as an early morning option.
Assemble point
Basara kimono rental Asakusa shop
Reservation deadline
The day before, until 5 PM
---
Regarding advance preparation
| | |
| --- | --- |
| About clothings and must-bring items | Although it is not particularly necessary, please present identification card (passport, credit card, etc.) for confirmation of the person himself. |
| About rental items | Accessory rental option available (available on the day) |
---
Facility information
Changing room
toilet
shower
Hot spring
Locker
Hairdryer
Parking Lot
コンビニ
スーパー
---
Access and map
所在地
2-1-3 Asakusa, Taito-ku, Tokyo
How to reach by train
東京メトロ銀座線「浅草駅」出口1から徒歩約3分 
About 2 minutes on foot from Tobu Sky Tree Line "Asakusa Station" Exit 6
About 4 minutes on foot from Asakusa Station "Asakusa Station" Exit A5
Tsukuba Express "Asakusa Station" Exit 1 from the foot about 9
---
Price list
Basic charge
| | |
| --- | --- |
| Standard / person 3,456yen | 手軽に浴衣を体験したい方、比較的落ち着いた色味のものを選びたい方におすすめです。 3才以上 ※13才未満の方は保護者の同伴が必要です。 |
| ONE STAR / person 4,860yen | 華やかな柄で現代風な浴衣スタイルを楽しみたいお客様におすすめ。 3才以上 ※13才未満の方は保護者の同伴が必要です。 |
| Tsusuta / person 5,940yen | 最上級の柄や速乾性の機能素材を使った浴衣をそろえたプラン。ひと味違う高級感をお楽しみいただけます。 3才以上 ※13才未満の方は保護者の同伴が必要です。 |
オプション料金
| | |
| --- | --- |
| Early morning option / person 540yen | 9:00・9:30スタートの場合、早朝オプションが必要となります。 |
| Hair set (one star / fancy hair that suits kimono) / person 1,080yen | 普段とは違う和の装いにピッタリ似合う絶品ヘアアレンジを、プロのセット師が1人ずつセット。ショートやボブもおまかせ! 編みこみでお花やシニオンをつくることで、着物とマッチするアップスタイルヘアを中心に、フィッシュボーンやハーフアップなど、ダウンスタイルでおしゃれにまとめることもできます。 |
| Hair set (Toaster / authentic hair set on a notch) / person 2,160yen | 普段とは違う和の装いにピッタリ似合う絶品ヘアアレンジを、プロのセット師が1人ずつセット。ショートやボブもおまかせ! カールを用い、プロのヘアメイクが技術を駆使したアップスタイル。巻いたり、盛ったり、人とは違うヘアスタイルが楽しめます。 着物を着る際にはこの本格的なヘアセットがオススメ! |
| Each plan / name 1,080yen | 【7/22、7/29、8/5】 特別営業日は、特別料金1,000円(税別)が別途発生致します。 |
※Prices including all taxes.
※上記は基本料金になります。
※日程によって料金が異なる場合がございますので、日程を選択した後に表示される料金表をご覧ください。
---
---
お支払い・キャンセルに関して
About payment
当日現金またはクレジットカードにてお支払いください。 ※VISA、MASTER対応
Payment method
The payment method specified by the operator.
About cancellation fee
In case of cancellation or change, please contact us as soon as possible by phone.
If it is canceled by the circumstances of the customer, a cancellation fee will occur.
2 days ago - previous day: 50% of the reservation fee
On the day: 100% of the reservation fee
Cancellation by operators.
There is a case to be canceled due to unavoidable circumstances, but you can not respond to compensation, such as travel expenses of up to local.
Please note.
みんなの体験談
There are no reviews yet
Service out of period
This season of sales has ended.
Included in price
Complete rental (Yukata, band, basket drawstring, geta, kanzashi), dressing, simple hair set
| | |
| --- | --- |
| | スタート時間 |
| | Participating age3 才~ |
| | Time required Within one hour |
| | ScheduleMay - September |
| | Assemble point Look in GoogleMap |