【Tokyo · Asakusa】 Let's Wear Kimono and Enjoy Sightseeing in Asakusa! (Rent kimono & get dressed)
【Tokyo · Asakusa】 Let's Wear Kimono and Enjoy Sightseeing in Asakusa! (Rent kimono & get dressed)
Plan ID:

14553

Provided by:​ ​​ ​着物レンタルVASARA浅草寺店
4,212Yen ~ (tax included)
3,240 円~ 割引料金
Price per standard person
Hand-held OK
1 person participation Allowed
Operation available - rain or shine
Children can join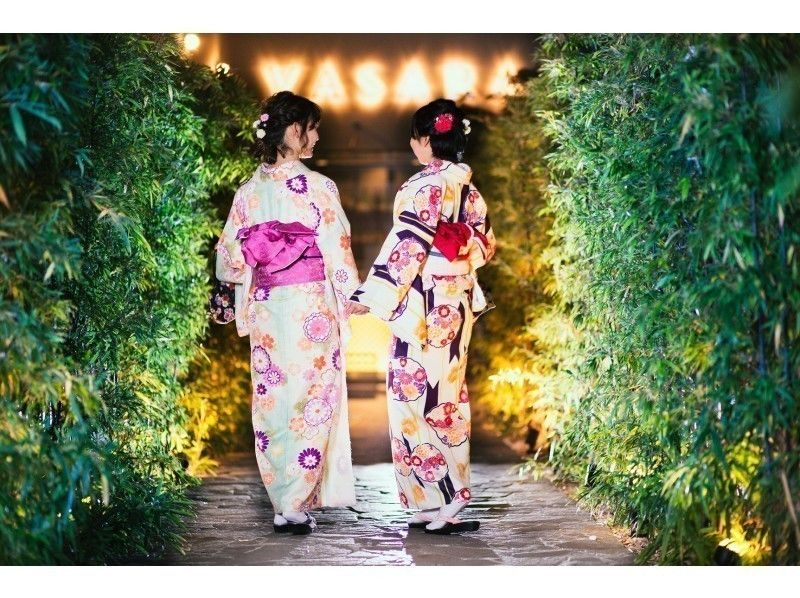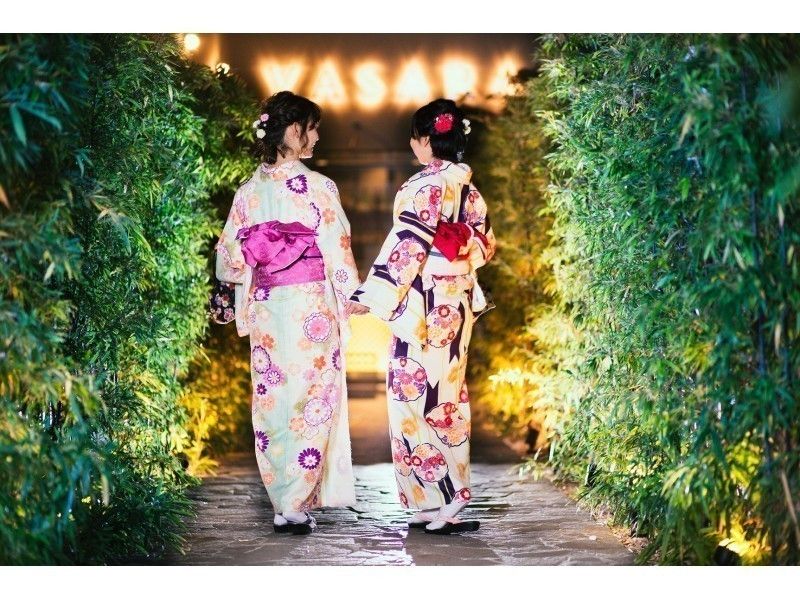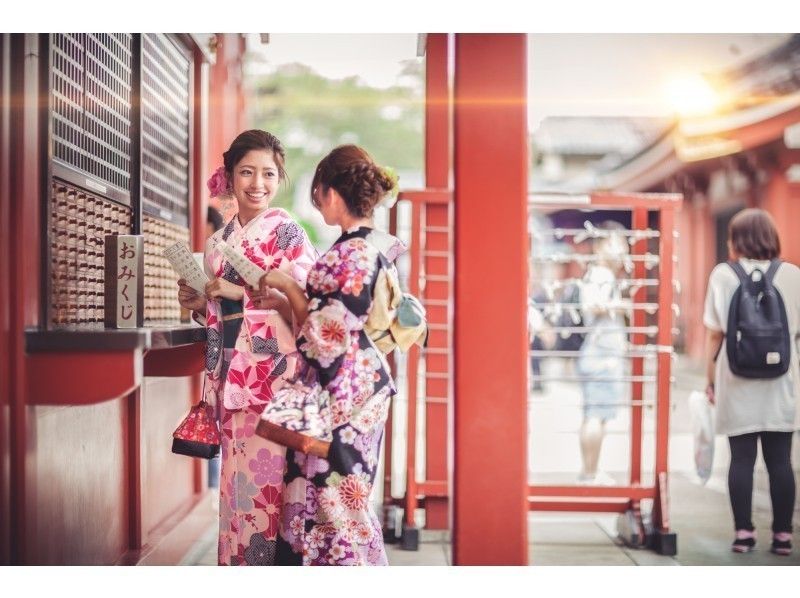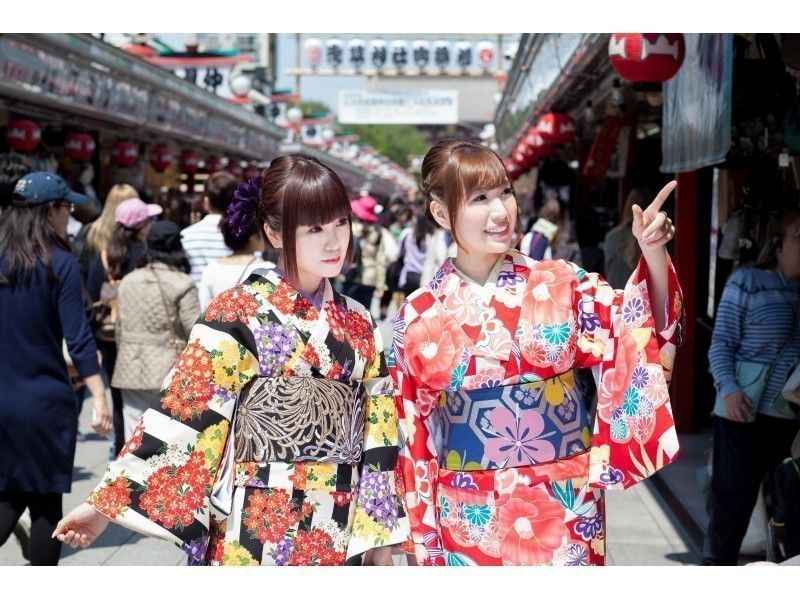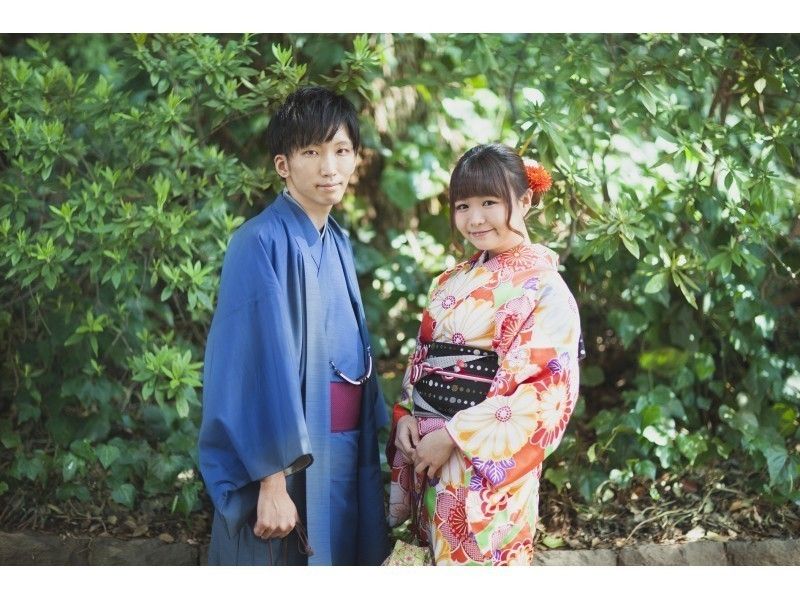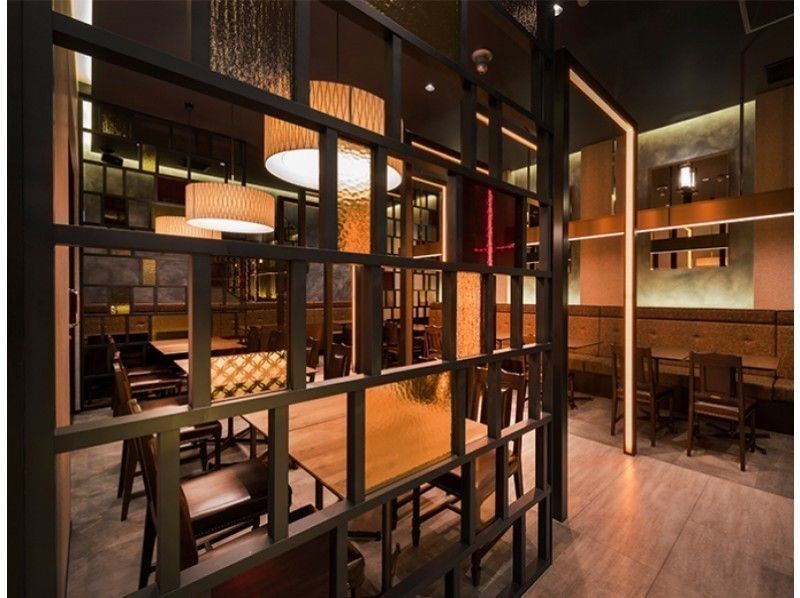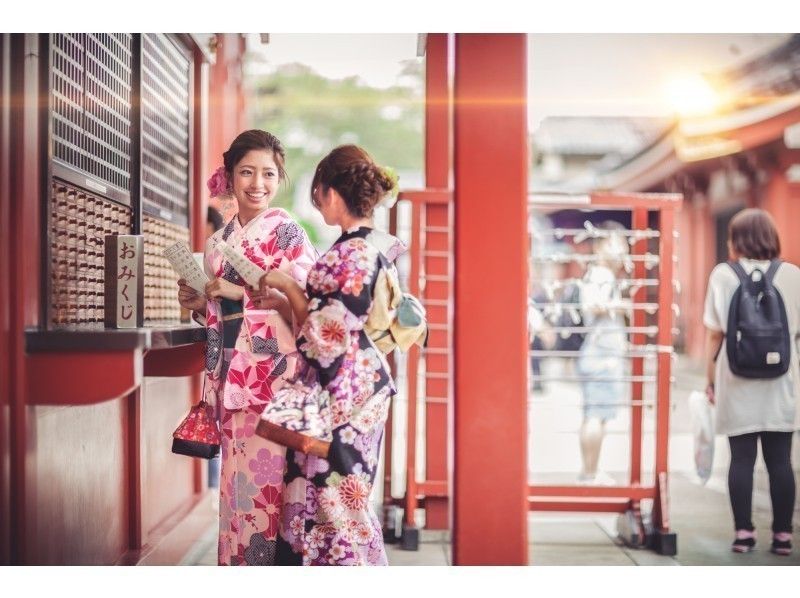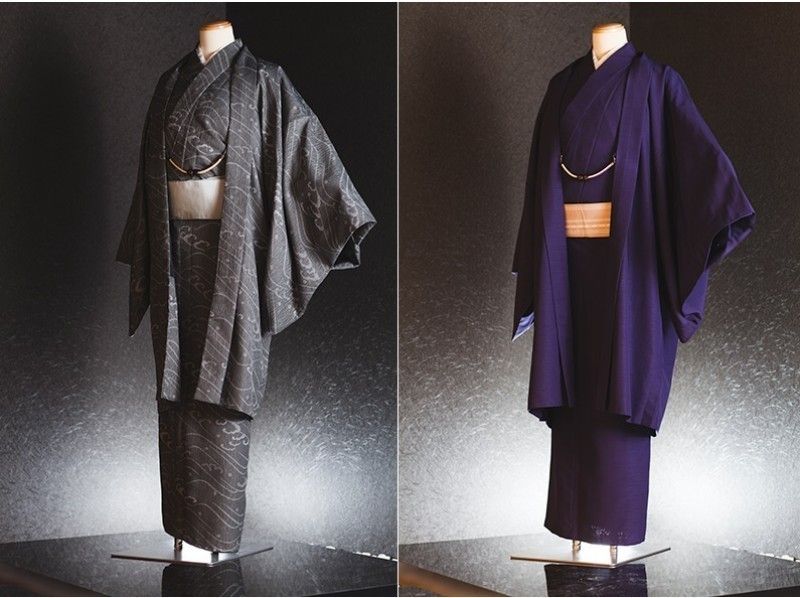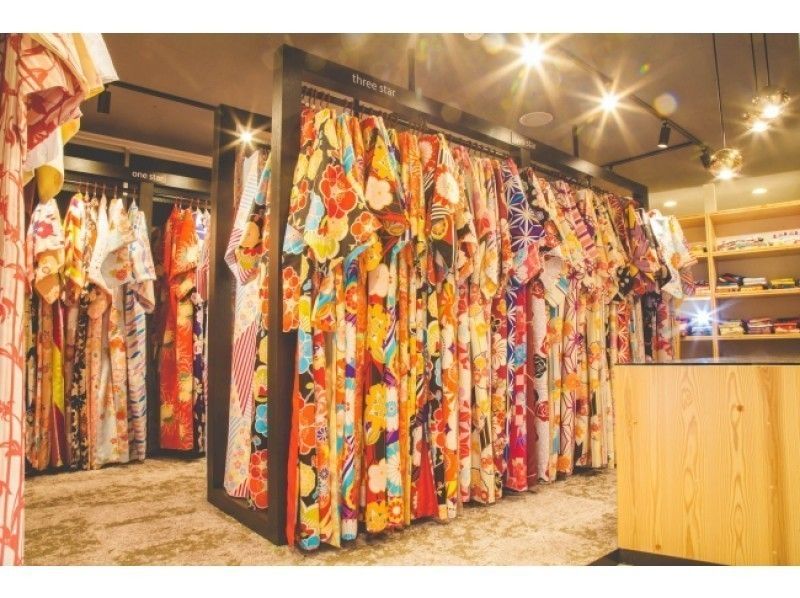 Click on your preferred date
Please click on the date of your choice from the calendar.
Starting time

09:00

09:30

10:00

10:30

11:00

11:30

12:00

12:30

13:00

13:30

14:00

14:30

15:00

15:30

16:00

16:30

17:00

Participating age

Age 3~

Time required

1時間以内

1~2時間

2~3時間

3~4時間

4~5時間

5~6時間

6時間以上

ScheduleRegularly
Assemble point Watch on GoogleMap
There are no story stories of this plan yet
Plan description
"Kimono rental VASARA Sensoji temple store" We are preparing various plans that you can visit by hand and change clothes of your choice and take a walk.
There are more than 1000 kinds of style of kimono in the shop. You definitely will find the right kimono!
Dressing and hair-setting by professional
After reception, you will be guided to the dressing room.
The professional staff will dress full set (from underwear to Obi) for you very quickly.
Dressing will just spend about 20 minutes one person.
着物をお召しになっていただいたあとはヘアセット(無料)を行います。
Simply tie your hair, wear some bling bling and cute accessories.
We also provide hair braid service to match your kimono for an extra fee.
Accessories matched your kimono​ ​
We will put some accessories that match with your kimono in your pouch.
We also rent the bigger pouch for an extra fee.
You can not storage valuables in the shop. Please bring it in your pouch.
Asakusa sightseeing in kimono style
After the dressing, Start your Asakusa tour and have a good lunch!
There are many tourism attraction at Asakusa.
Please feel free to ask the staff for recommended places.
Please return all rental items 30 minutes before closed.
Overnight rental is also available for an extra fee. You can also return them to another shop on the day.
Attractions of the plan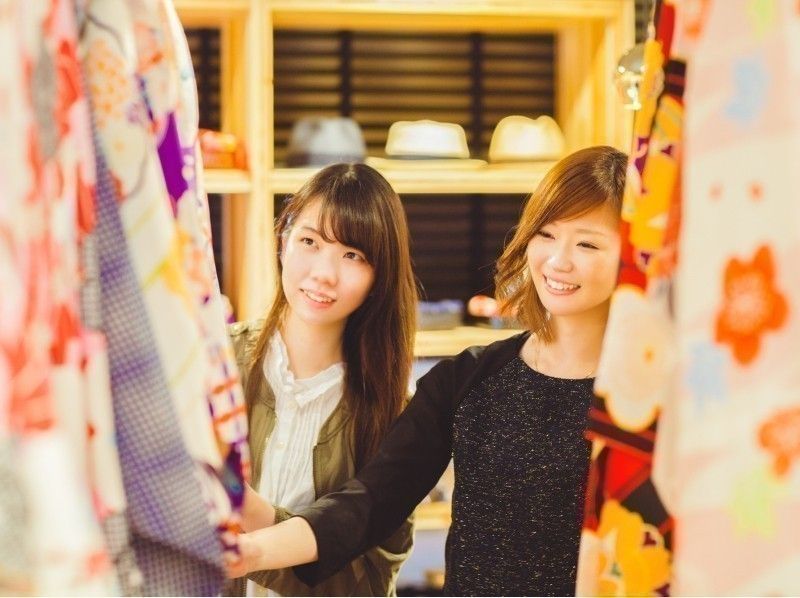 Rich kimono collection! We have various colorful kimonos from modern to classic styles. You can choose a standard kimono or select from one-star, two-star, three-star ranked kimonos.​ ​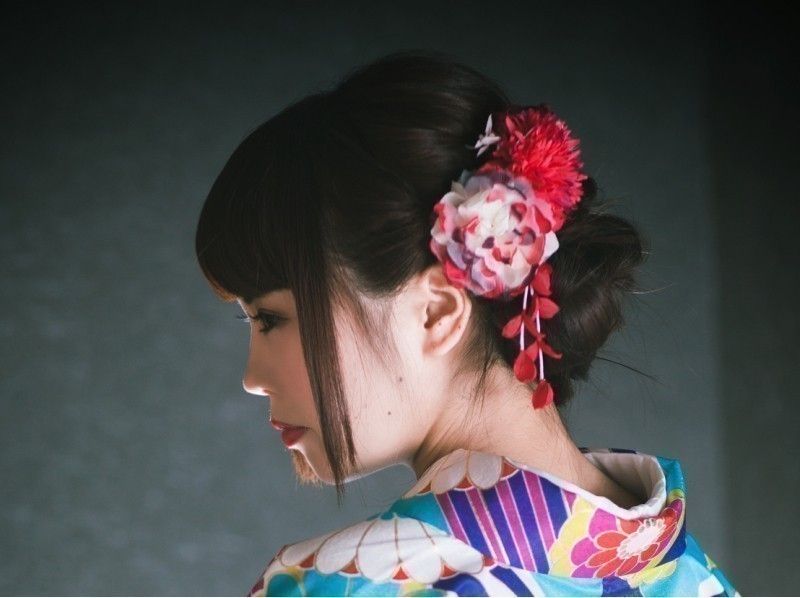 Hair styling service included Simple hair styling included. Free rental of hair accessories. For an extra fee (from 1,080 yen) you can upgrade your hairstyle.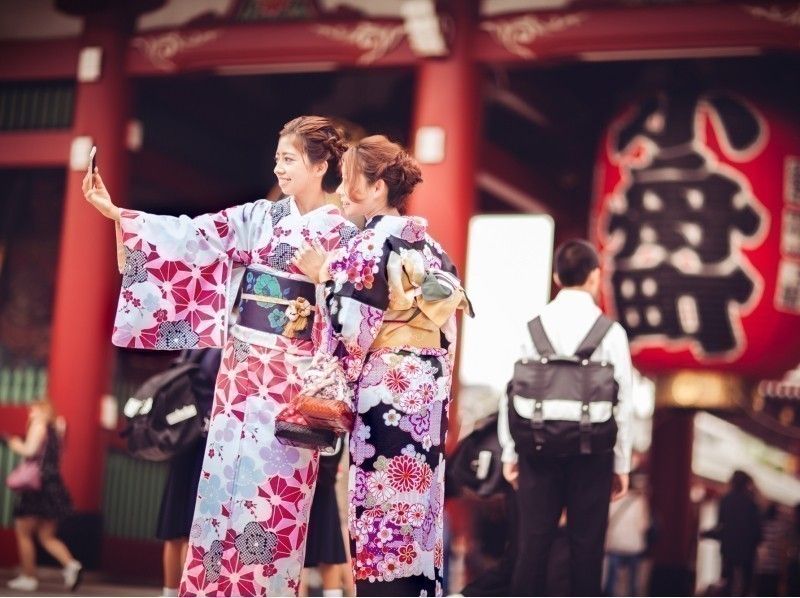 Enjoy Asakusa sightseeing Asakusa is rich in sightseeing spots. Take your picture in your favorite spot.​ ​
Information
| | |
| --- | --- |
| Minimum number of people | 1 person |
| Number of people who can book | 1人〜 |
| Schedule | Regularly |
| Start time | Please arrive before the appointed time. |
| Assemble point | Kimono Rental Shop VASARA Sensoji​ ​ |
| Reservation deadline | 当日 15時59分まで |
Advance preparation
| | |
| --- | --- |
| Clothings and must-bring items | Proof of identity required. Please bring you ID card or any document like a passport or a credit card.​ ​ |
| About rental items | Accessories available (Can be rented on the tour day) |
Facility information
Changing room
Restroom
shower
Parking Lot
Locker
Access and map
How to reach by train
About 3 minutes on foot from Tokyo Metro Ginza Line "Asakusa Station" Exit 1
About 2 minutes on foot from Tobu Sky Tree Line "Asakusa Station" Exit 6
About 4 minutes on foot from Asakusa Line "Asakusa Station" Exit A5
About 9 minutes walk from Tsukuba Express "Asakusa Station" Exit 1
タイムスケジュール

09:00
ご来店・受付
ご予約頂いた店舗へお越しください。万が一場所が分からない場合はお気軽にお電話ください。また、ご予約時間より少しお早めのご来店をお願いします。特にお持ちいただくものはございませんが、ご本人様の確認のため、身分証明書(パスポートやクレジットカードなど)のご提示だけ宜しくお願い致します。

09:05
着物選び
デザイン着物10,000着以上を取り揃えています!各プランのお着物を店頭にてお選びください。
現代的なモダン柄や古典的な柄まで、多くの個性的な柄もご用意させて頂いております。

09:10
お着付
受付後、さっそく専用着付けスペースにてお着付けがはじまります。スタッフが襦袢(お着物の下着)から帯まで手早くお着付けさせて頂きます。お着付け完了までお一人につき約20分ほどです。

09:20
ヘアセット
着物をお召し頂いたあとはヘアセットを行います。無料のコースから着物姿を引き立てる編み込みなどの有料コースもご用意しております。折角の着物姿なのでヘアセットもしっかりされるのをお勧めしております。

09:30
散策
ご準備が出来ましたら、散策やお食事をお楽しみください。着物レンタルVASARAのお店付近にはたくさんの観光名所がございます。スタッフおすすめの回り方などご質問もお気軽にどうぞ。
About price
Basic charge
| | |
| --- | --- |
| Standard kimono 4,212yen 3,240yen | Recommended for customers who prefer an easy-to-wear kimono with a simple design.​ ​ |
| One-star 6,372yen 5,292yen | Recommended for customers who prefer elegant, modern style kimono. |
| Two-star 7,452yen 6,372yen | Top-grade design kimono offered. Enjoy a little taste of luxury. |
| Three-star​ ​ 8,532yen 7,452yen | Noticeable at first glance, a glamorous kimono with the finest, subtle patterns and incredible colors. |
| Men's standard 5,292yen 4,212yen | 着物を粋に着こなした男になって、とっておきの散策にお出かけできます。 |
| Children's 5,292yen 4,212yen | 3歳~11歳 ご予約の際に、お子様の身長、性別、足のサイズご記入お願いします。 |
Option fee
Hair styling (flower decoration course) 1,080yen
Our stylist will arrange your hair to fit your kimono style. We can arrange short hairs or bob-cut hairs too.​ ​​ ​​ ​
We offer more elaborate hairstyles to match your kimono putting your hair in a braid or a flower shape, upstyes and downstyles.​ ​
Hair styling (Premium flower decoration) 2,160yen
Curled upstyle done by professional hair artist. You would enjoy your hair style.
We recommend a solid hair styling when you wear a kimono.​ ​
翌日返却/名 1,058yen
レンタルを翌日17時30分まで延長!
夜まで遊ぶもよし、次の日着るもよし、お好みのスタイルに合わせてお選びいただけます。
郵送返却/名 2,117yen
郵送料はお客様負担で、基本レンタルの翌日にご返送していただきますようお願いします。
※Prices including all taxes.
※ This is the basic charge.
※日程によって料金が異なる場合がございますので、日程を選択した後に表示される料金表をご覧ください。
| | |
| --- | --- |
| Included in price | Full set (kimono, obi-belt, bag, zori-sandals, kanzashi) dressing service, hair styling, consumption tax |
| Not included in the price | Accessories: from 540 yen |
着物レンタルVASARA浅草寺店の取扱いプラン一覧
About payment / cancellation
About payment
クレジットカード事前決済限定
Payment method
事前カード決済のみ
特定商取引法に関する表示
特定商取引法に関する表示
About cancellation fee
In case of cancellation or change, please contact us as soon as possible by phone.
If canceled, a cancellation fee applied.
Before 2 days~on the day: 50%​ ​
On the day: 100%
Cancellation by operators.
Tour may be suddenly canceled due to unavoidable circumstances, and no compensation offered for your transport expenses.​ ​
We kindly ask for your understanding.
Others
Matters require attention
You may change your kimono plan for another type on the tour day.​ ​
To make your kimono experience more elaborate, we offer for an extra fee, a hair styling other than standard type, unique obi-belt arrangements and rental sash clips, umbrellas and other accessories.​ ​
Free handbag storage offered for our customers. For large suitcases a storage fee applied. 540 yen with tax.​ ​​ ​
You may return your kimono the following day for an extra 1,058 yen.​ ​
その他特記事項
返却締め切り時間22:00
*17:30以降のご返却はお一人様1058円(税込)を頂戴いたします。
---
---
Everyone's experiences
There are no reviews yet
---
Find other experiences in the neighborhood area
4,212円~(税込)
割引料金3,240Yen ~ (tax included)
Standard fee per person
Included in price
Full set (kimono, obi-belt, bag, zori-sandals, kanzashi) dressing service, hair styling, consumption tax
If you book this plan 30 pt will be given!
| | |
| --- | --- |
| | Starting time 09:00 09:30 10:00 10:30 11:00 11:30 12:00 12:30 13:00 13:30 14:00 14:30 15:00 15:30 16:00 16:30 17:00 |
| | Participating ageAge 3~ |
| | Time required 1時間以内 1~2時間 2~3時間 3~4時間 4~5時間 5~6時間 6時間以上 |
| | ScheduleRegularly |
| | Assemble point Watch on GoogleMap |