Activities Japan limited! 5% OFF campaign!
[Harajuku, Tokyo] men dressing experience! Kimono Men's plan
プランID:14347 提供:Kimono Tokyo Harajuku
4,320yen~​ ​(tax included)
4,104yen~Reduced rate
大人1人あたりの料金
プランID :

14347
Tokyo / 23 wards
Kimono rental
Empty-handed OK
1 person participation Allowed
Rain departs Allowed
Starting time

10:00

10:30

11:00

11:30

12:00

12:30

13:00

13:30

14:00

14:30

15:00

15:30

16:00

16:30

17:00

17:30

Participating age

13 才~

Time required

1~2時間

2~3時間

3~4時間

4~5時間

5~6時間

当日6時間以上

ScheduleRegularly
Assemble point Look in GoogleMap
Description​ ​
Kimono, is a diagonal band, undershirt, leather soled sandals, plan tabi has become set. When it comes to the kimono I feel like extending the natural and down my spine. Since the whack and dignified end in a short period of time be transformed to please ♪ dressing in kimono, it is attractive to enjoy immediately tourism!
Empty-handed in OK! Immediately kimono Once Omoita' ★
Because of the necessary minimum thing is in the set, shopping incidentally feel free to available. If you are shopping in a kimono, which was crisp, sure to draw attention!
The shop is 30 seconds off JR Harajuku Station Takeshita mouth!
原宿駅の竹下口から降りたら、​マクドナルドのあるビルの3階に当店がございます。竹下通り、明治神宮がすぐそこです。着物を着て原宿観光をお楽しみください!
---
Attractions of the plan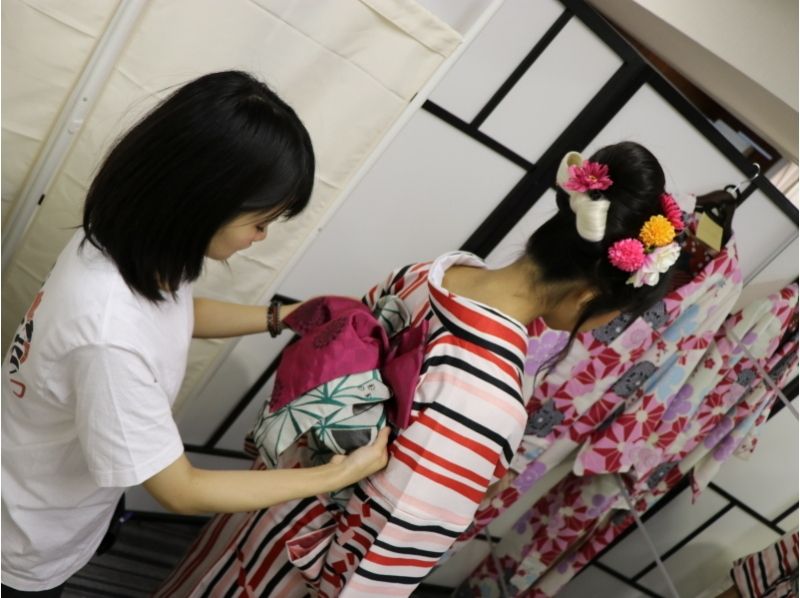 Dressing also polite ♪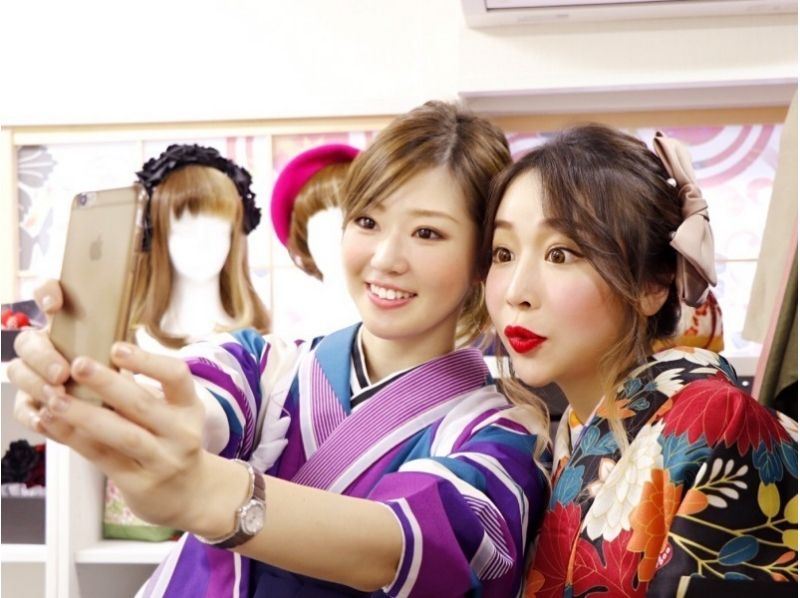 The store also spend fun!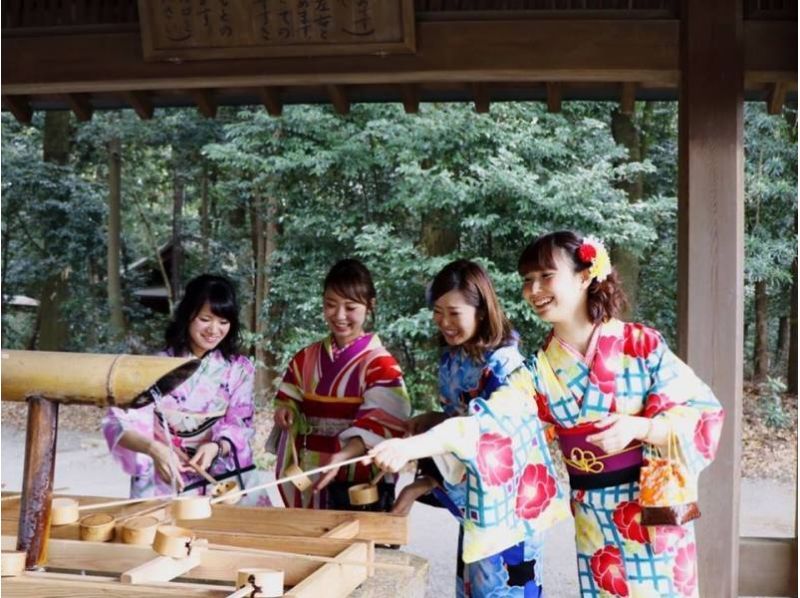 Please do enjoy the tourist Harajuku ♪
---
Information
Minimum number of people
1 人
Number of people who can book
1人〜6人
Schedule
Regularly
Assemble time
10:00~17:30※上記お時間で30分毎の受付です。

■ time required
To 8 hours 30 minutes (※ 10: 00 If you have received your application from)

■ On the day of flow (※ standard)
※ Because there is likely to be to change the circumstances of the day,
Please note.

① coming to a store attendant (about 5 minutes)
 ※貴重品以外はお預かりいたします。
↓
② Select a kimono. (About 10 minutes)
↓
③ dressing. (About 20 minutes)
↓
④ hair set. (About 10 to 20 minutes)
↓
⑤ small wish. (About 5-10 minutes)
↓
⑥ store shooting (about 10 minutes)
※ commemorative photograph by one shot the store in the service. I will give you one piece of data.
↓
Please enjoy your free tourism to ⑦ return time.
↓
⑧18: 30 your return thank you so far.
Assemble point
Kimono Tokyo Harajuku
Reservation deadline
The day before, until 5 PM
---
Regarding advance preparation
| | |
| --- | --- |
| About clothings and must-bring items | Sorry, we have not found in particular. Please come empty-handed. |
| About rental items | Kimono, it contains diagonal band, undershirt, to leather soled sandals, socks fee. |
---
Facility information
Changing room
toilet
shower
Hot spring
Locker
Hairdryer
Parking Lot
コンビニ
スーパー
---
Access and map
所在地
Shibuya-ku, Tokyo Jingumae 1-19-8 306
How to reach by train
About 30 seconds on foot from JR "Harajuku station" Takeshita mouth
---
Price list
Basic charge
| | |
| --- | --- |
| Adult / person 4,320yen 4,104yen | |
※Prices including all taxes.
※上記は基本料金になります。
※日程によって料金が異なる場合がございますので、日程を選択した後に表示される料金表をご覧ください。
---
---
お支払い・キャンセルに関して
About payment
Please pay at the day of cash or credit card,.
※ cards available are as follows.
VISA · MASTER · AMEX · JCB · UnionPay, Diners Club
Payment method
The payment method specified by the operator.
About cancellation fee
If you cancel your reservation, please contact us as soon as possible.
If it is canceled by the convenience of the customer, you will be charged a cancellation fee of following.

2 days ago - the day before: 50% of the reservation fee
On the day: 100% of the reservation fee
The reservation: 100% of the reservation fee

Also schedule and number of people change, please contact us as soon as possible.
By timing and availability, there are times when it does not attach to hope.
Please note.
Cancellation by operators.
※ rainy weather departs
Upon cancellation by the customer convenience, so you will be charged a cancellation fee, please note.

You might want to stop by the bad weather.
It should be noted that the cost of the transportation expenses of up to local at the time of the stop can not be compensated.
If it is determined that the stop by the situation, we will contact you than sponsored company the day before.
---
Other
Matters require attention
We will store your luggage, carry bags, strollers that can not fit in the shop loan bags at 500 yen / 1 (per day).
Also, we will keep handrails other than valuables free of charge.
However, you can not store valuables or fragile items (such as cash and cameras).
4,320円~(税込)
Reduced rate4,104yen~​ ​(tax included)
大人 1 人 あたりの料金
Included in price
Dressing fee, rental goods (kimono, diagonal band, undershirt, leather soled sandals, socks) consumption tax
| | |
| --- | --- |
| | Starting time 10:00 10:30 11:00 11:30 12:00 12:30 13:00 13:30 14:00 14:30 15:00 15:30 16:00 16:30 17:00 17:30 |
| | Participating age13 才~ |
| | Time required 1~2時間 2~3時間 3~4時間 4~5時間 5~6時間 当日6時間以上 |
| | ScheduleRegularly |
| | Assemble point Look in GoogleMap |