【東京都 テラリウム】 (かわいいグラスボール)苔テラリウム創作体験♪
プランID:14145 提供:Culture School ABCs
3,900yen~​ ​(tax included)
参加者1人あたりの料金
プランID :

14145
Tokyo / 23 wards
moss ball making experience
interior goods making experience
Manufacturing experience
Empty-handed OK
Rain departs Allowed
子供参加可
ファミリーで楽しむ派
Starting time

13:00

15:00

16:00

11:00

Participating age

7 才~

Time required

For 1.5 hours

ScheduleRegularly
Assemble point
Description​ ​
◇ "Moss Terarium" with a natural landscape as a motif You can create a world of a box garden of only you!

Ideal as interior green interior ♪

The main moss, potting soil, succulent kind-rich type of use, such as the free decoration stone, gravel-color cut glass, free-thinking the "small nature of the world" that spread in a medium-sized (cute glass balls) and in the imagination, is the experience that the creation of original work can enjoy ♪

※ main glass container, there are other to offer, such as a cup in with a lid with Chubin-handle of the glass ball.
Now, a popular women "terrarium"
みんなでワイワイ!楽しく体験 (女子会などにもご活用ください)
Rich of the extent to distracted "mosses, succulent kind, decorative stone kind Sand kind"
Rich using the "succulent kind, decorative stone kind-sand kind cut color glass" of the extent to be distracted,
Draw feelings out of the box of the lady just a nice one in the "moss terrarium" the world "green interior"
Good access "Shinjuku"
3 minutes and access walk from Shinjuku Gyoen Station is also very convenient. To holiday in after work and family together with your friends, you can feel free to experience.
---
Attractions of the plan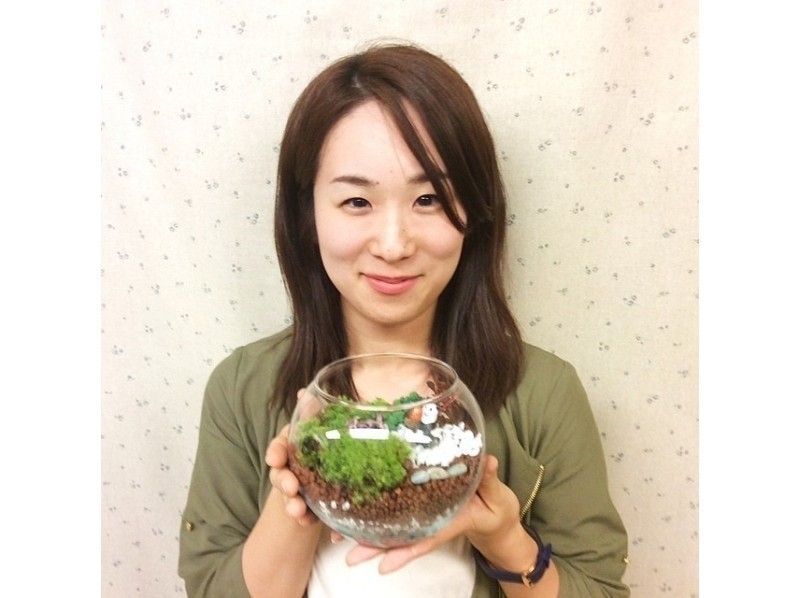 Now, a popular women "terrarium"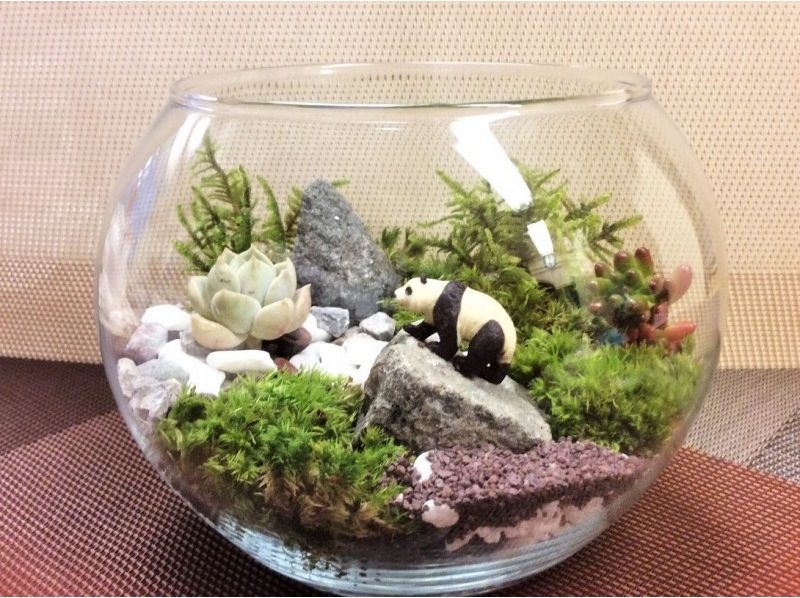 Why do not you put animal objects etc at your home?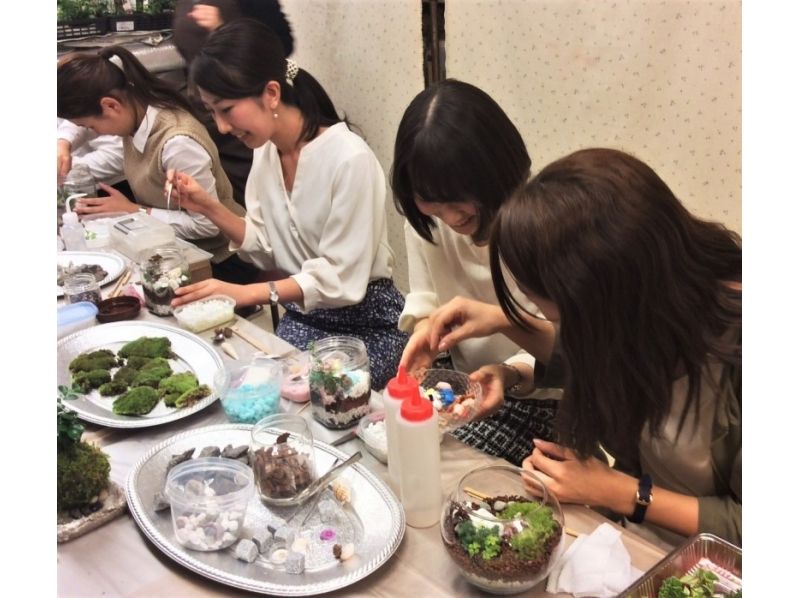 みんなでワイワイ!楽しく体験 (女子会などにもご活用ください)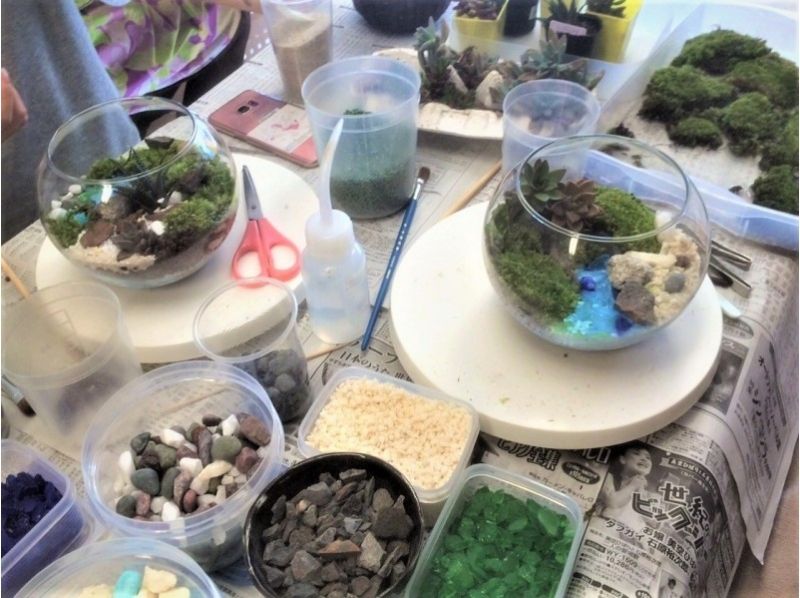 ☆ rich type plants (succulents Air Plants, etc.) and decorative stone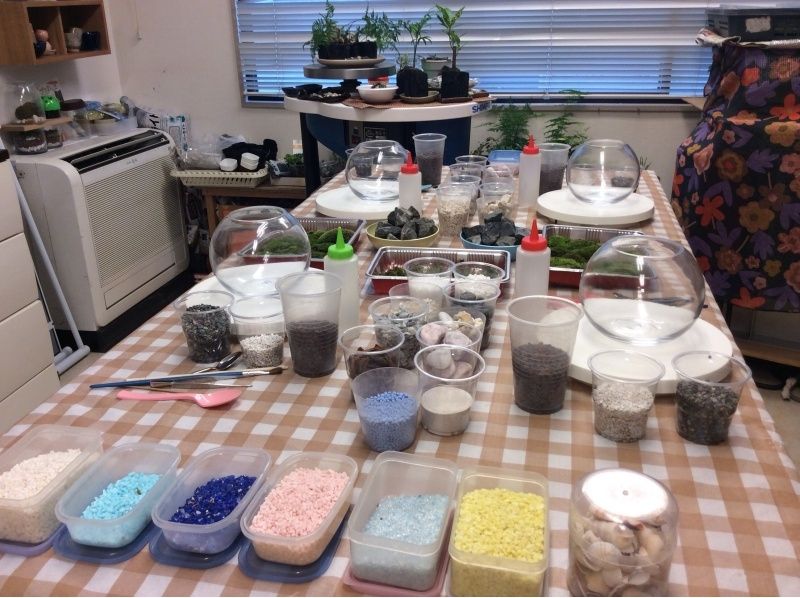 We are preparing plants for rich decorative stone that we can see.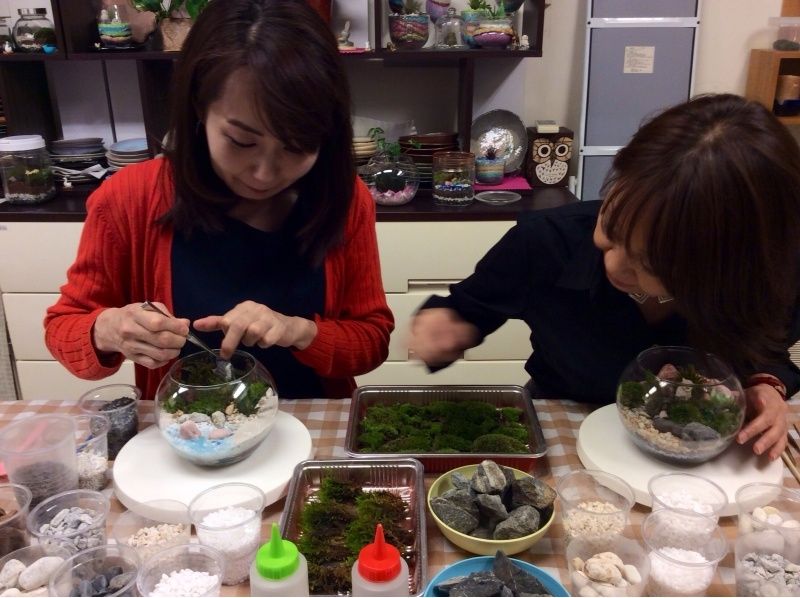 Please also use for girls' societies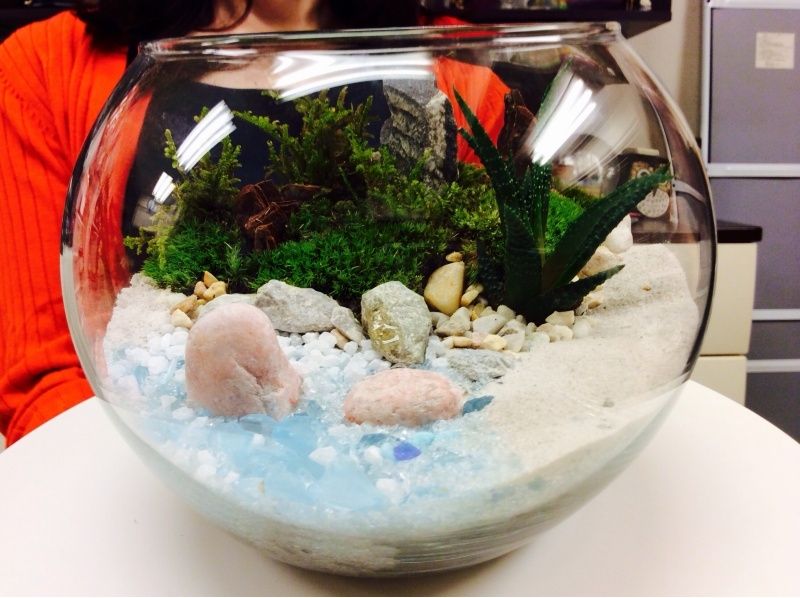 You will only be finished with original works by you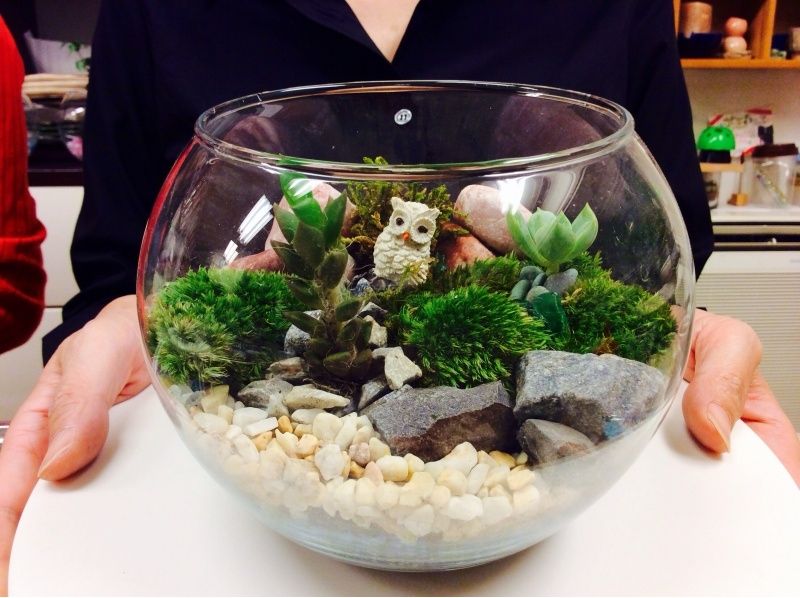 Ideal for indoor green interior
---
Information
| | |
| --- | --- |
| Minimum number of people | 1 人 |
| Number of people who can book | 2人〜7人 |
| Schedule | Regularly |
| Assemble time | It will start 10 minutes before - entering reception. |
| Assemble point | Shinjuku (Culture School ABCs) |
| Reservation deadline | Before 2 days |
---
Regarding advance preparation
| | |
| --- | --- |
| About clothings and must-bring items | Diatomaceous recommended, what have you bring does not Thank in particular. |
| About rental items | None |
---
Facility information
Changing room
toilet
shower
Hot spring
Locker
Hairdryer
Parking Lot
コンビニ
スーパー
---
Access and map
所在地
Yubinbango160-0022 Shinjuku-ku, Tokyo Shinjuku 1-chome, 18-4 Tokyo Hasumi building 2F 202
How to reach by train
Is a 3-minute walk from Tokyo Metro Marunouchi Line Shinjuku Gyoenmae Station!
---
time schedule
◇ basic, Tuesday and Thursday and Friday is canceled classes

Request Kuda your time of hope in the following time (offered time) at the time of booking in the remarks column
【Monday】 13: 00 ~: 15: 00 ~
【Wednesday】 13: 00 ~ 15: 00 ~: 18: 30 ~
【Saturday and Sunday】 11: 00 ~: 15: 00 ~: 16: 00 ~
✳︎ first choice, please let us know the second choice (the direction of choice in the morning of the person, Saturday Sunday night hope on Wednesday)
---
Price list
Basic charge
| | |
| --- | --- |
| Participants / per person 3,900yen | |
※Prices including all taxes.
※上記は基本料金になります。
※日程によって料金が異なる場合がございますので、日程を選択した後に表示される料金表をご覧ください。
---
---
お支払い・キャンセルに関して
| | |
| --- | --- |
| About payment | Cash (not card) |
| Payment method | The payment method specified by the operator. |
| About cancellation fee | Please contact me in the case of the "cancel or modify" by the circumstances of the customer. |
| 開催中止に関して | |
---
Other
Matters require attention
Schedule details
① visit - accepted
 ご予約のお時間までにご来店いただき、受付をお済ませください。
② lecturer will a description of the production procedure. After that, it will be the experience of creation.
みんなの体験談
There are no reviews yet
3,900円~(税込)
参加者 1 人 あたりの料金
| | |
| --- | --- |
| | Starting time 13:00 15:00 16:00 11:00 |
| | Participating age7 才~ |
| | Time required For 1.5 hours |
| | ScheduleRegularly |
| | Assemble point GoogleMapで見る |