[Tokyo Ginza] freely walk the Ginza in Kimono! Rental kimono Luxury plan
プランID:12781 提供:Kimono, kimono gallery
19,059yen~​ ​(tax included)
大人1人あたりの料金
プランID :

12781
Tokyo / 23 wards
Kimono rental
Empty-handed OK
1 person participation Allowed
スタート時間

Participating age

16 才~

Time required

On the day more than 6 hours

ScheduleYear-round (except July and August)
Assemble point Look in GoogleMap
Description​ ​
In the "dry goods, kimono gallery", it offers a variety of plans that you can walk the Ginza in kimono. This plan is a plan that will rent-dressing kimono silk.
Little luxury kimono
Is a plan that you can rent a kimono of luxury silk. Dressing and and hair set, because it also contains small rental, such as sandals and bags, can join empty-handed. Elegantly dressed in a beautiful kimono, let's go out to the city.
Plenty enjoy the outing with kimono
Return of the kimono is possible at any time, if during business hours. Tsukiji from Ginza, Shimbashi, also can stretch your feet on the Marunouchi area, and plenty of one day enjoy a kimono figure. In various places, but please leave a nice photo. It will be surely a lifetime of memories.
---
Attractions of the plan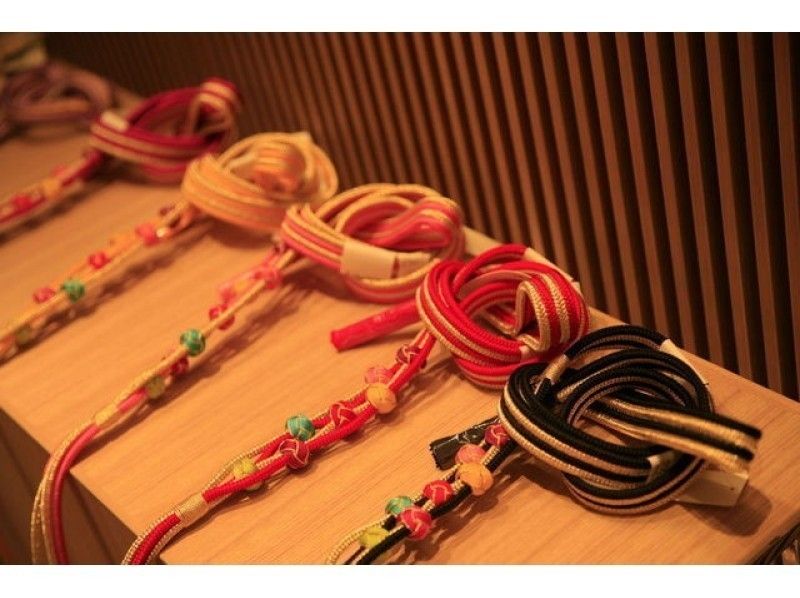 Choose your favorite kimono Coordination until the band and accessories to your liking of the kimono. Since all be borrowed for free, you can feel free to experience.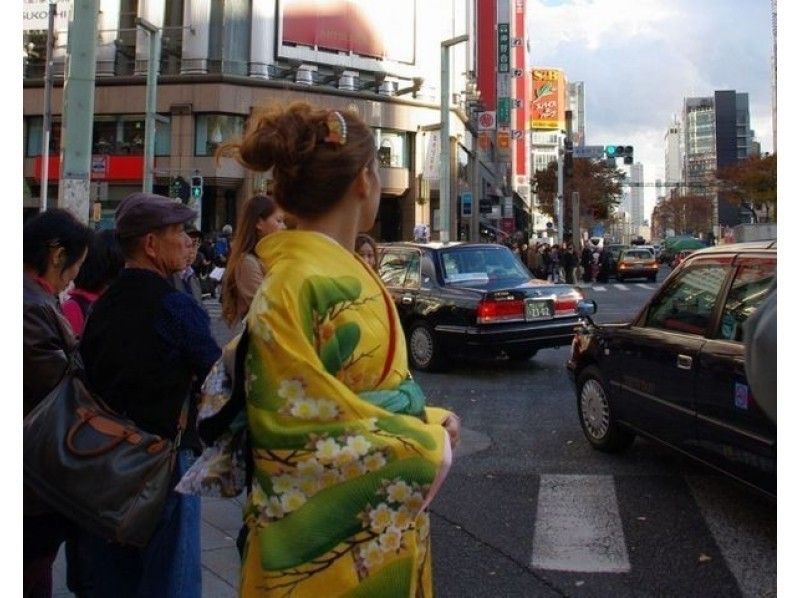 Hair also set Also nice point us to set the hair style to match the kimono appearance. Mood goes up at once.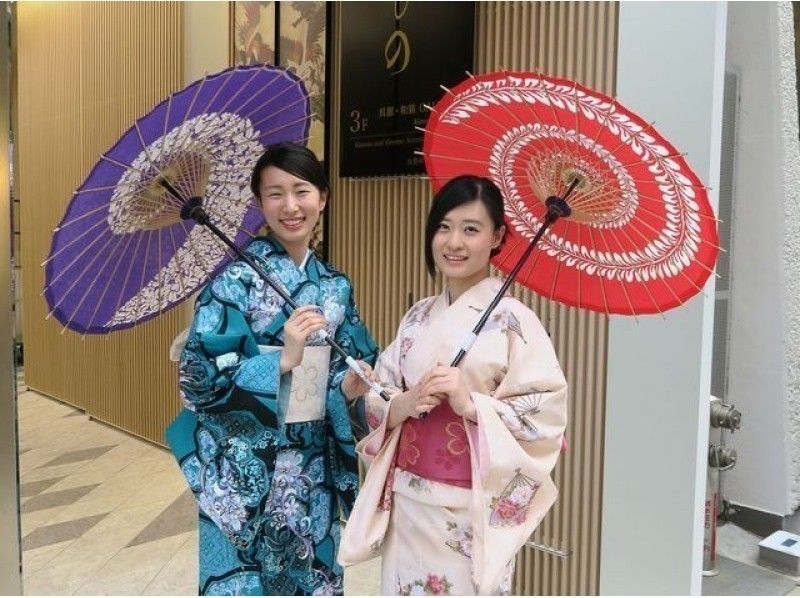 Leave a lot of pictures Kimono shine in modern Ginza streets retro atmosphere remains. Please, housed in a tightly photo valuable kimono figure.
---
Information
Minimum number of people
1 人
Number of people who can book
1人〜
Schedule
Year-round (except July and August)
Assemble time
13:00~17:00
※ Please inform me of the hope of the time at the time of application
(Until the end of time 20:00)
Assemble point
Kimono, kimono gallery
Reservation deadline
The day before, until 5 PM
---
Regarding advance preparation
| | |
| --- | --- |
| About clothings and must-bring items | There is no particular designation, but please have a thing to become a summons under the kimono. Recommend those of V-neck. |
| About rental items | All can be rented for free |
---
Facility information
Changing room
toilet
shower
Hot spring
Locker
Hairdryer
Parking Lot
コンビニ
スーパー
---
Access and map
所在地
Ginza, Chuo-ku, Tokyo 8-9-17 Ginza EH building 3F
How to reach by train
About a 5-minute walk from JR "Shinbashi" station
Tokyo Metro Ginza and Marunouchi Line "Ginza" walk about 5 minutes from the train station
---
time schedule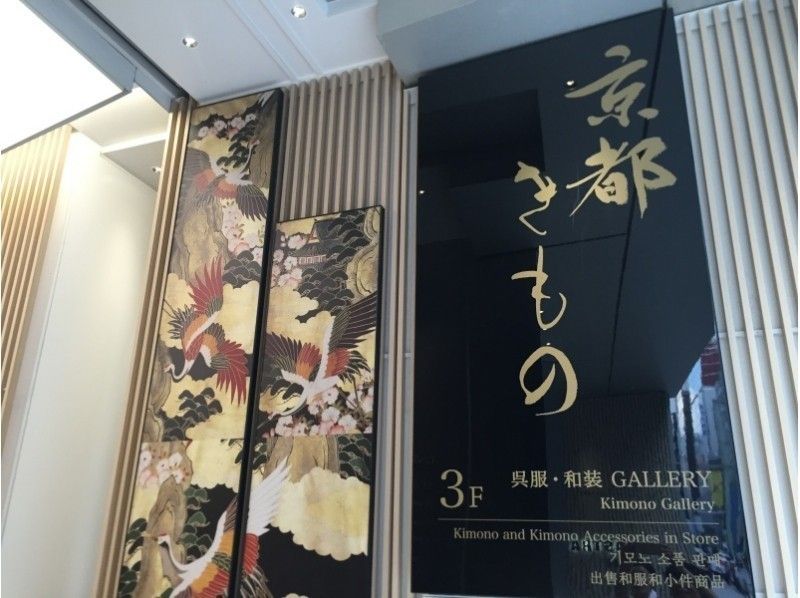 In ⇒ dressing ⇒ last person ⇒ woman who'll choose the first kimono after your visit is for a simple hair set earlier, equipped with accessories such as hair ornaments and bags, transformed into a perfect kimono ⇒ freedom stroll ⇒ on the day we return to o'clock 20
---
Price list
Basic charge
| | |
| --- | --- |
| Adult / person 19,059yen | Silk kimono |
オプション料金
| | |
| --- | --- |
| CD / sheets 1,271yen | Let's leave the beautiful kimono in the photo! Number regardless, passing and burn it to a CD in case attaching. |
※Prices including all taxes.
※上記は基本料金になります。
※日程によって料金が異なる場合がございますので、日程を選択した後に表示される料金表をご覧ください。
---
---
お支払い・キャンセルに関して
| | |
| --- | --- |
| About payment | Please pay at the day of cash or credit card. |
| Payment method | Pre-card payment, the ways assigned by operators |
| About cancellation fee | Cancellation fee does not apply, but in case of cancellation or change, please immediately contact us by telephone. |
| 開催中止に関して | |
---
Other
Matters require attention
Stains and dirt does not fall in the cleaning in kimono ※, torn, lost, if a situation such as the theft has occurred, you will purchase Please note.
※ o'clock every day kimono rental 13 to, the return will be on the day 20:00 (if 18:00 or later, thank you to the 8th floor office)
みんなの体験談
There are no reviews yet
19,059円~(税込)
大人 1 人 あたりの料金
Included in price
Kimono set rental, dressing, simple hair set, hair ornaments, accessories, luggage storage (valuables impossible)
このプランを予約すると 175 pt 貯まります!
| | |
| --- | --- |
| | スタート時間 |
| | Participating age16 才~ |
| | Time required On the day more than 6 hours |
| | ScheduleYear-round (except July and August) |
| | Assemble point Look in GoogleMap |