[To 10 people limited small-sized cruiser charter Tokyo Bay, Canal tourism cruising
プランID:11654 提供:Anniversary Cruise (Anniversary Cruise)
60,000円~​ ​(tax included)
アニー号1艇あたりの料金
プランID :

11654
Tokyo / 23 wards
cruising
Empty-handed OK
ドリンク付き
プライベートツアー
Charter Allowed
子供参加可
アクティブ爽快
自然満喫リラックス派
ファミリーで楽しむ派
スタート時間

Participating age

0 才~

Time required

For 1.5 hours

ScheduleRegularly
Assemble point Look in GoogleMap
Description​ ​
Small cruiser Annie No. charter Tokyo Bay tourist cruising plan with only your family and friends! Because it is a charter, navigable courses tailored to hope. Also freely it can be arranged that it is also comfortable rocking to perform a ceremonial photograph to berthing the ship with your favorite spot. Towards the Tokyo Olympics in 2020, please enjoy from rapidly changing to go Tokyo Bay views the means ship. Things to do that can not be reached only in the canal expedition also small cruiser over came in from the middle of Tokyo
Canal expedition also leave even tourism in small groups "Annie No."
To explore the Tokyo Bay and Tokyo of the canal along with important friends and family are perfect is Annie issue. Small and you can go running breeze Tokyo sea if Annie No. hear of maneuverability. Also be able to go to the canal with a low bridge, it is of small Annie No. privilege.
If Annie No. canal expedition cruising is also possible!
Edo era to explore the Tokyo logistics have supported waterway from, cruising plan that can be touched in Tokyo of history that can not be seen normally. Low bridge has taken a lot you can but go duck breeze as long as they have a low Annie issue.
Tokyo Bay tourism cruising!
In Tokyo Bay for the Tokyo Olympic Games to be held in 2020. There progressing development. In order to transfer to the Tsukiji market Toyosu, in Toyosu you can watch in its construction. Rainbow Bridge and Tokyo Sky Tree Tokyo Tower, of course, LaLaport of Toyosu, Harumi wharf to stop by the huge cruise ships to travel the world, Japan's leading container wharf and is Oi wharf gantry crane, and Hamarikyu Garden, is attractions lots such as Kachidokibashi .
---
Attractions of the plan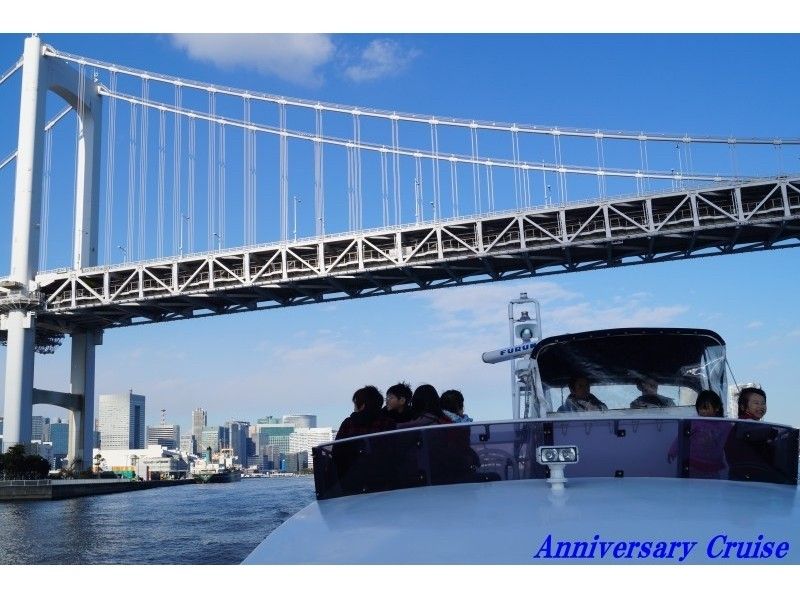 Tokyo Bay tourism charter cruising Popular plan for children. Child every time it passes through the bottom of the bridge has been raised tension.
---
Information
Minimum number of people
1 人
Number of people who can book
2人〜10人
Schedule
Regularly
Assemble time
Please come to the depot to 15 minutes before departure.

※ Duration: 60 minutes (time extension allowed for an additional fee)
Assemble point
Morning tide small pier
Http://www.anniversary-cruise.com/cruiser/cruiser/kachidoki.pdf
Harumi, Chuo-ku, Tokyo 3-1 dawn park next door
Subway Oedo Line "kachidoki station" A2a 6-minute walk from Exit
The Harumi street go to Harumi direction, cross the dawn Bridge, there is a depot along the canal to enter the soon dawn park from the entrance of the right hand.
Reservation deadline
The day before, until 5 PM
---
Regarding advance preparation
| | |
| --- | --- |
| About clothings and must-bring items | Please join us in a warm-looking winter. |
| About rental items | Winter is there free rental of blanket |
---
Facility information
Changing room
toilet
shower
Hot spring
Locker
Hairdryer
Parking Lot
コンビニ
スーパー
---
Access and map
所在地
Harumi, Chuo-ku, Tokyo 3-1 dawn park next door
How to reach by car
晴海トリトンパーキング(中央区晴海1-8-16)営業時間7:00~23:30
How to reach by train
Subway Oedo Line "kachidoki station" A2a 6-minute walk from Exit
その他の方法でお越しの方
10 minutes by taxi from JR "Yurakucho" station · Subway "Ginza" "Higashi Ginza" station
---
Price list
Basic charge
| | |
| --- | --- |
| Annie No. / boat 60,000yen | 所要時間:60分※最低6名様分料金がかかります(申込は2名~可) ※休日料金は金曜・土曜・祝祭前日に適用されます。 ※花火大会の料金は個別にお問合せ下さい。 |
| Extra people / person 10,000yen | ※7名~10名でご参加の場合の追加人数分になります。 ※休日料金は金曜・土曜・祝祭前日に適用されます。 ※花火大会の料金は個別にお問合せ下さい。 |
| Extension (30 minutes) / person 1,620yen | ※最低6名様分料金がかかります。 ※休日料金は金曜・土曜・祝祭前日に適用されます。 ※花火大会の料金は個別にお問合せ下さい。 |
| Extension (60 minutes) / person 3,240yen | ※最低6名様分料金がかかります。 ※休日料金は金曜・土曜・祝祭前日に適用されます。 ※花火大会の料金は個別にお問合せ下さい。 |
| Extension (90 minutes) / person 4,860yen | ※最低6名様分料金がかかります。 ※休日料金は金曜・土曜・祝祭前日に適用されます。 ※花火大会の料金は個別にお問合せ下さい。 |
オプション料金
| | |
| --- | --- |
| Sparkling wine and white wine / Books 2,000yen | |
| Chandon (white) / Books 5,000yen | |
| Moet & Chandon (white) / Books 8,000yen | |
| Veuve Clicquot (yellow) / Books 10,000yen | |
| Alcohol you can drink / person 1,000yen | |
※Prices including all taxes.
※上記は基本料金になります。
※日程によって料金が異なる場合がございますので、日程を選択した後に表示される料金表をご覧ください。
---
---
お支払い・キャンセルに関して
About payment
We will ask you to pay by advance payment or credit card.
Payment method
Pre-card payment, the ways assigned by operators
About cancellation fee
30 days before to 20%, 7 days before to 30%, 3 days before to 50 percent, the day before 80%, on the day 100%
Cancellation by operators.
Judgment of withdrawals due to weather and sea conditions are basically Secretariat I judge.
As long as it is not compelling strong winds and high waves it can be operated as usual.
---
Other
| | |
| --- | --- |
| Matters require attention | ※ fireworks opening day will be your guide in the premium rate. |
| Other notices | By cruising time ※, navigation course will be limited. Canal, thank you for your reservation of 2.5 hours or more in the case of both of Tokyo Bay to see if. |
60,000円~​ ​(tax included)
アニー号 1 艇 あたりの料金
Included in price
Drinks (sparkling wine, white wine, soft drinks), fuel and pier usage fee (take-off and landing each batch) and insurance premiums
このプランを予約すると 555 pt 貯まります!
| | |
| --- | --- |
| | スタート時間 |
| | Participating age0 才~ |
| | Time required For 1.5 hours |
| | ScheduleRegularly |
| | Assemble point Look in GoogleMap |