[Hokkaido Eniwa] trying to enjoy nature in Hokkaido in the riding! Horse trekking experience [2 hours]
プランID:11335 提供:Horse trekking Hokkaido
10,000円~​ ​(tax included)
大人・小人(2名様以上)1人あたりの料金
プランID :

11335
Hokkaido / Sapporo
Horse trekking
horse riding
Transfer Yes
1 person participation Allowed
Starting time

10: 00

13:00

Participating age

10 才~

Time required

2-3 hours

ScheduleRegularly
Assemble point Look in GoogleMap
現地に到着して、阿部さんとシェパードのムーにご挨拶。ムーが阿部さん溺愛でかわいすぎました! ヘルメットとプロテクター、レインコートを着て準備完了!馬舎に向かって本日の相棒と対面! 阿部さんの呼び声で集まってくる馬たちにまず感動。相棒を外へ出してきて柵につなぎ、ブラッシングと鞍のセットも体験させていただきました。こういう体験もできるのがオススメポイント!鞍の重さにびっくりしました。 準備が完了して早速体験に。またがって歩き出すとゆれる&目線が高くちょっと恐怖心が。。。しかし阿部さんの指導と穏やかな相棒のおかげで不安は感じさせなくなりました。 馬場でいくらか歩いてみて、少し早足?もやってみて、そこからは広い牧場へ。 相棒はお年を召したおばあちゃん馬とのことでしたが、そんなことを感じさせぬ力強さと元気さを感じました! 阿部さんと私たち3名で乗馬を体験しましたが、馬同士が親子らしくとても仲が良い!前の馬のお尻に相棒の頭がくっつきそうなくらい近くを歩く姿がかわいかったです。笑 広い牧場を歩き、馬のご飯タイムと写真タイムが終わって終了。 とても充実した時間を過ごすことが出来ました。 雨だと、ぬかるみが多く足元がどろだらけになるので、靴は汚れても良いブーツなどがオススメです。 またカメラは体に巻きつけられるほうが操作しやすいです! 是非体験してみてください!
Description​ ​
In the horse trekking plan, we will correspond from beginner to advanced. At the beginning from lessons for beginners, it will select a course that was in workmanship. The kindness of Hokkaido of four seasons of beauty and the horse, Why do not you been Omoikkiri healed?
Because there from New Chitose Airport to the location of about 30 minutes, you can feel free to come.

※ Free You can pick-up when it was up to 4 people.
Please join us in peace even for beginners!
Depending on the riding experience, so you carry out before riding lessons, children also please feel free to join us also for beginners. The instructor is to match the skill, and then select the best course for everyone. Let's a fun riding experience with your family and friends!
You get on attractive Dosanko!
Japanese native horses 8 varieties one Hokkaido sum stallion, known as "Dosanko" is a robust, friendly horse a little small. Since the horse, which has been improved in Hokkaido of the harsh environment, strong and robust, rich in endurance. Smart and kind-hearted nature and, less stable gait of shaking, is perfect for horse trekking to enjoy in the field. Riding on the "Dosanko", let's enjoy the rich nature of Hokkaido!
There are a variety of courses full of nature!
"Banjiri Baba peripheral" courses, and trekking at the foot of the wild cliffs. In the spring blooming flower people, it is a very beautiful course. "Kitahiroshima highway side road" course is a natural full of course that there is such as mountains and flat straight undulating. "Eniwa Izarigawa along the forest road" course is a natural full course to proceed with views of the river in the forest road along the Izarigawa. Any courses, you can enjoy the beautiful scenery of Hokkaido!
---
Attractions of the plan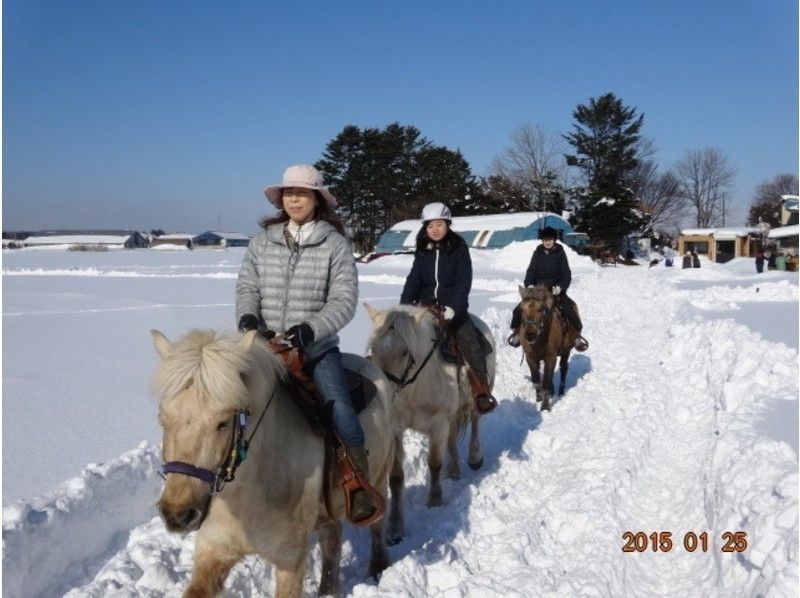 You can feel the Hokkaido four seasons!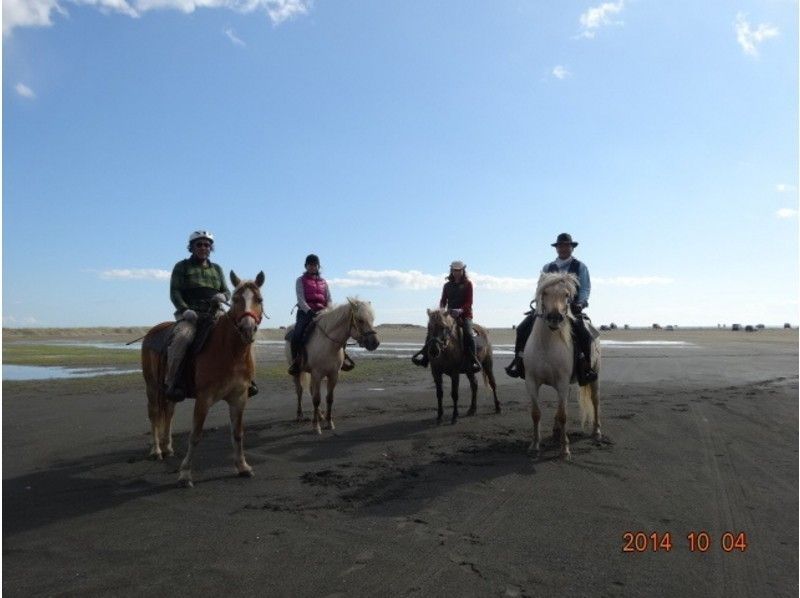 Let's make fun memories with your family and friends!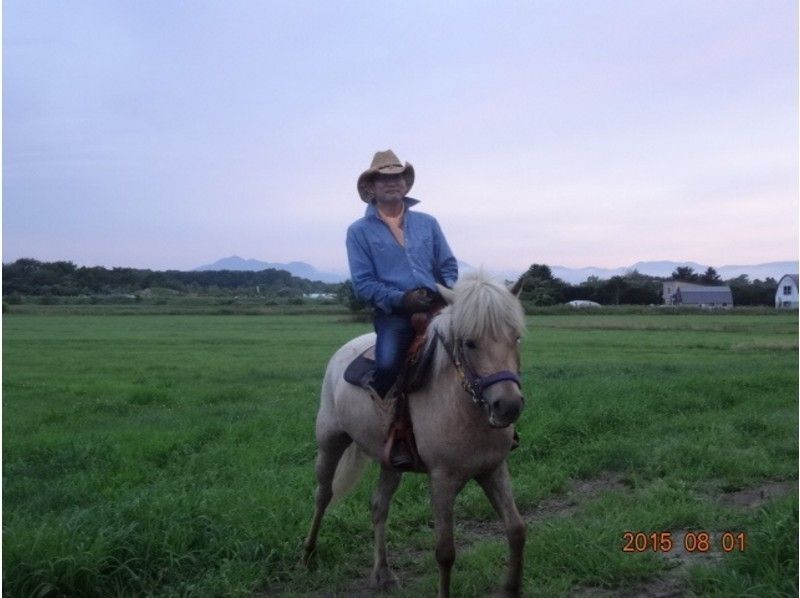 Please to enjoy the natural rich Hokkaido!
Banjiri Baba around course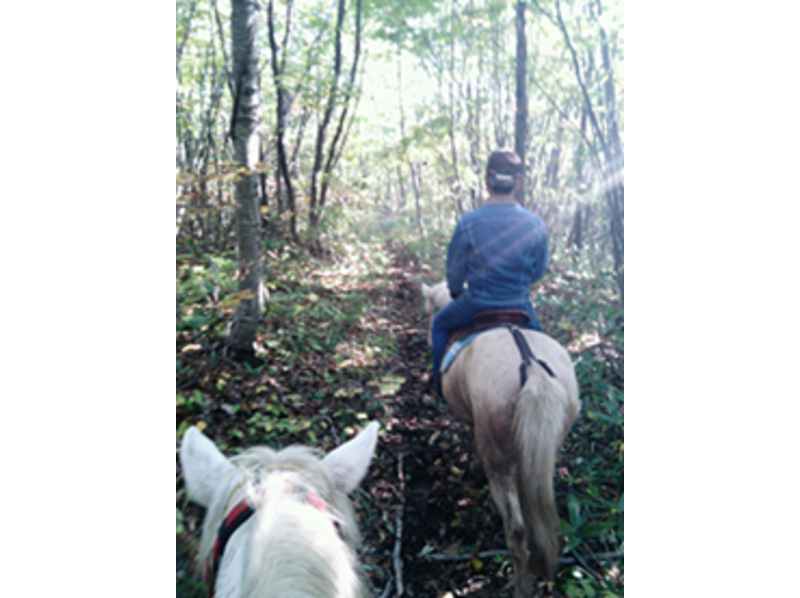 Kitahiroshima highway side road course
Eniwa Izarigawa along the forest road course
---
Information
Minimum number of people
1 人
Number of people who can book
1人〜5人
Schedule
Regularly
Assemble time
10:00
13:00
※ (will change the amount of time required in the presence or absence of experience.) Required time of 2 to 3 hours

Please contact us when you would like the rest of the time.
Assemble point
Hokkaido Eniwa ranch 162
Reservation deadline
7 days before
---
Regarding advance preparation
| | |
| --- | --- |
| About clothings and must-bring items | It can not be riding in the shoes or high heels that have come up with many below the ankle, such as sandals. |
| About rental items | Helmet, protector, gloves lending is free. |
---
Facility information
Changing room
toilet
shower
Hot spring
Locker
Hairdryer
Parking Lot
コンビニ
スーパー
---
Access and map
location
Hokkaido Eniwa ranch 162
How to reach by car
Between Sapporo and New Chitose Airport, is one minute from Inter Hokkaidō Expressway Eniwa.
How to reach by train
From Sapporo direction (Sapporo Station → Eniwa Station) Rapid Airport use / travel time 23 minutes
From New Chitose Airport direction (Shin Chitose Airport Station → Eniwa Station) Rapid Airport use / travel time 13 minutes
We have pick up to 4 people from Eniwa Station.
---
Price list
Basic charge
| | |
| --- | --- |
| Adult, children (more than 2 persons) / person 10,000yen | The age of 10 (5 grade) - |
| Adult, children (one person) / person 12,000yen | The age of 10 (5 grade) - |
※Prices including all taxes.
※上記は基本料金になります。
※日程によって料金が異なる場合がございますので、日程を選択した後に表示される料金表をご覧ください。
---
---
お支払い・キャンセルに関して
About payment
On the day, thank you to pay in cash.
Payment method
The payment method specified by the operator.
About cancellation fee
Cancellation by the convenience of our customers will receive the following for your fee.
The day before cancellation: 50%
On the day cancel the reservation: 100%
Cancellation by operators.
There is the case that the tour is not held by the day of the weather and the like. Please note.
In the case of discontinuation due to bad weather it does not have cancellation fees are received in.
---
Other
Matters require attention
If you participate in one person ※, it may be together with your other customers.
※ up to one group beginner 1 to 3 people, you get to trekking in the experience 1 to 5 persons.
In the case of beginner, marked with a guide in front and back of the group.
みんなの体験談
現地に到着して、阿部さんとシェパードのムーにご挨拶。ムーが阿部さん溺愛でかわいすぎました!
ヘルメットとプロテクター、レインコートを着て準備完了!馬舎に向かって本日の相棒と対面!
阿部さんの呼び声で集まってくる馬たちにまず感動。相棒を外へ出してきて柵につなぎ、ブラッシングと鞍のセットも体験させていただきました。こういう体験もできるのがオススメポイント!鞍の重さにびっくりしました。
準備が完了して早速体験に。またがって歩き出すとゆれる&目線が高くちょっと恐怖心が。。。しかし阿部さんの指導と穏やかな相棒のおかげで不安は感じさせなくなりました。
馬場でいくらか歩いてみて、少し早足?もやってみて、そこからは広い牧場へ。

相棒はお年を召したおばあちゃん馬とのことでしたが、そんなことを感じさせぬ力強さと元気さを感じました!
阿部さんと私たち3名で乗馬を体験しましたが、馬同士が親子らしくとても仲が良い!前の馬のお尻に相棒の頭がくっつきそうなくらい近くを歩く姿がかわいかったです。笑

広い牧場を歩き、馬のご飯タイムと写真タイムが終わって終了。
とても充実した時間を過ごすことが出来ました。

雨だと、ぬかるみが多く足元がどろだらけになるので、靴は汚れても良いブーツなどがオススメです。
またカメラは体に巻きつけられるほうが操作しやすいです!

是非体験してみてください!
参加日: 2016 年 09 月
Horse trekking
horse riding
カップル
ファミリー
友人と
ストレス解消
初挑戦
家族5人で参加させて頂きました。初めてでしたが、丁寧に教えて頂き 馬を出すところから触れ合うことができ、楽しい体験をさせて頂きました。スタッフの皆さんにも本当によくして頂きました。機会があれば、ぜひまた参加させて頂きたいです。お馬さんたちにも大変癒されました。有難うございました。
参加日: 2016 年 08 月
Horse trekking
10,000円~​ ​(tax included)
大人・小人(2名様以上) 1 人 あたりの料金
Included in price
Experience fee, guide fee, rental goods
| | |
| --- | --- |
| | Starting time 10: 00 13:00 |
| | Participating age10 才~ |
| | Time required 2-3 hours |
| | ScheduleRegularly |
| | Assemble point Look in GoogleMap |