[Ibaraki, Ishioka] Enjoy the forest while riding! Forest road outside power walk of 1 hour and 10 minutes [beginner OK]
[Ibaraki, Ishioka] Enjoy the forest while riding! Forest road outside power walk of 1 hour and 10 minutes [beginner OK]
Plan ID:

10329

Provided by:​ ​​ ​Wind Raisato stables
茨城 / 北茨城・奥久慈・日立




Starting time

Participating age

Age 15~

Time required

1-2 hours

ScheduleRegularly
Assemble point Watch on GoogleMap
Since the take-loving horse racing say that there is never rode a horse good access from Tokyo, ☺ wind Raisato stables's When looking for a day before the reservation can place hurriedly were hit

It was various anxiety because it was the first time, towards the employees was able to peace of mind it feels friendly and kindly at the time of reservation. We were able to fully enjoy a real friendly people! It was a complete amateur, You me stay next to the employee's is, I think that was so Somehow ride to the last (Roh'∀ `*)

I want to ride a horse, 引馬 's is unsatisfactory people really recommended to (Roh'∀ `*)
4.0
Experience date: 2016/10/17More
Description of plan
Rural from the forest road in the forest zone, is a course that passes through along the swamp.
Even if you're riding experience is so much without becoming course to enjoy the outside power.
Rest assured that guide us to support!
Please join us in peace outside power for the first time towards Ya is also the first time a person of anxiety because you lead a veteran of the guide so that you can enjoy.
Drinks there!
After the ride, there are services such as drink coffee, tea, sports drinks in the log house.
Information
Minimum number of people
1 person
Number of people who can book
1 to 3 people
Schedule
Regularly
Start time
Please tell us your preferred start time when reserve.

Winter (October to next May) from 9 to 12 pm 13 to 16
Summer (June to September) from 7 to 10:00 15-18
Assemble point
Wind Raisato stables
Reservation deadline
The day before until 16:59
Advance preparation
| | |
| --- | --- |
| Clothings and must-bring items | Exercise can be clothes, long pants, athletic shoes |
| About rental items | helmet |
Facility information
Changing room
Restroom
shower
Hot spring
Locker
Hairdryer
Parking Lot
convenience store/
supermarket
Access and map
Location
Ishioka, Ibaraki Prefecture hut 715
How to reach by car
About 30 minutes by car from the Joban Expressway Tsuchiura Kita IC
If you come in a car navigation system, it should be set in Ishioka hut address 715
About price
Basic charge
Adult and child per person
8,500
yen
※Prices including all taxes.
※ This is the basic charge.
* Prices may vary depending on the schedule, so please see the price list displayed after selecting the date.
| | |
| --- | --- |
| Included in price | Riding experience fee, one drink bill |
| Not included in the price | For those who are outside power, we will enter the principle insurance (Tokio Marine & Nichido Fire domestic travel insurance 500 yen, up to the day before) |
Handling plan list of Kazutosato stable
About payment / cancellation
| | |
| --- | --- |
| About payment | Please pay in cash. |
| Payment method | The ways assigned by operators. |
| Indication on Specified Commercial Transactions Law | Indication on Specified Commercial Transactions Law |
| About cancellation fee | On the day, or in the case of non-contact cancellation: 100% of the experience fee |
| Cancellation by operators. | Due to the influence of the weather, there is a case where I am allowed to contact you departs canceled after the reservation. |
Others
| | |
| --- | --- |
| Matters require attention | There weight limit: 85kg (inclusive clothes) |
---
Everyone's experiences
Guest userFirst horse trekking!
Since the take-loving horse racing say that there is never rode a horse good access from Tokyo, ☺ wind Raisato stables's When looking for a day before the reservation can place hurriedly were hit

It was various anxiety because it was the first time, towards the employees was able to peace of mind it feels friendly and kindly at the time of reservation. We were able to fully enjoy a real friendly people! It was a complete amateur, You me stay next to the employee's is, I think that was so Somehow ride to the last (Roh'∀ `*)

I want to ride a horse, 引馬 's is unsatisfactory people really recommended to (Roh'∀ `*)
Participation date: October 2016
Horse trekking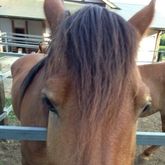 Reply comments from operators
Thank you for coming.
Staff am glad I will enjoy the power out of the forest in the autumn weather.
Just be stringing horse shallow novice and experience, because I thought that not enough, the second half also this time we have to ride alone without assistance.
I think that there was some anxiety in the ride, but I think that it is the riding of the real thrill to be riding while taking the communication in one-to-one with the horse.
Operating in only rider himself one person can be in the future, I hope you can interested in horseback riding.
Also, we will be waiting for you when there is a chance. Thank you. .
---
8,500円~(税込)
Price per adult / child
Included in price
Riding experience fee, one drink bill
If you book this plan 78 pt will be given!
| | |
| --- | --- |
| | Starting time |
| | Participating ageAge 15~ |
| | Time required 1-2 hours |
| | ScheduleRegularly |
| | Assemble point Watch on GoogleMap |