A guide to how to get started with Sapp Fishing! Equipment and tips, recommended points for Chiba and Kanagawa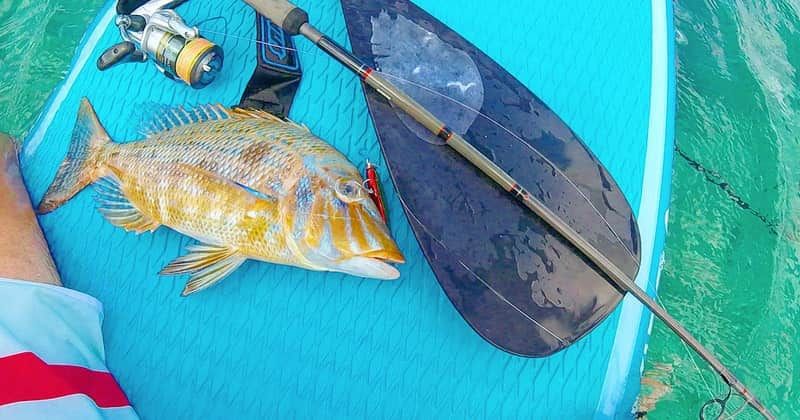 "Big fish can be caught""Easy to fish even for beginners" And the popularity is rising rapidly SUP fishing.. You can easily access fishing spots that are out of reach on board or on land by riding the sappboard! I want to try sapp fishing, How to get started I don't know... Towards such a beginner, Charm of sap fishing, basic equipment, recommended fishing points I will introduce such as.
What is SUP fishing?

What is SUP fishing? Fishing performed using SUP (stand up paddle board) That. By standing on a special board called a sap board and rowing with a paddle, you can get off the coast more easily than a boat or Kayak. Supboard has strong buoyancy and high stability So even a beginner can stand on the board with a few hours of practice. The greatest attraction is that you can fish freely as if you were walking on the water.
What is the appeal of sup fishing?

As a new style of fishing, sap fishing is gaining attention even among seasoned anglers. By riding on the sup board and fishing, For example, there are the following advantages..
You can easily go offshore
Without having to board a boat or Kayak You can easily fish from the water Sapp fishing. Even if you can't enter by boat, you can easily get close to a small sap board, making it your own point. Instead of waiting for the fish to come on land or on the boat, we will aggressively attack the places where there are likely to be fish. You can enjoy aggressive fishing..
Easy for beginners to fish
Easy to aim for good points, even beginners can expect big games Sapp fishing with a reputation. Kayak fishing, you can cast while standing and it is easy to aim.
In addition, in a fishing boat or a boat, the engine noise may cause the fish to escape, but in the case of sup fishing for rowing, the fish is less likely to be surprised. If the point is highly transparent, "Sight fishing" is possible while fishing while watching the fish shadow And you can aim for more fishing results.
You can fish while avoiding crowds
People tend to concentrate on the popular fishing spots and often cannot get a good point. With sap fishing, there's no need to worry! You can enjoy fishing leisurely at your own point that other anglers can not approach..
You can fully enjoy the sense of oneness with nature
It occupies a spacious water surface, and only the sound of waves and the voice of birds can be heard. The distance to the fish is close and you can concentrate on fishing while becoming one with nature. Immersion and relaxation are the main attractions of sup fishing. The beauty of the scenery that you take a breather will surely be an unforgettable memory.
However, being close to nature means that there is a risk of a marine accident, such as falling water or overturning a board. The first challenge to enjoy safely Participate in a hands-on tour sponsored by local shops and School To do.
What kind of fish can you catch with sup fishing?

You can do it anywhere on the water, such as the sea, rivers, and lakes Sapp fishing. For example, you can aim for such prey.
black bus
In America, it's so popular Bass fishing.. Black bass, a freshwater fish, has a strong appetite and is alert, and you can enjoy thrilling fishing even with sapp fishing. Perfect for practicing lure fishing is.
Sea bass (Suzuki)
It is the main target for sapp fishing using lures in the sea, and there are also many advanced players who aim for big things. Sea bass fishing.. You can enjoy the exciting and powerful bargaining, but be careful because the tip of the fin is sharp like a needle. If you have an inflatable board that is inflated with air, be careful not to puncture it.
By the way, sea bass is It's delicious to eat! It is a white fish that you can enjoy with various cooking methods such as washing, muniel, fried, miso grilled, aquapatza.
Flounder, Magochi
Flounder and maggot known as high-quality white fish.. Sometimes called "sand thing" or "flat fish". Especially, it is difficult to catch maggot, Targets for advanced users.. It's popular to have fun fishing and eat delicious.
Blue Objects
Among the fish called "blue fish" with a blue back, it is a juvenile yellowtail fish Fish that you can enjoy strong pulling, such as Inada and Shiira Is the main target. A metal jig called a metal jig is dropped onto the seabed. "Jigging" lure fishing I will catch it.
Red sea bream
You might think that red sea bream was the first sup fishing... Get it relatively easily with the fishing method called "Tire mule" I can do it. The tool is light, and you can fish with a simple movement of dropping the lure and winding the reel, Excellent compatibility with sup fishing is.
What equipment do you need for sup fishing?

For sup fishing, do the less Need SUP tools and fishing equipment is.
SUP board
The SUP board that is indispensable for SUP is divided into two types according to the material.
Hard board Is a board made of a hard material such as reinforced plastic. The inflatable board is made of rubber, and it is inflated with air using an electric pump like an inflatable boat.
Inflatable type Is lightweight, has high buoyancy, can be folded and carried, and is recommended for SUP beginners.
However, in the case of sap fishing, if a fish with sharp fins like sea bass is the target, the board may be pierced. For beginners, rather than suddenly buying Rental a type that matches the target by taking a lesson at a shop or School experience tour Would be nice
In addition, the buoyancy and stability of the board are important for fishing on the board. There are four main board shapes, Wide width and high stability for beginners "all-round" The type is recommended. There is also a board for sap fishing that has a rod holder that stops the fishing rod.
Leashes
Called leash code A flow stop connecting the board and body is Required item. Without this, when you fall from the board, you may leave the board, and you may get drowned or the board may hit the person and hit the person.
paddle
Not only sup fishing but also SUP requires paddles for rowing water. There are several materials for paddles, but the lightest and easiest to speed up is a rod called a shaft made of carbon. Most high-end models are made of carbon and are expensive.
A shaft made of aluminum has excellent durability and is low price, but it is difficult to be heavy. A fiberglass paddle is located between the two in terms of weight and price.
Not only the material of the shaft but also the size and material of the part called the blade called water and the hardness and thickness of the shaft affect the feeling when rowing.
An important checkpoint is whether the paddle length is right for you. The best balance is to bend your elbows slightly when you reach out and hold the grip.
However, the exact length may change depending on the type of board. There is also the option of an adjustable paddle with adjustable length.
The thing to remember about sup fishing is that you can lose your paddle offshore. In some cases, the paddle was swept away when I noticed it while I was absorbed in fishing. Be sure to use a paddle and board, or a paddle leash that connects you to the paddle. In any case Beginners do not go out too far and it is safe to act within the sight of the instructor is.
Fishing tackle

Because the amount of luggage that can be put on the board is limited, "Only the minimum necessary" Is the principle. Sappfishing fishing gear has a long time of getting wet with seawater, It doesn't have to be expensive because it deteriorates quickly... It's easier to find a fish than fishing from the shore, so you can expect to catch the fish without having to pay too much attention to the tools.
rod
fishing rod That. In sup fishing Not too long rod Is easier to use, and those within 6 feet (180 cm) are suitable. Choose the hardness of the rod according to the lure you throw.
reel
A tool that attaches to a fishing rod and winds up fishing line.. You can use both bait reels and spinning reels for sup fishing. It is better that it has reliable performance in terms of waterproofness and rust prevention.
Lure
A kind of fishing bait needle (Gigibari).. Let's choose according to the target. If you have an experience tour, you can Rental the perfect lure.
Landing tools
A tool for catching caught fish. Landing nets and fish grips And so on.
Sea anchor
Stop the sapboard from being swept away by the wind and currents
A tool for.
Stringer
Hook for catching caught fish.. Use it through the mouth of a fish.
Barbless fishhook
There is always shaking on the water, so to prevent injury Barbless (type without return) needle Is recommended.
Pliers, scissors, etc.
Necessary for removing the hook from the mouth of the fish and cutting the fishing line.
Flag
A tool that can be attached to a board to make your position stand out. Especially It is good manner to keep it in place where the traffic of ships is heavy..
Cooler box
Put the fish you caught, put a drink, put small items you do not want to get wet with water Great success.. You can set a fishing rod It is very convenient to attach the rod holder externally is.
Other things I want to prepare

Smartphone in a waterproof case
In case you get separated from your friends during the experience tour or something goes wrong with the board or paddle, A smartphone for communication is a must-have.. It's a good idea to keep it in a waterproof case.
Wearable life preserver
In case of drowning, Always wear a life jacket or floating vest let's do it. Floating vests are also called leisure life jackets and are mainly used for fishing from the shore. It has high durability and softens the shock when it falls from the shore.
Sunscreen and drinks
Since you will stay on the water for a long time, it is safe to have sunscreen, drinks, towels, rash guards for sun protection, and hats.
Tools for when a tool breaks
There are mini paddles and paddle gloves (fins to be attached to the hand) that can be used as substitutes when the paddle is lost, and hole correction tape for when holes are made in the inflatable board.
What clothing is suitable for sup fishing?

Supp fishing done over water can result in water falling from the board. Life jacket or floating vest Required worn But below that It is safe to wear a wet suit.. Wide brim to prevent UV rays Fishing hat It would be nice to have
Early summer-autumn
Long John (wet suit without sleeves and long pants) and long-sleeved tapper (jacket) It is convenient and easy to adjust the body temperature by preparing the setup of. Feet are Sandals with heels or amphibious marine shoes To.
Midsummer
Long-sleeved tapper or long-sleeved rash guard on swimwear So take measures against sunburn. The lower half of the body also gets a lot of sunburn, so in the case of a swimsuit, choose a type with a longer length, Don't forget to apply sunscreen To Sandals with heels at your feet.
Winter-spring
When your body gets wet and your body temperature drops, it can be fatal, Wearing a full-dry or semi-dry wet suit To. My hands are cold It is handy to have gloves.. Feet are Wet suit material boots Is recommended.
What are the tips for sup fishing?

Sup fishing that uses the buoyancy of the board, Susceptible to wind and tide There is a feature. If you go out too far, you may not be able to return, so be sure to return to the shore if you move too much. To It would be nice to have a sea anchor.
Before you get used to handling boards and paddles, your physical strength is exhausted, so Check from a point near the shore without forcing you to go offshore Let's do it. You don't have to stand on the board all the time. If you get tired, you can sit back on the board or sit in the cooler box. Preservation of physical strength To. During big game fishing If you ride over the board, you will not lose your balance due to being pulled. Become.
What are the recommended places and points for sup fishing?

Suitable for sup fishing, Waterfront where the waves and winds are relatively calm and where you can meet attractive targets.. For example, we recommend this place.
Zushi Coast, Kanagawa Prefecture

Zushi coast with shallow depth, high transparency and gentle waves Is recommended for beginner sapp fishing debuts. If the weather is nice, you can see beautiful Mt. Fuji. About 1 hour from Tokyo Station on the Yokosuka Line There are many tourist spots such as "Riviera Zushi Marina" which is like an overseas resort. You can enjoy it even on a day trip.
Kanagawa Prefecture Chigasaki Coast

Enoshima on the left, Mt. Fuji on the right, and Eboshiiwa in the front. Chigasaki coast boasts of. With lots of surf points, it's a great place for sapp fishing. A wide variety of targets such as black sea bream, white squirrel, flounder, sea bass, magochi, etc. Get the big ones Can be aimed at.

Shonan
I have experience in SUP but have no fishing experience. I have experience in fishing but I want to improve my fishing results if I ride on SUP. But I don't have the tools and I don't know how to ... For those who want to challenge the new sport fishing "SUP fishing"School is. We will provide you with safety, security and kindness according to the season, condition, experience and level. ~On the day Flow of ①-Meeting, preparation (20 minutes) ② Moving to the beach (10 minutes) ③ Lecture (100 minutes) ④ Moving to the shop (10 minutes) ⑤ shower, Change of clothes, dissolution (30 minutes)
Kanagawa prefecture Miura coast

Access is About 1 hour by JR from Tokyo Station, Miura Kaigan is one of the largest beaches on the Miura Peninsula... The transparent sea is calm and beautiful, and it is a popular point that is crowded with bathers in the summer. There is also a marine sports club that will guide you from how to ride SUP to the beginning of fishing, so it is recommended for your SUP fishing debut.

Yokosuka/Miura
Customers will enjoy one person, one-on-one. It is a plan for those who have 0 to 3 times of SUP experience. First of all, we will do a SUP lesson, and if we can row well, we will have a rod and challenge SUP fishing in a nearby area. However, SUP fishing becomes difficult when the wind is blowing. In such a case, you can also experience "Windsurfing" and a new sports "wing foil" that is now a topic. Of course, you can experience everything! We also offer delicious lunch. Experience various things and spend a fun beach time. ★ SUP lesson ★ SUP fishing experience ★ Windsurfing experience ★ Wing foil experience ★ BIG SUP experience It is a marine sports subs plan that you can enjoy variously!

Yokosuka/Miura
It is a plan for those who have 0 to 3 times of SUP experience. First of all, we will do a SUP lesson, and if we can row well, we will have a rod and challenge SUP fishing in the near area. However, SUP fishing becomes difficult when the wind is blowing. In such a case, you can also experience " Windsurfing " and a new sports "wing foil" that is now a topic. Of course, you can experience everything! We also offer delicious lunch. Experience various things and spend a fun beach time. ★ SUP lesson ★ SUP fishing experience ★ Windsurfing experience ★ Wing foil experience ★ BIG SUP experience It is a marine sports subs plan that you can enjoy variously!

Yokosuka/Miura
It is a plan for those who have SUP experience and can continue rowing even if there is some wind. Began rowing toward the offshore point, Tokyo will aim a variety of big game of the Gulf. Lectures will be given on how to get the fish caught if you wish. ★ SUP lesson ★ SUP fishing lesson
Chiba Prefecture Inage Coast

Kemigawahama on the Inage coast where marine sports are popular.. The nearest Kemigawahama Station is about 30 minutes from Tokyo Station, making it easy to access and you can easily enjoy SUP. If it's sunny, you will have a panoramic view of Tokyo Sky Tree and Mt. Fuji, and you will be able to comfortably perform sup fishing. There is a monthly SUP School which is recommended for beginners who want to practice SUP intensively.
Onna Village, Okinawa Prefecture

Onna Village, known for its superb Snorkeling spot "Blue Cave".. It is also good to enjoy leisurely Sapp fishing in the sea of Okinawa, which is a paradise of coral reefs and tropical fish. Even beginners can spend luxury time with a hands-on tour conducted at Nakama Beach in the northern part of Onna Village. It is also attractive to meet colorful tropical fish.

マハロハ(Mahaloha~sup&fishing~)
Blue Cave/Onna
It is recommended for those who like fishing, who also want to SUP but also like fishing. As you can fish on land that can not be reached, you can fish with high probability. Mahaloha is a small home that is home to Naikama beach in the northern part of Onna village. Number of participants It is a SUP shop of the system. It is a private beach with few people even in summer vacation. If you are interested in stand-up paddle board, SUP, if you like the sea, if you like fishing, why not make a memory together?
Things to be aware of with sup fishing

SUP and sap fishing, which are gaining popularity in recent Year. In Japan, it may be an Activity a short history, Trouble with surfers and anglers, marine accidents Is also awake In some cases, you may not be able to return to the top of the board by falling into the sea, or if you have been swept offshore, you may not be able to return by yourself and you will be rescued by the Japan Coast Guard.
If you are a beginner, please do not miss a serious accident. Take part in a hands-on tour sponsored by local shops and School We recommend that you learn the correct information and technology. Check local rules in advance However, it is also important to pay attention to the movements of anglers and surfers around.
To ensure safety, Be sure to wear buoyancy items such as life jackets and floating vests And don't lose your board or paddle Use leash code let's do it. To be able to contact you in case of trouble, A smartphone with waterproof measures is a must.. It is safe to have a copy of your insurance card.
Supboards are easily affected by wind and tides and may not be able to return if they are too far offshore. Always check the distance from the land and be aware of weather changes please. On board Attach the flag, Wet suit, etc. Equipment is a color that stands out as much as possible If set to, it will be easier to find from fishing boats and it will help avoid contact accidents.
Because it is still a new fishing style, it is important to consider sup fishing. Please choose a tour where you can receive a solid lecture and enjoy the sense of unity with nature.