Bungee Jumping Japan: The Best Spots and Activities That Will Get Your Adrenaline Pumping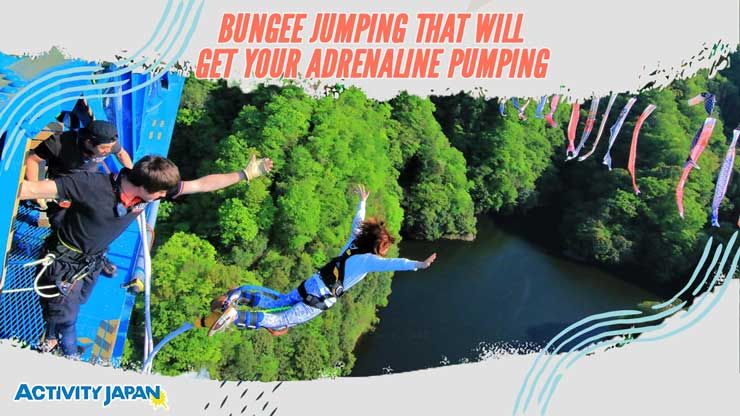 Jumping off a bridge is not your typical good-ending story, but these bungee jumping Japan tours ensure you'll look back fondly on those times. You'll have great stories to tell about, including how you dived off 100 meters and lived to talk about it! The excellent thing about these adventures is that you not only get to experience the thrill of the jump but also become privy to the beautiful nature that characterizes these bridges. Bungee jumping Japan in autumn, summer, and spring comes with paradisiacal settings of sunny yellow leaves, brown foliage, and even pink sakura if you're lucky!
Standing at a breathtaking 100 m above the gorge of Ryujin, the Ryujin bungee held the record of the country's tallest jump until the completion of the Yamba dam in 2019. The latter is now home to the tallest bungee spot in Japan, and it's a place for extreme adrenaline lovers who'd like to test their courage to the limits. Alternatively, newbies can start small with Tarzan bungee swings in Hidaka!
From the outright crazy to subtle jumps to get you going, bungee jumping Japan avails all kinds of experiences to quench your thirst for adrenaline!
1. Gifu bungee: Japan's highest jump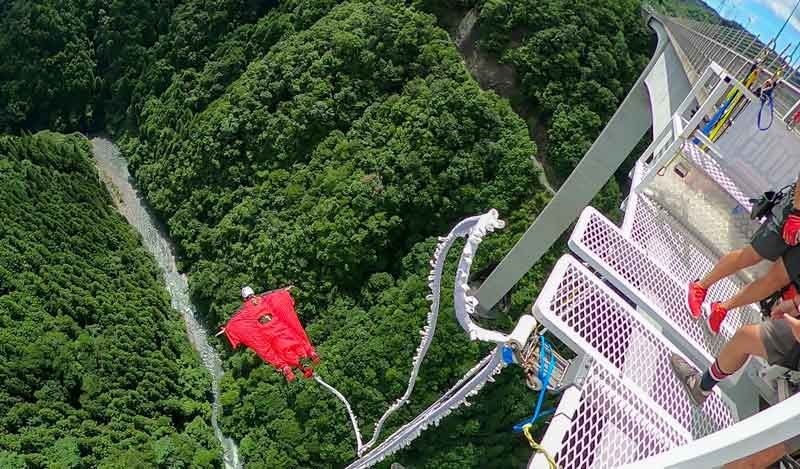 Gather all the courage you can muster because you're going to need it for the 215 meters of bungee jumping Gifu has to offer! Jump off one of the country's longest bridge into Japan's biggest bungee drop for the most exhilarating experience ever!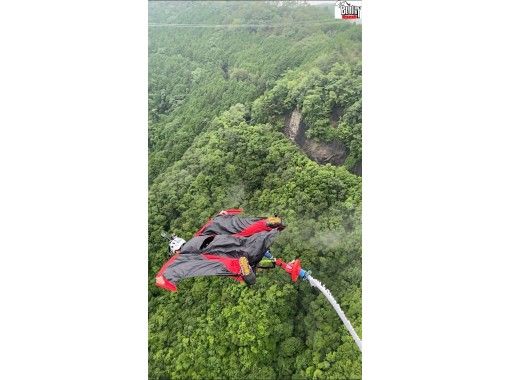 Experience the Highest Bridge Bungee Jumping in Japan with a Height of 215m in Gifu!
Yaotsu, Gifu
2. Ibaraki Bungee: Dive into nature beauty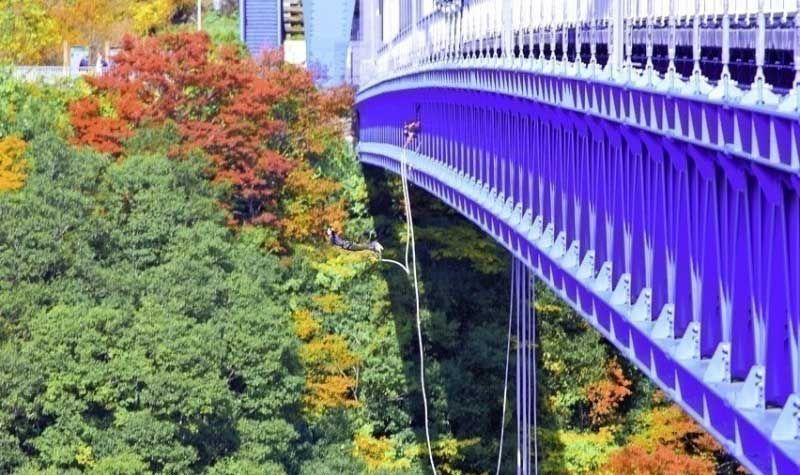 The Ryujin suspension bridge is famous for its colorful, seasonal canopies and its superb view of the sun. Most importantly, it is the site of 100 m of daring bungee jumping fun, with an option for night bungee with neon clothes!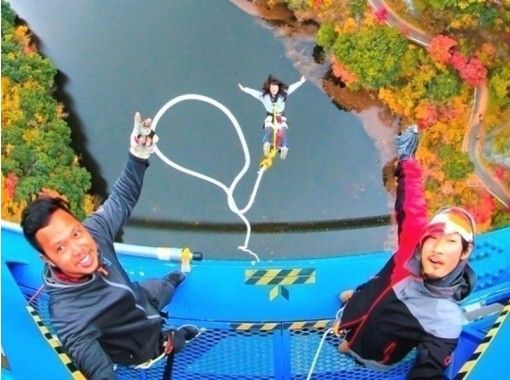 Jump into the Beautiful Fall Colors and Get an Adrenaline Rush Adventure of Your Life Time in Ibaraki!
Hitachiota, Ibaraki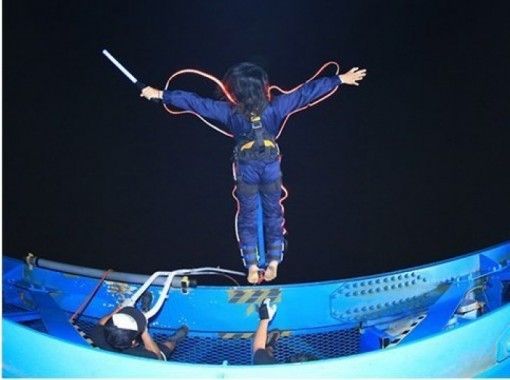 A Thrilling Night Bungee Jumping Experience Off Ryujin Suspension Bridge
Hitachiota, Ibaraki
3. Kick off your bungee career in Nara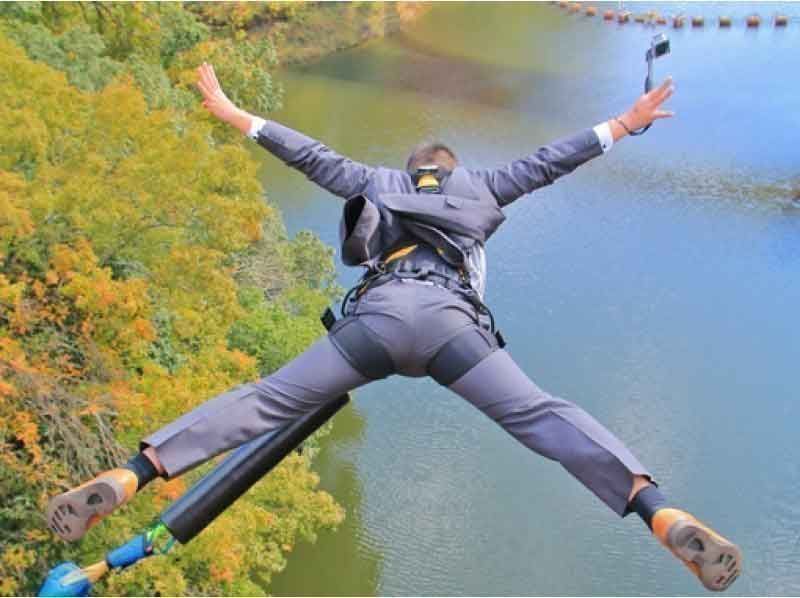 If you're new to the extreme sport that is bungee jumping, you can test the waters with the 30 meters of the Kaiun Bridge Bungy. Nestled between the foot of Mount Shigi and near an ancient temple, you're sure to appreciate the scenery while plummeting headfirst to the ground!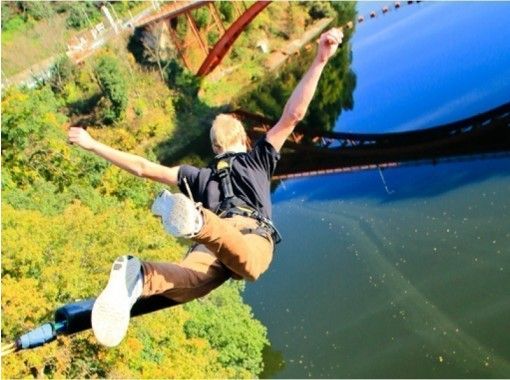 Wish for Good Luck and Jump from a Maximum of 30m Height Bridge in Nara!
Sango, Nara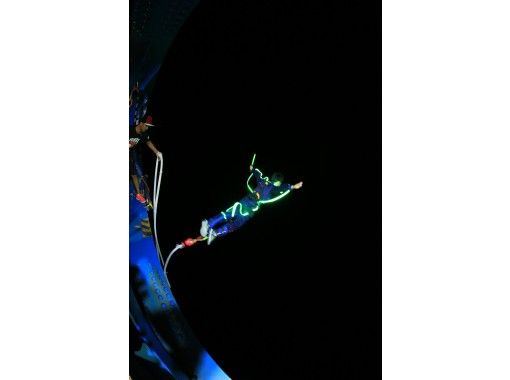 Jump into the Darkness of the Night with an Exciting Bungee Jumping in Nara
Sango, Nara
4. Jump Japan's third tallest bridge in Gunma
Standing among the country's highest bridges, the Sarugakyo bridge bungee offers 62m of head-spinning action. This soothing experience entails diving above a dam in a landscape crowded with greenery!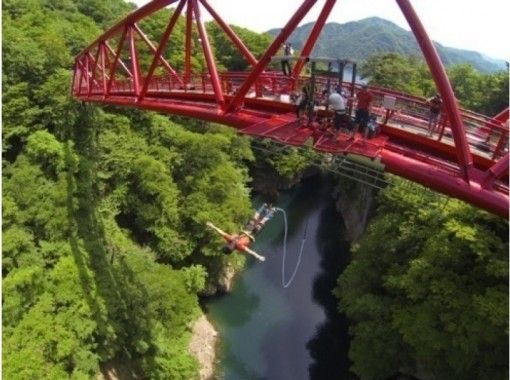 Get Your Adrenaline Pumping with Sarugakyo Bridge Bungee Jumping Experience in Gunma
Minakami, Gunma
5. Fuji Bungee: A courageous hurtle in the Suzu valley
With Fuji city in the backdrop, Fuji Bungy offers panoramic sights of the Suzu valley and its plethora of impressive waterfalls to go with the distant metropolis. The freefall adventure takes you through 54 meters of adrenaline-enticing fresh air in one of the prefecture's countryside getaways!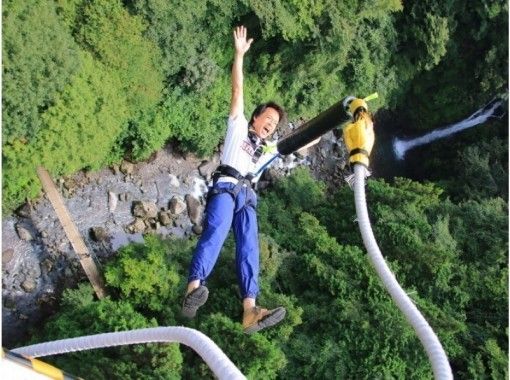 Jump from 54m in Height Bridge and Enjoy the Incredible Scenery of the Waterfalls and Fuji City!
Fuji, Shizuoka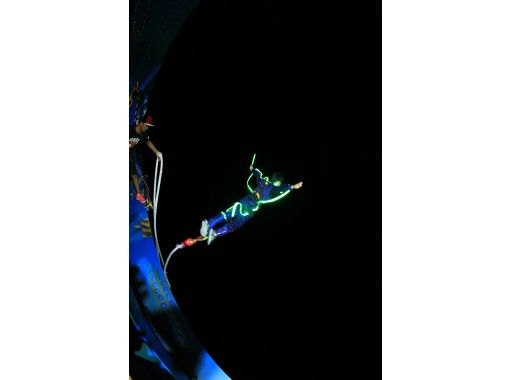 Exciting Night Bungy Jump Experience Over the Suzu Valley in Shizuoka!
Fuji, Shizuoka
6. Let loose with the Itsuki bungee in Kumamoto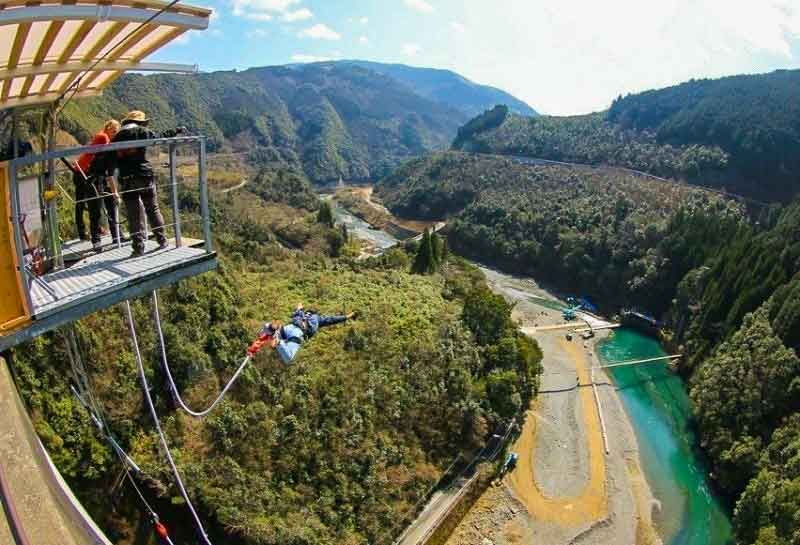 Kumamoto is home to another of Japan's most daring jumps, the Itsuki bungee! Height lovers will lick their fingers at the prospective of diving 66 meters. The Kawabe river below avails clear waters to reflect all the action!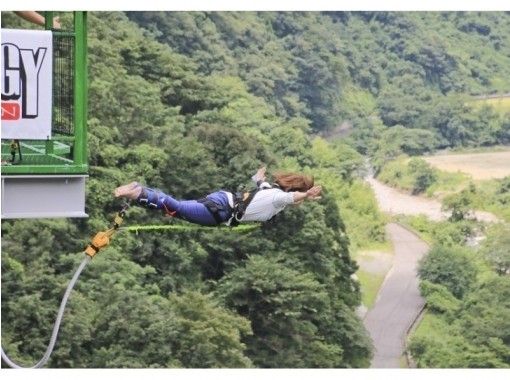 Itsuki Bungy: Experience the thrill and excitement of jumping from 66m bridge in Kumamoto!
Itsuki, Kumamoto
Take a Life-Time Adrenaline Rush Night Adventure Bungee Jumping from a Bridge at Itsuki Village
Itsuki, Kumamoto
7. Swing like a pendulum in Hidaka, Hokkaido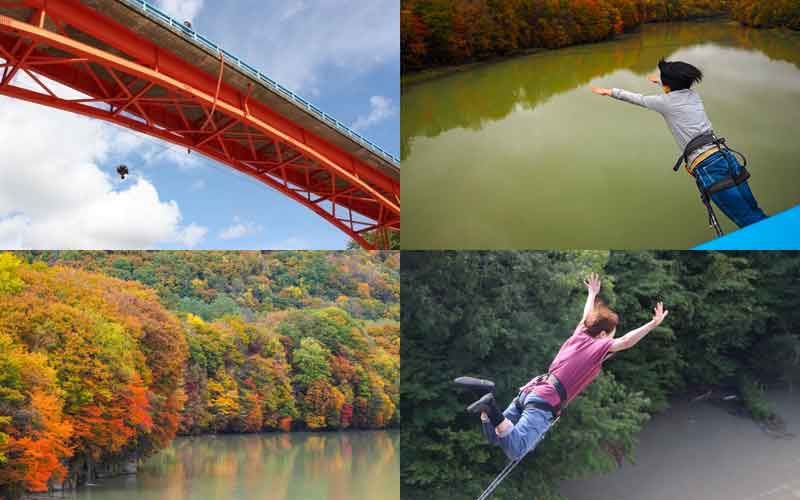 The Hidaka bridge offers a different kind of bungee jumping that involves pendulum-like swings at the bottom of a 20-meter gap between the Saru river and the bridge's underside. Instead of up-and-down bounces, you'll cut through the air from side to side!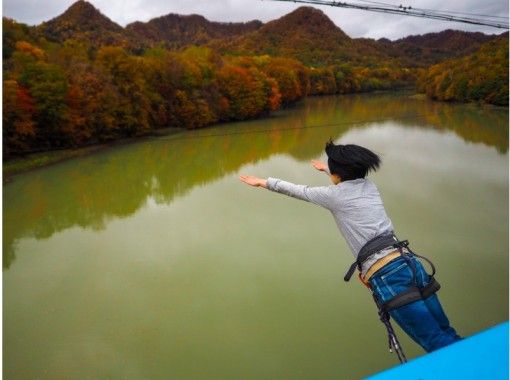 Bungy Jumping for Adrenaline Junkies in Hokkaido: Swing from a Bridge Surrounded by the Beautiful Autumn Leaves Colors!
Hidaka, Hokkaido
8. Dive like a bird at the Suwakyo Gorge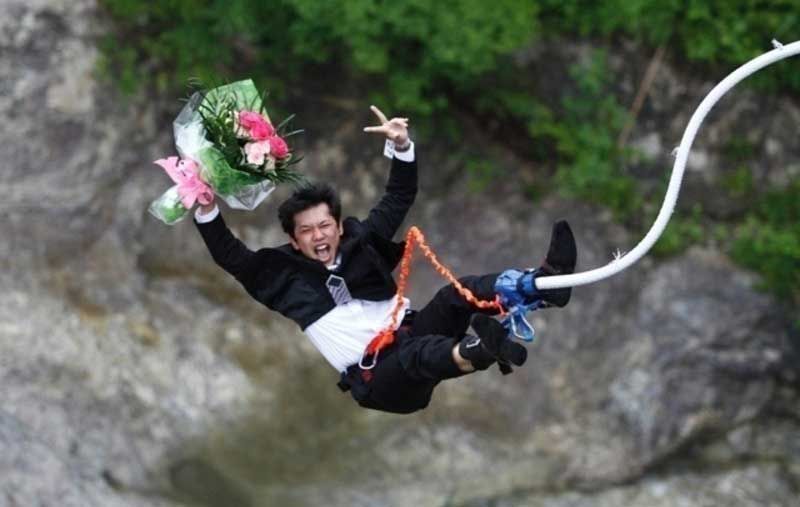 A beautiful promenade in the Suwakyo Gorge leads up to the startling views of the Suwakyo-Ohashi bridge that stands 42 meters above the gushing waters of the Tone River. Nosedive like an eagle locked on prey!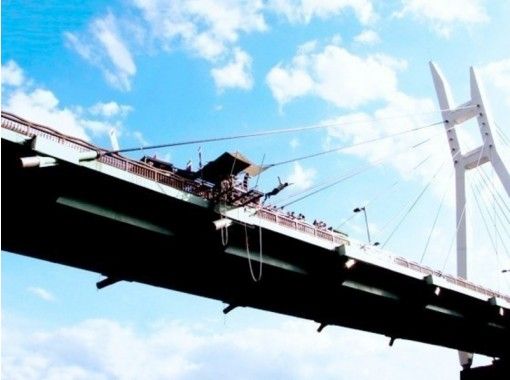 Feel the Exciting and Exhilarating Feeling of Jumping Off Suwakyo Bridge Surrounded by the Breathtaking Nature in Gunma!
Minakami, Gunma
9. Gunma Bungee: Show your fear the door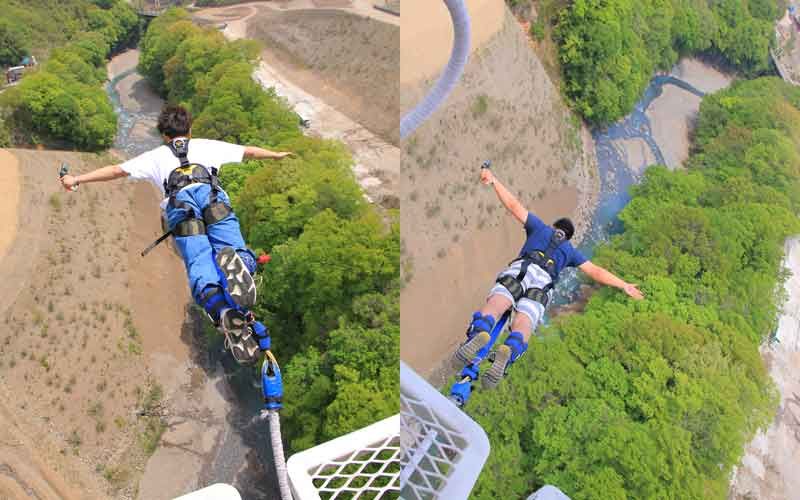 For the best of Gunma jumping above a beautiful dam, the Yaba Ohashi bungee is what you need to try out! Push your fears to the limit, then conquer them with a 45-meter dive off a 494-meter long bridge!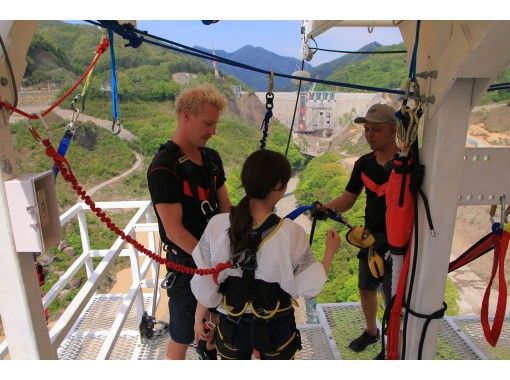 Overcome Your Fears and Jump into a New World Off a 45m Height Bridge in Gunma!
Naganohara, Gunma
10. Bungee and rafting adventures in Hidaka, Hokkaido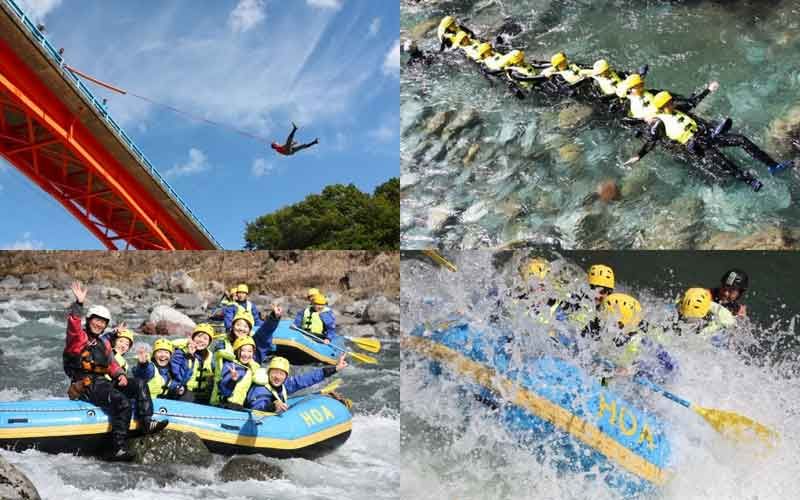 Swing like Tarzan off a 20-meter bridge in Hidaka, then conquer the waters below by canyoning. This double-delight kicks things up a notch with lunch and a hot spring ticket. Enjoy the morning nature and the peaceful light of sunset while dangling in the air!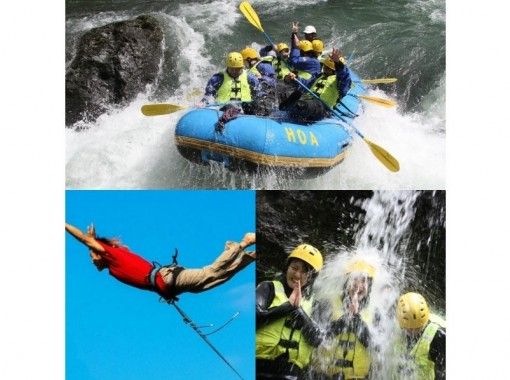 Enjoy a One-Day Full of Great Outdoor Adventures in Hokkaido: River Rafting, Canyoning, and Bungee Jumping with Hot Spring Tickets and Lunch Included!
Hidaka, Hokkaido