TOPICS
Special event! Yoga classroom held!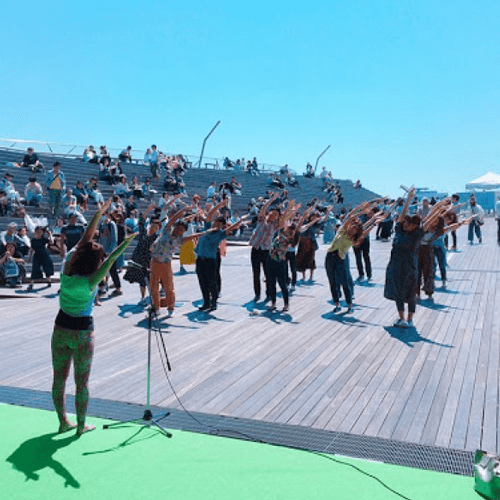 Stretch yoga to relax and refresh your tired body after the race!
Please join us after the race so that you will not be tired the next day.
Of course, those who do not participate in the race and those who are visitors can also participate.
Relax yoga class 1 hour
From 2,000 yen (tax included)
Details
Yamanakako SUPer Furima held!
A flea market will be held at the convention venue on the day of the event.
Anything related to SUP or marine sports, such as unused boards and paddles, as well as outdoor gear used during breaks, can be exhibited.
Participating players and player leaders are eligible to participate!
Marry unused goods and give them a second life.
If you would like to open a store, please bring the item you want to put out at the flea market window on the morning of the day, create a regulation form, and listen to the instructions of the person in charge.
About accommodation
The Yamanakako Tourism Association has decided to set a special rate for accommodation expenses from June 23 (Sat) to June 24 (Sun) the day before for the tournament participants and their related parties! Please stay the night before and enjoy Lake Yamanaka.
If you would like to make a reservation for accommodation, please inform the Yamanakako Tourism Association that you will participate in the "Yamanakako SUPer Marathon" and what you want (price range, meal availability, etc.).
URL: URL: http://www.yamanakako.gr.jp/ (Yamanakako Tourism Association)
Contact phone number: 0555-62-3100
We have a parking lot at the venue where you can stay the night before with a camper van.
Click here for a great camper plan that you can enjoy from the previous day
Entry race category
You can enter this year's SUPER Marathon from 3 courses!
For details, please proceed to the entry screen from the link of each course.
Regarding the awards
Top prize winners by gender in each class * Varies depending on the number of entries
There is an age-specific award for one lap (11km)!
We will issue a completion certificate with the lap time to all participants.

Special awards
Best performance award for cosplay, one performance, the most venue, and those who have excited the lake!
There is a mystery award based on the lap time!
Obligation to wear
We recommend that you bring a leash cord, life jacket (inflatable), and mobile phone.
Regarding entry fee
2 laps (22km), 1 lap (11km)
SUPA member 4,500 yen (convention commemorative participation prize, insurance included)
General 5,500 yen (convention commemorative participation prize, insurance included)
Student 4,000 yen (convention commemorative participation prize, insurance included)
1st mark round trip (3km) & kids
Flat rate 3,000 yen (convention commemorative participation prize, insurance included) Animals are free
Outline of the 4th Lake Yamanaka SUPer Marathon
Tournament name
The 4th Yamanakako SUPer marathon
Organizer
Lake Yamanaka Leisure SUP Association
schedule
2018 June 24 Sun(Sun)
place
Lake Yamanaka, Minamitsuru District, Yamanashi Prefecture
Support
Yamanakako Tourist Association
Cooperation
(S) and Sun this stand-up paddle board Association (SUPA)
Sponsorship
COOL JAPAN TV, Activity Japan
Competition

Yamanakako 2-lap marathon / about 22 km
Yamanakako 1 lap marathon / about 11 km
Yamanakako half marathon / about 3 km

Schedule:

24 Sun ( Sun ) 7:00 to 8:00 start accepting
Opening ceremony around 8:20, athlete meeting
Beganning (or time difference) start around 9:30 ~
After the finish Yamanashi Prefecture specialty Hotaru service & SUP flea market (scheduled)
Around ceremony around 14:00, closing ceremony
* Depending on the number of entries, there is a possibility that the start will be staggered for each class. Double entry is not possible.

Parking Lot · The meeting place
Yamanakako Communication Plaza "Kirara" Parking Lot (300 yen / day) http://www.kirarayamanakako.jp/
Click here for past tournaments!
State of 2017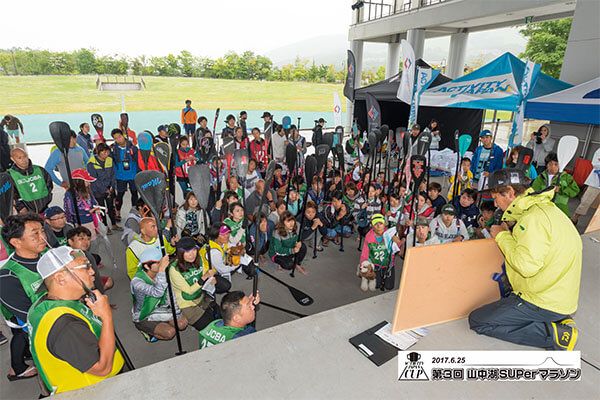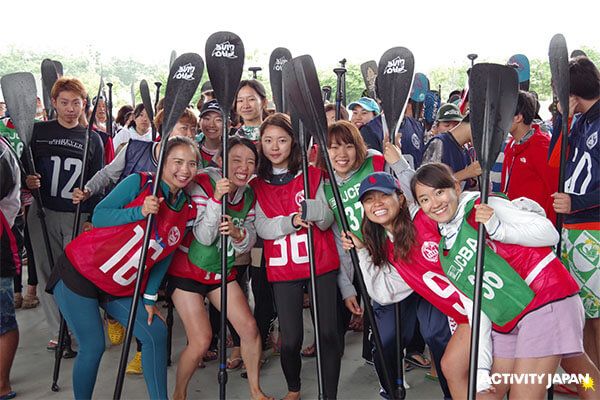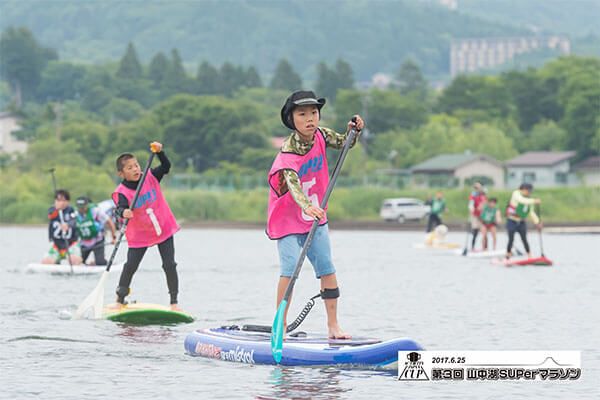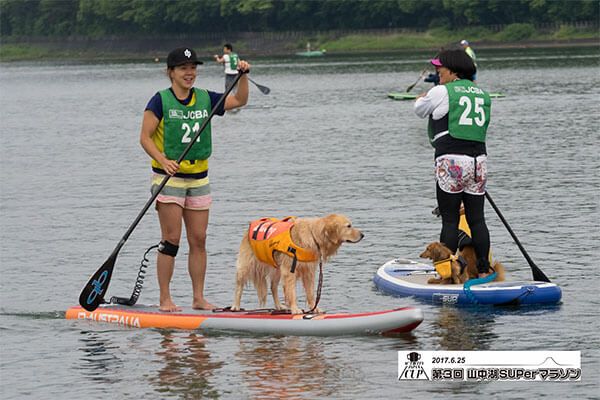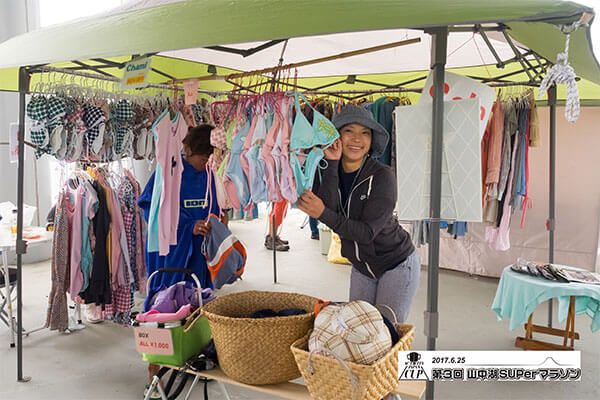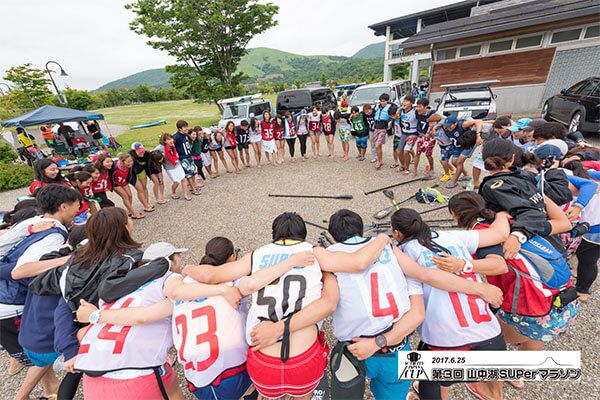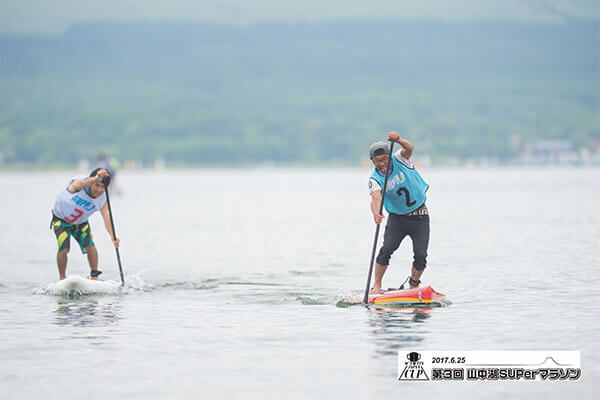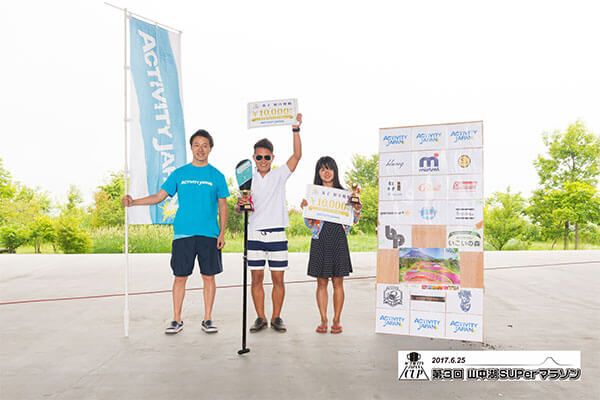 > Click here for the state of 2016
> Click here for the state of 2015
Notes
* The entry fee will not be refunded even if the event is canceled due to weather conditions.
* On the day of the event, the competition may be canceled or the course may be shortened due to poor conditions.
* Be sure to wear a buoyant body and a leash cord.
* Please bring your own tools to participate in the tournament.
* Only a single blade can be used for the paddle.
* Please check your physical strength and physical condition on the day and participate at your own discretion.
* When carrying a pet in tandem, the owner is responsible for safety management.
* Photos, videos, etc. at the competition may be exposed to the media. note that.
* Personal information when applying for participation will be managed safely and thoroughly protected based on relevant laws, government ordinances, rules and ordinances. Personal information provided in the application for participation will be used for various procedures of this tournament.
We will use it for (inquiries, notification of winning results, etc.).
---