The 3rd Yamanakako SUPer Marathon Tournament Report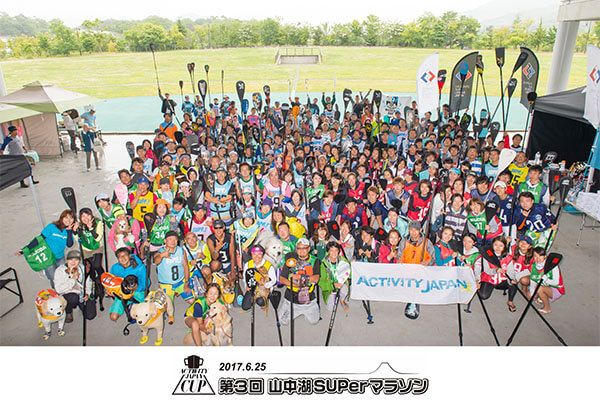 2017 June 25 Sun, Of Mt. Fuji Yamanashi Yamanakako leisure SUP association sponsored by Yamanakako, Minamitsuruguni prefecture Activity Japan Cosponsored Events The "3rd Lake Yamanaka SUper Marathon" was held!
now Year Lake Yamanaka SUper marathon meet that reached the third in. now Year Is the largest number of entries in the past and 244 people! Sun It was the largest tournament in the book.
SUPer marathon, reception start!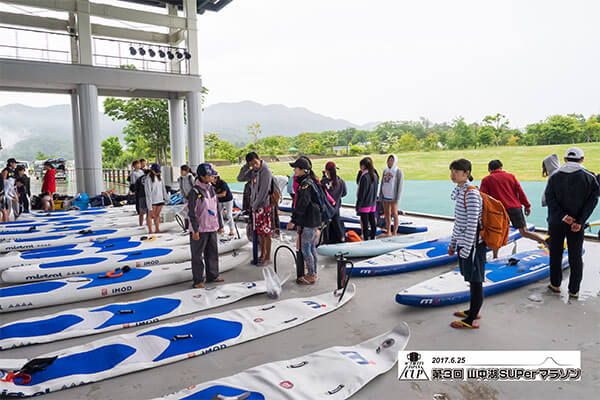 Also this time the all-Japanese student SUP Federation's newcomer battle will be hosted together, and many student players will enter. Towards the start, inflatable (air injection type) SUP is prepared all at once. This sight is also a masterpiece.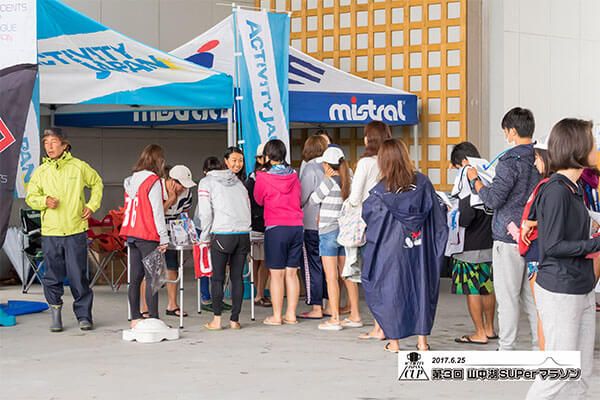 Reception desk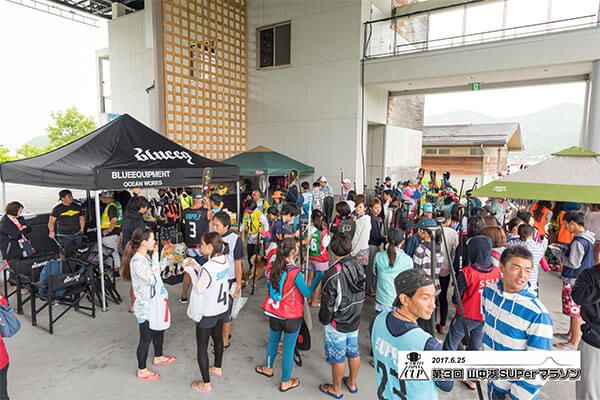 On the day Unfortunately it is rainy. However, there is a roof at the tournament headquarters, so it's okay. Players gather one after another for the opening ceremony.
For the Yamanakako SUPer marathon, the main race will be the 11 km marathon that goes round the lake in Yamanaka, but in addition to the main race, there are also tour classes that go around at their own pace without time measurement, a race for beginners (2 km), a two-seater tandem The race (2 km), kids race (1 km) for elementary and junior high school students are also held, and the greatest feature that various people can participate from serious players to those who enjoy SUP!
There is board rental, too, today too SUP first experience players! As you can see further images, up to doggy tandem class where SUP can be with dogs! ! The audience is also healed, it is a very popular class.
The opening ceremony has begun!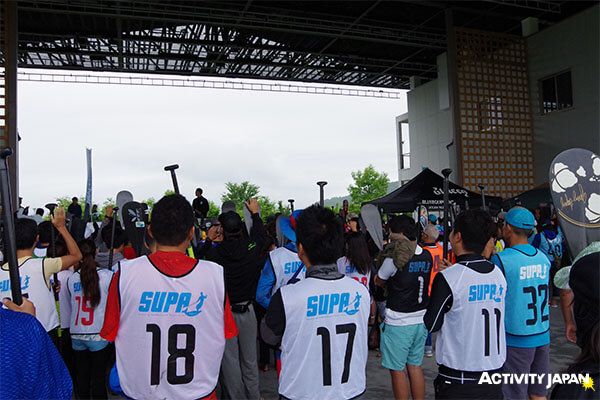 Opening ceremony
At last the opening ceremony! ! Yamanakako Leisure SUP Association Vice Chairman, Haneda of Gaku Rok Marine Owner, President of Nippon Stand Up Paddle Board Association, Greeting from Hara Hara and owner Odori Yokosuka Paddle Club. The players' facial expressions gradually and seriously.
In addition, this time there are students who participate in the first race at the All-Japan Student SUP Federation Newcomer Sprint Race! Everyone of the students are going cheerfully!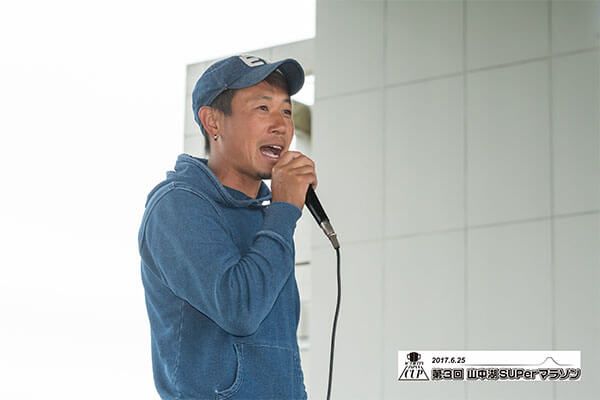 Vice Chairman of Lake Yamanaka Leisure SUP Association, Mr. Haneda, owner of Gaku Roku Marine owner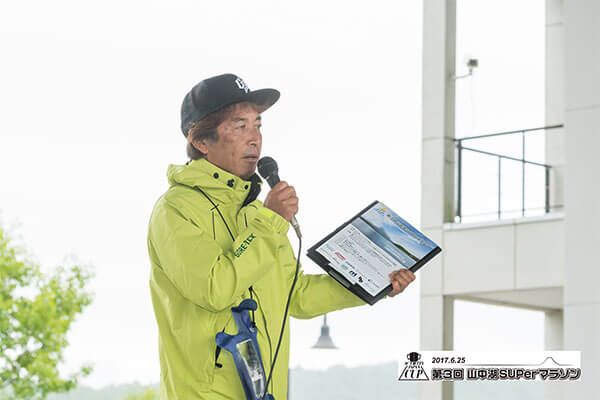 (Former) President, Nippon Stand-Up Paddle Board Association, Yokosuka paddle club owner Hara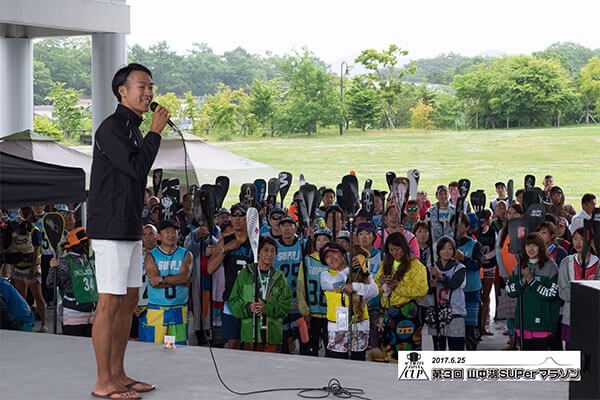 Mr. Masaya Omori, Chairperson of All Japan Student SUP Federation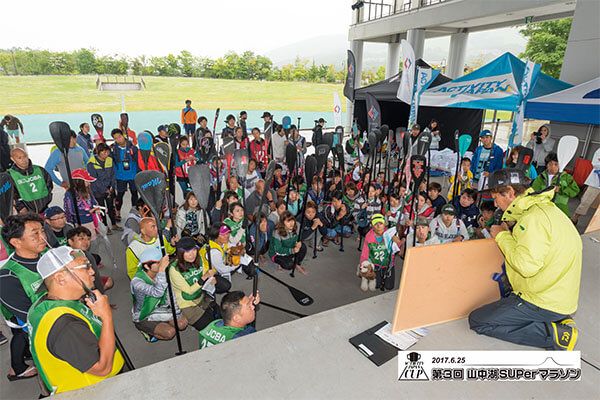 Advance explanation. We listen to the players, concentrating.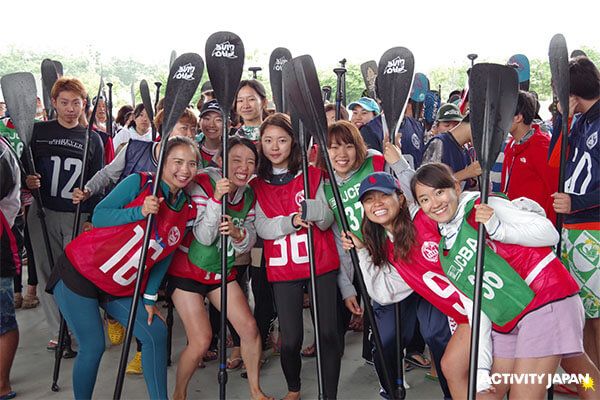 It is very popular SUP for women!
First of all, a student rookie game that will be an outpost in front of this race!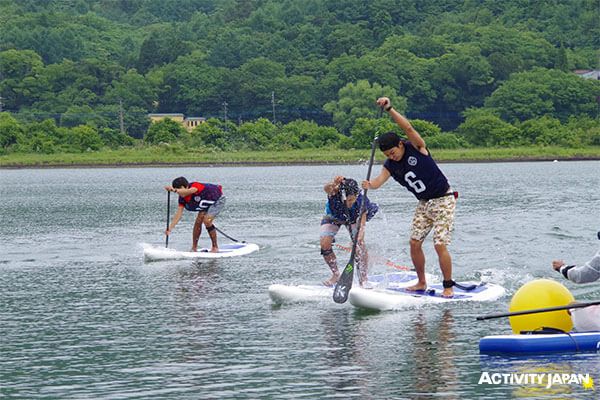 A newcomer sprint race that will be an outpost! A fierce battle of 200 m was carried over!
Competition start! The first half is from the short course marathon!
The tournament is also two-part system this year. The following class races are held in the first half! !
Here is the entry for the first half race ↓
First half (short course marathon)
· Beginner class ※ For the first time within 1 year for SUP for the first time
· Doggie tandem class
· Kids class ※ Elementary and middle school students only
· Tandem class
From kids to dogs, a lot of people seriously and enjoying the race development that makes the audience smile.
Everyone's enthusiasm stopped rain soon, and it was cool and very good for the players!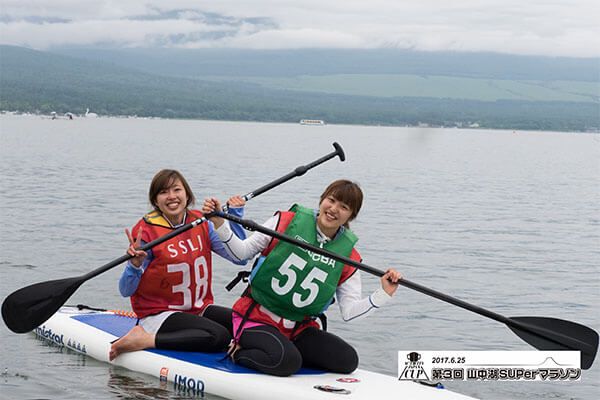 The dog is also ready! ! !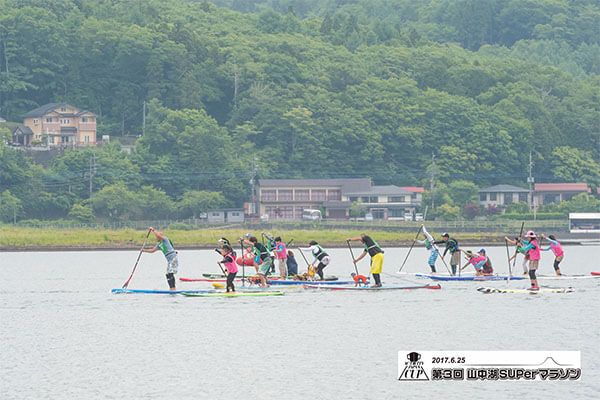 Race start! Various class players will row in Yamanakako all at once.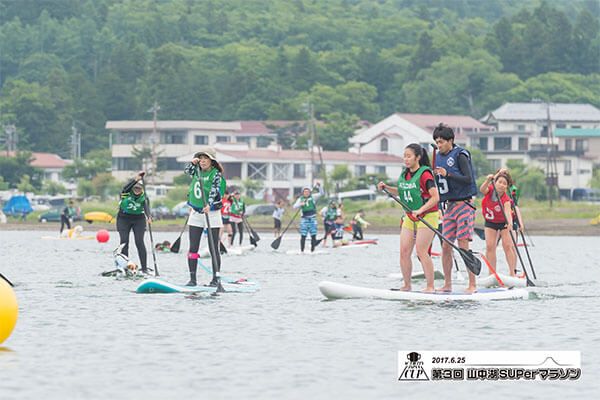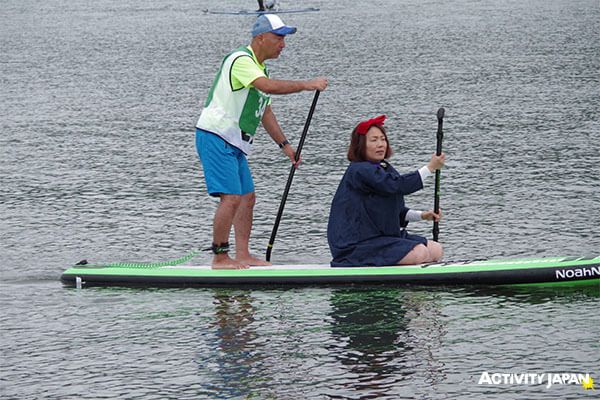 Kiki also entered the war! ! ! The players participating in the virtual excitement of the venue again this year too!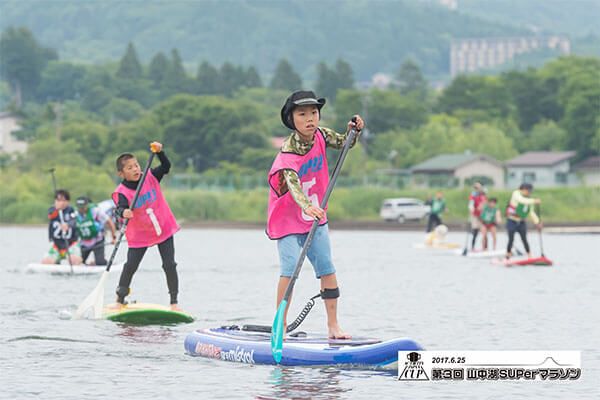 Children also seriously paddling! Go for it! !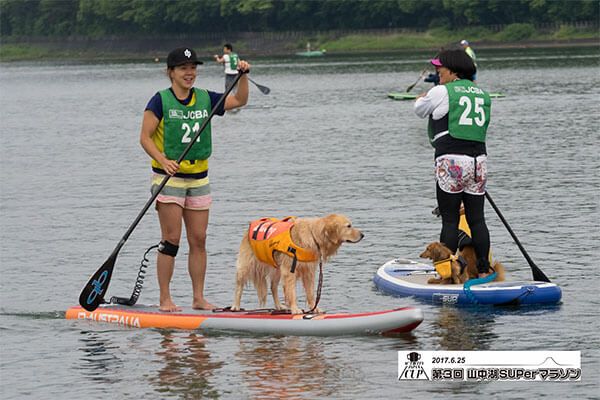 This year's popular doggy tandem. This year there are two dogs on one board too!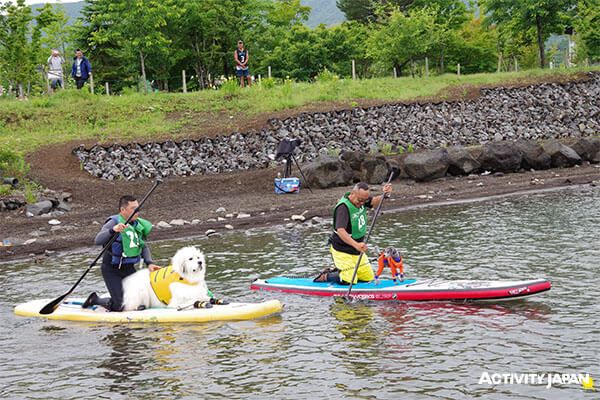 Cute dogs will heal players and audiences.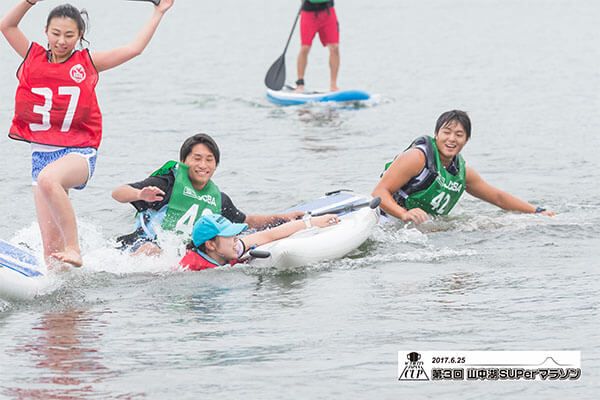 Bashan! Even if falling water is fun it's okay! !
Everyone safely goals! ! Thank you for your hard work!
大会名物"ほうとう"でほうっとひと休み!
For all the players, it became a tournament special feature, Yamanashi The service of the specialty "Hoto"! It's really delicious and it stains the tired body!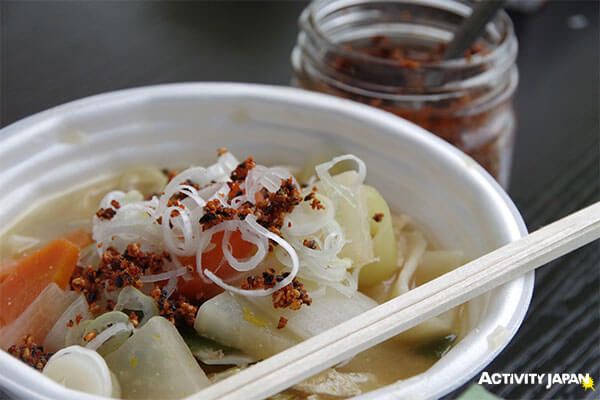 In addition, around the operation headquarters, goods related to SUP etc were also exhibited!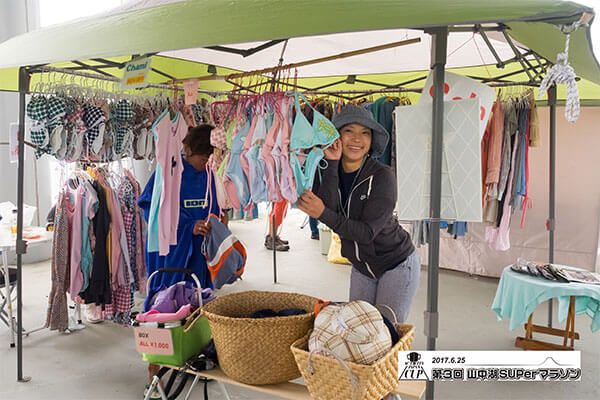 Cute beachwear and ...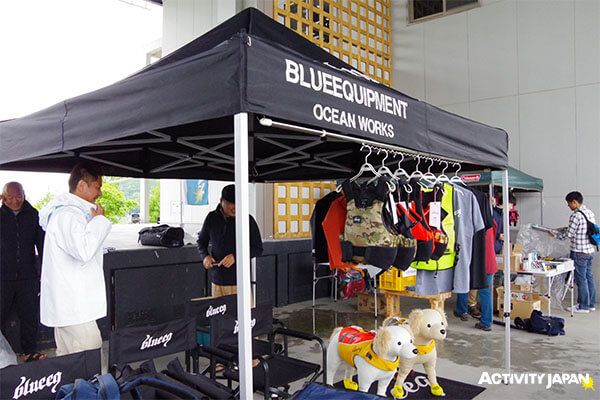 Also a life jacket for dogs!
Late competition start of the competition! ! A full marathon for one lap of Yamanakako! ! !
Well then the second half of the race, the start of the Yamanakako 1 lap marathon!
Entry in the second half of the game is here ↓
Latter half (Full marathon around Yamanakako 11 km)
· Race board class
· Inflatable class
· Surfboard class
· Tour class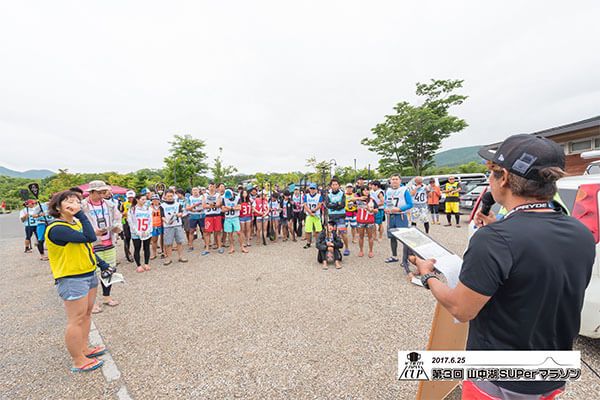 Before the lap marathon, it is explanation of notes.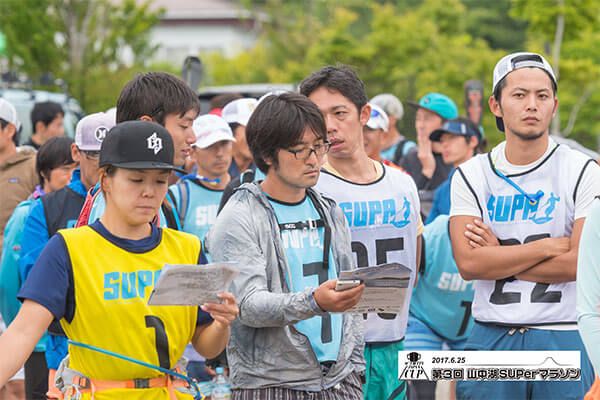 Everyone at the players is increasing! !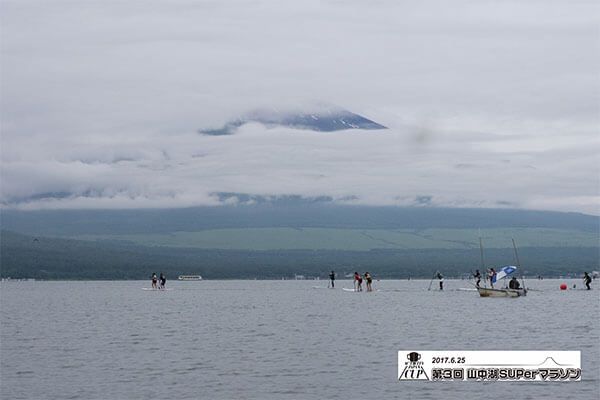 Rain stopped, Mt. Fuji at a little more!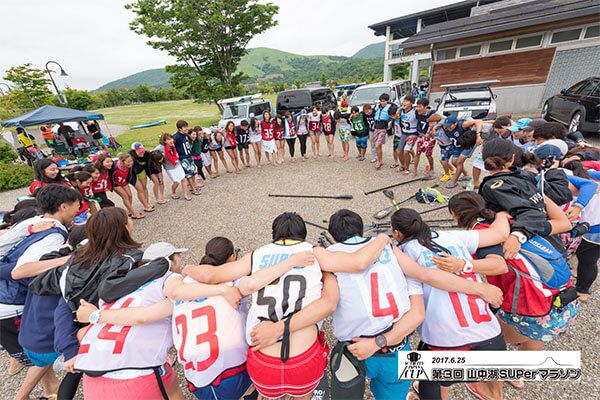 Circle by students! It is very powerful!
Finally the start of the marathon! Around Yamanakako, the distance whopping 11km! ! About 150 players gather at the same time on the lake and it seems like a great start!
The top players from the previous participation will accelerate rapidly from the start! fast! ! now Year Was also shot with a drone!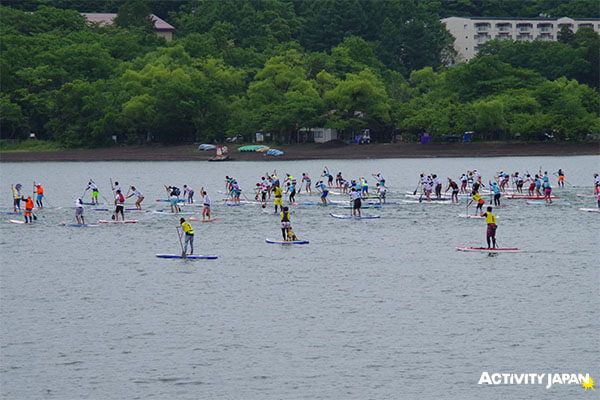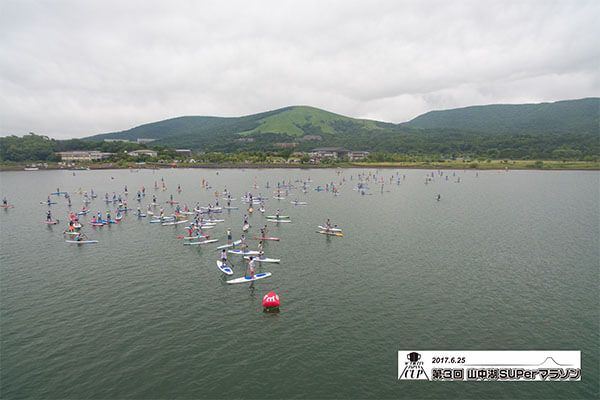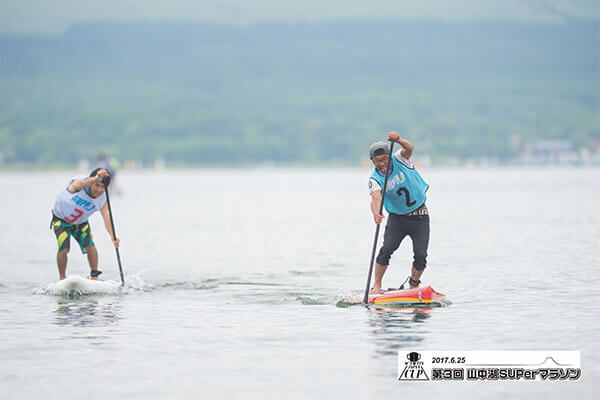 Serious battle unfold!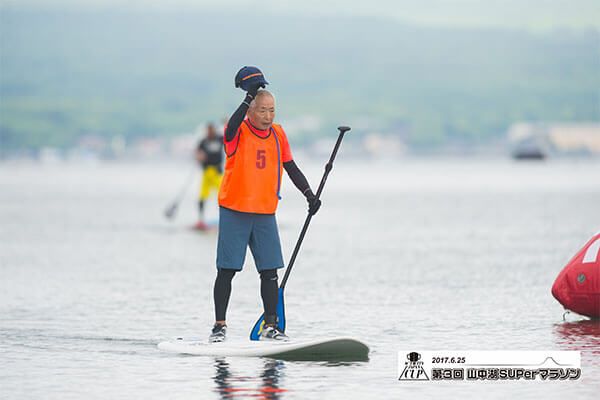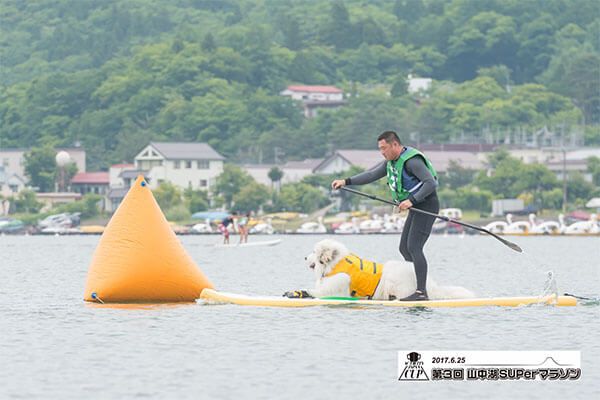 Here is a double entry with Doggie Tandem! It's amazing !,,
And, Go!
Approximately one hour after the start, the players in each class goal one by one!
The top of the race class is Akira Murata, the champion last year! A goal in 1 hour 6 minutes 5 seconds that exceeds his tournament record (1 hour 8 minutes 20 seconds)! This year it is too! Congratulations on your new record! Everyone who finished a long distance of 11 km, a very nice face full of accomplishment at the goal!
I really appreciate your work!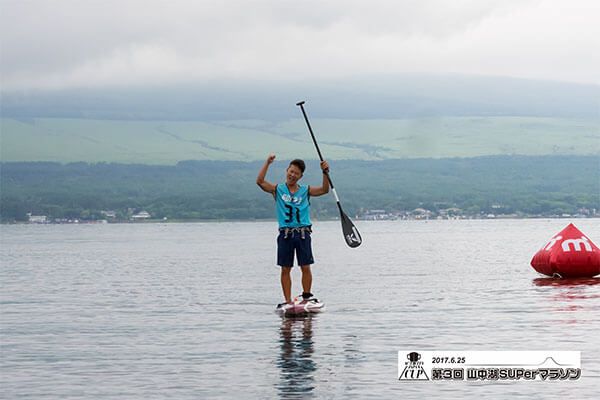 Mr. Akira Murata! New record achievement!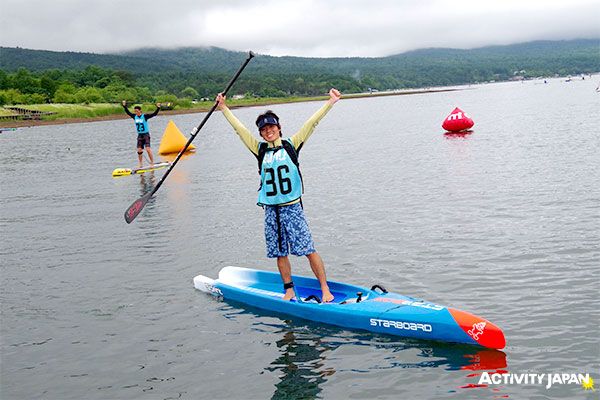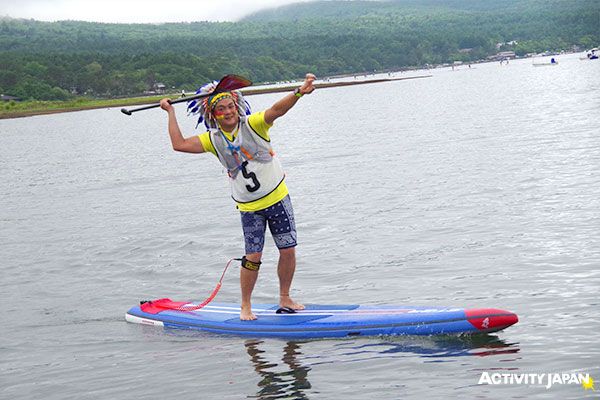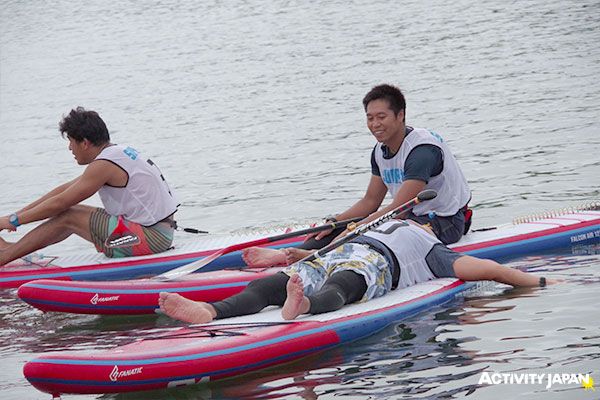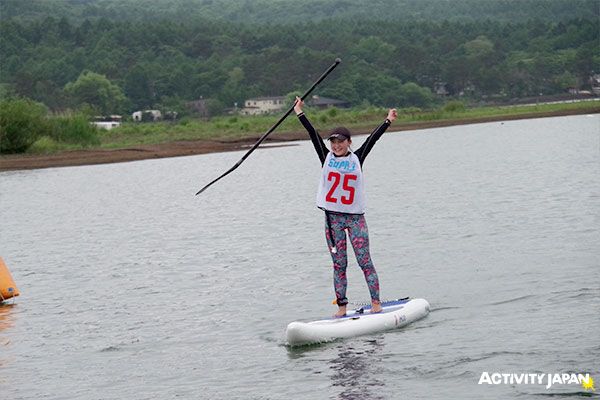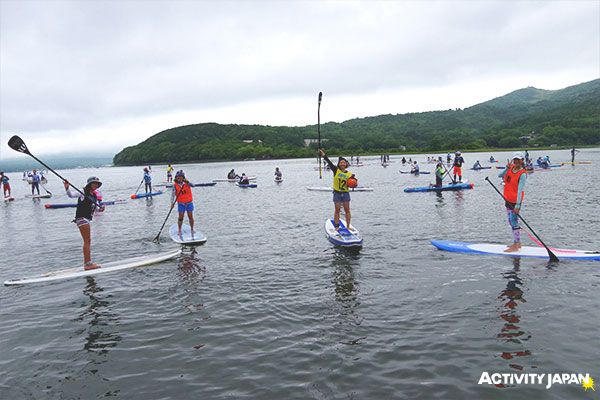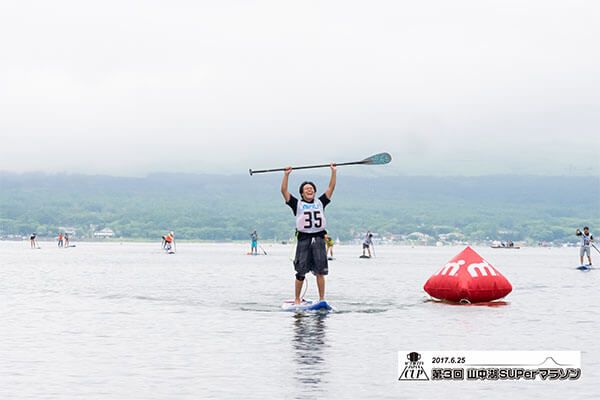 Everyone is a really nice smile after the goal! Thank you for your hard work!
Closing ceremony, and a big lottery for fun!
After the end of all class races, time counting and closing ceremonies, and a big lottery for enjoyment! ! There were so many gorgeous prizes this year too!
From Yamanashi prefecture wine, COLEMAN company outdoor bag etc ... and so on! !
Furthermore, wearable camera of CASIO Exilium FR series and MISTRAL inflatable SUP board at Janken competition! ! !
It was a great success during the heavy fog just after the race! !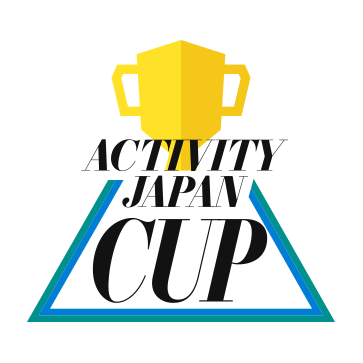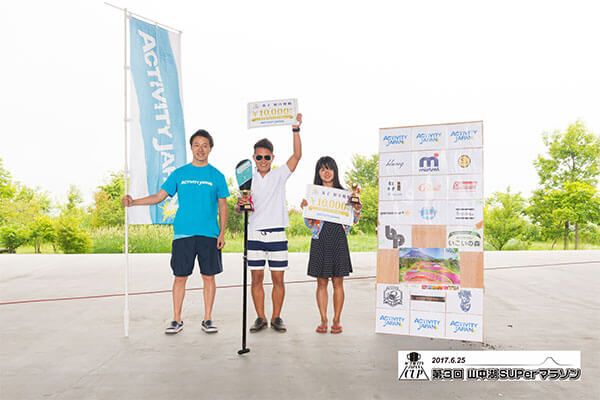 (Center) AJCUP race board class MEN 1st place Murata Akira!
(Right) AJCUP race board class WOMEN 1st place Shiho Mizuki!
congratulations!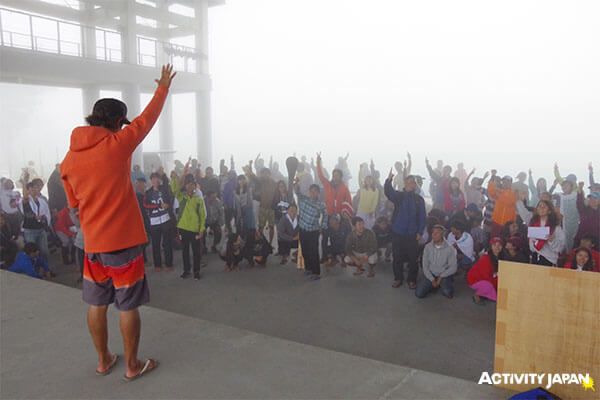 Janken competition in thick fog!
Get a camera! I'm jealous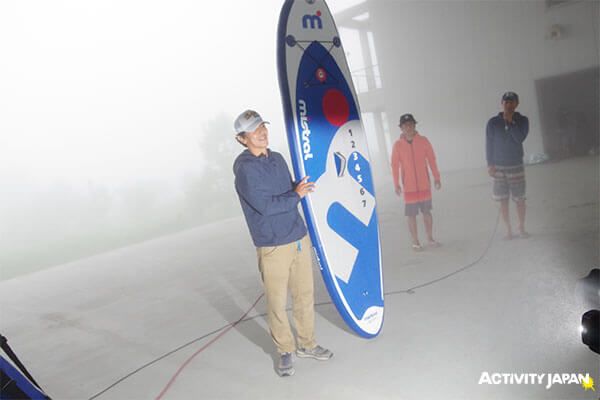 The eyeball prize is inflatable SUP! This does not accumulate!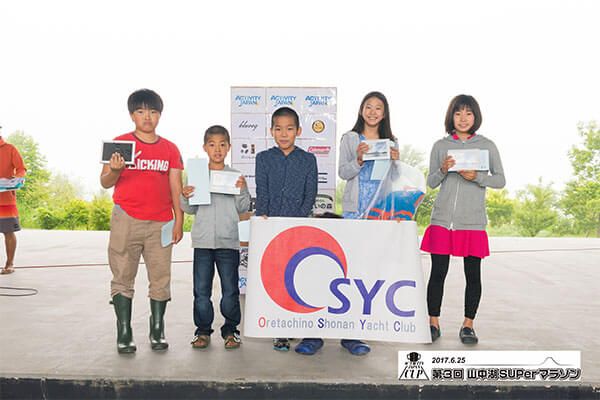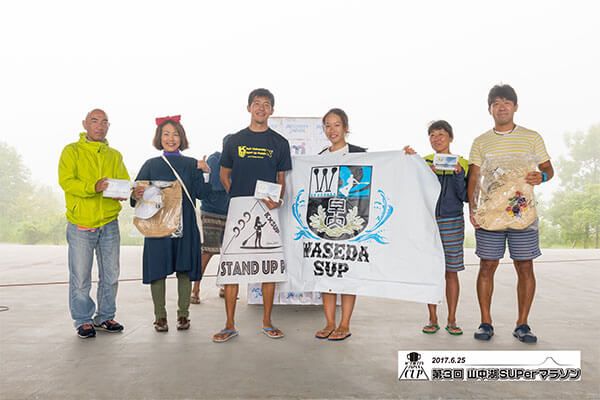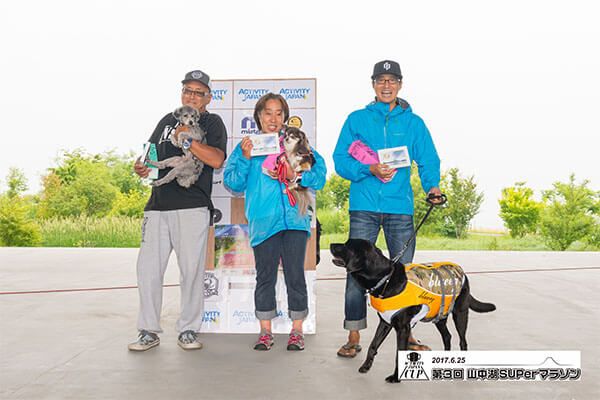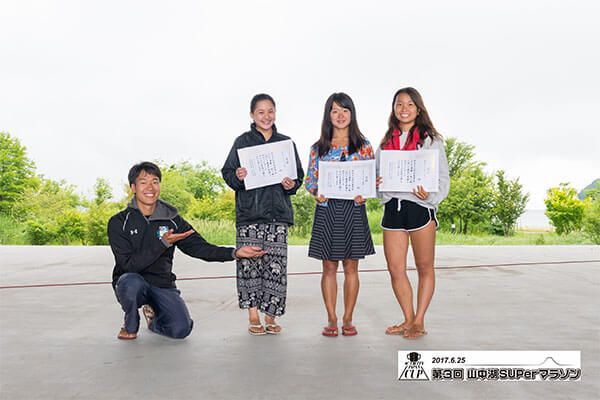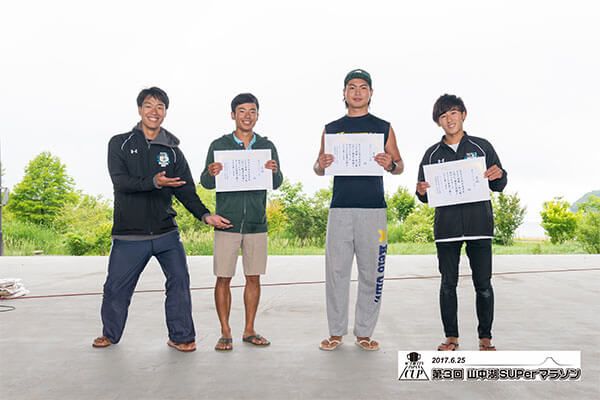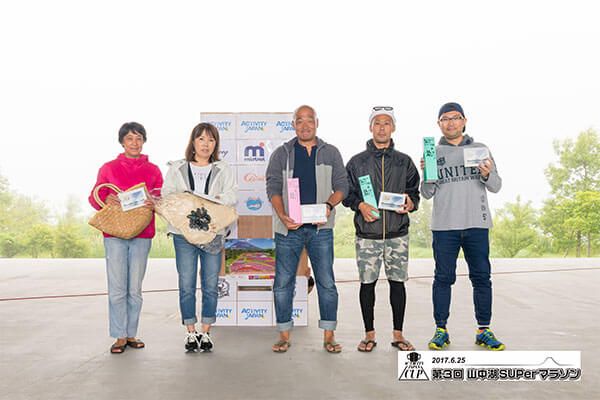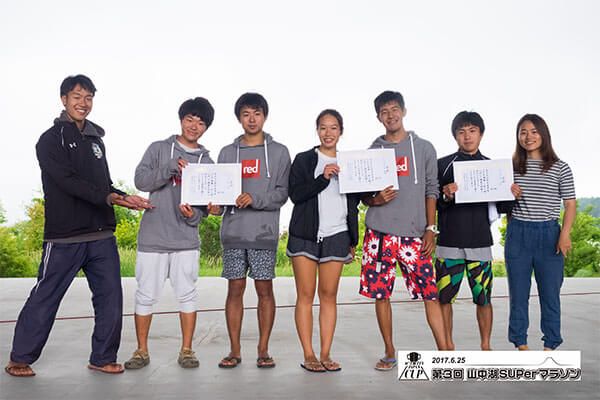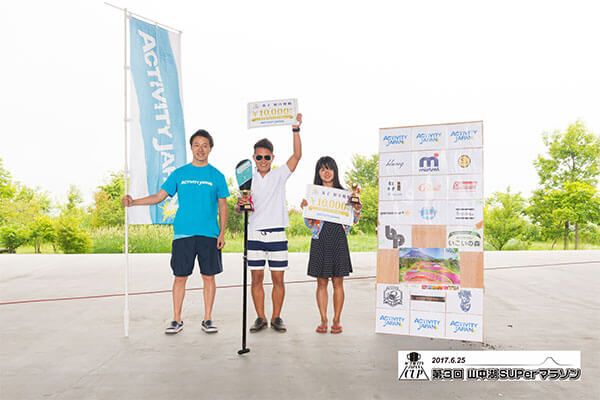 * As a result of considering at the executive committee, we will place Umezu who is the third-ranked men at the same rate as second place. We apologize for notifying you that there was a change and award ceremony.
The 3 rd SUPer marathon is over
Everyone who participated, thank you very much! It was more exciting than last time, it was a wonderful competition! After next year, we will continue to hold the theme "Enjoy SUP with everyone!"
Every year, "Sunday of the last week of June" is determined by the Yamanakako SUPer marathon! !
The result of each competition, the result of each class from here!
I want to experience SUP at Mt. Fuji at Lake Yamanaka ~! If you say,
Check here ★