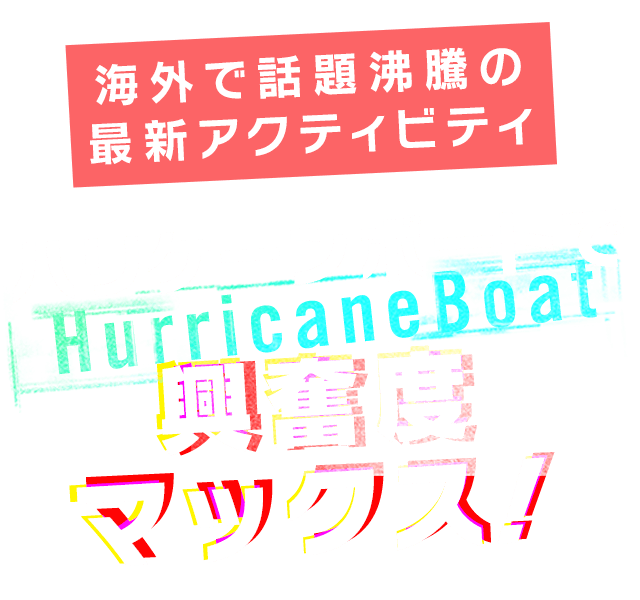 If you play in Yamanakako in the summer of 2017
Super refreshing new sensation activity
Experience a hurricane boat!
Popular leisure spot representing the Kanto-Koshinetsu area Experience the latest activity "Hurricane Boat" at Yamanakako Lake! "Hakutaka marine" that holds many popular activity experiences plans such as wake boards and fly boards and deals with deals by Activity Japan ◎
Play activities in Lake Yamanaka
- One day plan recommended for family & students -
9: 30

Meet at Lake Yamanaka!

10: 00

The topic activity immediately!
Experience fly board, hover board, jet pack!

11: 00 ~

Lunch time soon!
Everyone's relaxing lake BBQ!

14:00

In the afternoon wake board experience (15 minutes each)

15:00

Anyone feel free to banana boat with everyone!

16:00

Last screaming with everyone! Hurricane boat!
What is a Hurricane Boat?
"Hurricane Boat" is a super-refreshing marine leisure where you can experience only Hakutaka marine at the first east landing in eastern Japan, Lake Yamanaka! For overseas resort areas etc., it is already a topic boiling ultra refreshing activity! Please have a refreshing feeling that is swaying around this summer Gururunun in a great location looking up at Mount Fuji! !

Hurricane boat diameter is about 5 m! It is possible to experience up to 8 people at a time so we encourage friends and family and other people to scream and enjoy waiwai ◎ It's the latest towing monster activity to pull by boat! ! Increase the feeling image with a movie, GO to Lake Yamanaka!
The hurricane board of the topic
Set plan is great!
We prepared a set discount plan that you can book a special activity "Hurricane Boat" and standard popularity leisure exclusively for Activity Japan! Rather than reserving each one individually, it is now 1,620 yen greatly enjoying the summer Yamanakako leisure with a profitable set plan ◎

The most popular wake board, flyboard · hover board · jet pack of the topic hydraulic activity! Summer vacation period (especially the Bon Festival season and Saturdays-and-Sundays public holiday) makes it difficult to pick up the date and time of your choice, so please book early soon! ! hurry up~~~! !
Other recommended plans

15,960

円

14,960

yen~

​ ​(tax included)

Special Deals
After BBQ, you can enjoy boat charter for 1 hour ~ so you can enjoy it without hesitation. ※ Maximum boat rental time is 2 hours. We can chose on the spot where we want to do from wake board, tubing, banana boat, water skiing. ※ It is not included when adding a hurricane boat.

12,000

yen~

​ ​(tax included)
周りを気にせず楽しみたい方はこちら!! ご友人、ご家族、気兼ねなくウェイクボードを楽しめる貸切プラン♪ みんなでワイワイ楽しめるので、上達も早いかも!? もちろん、初心者の方でも大丈夫!お気軽にご参加くださいね♪ 手ぶらBBQ オプションあり!(1日限定5組) みんなでワイワイBBQを楽しんだ後、アクティビティ体験ができます♪ お1人様3,000円のところ、【2,000円】に割引中! <メニュー例> ・川魚(山梨は海がないので、BBQでは川魚が名物です!) ・牛肉、豚肉、手羽先、トントロなどBBQにはかかせないTHE肉!! ・焼きそば ・おばちゃん特製手作りおにぎり ※BBQは、11:00開始、または13:00開始となります。 ※BBQ オプションのお申し込みはお電話のみで受け付けております。  アクティビティと一緒にお申し込みください。 →受付電話番号:050-3204-4585(10:00~17:00)

3,000

yen~

​ ​(tax included)
ウェイクサーフィンとは専用ボートを使い人工的に作られた波に乗りサーフィンする画期的なマリンスポーツです。 海のサーフィンと違いいつも一定の波ができることから、サーフィン初心者はもちろん中級者、上級者の新しいトリックのtrainingとして楽しまれている新しいサーフィンスタイルです。 手ぶらBBQ オプションあり!(1日限定5組) みんなでワイワイBBQを楽しんだ後、アクティビティ体験ができます♪ お1人様3,000円のところ、【2,000円】に割引中! <メニュー例> ・川魚(山梨は海がないので、BBQでは川魚が名物です!) ・牛肉、豚肉、手羽先、トントロなどBBQにはかかせないTHE肉!! ・焼きそば ・おばちゃん特製手作りおにぎり ※BBQは、11:00開始、または13:00開始となります。 ※BBQ オプションのお申し込みはお電話のみで受け付けております。  アクティビティと一緒にお申し込みください。 →受付電話番号:050-3204-4585(10:00~17:00)
Operating shop information
If you are leisurely playing water at the lake, leave it to Hakutaka Marin! The shop that Takuya Kimura and Mr. Hamada Mr. Hamada tried to flyboard at the TV program "SMAP × SMAP" broadcasted last year is also Hakutaka Marine! We will provide fun lake activities with kind, safety and peace of mind ◎
shop's name
Hakutakamarin
Reservation only dial:03-4540-9963

Reservation only dial: 03-4540-9963

Handling line
Wake board / fly board / hover board / Giotto pack / Banbo boat / Hurricane boat / Wake surfing / BBQ / Wagasa fishing (winter season)
business hours
7: 00 ~ 19: 00 (seven days a week)
place
Yamanakako Village Yamanaka Yamanaka Gun, Yamanashi Prefecture 401 0501
Venue Access

How to reach by car
From the central road "Kawaguchiko IC" or Higashi Fuji Five Lake Road "Yamanakako IC" Route 138 towards Yamanakako towards the direction of the Meizumae intersection (pedestrian bridge).

How to reach by train
Transfer to the Fuji Express line at the central main line "Otsuki station" and get off at "Fujiyoshida station" about 1 hour. From Fujiyoshida station by bus, go to "Gotemba" or "To Hirano" bus about 30 minutes. Get off at "Hotel Mount Fuji entrance" and walk 1 minute.
last updated: