【Discount admission tickets】 There are over 60 bodyship figures of the star! Odaiba "Madame Tussaud Tokyo"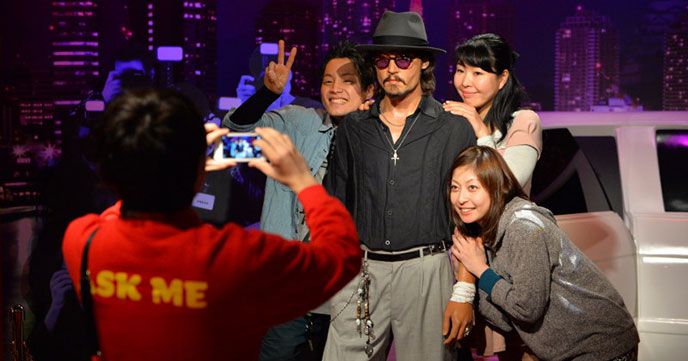 A musical leisure facility "Madame Tussa Tokyo", a popular topic in Tokyo Odaiba where more than 60 life-size figures of domestic and international superstars are lined up to Hollywood stars and athletes, idols and popular talent. Activities Japan is selling premium advance ticket admission tickets for up to 600 yen OFF ◎

If you have this "pre-sale smart ticket", you can preferentially enter from the entrance to the reservation ticket and you can enter even when admission due to congestion is restricted. Reliable for Tokyo sightseeing ◎ Madam Tussae Tokyo In the facility, it is possible to touch figures as well as shooting so let's take a commemorative photo as planned to meet actually celebrities ♪
What is Madame Tussaud?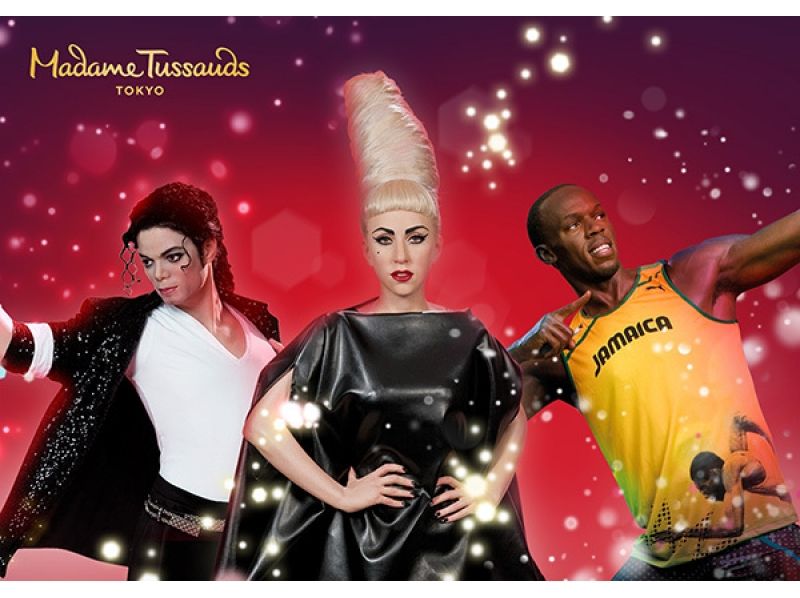 Madame Tussauds (Madame Tussauds) is a popular wax museum which is located in Baker Street, England, London and has more than 250 years of history. It is now in the five cities in the world (Los Angeles, Las Vegas, Washington DC, New York, San Francisco), five European cities (Blackpool, London, Amsterdam, Berlin, Vienna), four cities in Asia (Bangkok, Hong Kong, Shanghai, Tokyo) There is a branch in Japan, and on March 5, 2013 it opened as a permanent establishment in Odaiba's Dex Tokyo Beach and gained popularity in Japan.

In the facility there are historical figures such as Napoleon and Einstein, politicians such as President Barack Obama and Adolf Hitler, musicians such as Beatles and Madonna, sports players such as Messi and Kazu Miura Tomoyo Miura, Jack Sparrow Ceramic dolls of various celebrities are exhibited up to movie characters such as. The figures that were made elaborately enough to make a mistake as genuine are quickly becoming a topic and are extremely popular for commemorative photography such as during sightseeing.
Contents of Madame Tussaud Tokyo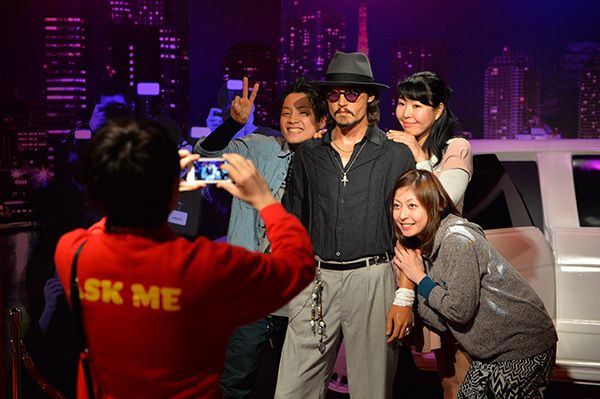 Shoot in all areas!
In Madame Tussae Tokyo it is possible to shoot in all areas of the facility! It is also possible to touch figures so please enjoy the commemorative photo with your shoulders and hugs ◎ If you share photos with Johnny Depp on SNS you may be surprised! What?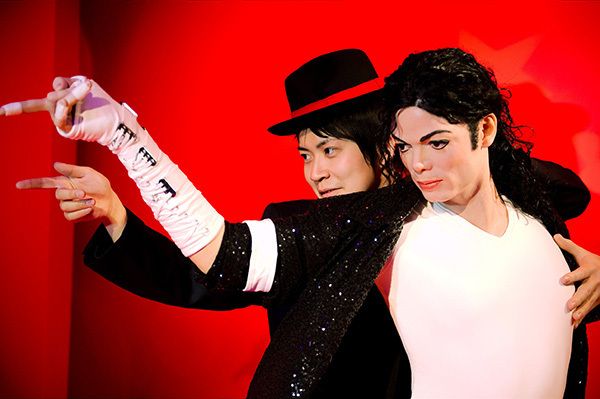 Open until 20:00 at night!
In Odaiba in 2017, Fuji Television's "Odaiba everyone's dream continent" and popular pool "Odaiba Water Park by Huis Ten BoschThere are plenty of fun places such as! It is easy to set up schedule as it is open until 20:00 at night (last entry 19:00) ◎ After staying in the facility is free ♪ It is free with Michael Jackson ☆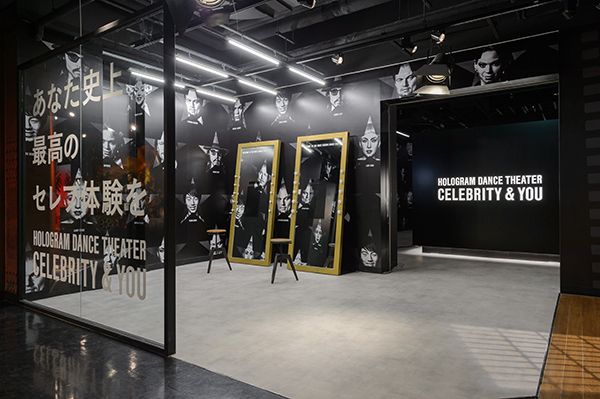 Hologram entertainment that can dance with celebrities!
"HOLOGRAM DANCE THEATER ~ CELEBRITY & YOU ~" is a hands-on attraction that allows you to dream together with Michael Jackson, Leonardo DiCaprio, Marilyn Monroe, together with Michael Jackson and Mary Lynch Monroe. Hologram entertainment that can dance with celebrities becoming!
Admission Fee · Details
Just like the real person! Enjoy a large selection of life-sized waxworks of famous celebrities at Madame Tussauds, Tokyo. First established in London 250 years ago, Madame Tussauds is a hands-on attraction with a venerable history.
The Tokyo chapter of Madame Tussauds offers over 60 life-sized figures of celebrities from all over the world, including Hollywood stars and famous athletes.​ ​
Not just foreign celebrities, there are figures of popular Japanese television stars and celebrities too.​ ​
With no ropes or other partitioning, visitors can not just enjoy taking pictures with their favorite celebrities, but also have enormous fun putting their arms around the figures or striking similar poses.
[Operator]
Madame Tussauds, Tokyo
[Adult admission fee (over 13 years old)]
Regular fee:2,300 yen (tax included)→

1,700

Yen (tax included) ~
[Child admission fee (3 to 12 years old (0 to 2 years old free))]
Regular fee:1,800 yen (tax included)→

1,400

Yen (tax included) ~

[Included in price]
Entry fee, facility usage fee (including all attractions)
[place]
Dex Tokyo Beach Island Mall 3F "Madame Tussaud Tokyo"
access
Dex Tokyo Beach Isol Mall 3rd Floor, 1-6-1 Odaiba, Minato-ku, Tokyo 135-0091
Information
[Minimum number of people]
1 person
[Number of reserved people]
1 person -
[Duration]
Regularly
[meeting time]
【business hours】
<Weekdays>
11: 00 ~ 20: 00 (last admission at 19:00)
<Saturdays, Sundays, holidays>
10: 00-20: 00 (last admission at 19:00)
※ There is no time designation.
※ The opening hours may be changed due to the event. Please note.
[The meeting place]
3F of the Island Mall, DECKS Tokyo Beach "Madame Tussauds, Tokyo"
Please show your "Visitor Screen" with a smartphone at the reception desk on the day that will be informed after the reservation.
[Reservation deadline]
one day before (until 5 p.m.)
About payment / cancellation
[Payment method]
Advance credit card payment only.
[About payment method specified by business operator]
Payment should be made by credit card payment beforehand.
[About cancellation]
The cancellation fee will be required in accordance with the policy below.
The day before: 100%
Day / No contact Cancellation: 100%
[Regarding discontinuation]
We may get a day off according to the closing days of Dex Tokyo Beach. Please confirm it after confirmation.
[Display on Specified Commercial Transaction Law]
/ publish / plan / transaction / 2842
Others
【Precautions for participating in the course】
· We refuse re-entry.
· Operating hours and operation of attractions are subject to change without notice.
· Adult rates apply from junior high school students (13 years old and over).
· Entrance is not permitted for children under elementary school students only.
· Do not bring food or drink.

【About entry】
· Check-in with a smartphone is mandatory for entry. Please note that for the enrty you need to show the URL "Visit store page" which was sent from Activity Japan after your booking confirmed.
· On the day a reception staff confirms a visit page and carries out reception processing. Please display your smartphone page connected to the Internet at the reception desk.
· Please note that the ticket will be invalid if you open yourself a-visit-store page by mistake. Please note that no refunds available in such case.​ ​

【other noteworthy things】
· It takes about 2 hours to see all of Madame Tussauds, Tokyo
· There is a coin locker (chargeable) in the ticket office.
· Camera can be used in all areas. Also, you can purchase photos taken with each photo spot.
· [To people with disabilities] Our staff will support you to move safely inside the facility. In that case, you can use an elevator (standard wheelchair only). In addition, wheelchair rental service can be used at Information Counter of Dex Tokyo Beach.
· Children under 3 years old can enter for free.

If you play in Odaiba also here!

プランID:18216
EHUKAI BEACH ODAIBA (Ek Kai Beach Odaiba)
5,400

yen~

​ ​(tax included)
Topic SUP: Easily enjoy sappu (stand-up paddle board) while watching the spectacular view of Odaiba ♪ The only SUP experience possible in Odaiba! While looking at the Rainbow Bridge, Tokyo Bay, Tokyo Tower, let 's enjoy water walks with a different line of sight! Experience time is also 2 hours easily and experiences are possible, you can enjoy walking around Odaiba before and after that. It is an environment where it is easy for you to practice for the first experience as it is relatively calm without waves, as you experience experiences in recreational waters within the Odaiba Seaside Park where sandy beaches and islands spread around the cove. As beginners can safely enjoy SUP, instructors will teach carefully, so please enjoy SUP with confidence!

プランID:16030
LEGOLAND Discovery Center Tokyo
2,400

yen

1,850

yen~

​ ​(tax included)

Special Deals
Learn about the fun of Lego ® blocks, see, feel, there are lots of experiential attractions! An indoor LEGO ® theme park surrounded by more than 3 million LEGO ® blocks. Lego ® Block Factory tour, a Lego classroom that creates special works, a huge diorama that reproduced the city of Tokyo with Lego ® block, a diploma ® playground where you can play safely even with young children, and much more! "LEGO ® Ninja Go City Adventure" aiming for the strongest ninja by training, and the image that pops out! Let's stimulate creativity while playing, such as 4D cinema with surprising tricks and shooting ride to rescue princess. 【550 yen per person by professional smart ticket admission ticket (date designation) profitably! 】 1. "Entry commitment ticket" that you can enter firmly even when you are not entering! 2. You can enter the reservation ticket entrance (priority mouth) by presenting the smartphone screen! ※ Please note that check-in with smartphone is mandatory for admission and admission is not possible if presentation of smartphone screen can not be obtained. (Unavailable on Garaka, Tablet or Notebook PC)