【Yukata · Tickets with meals】 Hotel Magyou Tokyo Tokyo 'Akari no Hikari x 100 Step Stairs' will be held from 7/1 (Sat) to 8/27 (Sunday) of 2017!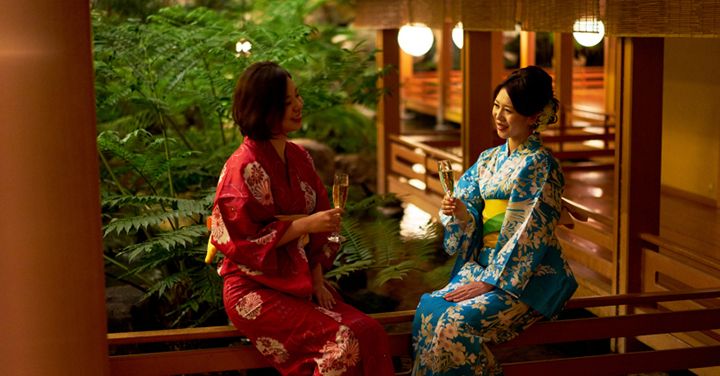 Lighting cultural assets that have lost their lights,
Japanese colors, Japanese festivals
Last year, the annual event "Art Illuminations Hikari no Akari x 100 Step Stairs", which mobilized the highest 90,000 people in the history of the hundred stairs, last year was held at Meguro Hotel Magoya Tokyo in Saturday, July 1, 2017 - August During the period of 27th (Sunday)! It is a popular event where exhibitors from various genres mainly meet such as "festival" "art" "craftsman" "aquarium" etc from all over the country set in Tokyo designated tangible cultural property "hundred steps". Please enjoy the special space of Summer Limited that gently lights the cultural properties that Akamori Nebuta's installations such as Aomori Nebuta's installations have dropped out.

At Activity Japan, Yukata which you have chosen with a hundred stage admission ticket can take home "Yukata and cultural property 'Hundred Stair Stages' ♪ Tour with dinner"When"Yukata and cultural property "One hundred stairs" ♪ Tour plan with lunchWe are accepting reservations for ". Enjoy a Japanese lighting exhibition held until August 27 (Sunday) with Japanese style dresses and enjoy an elegant summer day with a great plan that you can choose from among Japanese, Italian and Chinese. Moreover, it is OK to shoot all the time zones, so it is recommended to take a lot of photogenic pictures for SNS and leave it in memory ◎
Event overview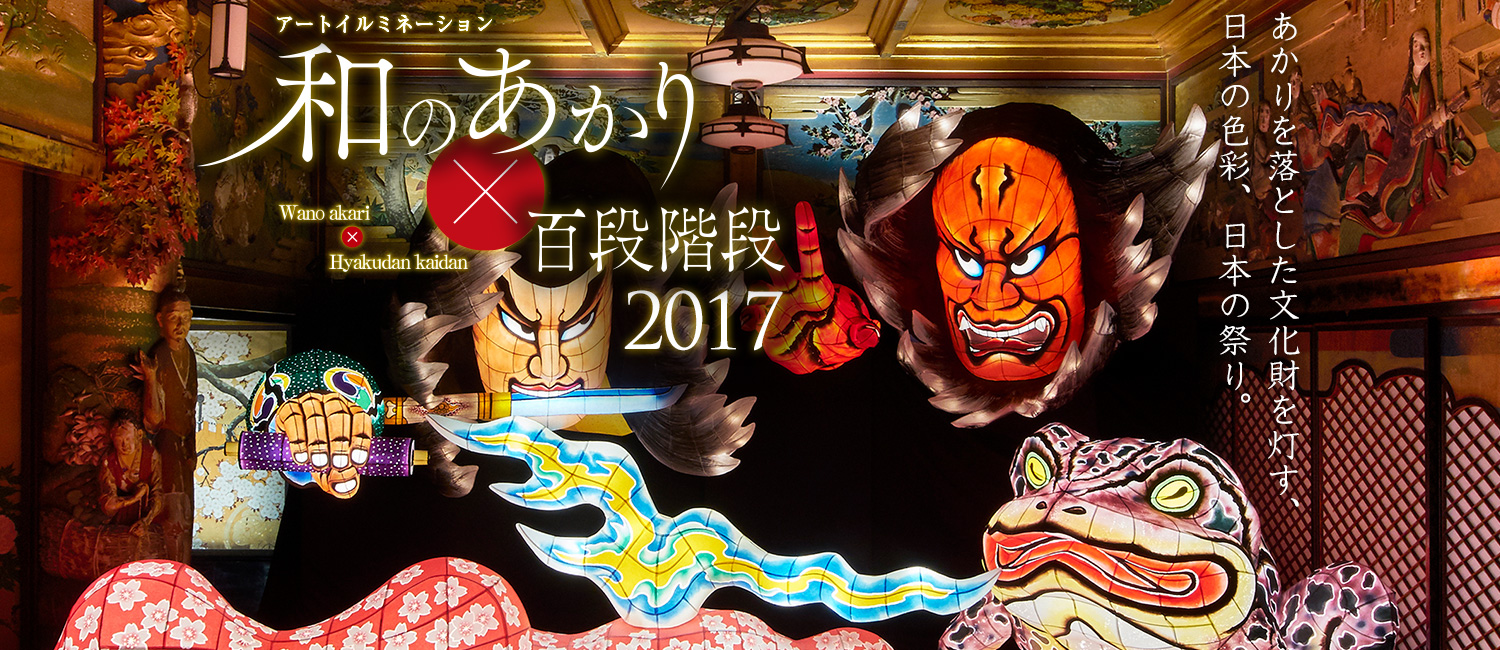 [Event name]
"Akari in Japanese × hundred Stage Exhibition 2017" ~ Japanese Color Japanese Design -
[Venue]
Hotel Keio Garden Tokyo
[Duration]
From Saturday, July 1, 2017 to Sunday, August 27, during the exhibition.
[Visit only]
【Monday - Thursday】
10: 00 ~ 18: 00 (Last entry 17:30)
【Fri, Sat, Sun, Holiday】
10: 00 ~ 20: 00 (last entry 19: 30)
[Organizer]
"Lighting of Waka" Exhibition Committee
Hotel Gajoen Tokyo · Aomori Prefecture Aomori City · Akita City Akita City · Akita City Fall Lighting Association · Sumida Ward · Sumida Aquarium · Edogawa Ward · Tokyo Metropolitan Baths Association · Mino City, Gifu Prefecture · Mino City Tourist Association · Shiga prefecture Maibara shi · Yamaguchi prefecture Yanai city · Yanai city regional brand promotion council · Yanai goldfish lantern festival consultation · Nagasaki prefecture Nagasaki shi
[Assistance]
Ministry of Foreign Affairs · Tourism Agency · Meguro Ward · Meguro Tourism Town Development Association · Sumida Regional Brand Promotion Council
[Sponsor]
Toshiba Lighting Tech Co., Ltd. · Dai Nippon Printing Co., Ltd.
access
1-8-1 Shimomeguro, Meguro-ku, Tokyo 153-0064
Main exhibits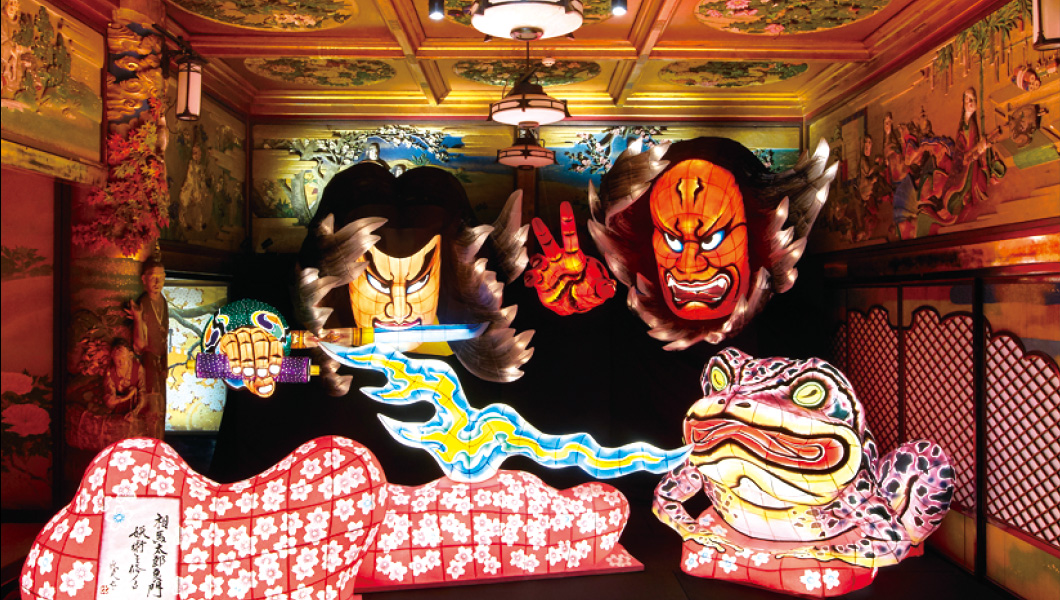 Nebuta writer Takeshi Hiroshi Aomori prefecture Aomori shi
"Aomori Nebuta Festival" / Taro Aima Fix the good gate magical art
Heijimen who conquered the Kanto 1 yen and called himself "the emperor". However, it was killed by a samurai who received the imperial court 's life, and made a pity at the end. In the middle of the war, Taro's bastard who barely survived, Mr. Taro liked martial arts from his young age and grew into a samurai who remembered his father and gates. One day, I meet a sennin who uses an archery technique of magical tricks in Mt. Tsukuba. A late father on the spot, and Taro who revealed his identity. If you want to revive your family at once, you will be apprenticed to a sennin. After penance, when acquiring witchcraft, he raised his name as "Taro Aomori" from his father's birthplace, searched for comrades scattered throughout the country, and raised a flag. A spatial construction of the scene where good gates are going to train the art of shrimp which is given by the teacher Sennin by the technique of Aomori Nebuta.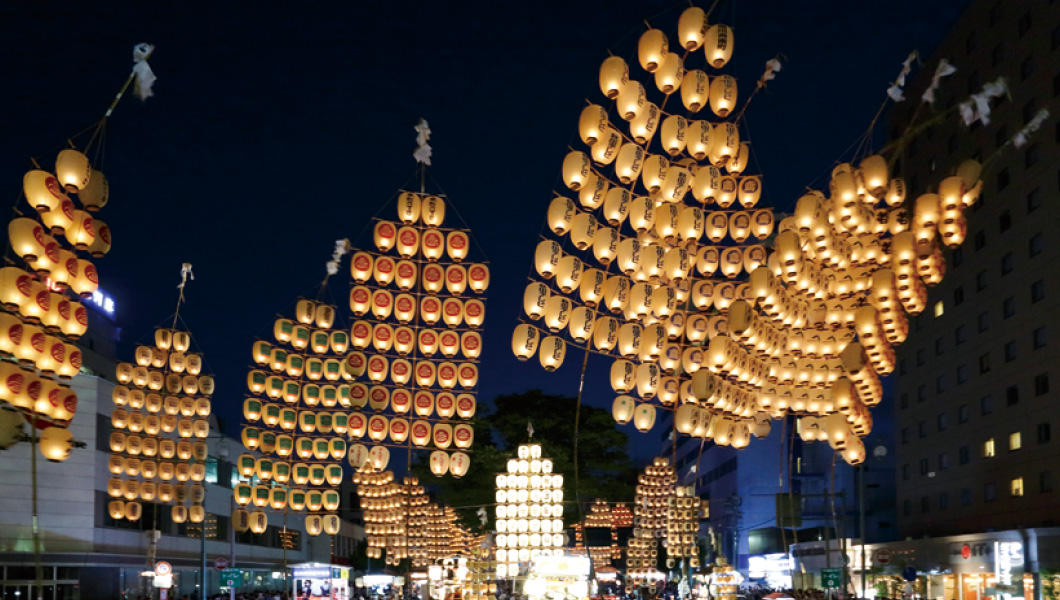 Akita prefecture · Akita city "Akita pole light festival"
It is a festival held in Akita City, Akita Prefecture, every August 3 - 6 th. Pear rod lights as rice plants, lanterns as a series of rice bowls, put them on forehead, waist, shoulder, etc. and pray for good harvest. It is designated as important intangible folk cultural asset, it is one of the three great northeastern festivals lined with Aomori Nebuta Festival and Sendai Tanabata Festival. In addition to Nipponmatsu Lantern Festival (Fukushima Prefecture), Owari Tsushima Tenno Festival (Aichi Prefecture), it is also the three biggest lantern festival in Japan. The number of lamp lights handled by prosecutors is 230. Ten thousand lanterns create "the glowing Milky Way" in the town of Akita, directing a fantastic summer night sky full of enthusiasm.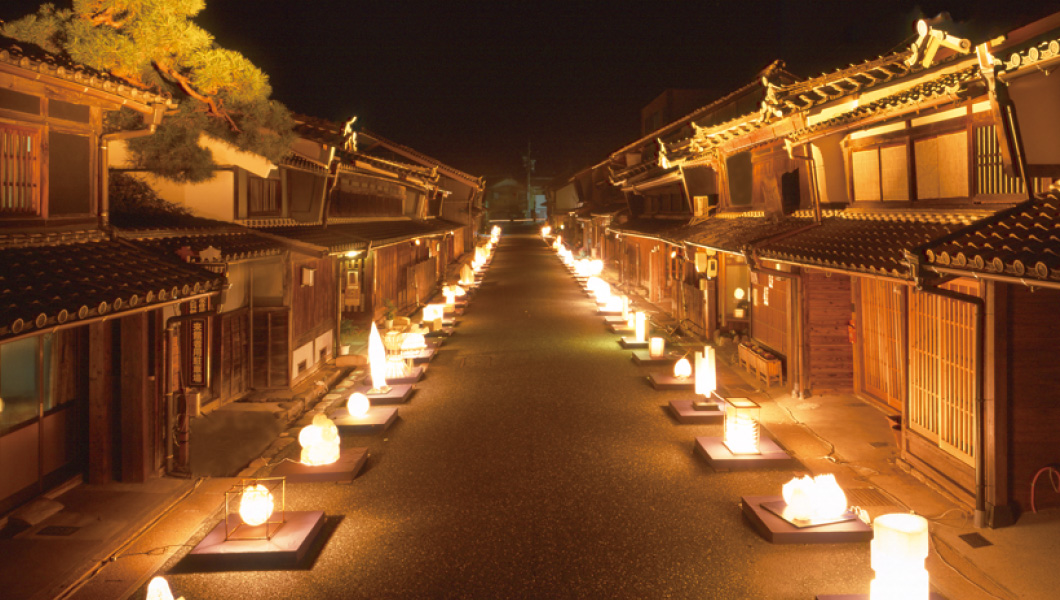 Mino City, Gifu Prefecture "Mino Washi Akari Art Exhibition"
Mino City, Gifu Prefecture, which is the origin of this Mino paper registered as UNESCO Intangible Cultural Heritage as "Japanese hand-made paper technology". Exhibition works will be exhibited every year from the "Mino Washi AKARI Art Exhibition" which will celebrate the 24th year of this year. "Mino Washi AKARI Art Exhibition" mobilizing about 100,000 people during the two-day event is held on the stage of "Udatsu no Kuni Townscape" designated as an important traditional building group conservation area, and Mino Japanese paper collecting from all over the country We will meet all the lighting works that used.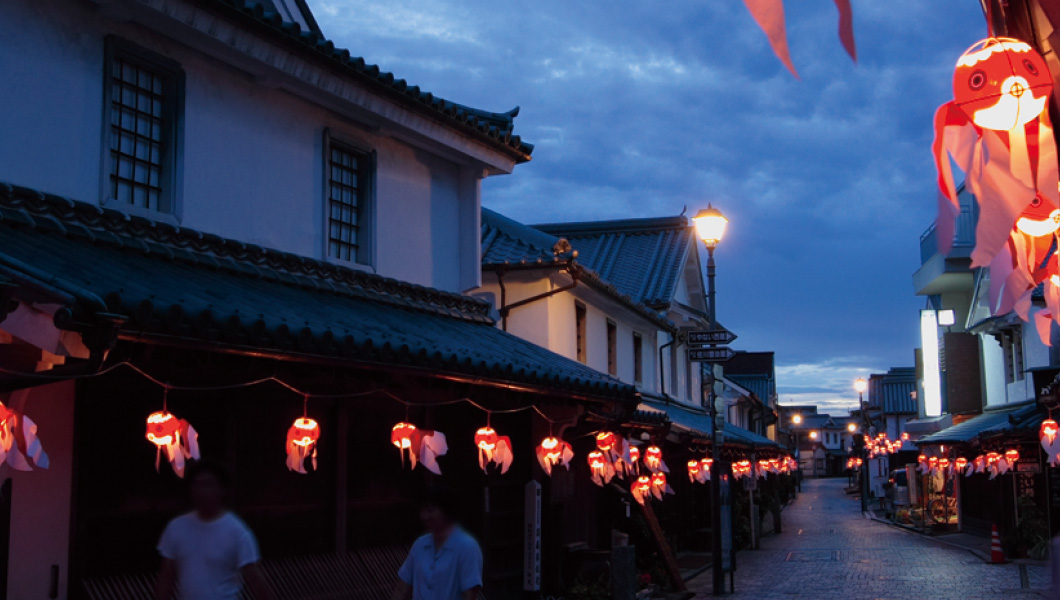 Yamaguchi Prefecture · Yanai City "Yanai Goldfish Lantern Festival"
About 150 years ago from now, Yanai's Kumagai Lin Saburo got a hint at Aomori's "Nebuta", and it is said that it was founded using traditional fabric "Yanai stripe" dye "goldfish lantern". In the summer event with the lantern as a motif, lights are lit in about 2,000 goldfish lanterns decorated in the venue including white-walled townscapes, a faint light leaking from the goldfish lantern creates a fantastic atmosphere I will.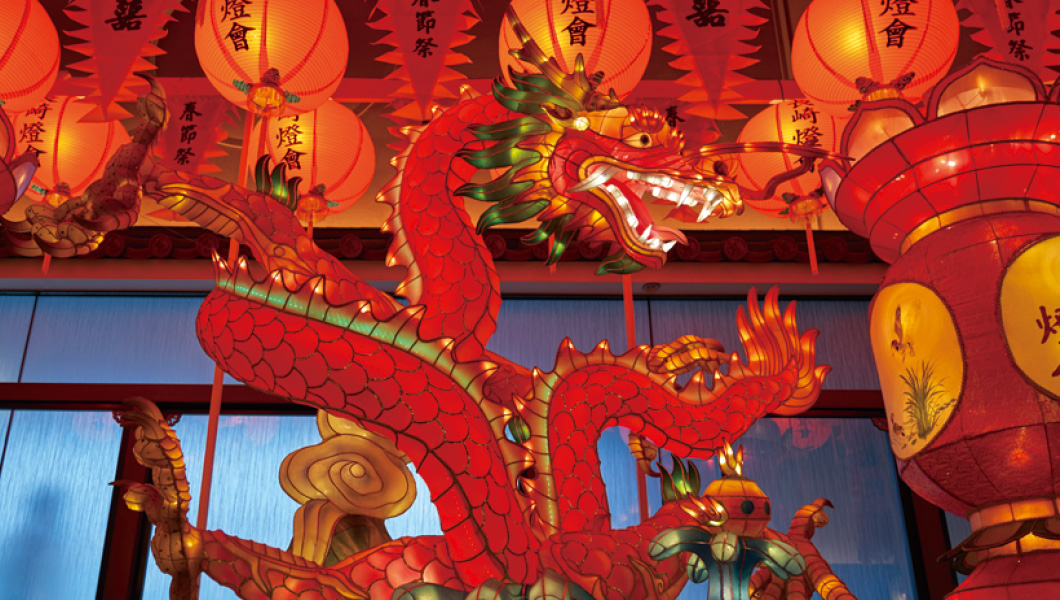 Nagasaki-shi Nagasaki Lantern Festival
The Chinese who lived in Nagasaki began as an event to celebrate the Chinese New Year (Spring Festival), which was originally held in Nagasaki Shinchi Chinatown as "Spring Festival". Since 1994 it has become an event in Nagasaki City as a whole, and Chinese lanterns (lanterns) are decorated also in places other than Chinatown. Between January 1 and January 15 of the lunar calendar, it is colored with about 15,000 lanterns and lit styles of extremely colored lanterns, mainly in New Town China Town, as well as Chinese rich events I will.
Source:http://www.hotelgajoen-tokyo.com
Reservation reception plan
Includes dinner or lunch course, Yukata, dressing fee, Hundred Stage Admission Ticket, Huayu Fire Experience (dinner plan only), consumption tax included in the reservation reception plan at the time of the event "Hiragami no Akari × 100 Step Stairs" . The yukata which you chose from the new pattern is a popular plan that you can take out as it is with the belt, geta, etc. Also this plan can be booked up to the end of September even after the end of the "Hirakazaka Akari x 100 Step Stairs" event.

プランID:18343
Hotel Keio Garden Tokyo
12,500

yen~

​ ​(tax included)
スタッフによる着付+レストランでのお食事+百段階段見学をお楽しみいただけるスペシャルプランをご体験下さい!

プランID:18376
Hotel Keio Garden Tokyo
14,850

yen~

​ ​(tax included)
新柄からお選びいただいた浴衣は、帯、下駄などとともにそのままお持ち帰りいただける人気プラン。 スタッフによる着付+レストランでのお食事+百段階段見学をお楽しみいただけるスペシャルプランをご体験下さい!
Information
[Minimum number of people]
1 person
[Number of reserved people]
1 person to 40 people
[Duration]
July to September
[meeting time]
Please arrive before your appointed time.
[The meeting place]
Hotel Gajoen Restaurants
[Reservation deadline]
one day before (until 5 p.m.)

Advance preparation
[About clothes and belongings]
Please bring underwear (camisole, petit coat etc.).
[About rental items]
Hair ornament sale (from 3,000 yen)

About payment / cancellation
[Payment method]
The ways assigned by operators.
[About payment method specified by business operator]
Please pay at the day of cash or credit card.
Advance bank transfer is also possible.
<Accepted credit cards>
VISA, Master Card, American Express, JCB, CUP, Diners Club Card
[About cancellation]
Please note that the following cancellation fee will be charged if canceled.
The day before: 50%
On the day: 100 %
Cancel without prior notice: 100%
[Regarding discontinuation]
Depending on the reservation situation, it may not be available at the date and time you desire.
[Display on Specified Commercial Transaction Law]
/ publish / plan / transaction / 2918

Others
[Precautions for participating in the course]
Depending on the usage situation, if there is a significant delay from the reservation time, there are times when you can not shorten the use time or participate.
[other noteworthy things]
· You can choose the size of the yukata from M size (up to clothes size 13) or L size (clothes size 15).
· Parking fee 1 hour 700 yen / it is 350 yen per 30 minutes, Free use up to 5 hours when using restaurant.