【Hokkaido · Otaru】 Original father! Blue cave cruise by Tusen
【Hokkaido · Otaru】 Original father! Blue cave cruise by Tusen
Plan ID:

9589

Provided by:​ ​​ ​Tsuusen Co., Ltd. (TUUSEN)
5,000Yen ~ (tax included)
Fee per adult
(9件の体験談)
Empty-handed
Solo participant​ ​
Charter Allowed
Available - rain or shine
Children admitted




















Click on your preferred date
Please click on the date of your choice from the calendar.
Starting time

09:30

11:30

13:30

15:30

Participating age

0 - 90 years old

Time required

1-2 hours

ScheduleApril 21 - October 14, 2018
Assemble point Watch on GoogleMap
前から行きたいと思っていた青の洞窟ツアーにやっと行けました❗

沢山あるツアー会社から何処にしようかと悩みましたが、青の洞窟ツアー元祖のツウセンさんに決めて良かったです。

スタッフの方は親切で、ユーモアのある説明や撮影スポットでのガイド内容も解りやすくて楽しかったです(笑)

ただ残念だったのは、一組のお客さんが来なくて出発が遅れたのですが、その時に一言説明があっても良かったのではと思いました。

それを差し引いても大満足のツアーでした。
また他のツアーを利用させて貰いますね(笑)
Plan description
Otaru of unexplored! Excitement in the blue of the cave Blue experience!
Of the popular spot during the summer! Blue Grotto
Departure from the Otaru Canal, exclusive cruising with the only sea area national park in Hokkaido, a wide blue ocean! A lot of seabirds, exquisite balance rocks, you can also meet dolphins if you are lucky. And ahead of a pitch dark cave is a touching and beautiful blue!
Attractions of the plan

Impressed Blue experience Normal blue + our original capri blue also impresses twice!

High sea of ​​transparency Sea which is clear to the bottom

Fulfillment guide A memorable and fun guide

Seagull Both adults and children are excited about sea gulls experience
Information
| | |
| --- | --- |
| Minimum number of people | 1 person |
| Number of people who can book | 1 to 12 people |
| Schedule | April 21 - October 14, 2018 |
| Start time | Collective time ① Flight 9:30 ② Flight 11:30 ③ Flight 13: 30 ④ Flight 15: 30 |
| Assemble point | Otaru City color 3-3-1 (Otaru North Canal, Flag of Blue Cave is a landmark) |
| Reservation deadline | The day before until 16:59 |
Advance preparation
Clothings and must-bring items
Please wear enough warm clothes in April - May. (With bench coat)
In addition, on the day that the wind might spray is applied.
(Day like the rain will poncho correspondence in the ship. For just in case, it is recommended to prepare for change of clothes)
About rental items
No special requirements.
Facility information
Changing room
Restroom
shower
Hot spring
Locker
Hairdryer
Parking Lot
convenience store/
supermarket
Access and map
Location
Otaru City color 3-3-1 (Otaru North Canal)
How to reach by car
Please set navigator to the address of 3-3-1 in Otaru City.
Parking lot is available.
How to reach by train
I get off at JR Otaru Station.
Go straight down 800 meters towards the sea
400 meters to the left of Otaru canal walkway
(About 12 minutes on foot)
Others
In the case of a taxi, please tell the cave station in front of Otaru Kitano Canal North Fuel Fuel, Blue Cave Station (about 700 yen) There are cases where it will go to a different platform by mistake. Please be careful.
About price
Basic charge
Adult per person 5,000yen
Junior high school students -
Child per person 2,500yen
Elementary school or less
Infant (less than 2 years of age) / person 0yen
※Above prices include all taxes.
※ This is a basic fee.
* Prices may vary depending on the schedule, so please see the price list displayed after selecting the date.
| | |
| --- | --- |
| Included in price | Boarding fee · insurance fee · life vest dress rental |
Handling plan list of TUUSEN Corporation (TUUSEN)
A plan that the people who saw this plan often see
About payment / cancellation
About payment
Thank you to pay by the day of cash.
Payment method
The payment method specified by the operator.
About cancellation fee
For cancellation fee is defined as follows.
No charge on the day without cancellation 100%
Cancellation of the day before, is canceled due to bad weather does not occur.
After departure, in case of a bad weather return, full refund guarantee!
Cancellation by operators.
There are times when it departs is canceled, such as by bad weather.
Please make your reservation on you know that Yamuezu after local arrival there is also likely to be canceled.
Others
Matters require attention
30 free private parking available
Other notices
0-2 years old is free.
Pregnant women can board the ship at their own discretion.
---
Everyone's experiences
Guest user
前から行きたいと思っていた青の洞窟ツアーにやっと行けました❗

沢山あるツアー会社から何処にしようかと悩みましたが、青の洞窟ツアー元祖のツウセンさんに決めて良かったです。

スタッフの方は親切で、ユーモアのある説明や撮影スポットでのガイド内容も解りやすくて楽しかったです(笑)

ただ残念だったのは、一組のお客さんが来なくて出発が遅れたのですが、その時に一言説明があっても良かったのではと思いました。

それを差し引いても大満足のツアーでした。
また他のツアーを利用させて貰いますね(笑)
参加日: 2018 年 08 月
cruising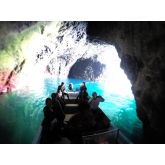 Reply comments from operators
この度は、ご乗船、またレビューを頂き誠に有難うございます!
ご参加頂いたお客様の笑顔が何よりの励みであります。
残念ながらたまに遅刻されるお客様もいて、本当に
他のお客様に申し訳なく思ってます。今回は暑い中
待たせてしまい本当に申し訳ありませんでした。
.
I participated in the tour for the first time with my daughter.
Although I move quite a long distance by boat, I was able to spend without getting bored because I can Explanations sights (mainly rocks) at various places.
Unfortunately, This Sun is before Sun without good weather, but the cave of the blue I was not so blue, I let me be a valuable experience.
While in boarding will borrow a warm poncho, because that's diatomaceous still quite cold, the 6 Mon and is about, it is better to went yet the overdressed
Participate Sun: 2018 06 Mon
cruising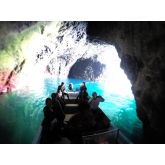 Reply comments from operators
Thank you very much for your coming aboard this time.
Once the low temperature 6 to 50 years, this year Mon seemed it was
Really 6 can not be parted with coat Mon was a.
I appreciate all the staff for a nice Review
I am full of feelings! Thank you very much. .
Guest userIt was contents whose tension was raised
Although we went with friends, the correspondence of the staff was pleasant and it was a fun tour. I thought that I should go to the caves easily, but there was not such a thing but a lot of activities were included, and on the way back I could enjoy experiences such as sea gull feeding and enjoyed with a big deal.
Participation date: May 2018
cruising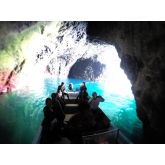 Reply comments from operators
Thank you for participating in this tour this time.
Thank you very much for the wonderful comments.
I would like to continue to cooperate with all the staffs in the future. .
Guest user
Although I made a request inappropriate in relation to time, it was very helpful for me to respond properly! The guide's explanation was interesting too, so it was fresh to have baits fed to birds!
Participation date: September, 2017
cruising
Guest userIt was the best!
The best memories were made on the last day!
The captain is also pleasant and I absolutely want to go there if there is another opportunity!
Joined date: August 2017
cruising
The weather was nice and it was a lot of fun.
Joined date: July 2017
cruising
Guest user
It was a blue cave, this time was out of time, I could not see dolphin, Todo, but I was satisfied very much
Joined date: June, 2017
cruising
Guest userBlue cave Cruise
Blessed with the weather, it was a blink of time in a fun talk.
It was the start of 30 minutes from 12 o'clock, but sunshine is also no glare, it was very Kokochiyoka'!
Thank you very much!
Participation date: September 2016
cruising
Guest userIt was beautiful!
Cave of blue, which has been concerned about for a long time. I was able to finally go.
I was impressed to clean blue sea to more than I thought.
Change of clothes since the wave gets wet rough whole body will think it is better that had been prepared.
Participation date: September 2016
cruising
---
Search cruising from the area
Find other experiences in the neighborhood area
5,000円~(税込)
Adult per person
Included in price
Boarding fee · insurance fee · life vest dress rental
If you book this plan 46 pt will be given!
| | |
| --- | --- |
| | Starting time 09:30 11:30 13:30 15:30 |
| | Participating age0 - 90 years old |
| | Time required 1-2 hours |
| | ScheduleApril 21 - October 14, 2018 |
| | Assemble point Watch on GoogleMap |