Plan ID: 07751 Brought by:​ ​​ ​BUNGY JAPAN (bungee Japan) dragon bungee
[Ibaraki, dragon large suspension bridge] spectacular bungee jump from Japan height of 100m! Dragon large suspension bridge "dragon bungee"
(19件の体験談)
16,000yen~​ ​(tax included)
Fee per adult
Plan ID:

07751
Ibaraki / Kitaibaraki, Okukuji Hitachi
bungee jumpling
1 person participation Allowed
Rain departs Allowed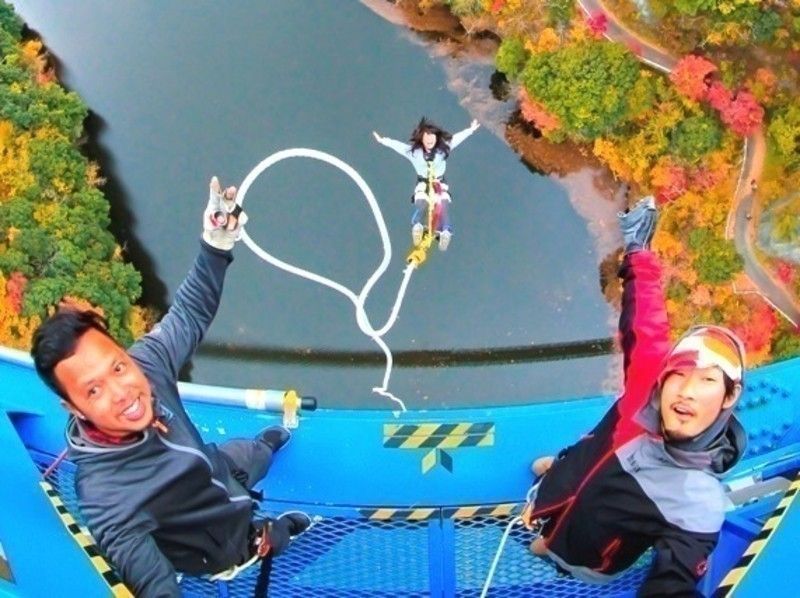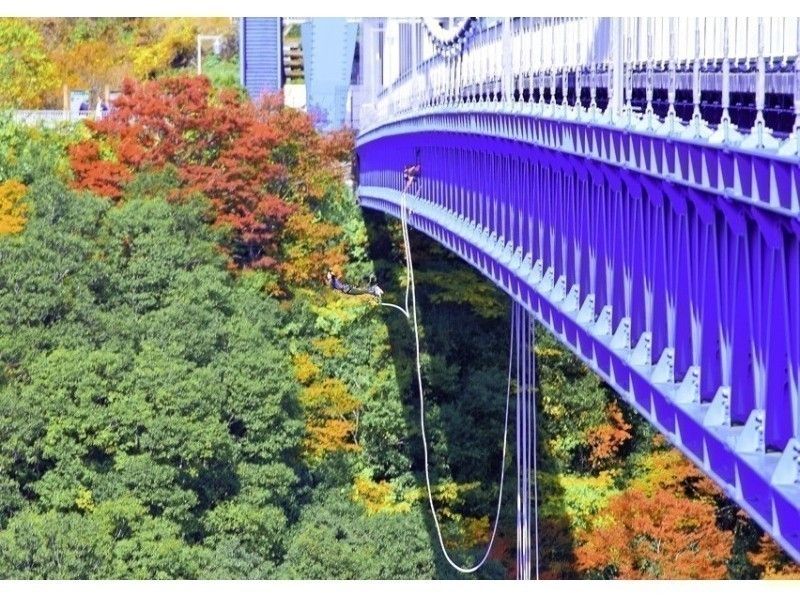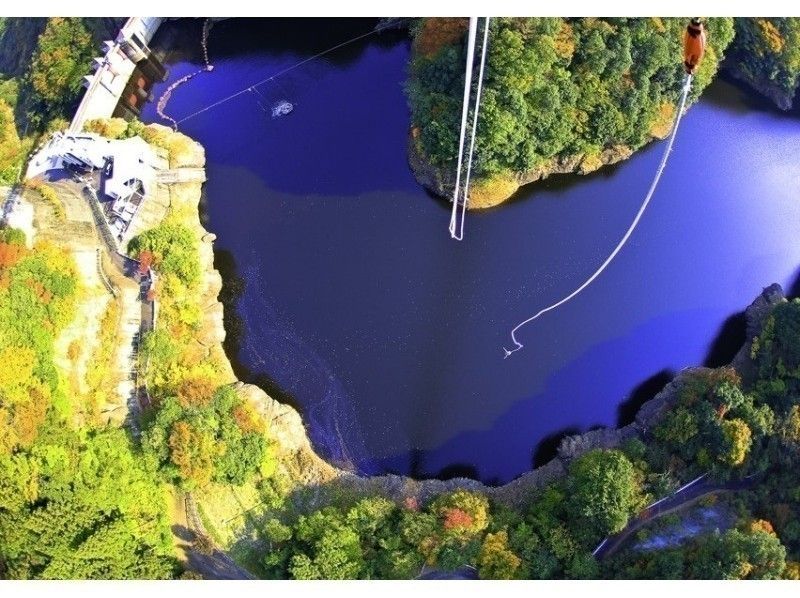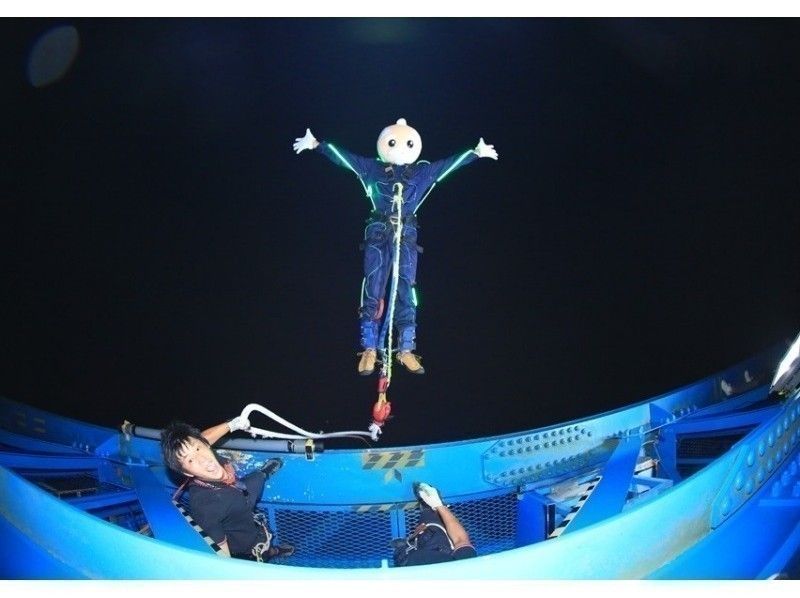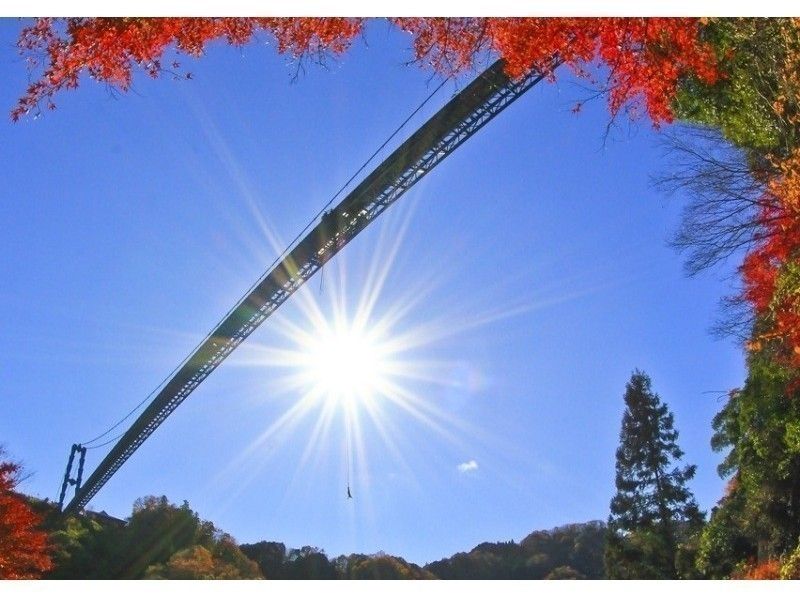 Starting time

09:00

09:30

10:00

10:30

11:00

11:30

12:00

12:30

13:00

13:30

14:00

14:30

15:00

15:30

16:00

16:30

Participating age

15 years old ~

Time required

1-2 hours

ScheduleRegularly
Assemble point Look in GoogleMap
死ぬまでに1度はやりたいと思っていました。 スリルも景色も満点???? 値段は正直安くはないですが、 飛ぶ価値に見合っていると思いました! ぜひたくさんの方々に経験して頂きたいです!????
Description​ ​
Dragon bungee jump of 100 meters height in Japan from a large suspension bridge! It will be Japan's largest as season permanent holding site! Enough to comment with "imagination more thrill" even bungee staff that specializes in high places. Not try to experience the best of the thrill! ?

※ Points · coupons can not be used for this plan.
※ Bungee jump repeater discount (certificate) can not be applied.

Please gather at 15 minutes before the start time.
It will jump into a new world!
But everyone knows, bungee jumping can not challenge that there is no courage and action. Why do not you come and experience on this occasion? If Susumere themselves the first step to overcome the fear, it should have spread a new world in front of the eyes!
Certainly safe!
We have departs the bungee jump along the operation manual based on the strict guidelines are designed to eliminate human error. In addition to a series of safety checks, using only the best equipment available, all equipment will have been maintained on a daily basis.
Everyone and share the excitement!
The dragon bungee adopts the winch system. After completing the jump in the original bungee jump you down to the bottom, but by an electric winch here, will be raised on top of the bridge. After the jump back to the top immediately, Ae share the excitement with everyone ♪
Attractions of the plan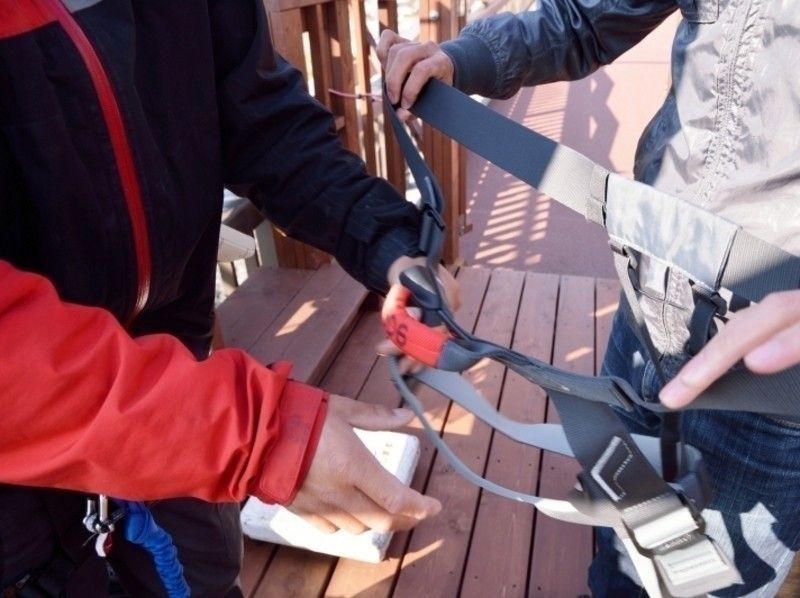 Double, check to triple Weighed before the jump, and adjust the bungee of equipment to suit individual body weight. To ensure the safety of the jumper, sticking out about safety procedures, double, and a check in the triple.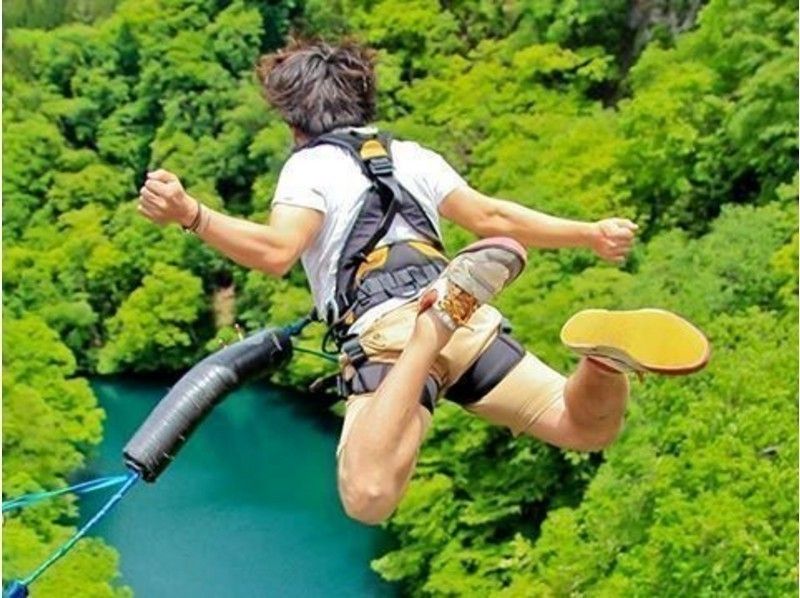 Photo service (separately 3500 yen) Faces the spectacular scenery, the moment you jump toward the lake, consistently photographer will shoot was happy to safely jump finished up to your face. The data will give you on the spot in the CDR. Please apply for those who wish at the reception on the day.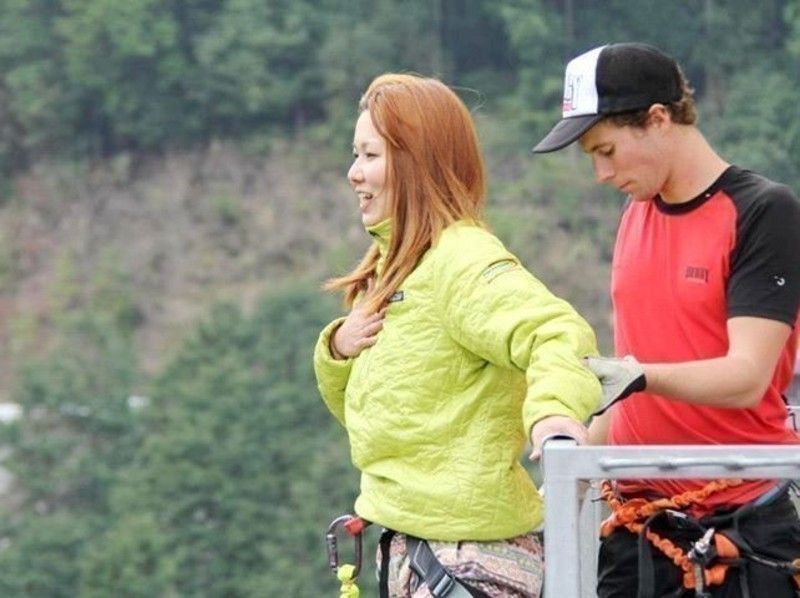 Challenge with courage If Fumidase the first step in their own will, a new world is waiting ☆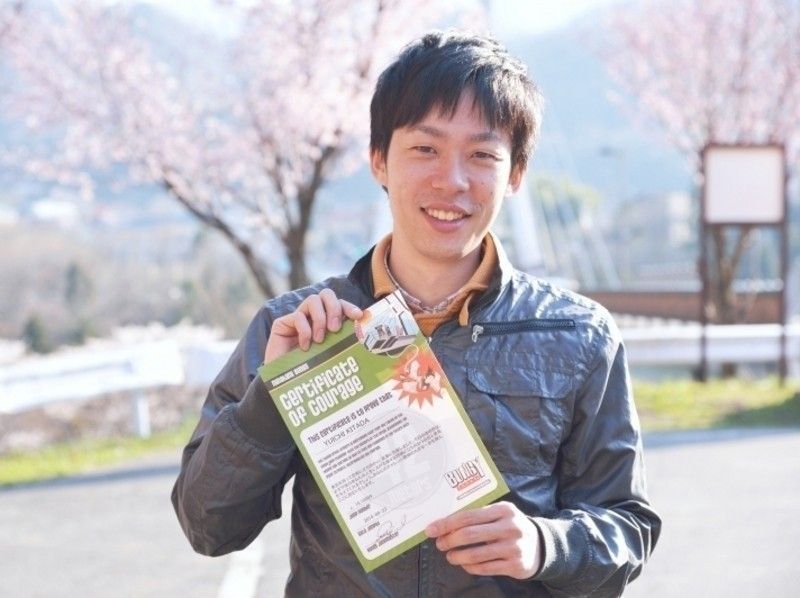 His new testimony Gift certificates to those who overcome the fear with a splendid courage!
Information
Minimum number of people
1 person
Number of people who can book
1 person~
Schedule
Regularly
Assemble time
9:00~15:30(夏季は16:30)
※ We have departs at 30-minute intervals in the above-mentioned period of time. Please tell your choice of time at the time of booking.

Please gather at 15 minutes before the start time.
Assemble point
Dragon large suspension bridge
Ibaraki Prefecture Hitachiota Kegano cho 2133-6
(Ibaraki Ken Hitachiota injury)
Reservation deadline
The day before, until 5 PM
Regarding advance preparation
About clothings and must-bring items
Skirt Please avoid. Please prepare a number one coat because there is that the early spring or early fall feel particularly cold.
· In addition to jump toward the river, because there rarely that would wet a little clothes after jump in Japan, it is recommended to prepare a change of clothes and the like.
• Always low-cut athletic shoes, thank you so give us use the string shoes.
About rental items
Nothing in particular.
Facility information
Changing room
toilet
shower
Hot spring
Locker
Hairdryer
Parking Lot
convenience store
Supermarket
Access and map
Location
Ibaraki Prefecture Hitachiota Kegano cho 2133-6
How to reach by car
Tokiwa via the motorway, Naka 349 National Highway from the IC, straight No. turn left → County Road 36 Satomi Ohashi.
How to reach by train
[JR Suigun Line] riding in Hitachiota Sta → [Ibaraki traffic bus] Shimotakakura ascending or Shimotakakura-Daigo Line, get off at the dragon large suspension bridge or dragon large suspension bridge entrance. A 20-minute walk from the dragon bungee.
---
time schedule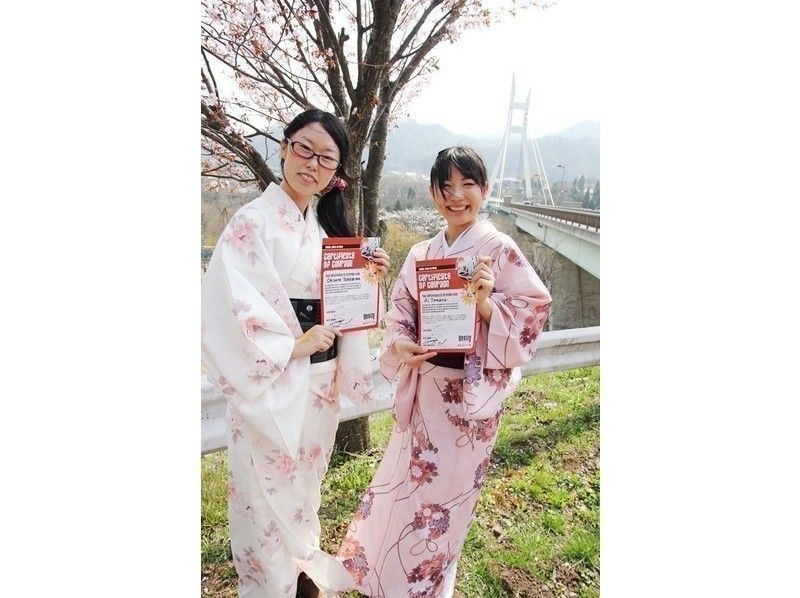 Now you have a jump ticket to be issued at the time of acceptance completion, it will head to the jump area. So harness installed, and can be used to perform the jump preparation such as the description of the jump. Because after the jump the end will be issued certificate at the reception, please visit us not forget!
---
Price
Basic charge
| | |
| --- | --- |
| Adult / per person 16,000yen | 15-year-old ~ |
※Prices including all taxes.
※The above is the basic charge.
※Prices may vary depending on the schedule, so please see the price list displayed after selecting the schedule.
| | |
| --- | --- |
| Included in price | Experience fee, necessary equipment, insurance premiums |
| Those not included in the price | Photo pack: 3,500 yen (Please apply at the reception desk) |
---
About payment / cancellation
| | |
| --- | --- |
| About payment | 当日現金にてお支払いください。2名様以上のグループのお客様には、全員まとめてのお支払いをお願いしております。 必ずお釣りのない様に、ご準備をお願いいたします。 |
| Payment method | The payment method specified by the operator. |
| About cancellation fee | キャンセル・変更の場合は、速やかにお電話にてご連絡ください。お客様都合によるキャンセルの場合、下記のキャンセル料が発生致します。 ・前日:体験料金の50% ・当日:体験料金の100% |
| Cancellation by operators. | ・通常の雨では決行いたします。ただし大雨や嵐、川の水量などにより中止させていただくことがまれにございます。 ・中止の際はできる限り早くお電話でご連絡いたします。その場合はキャンセル料は発生いたしません。 |
Other
Matters require attention
Weight limit: 40 ~ 105kg
Please offer in advance If you have a chronic disease of the following Upon a bungee jump.
People who have heart disease, epilepsy, high blood pressure, diabetes, mental disorders limbs, etc. who are the eyes of surgery, etc. - the cornea, osteoporosis, dislocation, asthma, surgical experience
※ In addition, please note that you can not join us those who are pregnant.
Please note that those who have been drinking even in a small amount on the day will not be able to join you become covered by insurance ※.
Other notices
Those who are under the age of 20 should be accompanied by a legal representative such as your parents or signed a confirmation letter of our company and you need to bring it on the day.
(Since it involves compensation for insurance, we will limit it to the court agent.)
However, please contact us for foreigners who are visiting Japan by traveling overseas.
16,000円~(税込)
Fee per adult
(19件の体験談)
Included in price
Experience fee, necessary equipment, insurance premiums
When you book this plan 148 pt I will save it!
| | |
| --- | --- |
| | Starting time 09:00 09:30 10:00 10:30 11:00 11:30 12:00 12:30 13:00 13:30 14:00 14:30 15:00 15:30 16:00 16:30 |
| | Participating age15 years old ~ |
| | Time required 1-2 hours |
| | ScheduleRegularly |
| | Assemble point Look in GoogleMap |