[Ibaraki /Ryujin Large Suspension Bridge] A superb view of the Bungee jumping from a height of 100m! Ryujin Large Suspension Bridge "Ryujin Bungy"
Beginners welcome - First try
Advanced-level users
Solo participant
Operate rain or shine
Possible number of bookings

Participating age

Age 15歳 ~
★Important notice★
At Bungee Japan, we place the highest priority on ensuring the safety of customers and employees against new-type coronavirus infections, and are taking the less preventive measures.

< Initiatives to prevent the spread of infection >
・Employees wear masks at all times
・Washing hands of employees and thorough gargling
・Employee health check (temperature measurement, malaise, cough, etc.)
・Customer's mask always worn, hand-washed, temperature measured
*Business period and time may be changed depending on future infection status of new coronavirus infection and requests from the government and local governments.

The height of the Bungee jumping from the Ryujin large suspension bridge is 100 meters! Japan's largest permanent site for seasons! Even the bungee staff, who specialize in high places, commented as "thrills more imagination." Experience the ultimate thrill! ?

*Points and coupons cannot be used with this plan.
* Bungee jumping repeater Sale (certificate) cannot be applied.

Please gather 15 minutes before the start time.
It will jump into a new world!
But everyone knows, bungee jumping can not challenge that there is no courage and action. Why do not you come and experience on this occasion? If Susumere themselves the first step to overcome the fear, it should have spread a new world in front of the eyes!
Certainly safe!
In line with the operation manual based on strict guidelines designed to eliminate human error Bungee jumping We are offering In addition to a series of safety checks, all equipment is maintained daily, using only the best equipment available.
Everyone and share the excitement!
The dragon bungee adopts the winch system. After completing the jump in the original bungee jump you down to the bottom, but by an electric winch here, will be raised on top of the bridge. After the jump back to the top immediately, Ae share the excitement with everyone ♪
Calendar info reloading failed
Immediate booking OK!
Reception closed
Not accepted
Request booking
※ For request booking you will receive acceptance notice from Activity Provider.
About fees
※The list price includes tax.
※The above price is a basic fee.
※Fees may vary depending on schedule, please check the fee displayed after selecting the date.
| | |
| --- | --- |
| Payment methods | |
| Date of reservation cancellation charge | |
| About cancellation | |
Plan attractions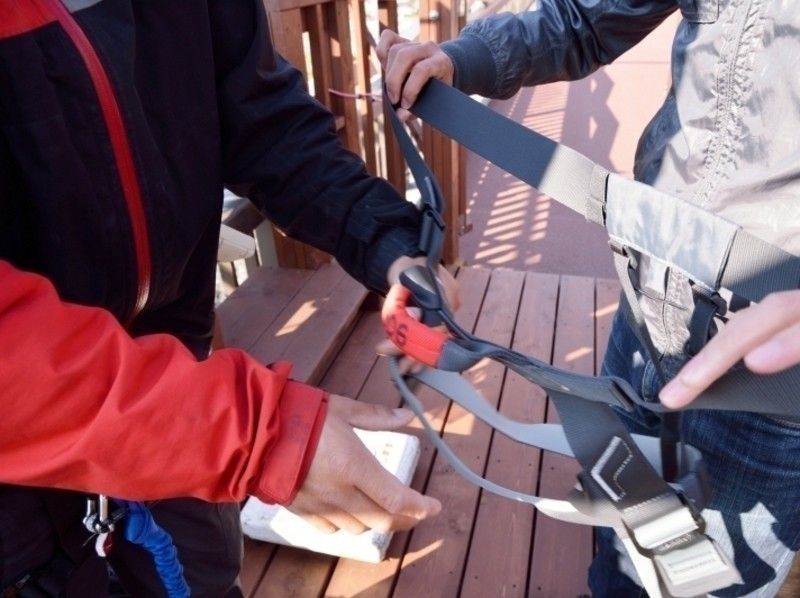 Double, check to triple Weighed before the jump, and adjust the bungee of equipment to suit individual body weight. To ensure the safety of the jumper, sticking out about safety procedures, double, and a check in the triple.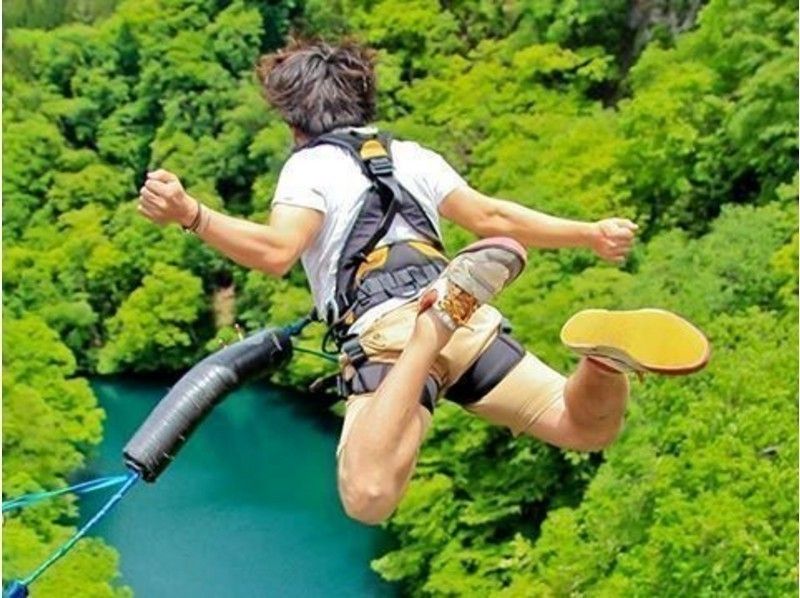 Photo service (extra 4,000 yen tax included) The photographer consistently shoots the face of the spectacular view of the masterpiece, the moment you jump to the surface of the lake, and the face you are satisfied with. Data will be delivered on the spot in CDR. If you wish On the day Please apply at the reception.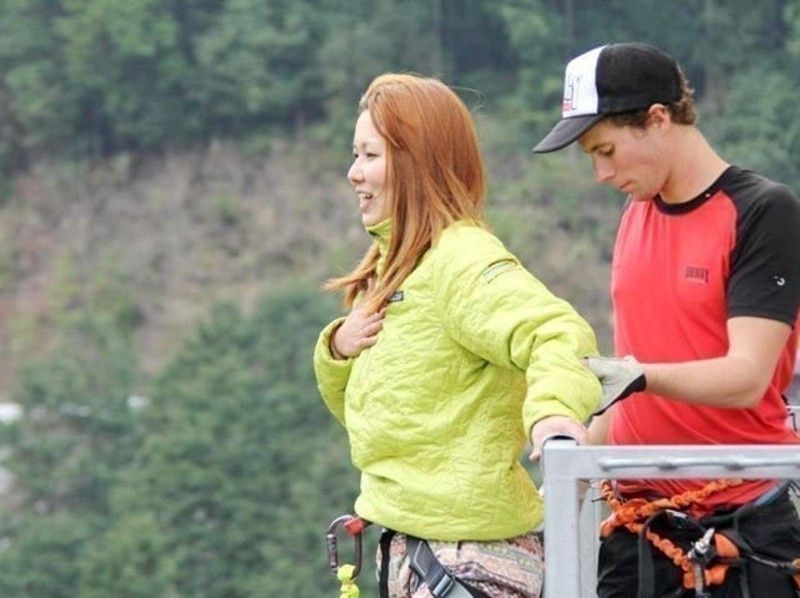 Challenge with courage If Fumidase the first step in their own will, a new world is waiting ☆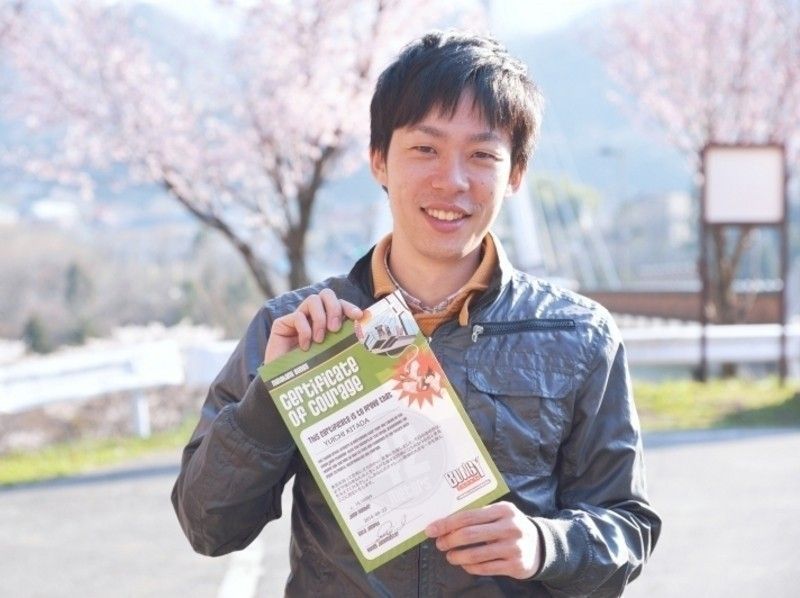 His new testimony Gift certificates to those who overcome the fear with a splendid courage!
Time schedule

Please bring the jump Ticket that will be issued when the application is completed and head to the jump area. Therefore, we will prepare for the jump, such as wearing the harness and Explanations jump. After the jump is over, a certificate will be issued at the reception, so don't forget to drop by!
Detailed information of this plan
Required minimum number of participants

1

Person(s)
Possible number of bookings

1~

About duration
One course can be reserved for up to 6 people. If there are 7 people or more, the reservation will be divided into 2 groups, so please be sure to let us know your desired time.
Operating period
Whole year
Assembly time
9:00 to 15:30 (summer 16:30)
※ We have departs at 30-minute intervals in the above-mentioned period of time. Please tell your choice of time at the time of booking.

Please gather at 15 minutes before the start time.
Booking deadline
Until 16:59 local time, one day prior
Matters require attention
< Participation conditions >
・ Weight restriction: 40-105kg
・ Participating Ageo/Okegawa: 15 years old ~
-Bungee jumping Upon the, less those who have true matter, prior to bungee Japan Phone Numter: Please offer sure to 0278-72-8133.
Heart disease
Epilepsy
High blood pressure
Diabetes
Mental disorder
Prosthetic leg, etc.
Those who have eye surgery such as cornea
Osteoporosis
Take off
asthma
Those who have experienced surgery
Visual and hearing impairment
hernia
* Those with low bone density, weak bones, fragile bones, and osteoporosis are not eligible.
* If you are pregnant, you cannot participate.
* Those who drink even a small amount on the On the day are not covered by insurance and cannot participate.
* Please note that it may not be possible to participate at the discretion of Jump Master.
Other notifications
< Under 20 years old >
If you are under 20 years old, please be accompanied by a legal representative such as your parents, or sign our confirmation form, On the day Please be aware that you need to bring it with you.
(Because it is related to insurance compensation, it is limited to forensic agents.)
* Outside of Japan visiting overseas Country If you are, please contact us Contact us Please give me.

Bungee jumping Confirmation and insurance application form
http://bungyjapan.com/downloads/waiver_ryujin_jpn.pdf
All reviews
64

Results

There is never a cowardly blow. If you seem to be stuck with something, come here and try a temporary floating experience. I am fortunate that it will be some breakthrough. The highest in Japan Here you have enough aura you need.

Participating date: January 2018
Guest user
I could only say bad
Before flying, I was excited with tension and anxiety, and I think that it was only a brief complaint when it came flying.
But I felt comfortable and I felt comfortable and I returned home with a smile (laugh) I think that it would be better to do it! The staff members were also nice and friendly and enjoyed all the time! I will come again!
Participating date: December 2017
Guest user
Once before dying! !
I wanted to do it before I die.
Full of thrill and scenery ????
Although the price is not cheap honestly,
I thought that it was worth the flying value!
I would like many people to experience it! ????
Participating date: October 2017
Before flying, I was scared of excitement, but it was a lot of fun if I flew! ! ! ! ! I flew too fast so I could not enjoy the scenery around so I also want to fly while enjoying the scenery when flying again!
Participating date: October 2017
I do not know what foreigners of the staff are saying but gentle! Only good people!
Participating date: September 2017
Access - Map
Assembly point
Dragon large suspension bridge
Ibaraki Prefecture Hitachiota Kegano cho 2133-6
(Ibaraki Ken Hitachiota injury)
If you arrive by car
Tokiwa via the motorway, Naka 349 National Highway from the IC, straight No. turn left → County Road 36 Satomi Ohashi.
If you arrive by train
[JR Wed gun line] Hitachiota Sta → [ Ibaraki riding in the traffic bus] dragon large suspension bridge bound or Shimotakakura-horse following the inlet line,
 Get off at the Ryujin Large Suspension Bridge. One minute on foot to Ryujin Bungey.
Q&A about this plan
No questions about this plan
Activity Provider of this plan
BUNGY JAPAN(バンジージャパン)竜神バンジー
handling plan list
Kitaibaraki/Okukuji/Hitachi
popular plans
---
Bungee jumping Search from area
Find other experiences in neighboring areas
---