[ONLINE Experience] We will train Dr. Taki! A trip around the Boso Hills and unexplored waterfalls
Beginners welcome - First try
Empty-hands OK
Operate rain or shine
Children welcome
Possible number of bookings

Participating age

Age 10歳 ~
Chiba The Boso hills spread over the Boso Peninsula in the prefecture, where there are many waterfalls, making you feel like you are at your home! You will learn about the flood control culture unique to Boso and the river circulation, and when you actually go there, the appearance will always change, and it will be fun to see the topography and waterfalls. The principal of a local nature school trains you to become Dr. Taki.
You can watch the waterfall at home and be healed, and learn about the local history and waterfall of Boso ♪
Watching the waterfall images and movie Break time is about 20 minutes, 40 minutes lecture about waterfall and river circulation while checking the topography on Google Earth, about 1 hour experience.
Calendar info reloading failed
Immediate booking OK!
Reception closed
Not accepted
Request booking
※ For request booking you will receive acceptance notice from Activity Provider.
About fees
※The list price includes tax.
※The above price is a basic fee.
※Fees may vary depending on schedule, please check the fee displayed after selecting the date.
Plan attractions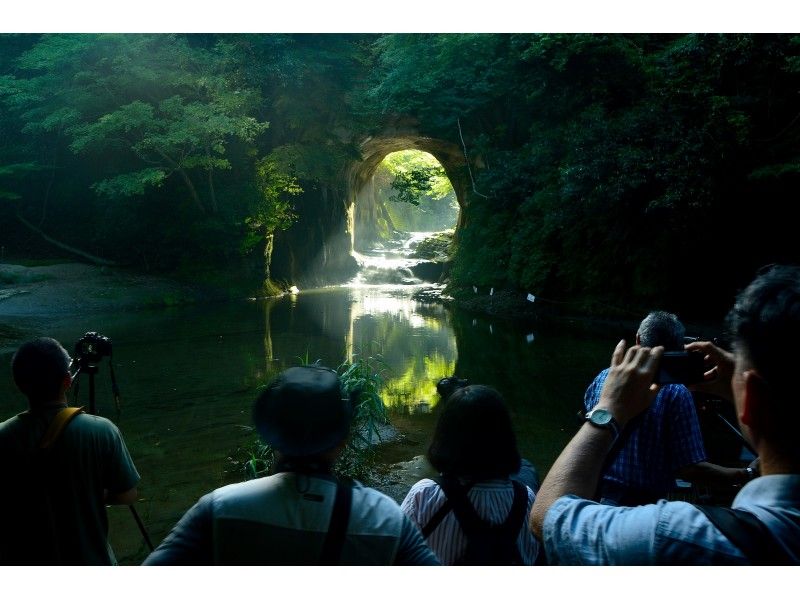 Kujukutani Observatory Park Kameiwa Cave Nomizono Falls Waterfall at the Reclaimed Ground Kinjin Falls Yamabikono Falls
Detailed information of this plan
Required minimum number of participants

1

Person(s)
Possible number of bookings

1~

20

About duration
Hour
Operating period
All-year-round
Assembly time
10 minutes before the experience starts
Booking deadline
Until 16:59 local time, one day prior
Matters require attention
・ It will be a lecture-style experience with zoom. Please install zoom and set the webcam in advance.
-Since Google Earth and YouTube are used, we recommend COREi5 more for PC specifications (If it is less or a smartphone, the operating speed will be slow and you will not be able to normally watch the waterfall).
・ Zoom invitation email will be sent when you make a reservation. We will allow you to enter the room 10 minutes in advance, so if you are worried about the settings, please enter early.
・ If you are new to ONLINE we will advise you in advance.
All reviews
9

Results

Location and place name of using the Google Earth Explanations and photos, movie waterfall in the Explanations etc., ONLINE although there in, I think I have become content that does not get tired look very easily enter.

Above all, the guide was a friendly person, and I was able to feel various ingenuity while mixing conversations, and I enjoyed participating very much.

This time, I was able to Explanations the back side of the ONLINE business, and I was able to spend a very interesting and educational time.
Thank you very much.

Participating date: July 2020
Guest user
A fun learning experience
In the course using Google Earth, I was able to learn in a fun and easy way from a perspective different from the local experience! I had never been to Chiba, so I had no idea what kind of place it was, but I was very interested in the fact that the place and its background were carefully Explanations. I want to go someday and experience what I learned this time! It was my first time to experience the ONLINE experience, so I was nervous at first, but the guide talked to me very kindly, so I enjoyed participating. Thank you!
Participating date: May 2020
Guest user
Learn the origins of terrain ONLINE!
ONLINE experience, I was guided by the creation of land in Chiba prefecture and the history. Using a wealth of knowledge and Google Map, I was able to experience something unique to ONLINE. This is a recommended experience for those who are going to Chiba after the corona is over!
Participating date: May 2020
Guest user
Classes that touch nature and history unique to Chiba
Thank you for the other day.
When I participated with the keyword "waterfall", the image of Chiba changed drastically with a lot of content.
The content is just like Bura Tamori (laughs)
I went home and the time passed in no time.
Using maps, photos and movie, I learned the history related to the terrain, and it was quite interesting.
After the period of self-restraint, I would definitely like to visit the stars and waterfalls!
Chiba is a nice place!
If I have another chance, I would like to participate in a real course.



Participating date: May 2020
Guest user
Next time I want to go to the site and take a negative ion bath!
I wanted to talk about learning for children and independent studies.
So this time I want to tell my child, so
Let's participate as a family as a natural learning!
It was an hour with lots of learning, including what kind of animals live nearby and how they lived in the past.
Write down what you teach in a notebook and recommend it as a free summer study! I am also interested in the plan for the starry sky, so I will participate again!
Participating date: May 2020
Access - Map
Assembly point
Because it is held ONLINE there is no meeting The meeting place.
Q&A about this plan
No questions about this plan
Activity Provider of this plan
Selling points regarding safety
We are holding Activity at Number of participants and holding nature experiences in the form of lectures at ONLINE.
Insurance information
TABICA Program Insurance
License and Qualifications
Guide for 20 years
Number of staff
1

人

Number of instructors
1

人
鹿野山自然学校
handling plan list
Kisarazu/Kimitsu/Futtsu
popular plans
---
Online Experiences Search from area
Find other experiences in neighboring areas
---