[Tokyo bay Houseboat] Reception from 1 person Enjoy authentic Japanese cuisine! Riding together Houseboat 150 minutes plum course
Beginners welcome - First try
Empty-hands OK
Meal included
Charter possible
Operate rain or shine
Children welcome
地域共通クーポン(紙)利用可
地域共通クーポン(電子)利用可
Possible number of bookings

Participating age

Age 0歳 ~ Age 100 歳
We depart from Mikawaya pier, which is a 10-minute walk from Shinagawa Station, and Rainbow Bridge, Odaiba, etc. Tokyo The course takes about 150 minutes around the sights of.
※ minimum Number of participants: 20 people
※ Number of participants If it does not reach, it may not be implemented.

【Contents of food】
Plum course ... 10, 800 yen
Appetizer, appetizer, small bowl, sashimi, tempura, pickles, miso soup, fruits, cooked rice
※ Dec. The small bowl of the cooking menu will be replaced with a hot pot in February.

Tokyo Houseboat Basic course, Hot tempura freshly fried on the sashimi of the carefully selected sashimi.
It is a content that you can be satisfied with, though it is a basic course. Sashimi is served separately.

[A happy all you can drink! ]
beer, Sun You can drink any of main sake, potatoes, shochu, whiskey, sour, plum wine, oolong tea, green tea, cola and orange juice.

[Houseboat about】
Capacity: 80 people
Equipment: air conditioning Wed Washing toilet ・ Latest karaoke and equipment are fully equipped (all decks have observation decks)

※ You can not specify the seat type for digging, table, and seating for a passenger ship.
※ 20 people more If you are a group, please use a chartered boat.
Because it is Mikawaya, you can do, offer the best part of a ship
In Mikawaya 's engagement ship, we provide flexible services such as changing the direction of raising according to customers' layers. A woman who is good at excitement adds more taste to everyone's enjoyable time.
Details of scenery and places for tourists Explanations
We will guide you in detail about landscapes and landmarks. We will do everything from the bridge name to the spot introduction, so you can enjoy it without reading the guidebook in advance.
Creating a sense of unity with karaoke etc.
If the members you boarded are good people, we may offer karaoke time. From your friends, to the people you meet for the first time on the day, you can enjoy harmony and boat party by singing a song.
Calendar info reloading failed
Immediate booking OK!
Reception closed
Not accepted
Request booking
※ For request booking you will receive acceptance notice from Activity Provider.
About fees
※The list price includes tax.
※The above price is a basic fee.
※Fees may vary depending on schedule, please check the fee displayed after selecting the date.
Plan attractions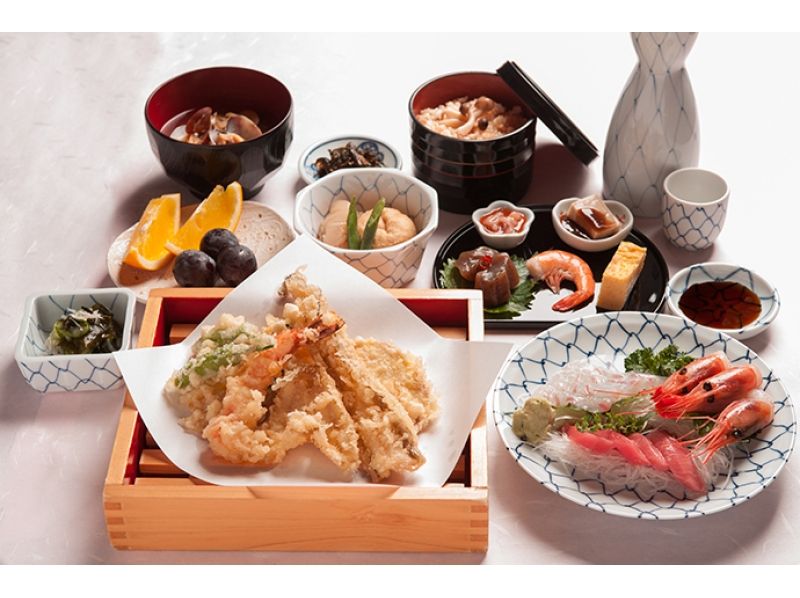 Mikawaya cuisine pursuing "pure taste" The Yakata boat is of course important to the view over Tokyo Bay, but the delicious dishes that serve as a drink liquor are pleasant as well. At Mikawaya which offers a non-routine experience called Tokyo Bay cruising with a Yakata boat, we are putting emphasis on dishes served onboard.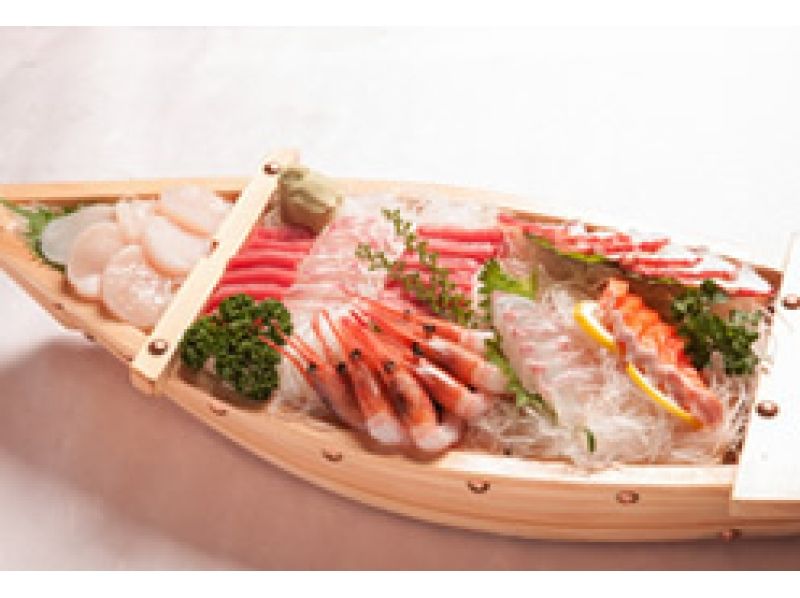 · Fishes and shellfishes offer live creatures At Mikawaya the food we offer is always pursuing "pure taste". Carefully select the ingredients of the season, use the livestock for the seafood. Delicious cuisine is served with a recipe that can make the best use of the taste of the ingredients. From the seasonal ingredients, we choose the one with the highest freshness on that day. Fun of boating is also doubling with nice cuisine.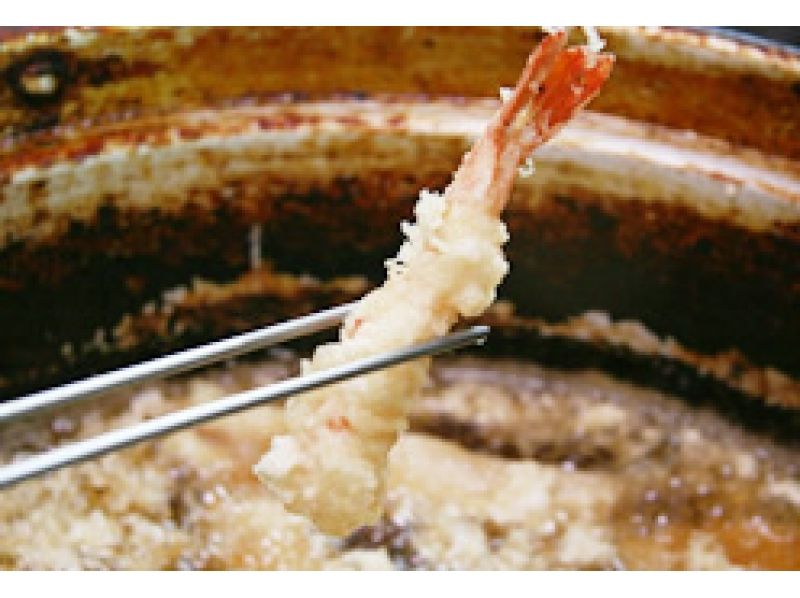 · Tempura using only seasonal ingredients selected carefully Tempura is especially recommended for Mikawaya's dishes. In particular, there are special attention to "fried way". Its way of frying called "fisherman fried" emphasizes the texture and flavor of the ingredients rather than becoming. I am sticking to thicken it to make maximum use of materials such as Ebaya Confucius, Kisu, Soba, pumpkin, sweet potato and Shishito, and thinly put on clothes as much as possible.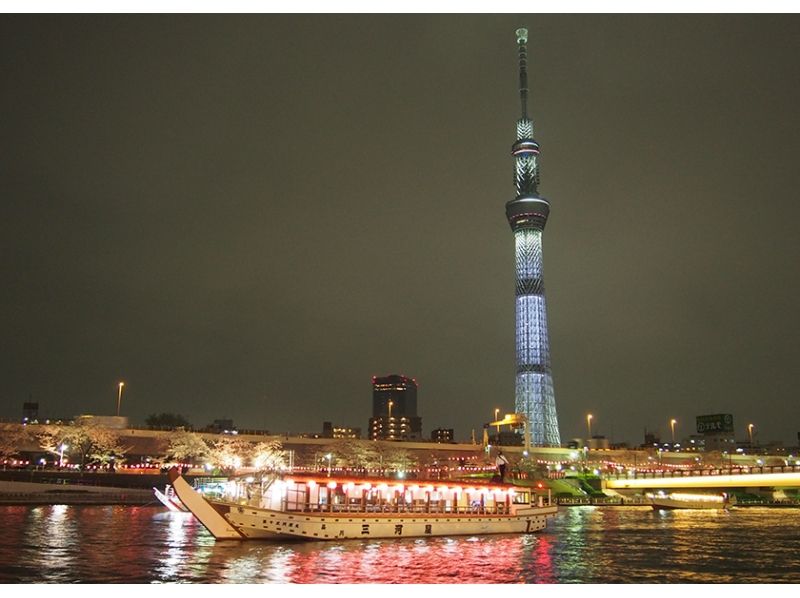 Nabe dishes that complement the taste of the fish in season (from December to February only) Mikawaya's hot pot dishes are mainly made of fish such as cod and salmon that will celebrate in the cold season, so as to complement the flavor of the ingredients. Because we are using carefully selected livestock products, if you eat without attaching anything, you can feel the delicious food flavor in a slightly salty taste. Please combine ponzu and condiments and enjoy the deliciousness of the winter fat fish along with winter vegetables.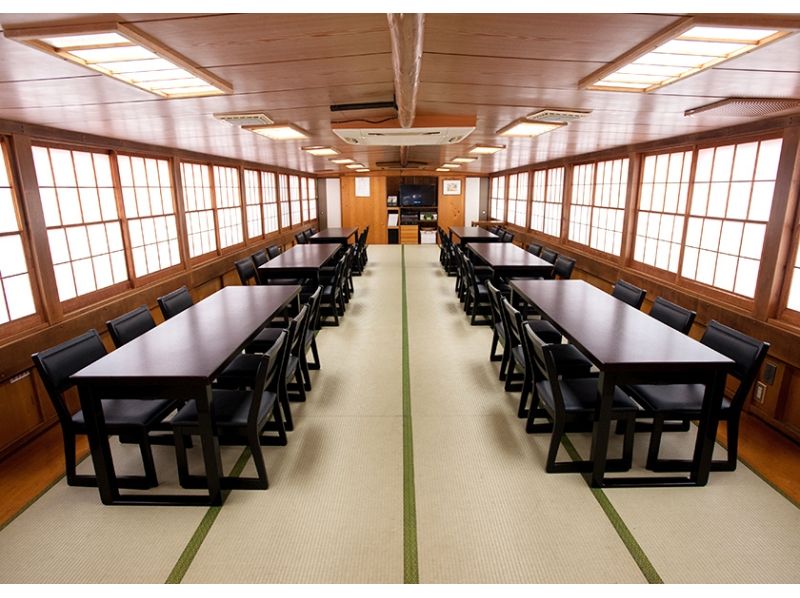 Spacious ship! Inboard available for up to 80 people. Air conditioning Wed Washing toilet ・ The latest karaoke equipment is complete. There is an observation deck on every ship.
Time schedule

19:00
平日 【平日】18:45までにご集合ください。19:00に出航します。

18:00
土日祝 【土日祝日】17:45までにご集合。18:00出航に出航します。
Detailed information of this plan
Required minimum number of participants

20

Person(s)
Possible number of bookings

1~

20

Operating period
All year round
Assembly time
[Weekday] Please gather by 18:45. It will sail at 19:00.

【Saturday, Sunday, and public holidays】 We will meet by 17:45. We sail for 18:00.
Booking deadline
Before 7 days until 23:59 local time​ ​
Matters require attention
※ minimum Number of participants: 20 people
※ Number of participants If it does not reach, it may not be implemented.
Other notifications
After booking is confirmed, Mikawaya will send a reservation confirmation by fax or email. Please pay the deposit fee if you are not using it by the account and date specified in the booking confirmation, and the full amount if you are using a boarding. Once the transfer has been confirmed, the reservation will be made. Please note that we have not received notification of payment.
All reviews
0

Results

No comments・reviews
Access - Map
Assembly point
1-1-14 Higashishinagawa, Shinagawa-ku, Tokyo
Mikawaya pier
If you arrive by train
· JR · Keikyu Shinagawa station Takanawa mouth (West exit) 10 minutes on foot
· JR · Keikyu Shinagawa Station Konan mouth (East entrance) 15 minutes on foot
· 5 minutes on foot from Keikyu Kitashinagawa Station
Access from Takanawa mouth
Q&A about this plan
No questions about this plan
Shinagawa/Ota
popular plans
---
Houseboat Search from area
Find other experiences in neighboring areas
---