【Tokyo · 23 ward · Limousine】 Limousine & marine cruising plan.
プランID:16019 提供:Alphadaer Limousine Service
86,184yen~​ ​(tax included)
参加者【リムジン&クルージング込】1組あたりの料金
プランID :

16019
Tokyo / 23 wards
limousine rental
cruising
Starting time

10:00

11:00

12:00

13:00

14:00

15:00

16:00

17:00

18:00

19:00

20:00

21:00

22:00

Participating age

20 才~

Time required

2-3 hours

ScheduleRegularly
Assemble point
Description​ ​
Limousine × marine cruising, the best collaboration realized!

It is a luxurious and special course that can enjoy special scenery on the ground and on board.

A memorable memorable experience for a lifetime with special people and special scenery ...

Use of limousine is either pick-up or going-off to / from the fishing boat. If you wish to make a round-trip transfer, please contact us separately.
Marine cruising after limousines in Tokyo
Take the limousine and enjoy the cityscape of the illuminated shining Tokyo from the extraordinary sense of extraordinary space.

In marine cruising, you can spend a relaxing moment while looking at the shining buildings that can be seen from the sea.
Luxurious set contents ♪
Sparkling wine, white wine, soft drinks are included in the set contents. We will be prepared for each person in the cruiser.
Please enjoy luxurious moments.
Limousine details
The car body is a full stretch limo based on Ford's full size SUV Ford.
Inside the car is equipped with DVD compatible audio, large screen monitor is also equipped.
Capacity is possible for up to 11 people.
Please enjoy it while tasting the highest superiority.
---
Attractions of the plan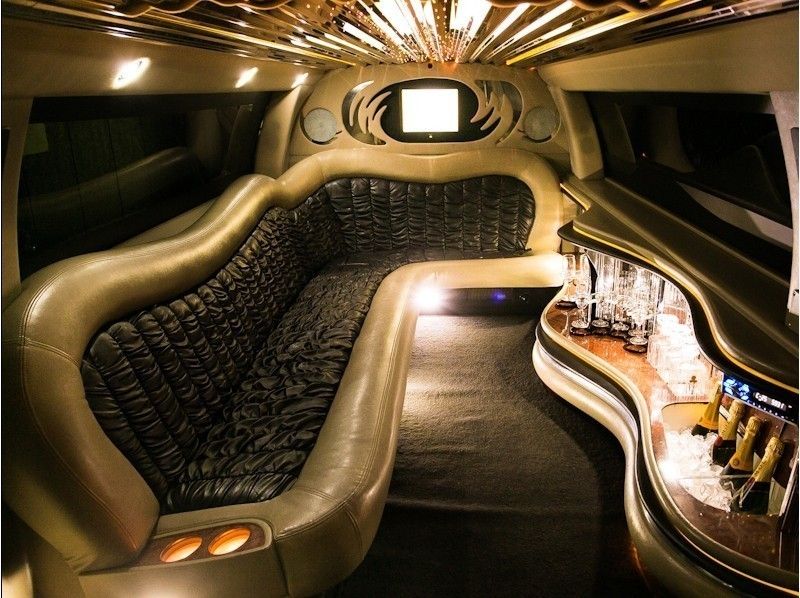 Luxuriously decorated ♪ You can rent out here.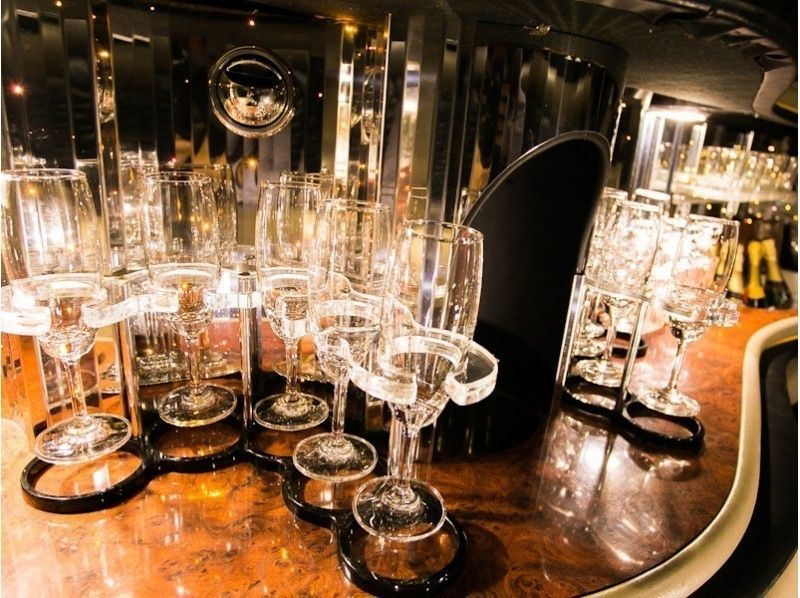 Various fashionable glasses are also equipped.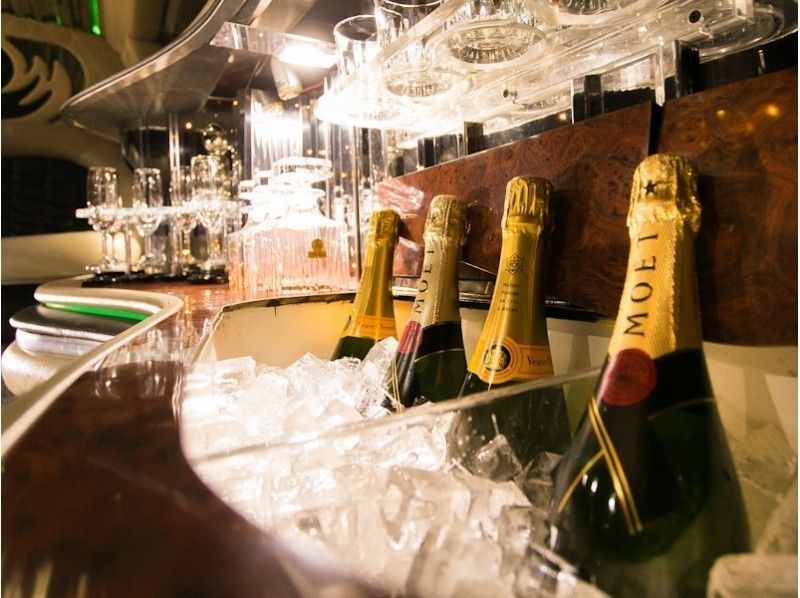 Optional drinks can be ordered.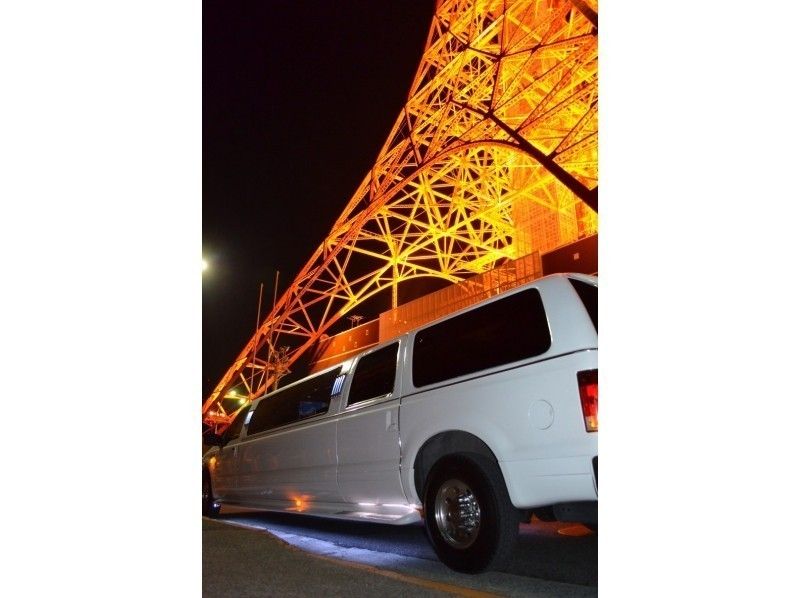 Please enjoy special time.
---
Information
Minimum number of people
1 人
Number of people who can book
2人〜11人
Schedule
Regularly
Assemble time
10:00~23:00
Please choose your time of hope at the time of your application.
Since reservations may be buried, please fill in second and third hope in the remarks column.
Assemble point
We will welcome you to the location of your choice within the 23 wards of Tokyo.
Please fill in the remarks column at the time of reservation.
Reservation deadline
Before 2 days
---
Regarding advance preparation
About clothings and must-bring items
There is no particular designation. Please come with your favorite outfit.
About rental items
Party set (free)
As an option, you can use Karaoke set at 3,240 yen (tax included).
Please select when applying.
---
Facility information
Changing room
toilet
shower
Hot spring
Locker
Hairdryer
Parking Lot
コンビニ
スーパー
---
---
Price list
Basic charge
| | |
| --- | --- |
| Participant 【Including limousine & cruising】 / pair 86,184yen | From 20 years old to 11 people |
オプション料金
| | |
| --- | --- |
| Irina Suites Collection Roll Cake Tower (in limousine) / piece 5,400yen | To a surprise on a special day. |
| Decoration set (in limousine) / set 8,100yen | Includes: Heart balloon (about 100 coins), helium balloon, letter banner |
| Helium balloon (in limousine) / piece 1,620yen | Limousine · balloon decoration |
| Letter banner (in limousine) / piece 2,000yen | Limousine · balloon decoration |
| Karaoke (in limousine) / set 3,240yen | |
※Prices including all taxes.
※上記は基本料金になります。
※日程によって料金が異なる場合がございますので、日程を選択した後に表示される料金表をご覧ください。
---
---
お支払い・キャンセルに関して
お支払いについて
· Pre-card settlement
※ Please select the advance card payment at the time of application.

· Advance bank transfer
※ In the case of bank transfer, we will inform you of payment after booking is confirmed.
Payment method
Pre-card payment, the ways assigned by operators
About cancellation fee
In case of cancellation or change, please immediately contact us by telephone.
If it is canceled by the convenience of the customer, you will be charged a cancellation fee of following.

7 days ago: 20% of participation fee
6 days ago - 3 days ago: 50% of the participation fee
2 days ago - all day: 80% of the participation fee
On the day: the full amount of the participation fee
Cancellation by operators.
In the case of a breakdown of a reserved vehicle or a natural disaster,
For the pre-boarding full refund or transfer at a later date,
For the post-ride, we calculate the ratio of unreleased vehicles and we will refund it at a later date.
---
Other
Matters require attention
※ Extension of the day limousine ride hour will be 5,000 yen for 30 minutes. Please contact us if you use more than 120 minutes.
※ The use of a limousine is either the outbound or returning passenger transfer to the boat ride. If you wish to make a round-trip transfer, please contact us separately.
* We will prepare drinks in the cruiser according to the number of people and time.
※ Bringing in drinks and food inside the cruiser is possible.
※ Additional charges are required for options in limousine.
みんなの体験談
There are no reviews yet
86,184円~(税込)
参加者【リムジン&クルージング込】 1 組 あたりの料金
Included in price
Boarding fee, sparkling wine, white wine, soft drink, consumption tax
このプランを予約すると 798 pt 貯まります!
| | |
| --- | --- |
| | Starting time 10:00 11:00 12:00 13:00 14:00 15:00 16:00 17:00 18:00 19:00 20:00 21:00 22:00 |
| | Participating age20 才~ |
| | Time required 2-3 hours |
| | ScheduleRegularly |
| | Assemble point GoogleMapで見る |