【Asakusa / Tsukiji】 Sumidagawa Cruise & Hamarikyu Gorge Garden and Tsukiji Grip Sushi 13 all-you-can-eat! [3559]
プランID:13651 提供:POKENCAL LTD.
6,980yen~​ ​(tax included)
大人・こども(共通)1人あたりの料金
プランID :

13651
Tokyo / 23 wards
cruising
Meal
1 person participation Allowed
Rain departs Allowed
子供参加可
スタート時間

Participating age

3 才~

Time required

Four to five hours

Schedule8月〜12月
Assemble point Look in GoogleMap
Description​ ​
Item number P003559
■ Tokyo tourism! Sumida River Cruise
■ seasonal flowers is full! Stroll ♪ of Hama Rikyu Gardens
■ crowded "Tsukiji" in shopping free time ♪
■ grip at Tsukiji sushi all-you-can-eat!
Tourism Tokyo! Sumida River Cruise
Tokyo Sky Tree (R) to close to Asakusa - Hama, river of about 40 minutes the Sumida River in large vessels!
Because the large vessels there is a roof is a popular cruise through the 12 things quirky bridge over the Sumida River while feeling without fear ♪ wind to worry about the rain!

Since the ship's announcement also is also recommended to Tokyo tourism!
Shopping of Hama Rikyu Gardens & Tsukiji curb market
The cruise ship to arrive, the Yukari Tokugawa of Daimyo garden, Hama Rikyu Gardens. Seasonal flowers and a large black pine, such as pond and teahouse floating in the bottom of the Shioiri, is about does not seem to be located in the city of the middle! After a walk through Hama, the walking movement to Tsukiji. If there are confusing Tsukiji curb market also Pokekaru original Tsukiji map & guide and go alone, ogre with an iron club! From seafood, dried fish, omelet, you set anything up to the fresh vegetables!
Nigiri sushi all-you-can-eat in Tsukiji!
Pokekaru popular "Tsukiji sushi all-you-can-eat" in the tour is finally revived by changing the shop!
It was Kashiki' shop only for Pokekaru club. happy! Entered until the sea urchin, salmon roe Toro, all-you-can-eat 13 different!
Tokyo in the kitchen "Tsukiji", please enjoy the rare sushi all-you-can-eat!
«Nigiri sushi 13 species» Toro / red / white / salmon / conger eel / steamed shrimp / shrimp / squid / warship (sea urchin, salmon roe, Negitoro) / scallop / egg
---
Information
| | |
| --- | --- |
| Minimum number of people | 10 人 |
| Number of people who can book | 1人〜 |
| Schedule | 8月〜12月 |
| Assemble time | 10:20 |
| Assemble point | Tokyo Cruise Ship Asakusa landing site |
| Reservation deadline | 4 days before |
---
Regarding advance preparation
| | |
| --- | --- |
| About clothings and must-bring items | The moving distance of the walk, it will be about 3km, please participate in the "easy to walk clothes, shoes." |
| About rental items | None |
---
Facility information
Changing room
toilet
shower
Hot spring
Locker
Hairdryer
Parking Lot
コンビニ
スーパー
---
Access and map
所在地
Taito-ku, Tokyo Hanakawado 1-1-1
How to reach by train
■ 3-minute walk from Tokyo Metro Ginza Isesaki Line and Tobu "Asakusa Station" (to the foot of Azumabashi there is a depot.)
---
time schedule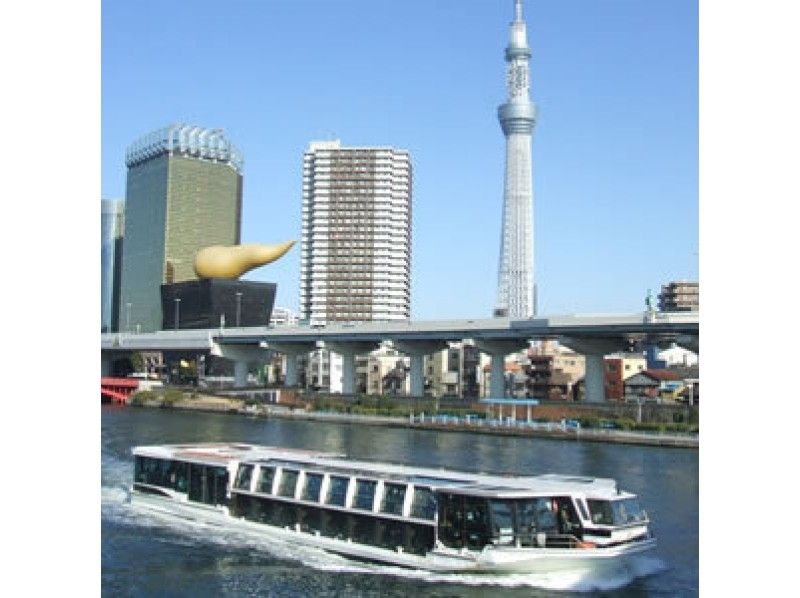 10:20
東京都観光汽船 浅草発着場にて集合・受付
10:20東京都観光汽船 浅草発着所にて集合・受付
10:40隅田川クルーズ(浅草~浜離宮)
Hamarikyu garden stroll
Move Hama ~ Tsukiji curb market ※ walk 15-20 minutes
Tsukiji curb market free time
13:30お寿司食べ放題
14:30お食事終了後、各自解散
---
Price list
Basic charge
Adult Children (Common) / person
6,980
yen
※Prices including all taxes.
※上記は基本料金になります。
※日程によって料金が異なる場合がございますので、日程を選択した後に表示される料金表をご覧ください。
---
---
お支払い・キャンセルに関して
| | |
| --- | --- |
| About payment | ※要事前入金※ ツアー開催決定後、プランの案内書と払込用紙をご郵送いたします。郵便局またはコンビニエンスストアにて事前にお支払ください。 出発日間近でのご予約の場合、銀行振込(振込手数料はお客様のご負担)をお願いする場合がございます。 |
| Payment method | The payment method specified by the operator. |
| About cancellation fee | 旅行開始日の前日から起算してさかのぼって7日目~2日目 30% 旅行開始日の前日 40% 旅行開始日の集合時間まで 50% 旅行開始後の取消または無連絡不参加 100% ※取消日は、お客様が当社の営業日・営業時間内にお申し出いただいたときを基準とします。 ※旅行契約の成立後、上記取消日区分に入ってからの人員減、旅行開始日・コースの変更は取消とみなされ、取消料がかかります。 |
| Cancellation by operators. | 雨天の場合も決行いたします。 運航が中止の場合のみ、ご連絡をいたします。 |
---
Other
Matters require attention
● 0 children to 2 years old Please note we do not offer participation.
● within the stroke, because there is such as gradient-step, is your participation in the hand in wheelchairs and strollers, wheelbarrow, etc. Please refrain from.
6,980円~(税込)
大人・こども(共通) 1 人 あたりの料金
Included in price
Tour conductor, boarding fee, lunch, entrance fee and Tsukiji MAP
| | |
| --- | --- |
| | スタート時間 |
| | Participating age3 才~ |
| | Time required Four to five hours |
| | Schedule8月〜12月 |
| | Assemble point Look in GoogleMap |